The 2013 Stanley Cup Playoffs have gotten off to a rousing start with the majority of the series proving to be the type of tight-checking battles that classic playoff showdowns are made of.
So far, there have been just two blowouts through the first 10 games, and the weekend will present us with a number of pivotal games that could make or break a handful of teams' season.
Heading into Friday night's slate of games, here is a look at the weekend schedule's most important games.
Ottawa at Montreal- Game 2, Friday, May 3rd at 7:00 p.m. ET
With Ottawa having stolen a game from the No. 2 Canadiens on home ice on Thursday night, the two teams will reconvene for Game 2 at the Bell Center just 24 hours later.
The Habs will be looking for blood after Lars Eller (via NHL.com) was blindsided by Eric Gryba, especially because the Senators poured salt in the wound by rallying a 4-2 win.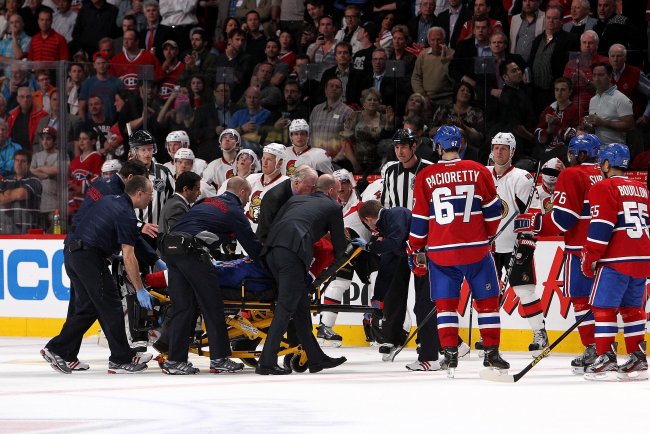 Francois Laplante/FreestylePhoto/Getty Images
Even with All-Star defenseman Erik Karlsson back in the lineup for Ottawa, Montreal is the better team, has a better goaltender and should ultimately win this series.
However, should the Senators take both games on the road in Montreal, all bets are off—this game could be a turning point in the Habs' season.
San Jose at Vancouver- Game 2, Friday, May 3rd at 10:00 p.m. ET
Like Montreal, the Canucks got beaten on home ice in their season opener, but for Vancouver, the stakes are decidedly higher.
That's because this is a team that was swept out of the playoffs as a No. 1 seed a year ago. For Alain Vigneault to keep his job, Vancouver will have to advance to at least the next round.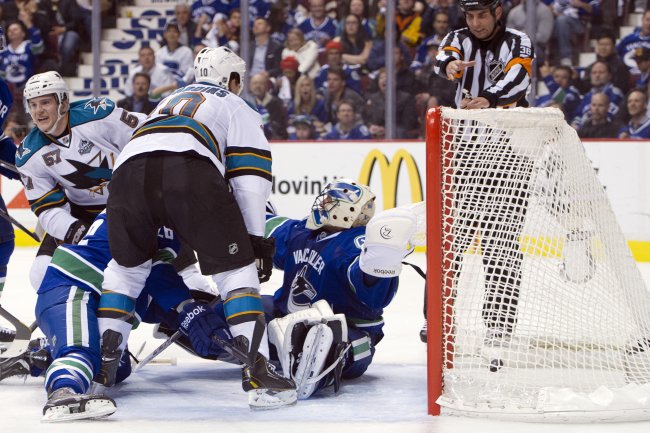 Rich Lam/Getty Images
Overall, the Sedin twins and Ryan Kesler need to be factors offensively, because it wasn't Roberto Luongo's fault the Sharks took Game 1.
If the Canucks fall again, this series might as well be over. We've seen the Canucks fold in the postseason too many times before.
New York Rangers at Washington- Game 2, Saturday, May 4th at 12:30 p.m. ET
After capturing the Southeast Division with a late season surge, the Capitals carried that momentum into the series opener against the Rangers on Thursday night.
Now playing for the third time in four postseasons, the Caps and Rangers are quite familiar with each other, and that was on display from the opening puck drop.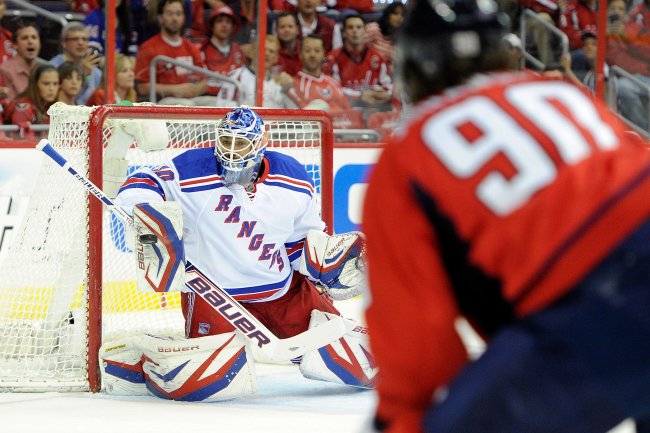 Greg Fiume/Getty Images
With a 3-1 win in Game 1, the Caps have given themselves the opportunity to take an early stranglehold on the series with a win on home ice on Saturday, because this is a team that is nearly impossible to beat when its playing with confidence offensively.
But in order to do so, the Caps either need to generate more quality scoring chances on the power play or hope that Henrik Lundqvist allows a couple of soft ones, like he did in Game 1.
Either way, this game is a must-watch because of the star power, the distaste for one another and the implications this clash will have on the rest of the series.
Toronto at Boston- Game 2, Saturday, May 4th at 7:00 p.m. ET
In Game 1 of this series between bitter Northeast Division rivals, the Bruins thoroughly dominated the Maple Leafs for the final 50 minutes of the contest and skated away with a 4-1 win.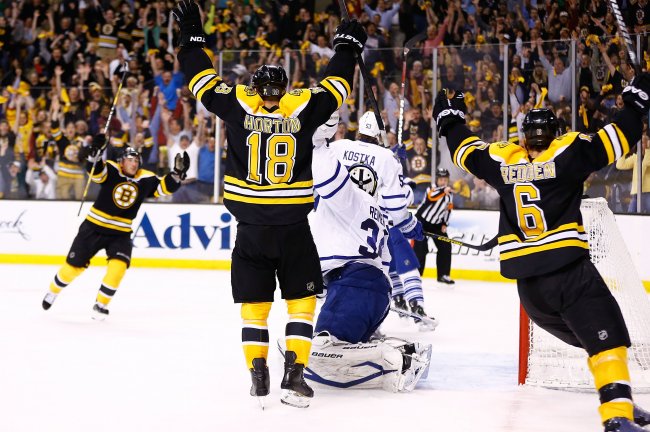 Jared Wickerham/Getty Images
Heading into the series, the Bruins were obviously favored to win, but Toronto's resurgence had its rabid fan base hoping for more than simply its first postseason appearance since the 2004-05 NHL lockout.
But if the Leafs are going to make a series out of this one, they'll have to be able to hang tough against the gritty Bruins, who are battle-tested and just under two years removed from a Cup title.
James Reimer has to be better in net, Phil Kessel and Nazem Kadri have to be factors offensively and Dion Phaneuf's defensive corps can't get pushed around by the big bad Bruins.
Otherwise, this series will be over in a hurry.