Each NBA Playoff Team's Biggest Injury Concern Right Now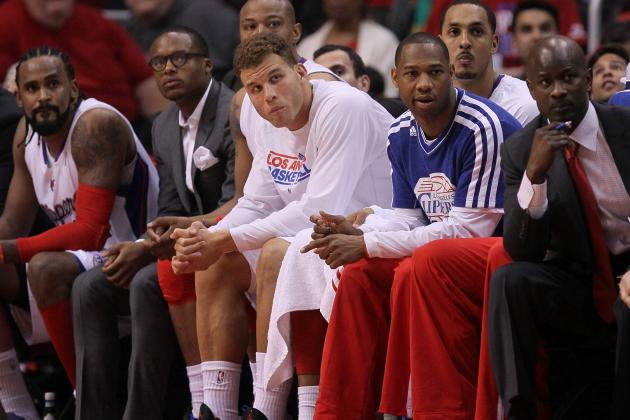 Stephen Dunn/Getty Images
The Clippers are in trouble if Blake Griffin can't play in Game 6.
Nothing can derail an NBA team's playoff hopes like untimely injury.
Of course, there's never exactly a desirable time for a player to get hurt, but at least during the regular season the stakes are significantly lower than they are during a seven-game series.
Not only are injuries more catastrophic to a team's chances once postseason play begins, but even the minor bangs and bruises start wreaking greater havoc. Absences hurt, but if a guy plays through the pain and comes up short, the team still suffers despite his determination.
Even the teams that aren't facing major injuries have reasons to be concerned. Teams need their health now more than ever; the slightest misstep could end their season.
Begin Slideshow

»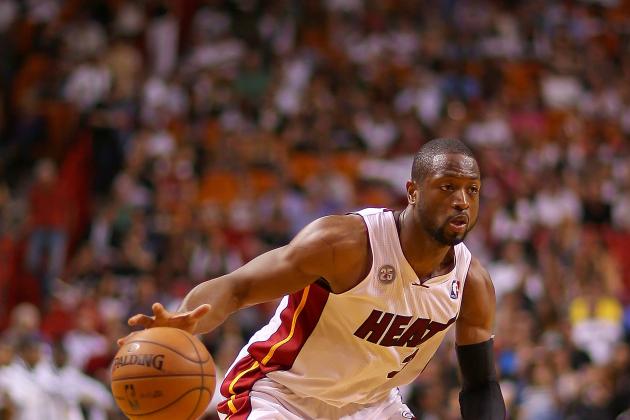 Mike Ehrmann/Getty Images

The Miami Heat have enough firepower to get by without Dwyane Wade, as LeBron James and company proved in their opening-round sweep.
Per Nate Taylor of The New York Times, James specifically asked Wade to sit in the series-clinching win in Game 4 against the Milwaukee Bucks. Wade went 1-of-12 from the field the game before while struggling with a sore right knee; both stars recognized the Heat needed to conserve their health for later.
"I told him, Hey, if you don't feel like you can be close to 100 percent, then don't push it," James said. "We've seen too many injuries already in this N.B.A. season, both regular and postseason of guys getting injured. That kind of came to my mind."
Miami has experienced playing shorthanded in the postseason; Chris Bosh's injury in the 2012 Eastern Conference semis didn't stop the Heat from winning the title. Expect Miami to treat Wade gingerly until he is at full strength or he is absolutely needed, whichever comes first.
Al Bello/Getty Images

It's a distressingly familiar sight for New York Knicks fans: Carmelo Anthony, lining up at small-ball power forward against a true big man, bodies up and emerges from the tussle clutching some aching body part.
In Game 5 against the Boston Celtics, it was Melo's left shoulder after he got wrapped up guarding Kevin Garnett. At any given point, however, he could be driving the line or fighting through a screen and come up lame. Contact is a big part of his game, but that makes him an injury risk at all times.
If the Celtics' two do-or-die wins are any indication, New York needs Anthony at his best in order to put this series away. He shot 18-59 from the field as an impending Knicks sweep turned into just a 3-2 series lead; he has to do better than that, and he has to have the physical ability to do so.
That means staying healthy. New York has other ways of scoring, but it leans so heavily on Melo that any injury would destabilize the offense.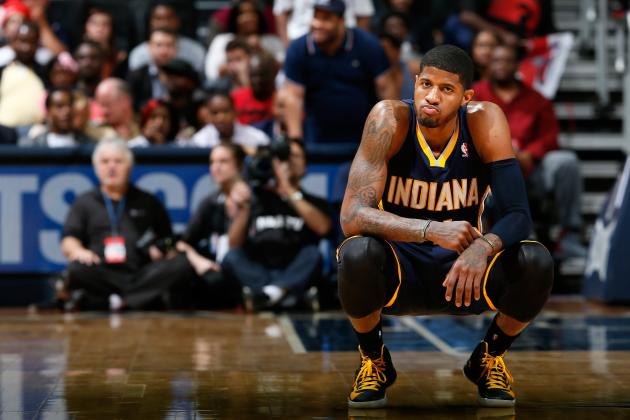 Kevin C. Cox/Getty Images

For a team that gives so physically, the Indiana Pacers are in surprisingly good shape right now.
It looked like David West might've been off when he played just 20 minutes in Game 2 against the Atlanta Hawks, but he has returned to his usual level of production since then.
With such an egalitarian squad and no obvious choice, the Pacers have to be the most concerned about keeping Paul George healthy.
The athletic wing is Indy's go-to scorer and its ace on-ball defender. His talent has been valuable thus far, but his particular skill set hasn't been altogether vital in the slugfest of an Atlanta series.
However, the Pacers don't have the depth to replace George if he is at all diminished, and he will become absolutely necessary if and when the Pacers encounter some explosive swingmen in the coming rounds.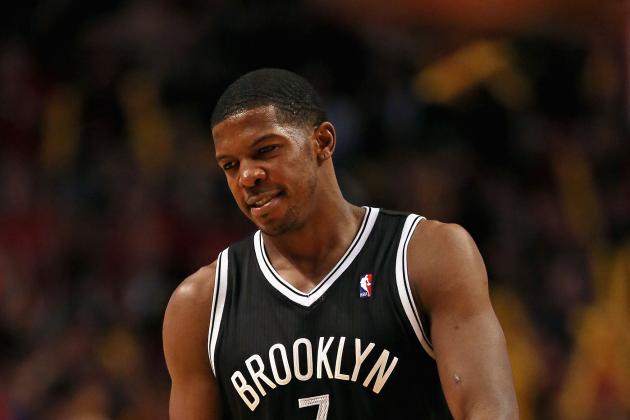 Jonathan Daniel/Getty Images

First off, let's just say that Joe Johnson was obviously lying.
Prior to Game 6, he told Mike Mazzeo of ESPNNewYork.com that plantar fasciitis in his left foot would not allow him to carry the offensive load for the Brooklyn Nets.
"I can't really push the basketball if I get a rebound, I can't really run pick-and-rolls, so basically I'm a decoy, a spot-up shooter. I can't really do a whole lot," Johnson said. "Like I told Deron [Williams] and Brook [Lopez], I'll be the bailout guy. If you get into a sticky situation, just try and find me."
Fast forward to the actual game, in which Johnson tied for the team lead with 17 points as Brooklyn sent its series with the Chicago Bulls to a Game 7.
Think about it: What would a player have to gain from announcing to the world that he's a decoy? If true, absolutely nothing. If not, he might have a bit more room to operate. Whether or not Chicago took the ploy into account, Johnson looked fine and he was a key contributor in the win.
That said, plantar fasciitis is the kind of thing that can act up and nag a guy. Johnson may be healthy enough now, but his situation has to be monitored going forward.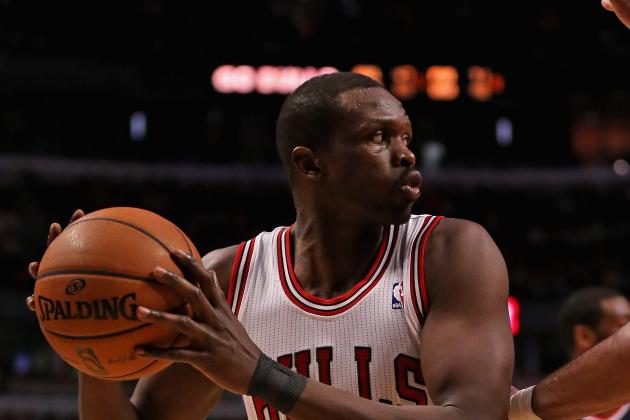 Jonathan Daniel/Getty Images

The Chicago Bulls' game plan relies upon a healthy Luol Deng.
His versatility and endurance allow him to power Tom Thibodeau's grueling defensive scheme. Playing as both a lockdown defender and an important scoring option for Chicago, Deng led the league with 38.7 minutes played per game this past season.
In Game 6 against the Nets, a number of Bulls played through flu-like symptoms; only Deng was forced to miss the game entirely. Chicago's remaining players kept it close and only fell by three, but that was the Bulls' last chance at the United Center. The series now shifts back to the Barclays Center in Brooklyn for Game 7.
Deng has a 48-hour gap between Games 6 and 7 to get healthy. Whether he can go and whether he can be himself on the floor will be the difference between Chicago winning this series on the road, or whether Deng and company end their season in Brooklyn.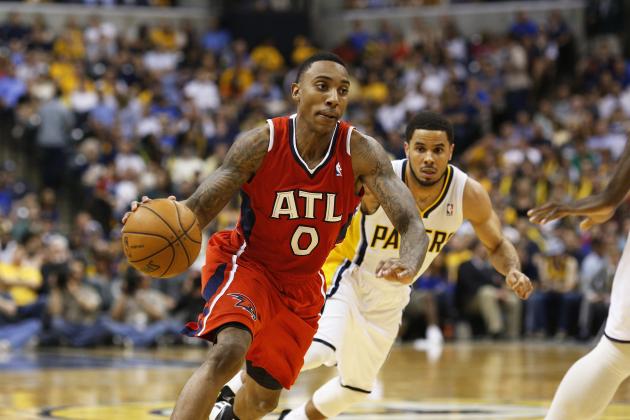 Joe Robbins/Getty Images

The Atlanta Hawks are going to need everyone at their best to have any hope of taking Games 6 and 7 from the Indiana Pacers.
That means Jeff Teague can't have a performance like the one he put forth in Game 5.
After turning an ankle late in the first quarter, Teague proceeded to shoot 2-of-12 from the field and dish out just one more assist in 23 more minutes of play. He had three points and four assists at the time of the injury.
Hopefully the Hawks won't have to worry too much about Teague's health when the series returns to Atlanta for Game 6; the home team has won every game of this series by at least 11 points.
Even so, they'd have to return to Indiana for Game 7, and they'd need a healthy point guard to come through on the road.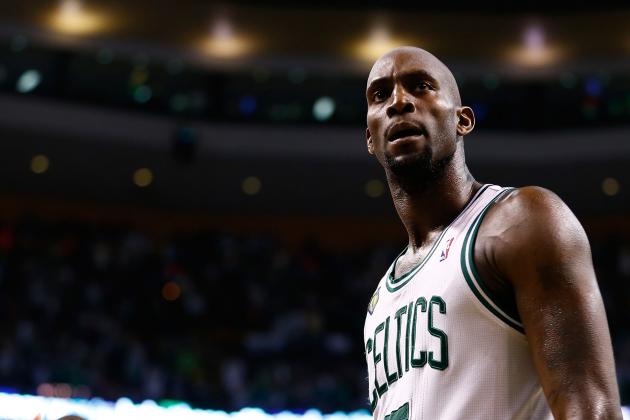 Jared Wickerham/Getty Images

Fun fact: No matter how well you're playing, it's bad to have bone spurs floating between your foot and ankle.
Jackie MacMullen of ESPNBoston.com reported following the Celtics' loss to the Knicks in Game 2 that Kevin Garnett was still bothered by his floating bone spurs as well as a hip injury.
In Boston's next three games, KG fought through the pain to play at least 34 minutes, score at least 12 points and pull down at least 17 rebounds in each of them. No matter that he is 36 and in his 17th NBA season; considering Garnett's relentlessness and grit, it's no surprise that he is still succeeding.
He needs to keep that up if Boston wants to pull off the historic comeback from down 3-0. KG is still a great interior defender, while none of his backups are even passable rim protectors. If he is limited on the floor or has to cut down on his minutes, Boston loses.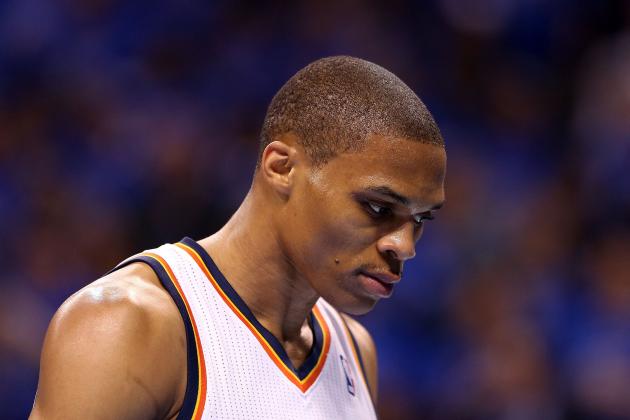 Christian Petersen/Getty Images

Russell Westbrook is surely out for the remainder of the playoffs, and yet his injury is still the most pressing concern for the Oklahoma City Thunder.
By nature, the torn meniscus that shelved Westbrook shouldn't still be a pressing concern for OKC; Westbrook can't return this postseason, so what is the point of being concerned about him now?
The Thunder's discombobulated play in their star point guard's absence has kept the issue in heavy discussion. Kevin Durant is playing like a one-man team right now, and for good reason: Without one of its only two playmakers, this team's offense goes only so far as Durant can take it.
Reggie Jackson and Derek Fisher cannot replicate what Westbrook did for OKC. Scott Brooks is going to have to think of some way to take the pressure off Durant if he wants to make good on his title aspirations.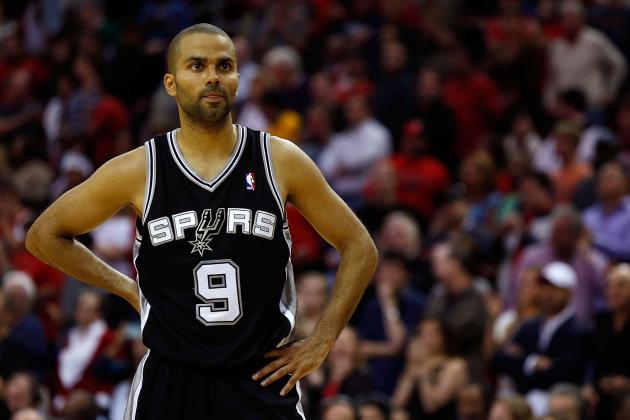 Scott Halleran/Getty Images

The Western Conference is playing out perfectly for the San Antonio Spurs.
With the Golden State Warriors shorthanded in the second round and the Thunder lacking Westbrook in a potential clash, what once looked like a dogfight to the NBA Finals now seems like a cakewalk.
That said, San Antonio showed during the regular season that this old group is susceptible to injury. Tim Duncan, Tony Parker, Manu Ginobili and Kawhi Leonard—the Spurs' four top scorers—all played fewer than 70 games in 2012-13.
Parker is the most integral of that bunch for the Spurs' playoff run. He'll be going toe-to-toe with Stephen Curry when the Spurs face Golden State, and he'd be able to exacerbate the Thunder's newfound weakness at point guard—not to mention the Heat, should that Finals matchup arise.
Gregg Popovich has done a masterful job building team depth while keeping his best guys in playing shape. Duncan might be the least replaceable Spur, but with few low-post threats on the horizon, Parker is the most indispensable.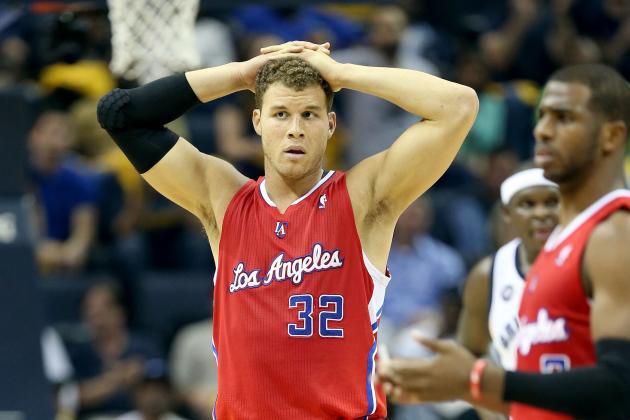 Andy Lyons/Getty Images

Chris Paul can't lead the Los Angeles Clippers past the Memphis Grizzlies by himself.
That much was clear when the Grizz scored a double-digit victory in Game 5 at the Staples Center, capitalizing on a high ankle sprain Blake Griffin suffered in practice the previous day. Griffin tried to give it a go against Memphis, but he was removed after 20 largely ineffective minutes.
On the other side, Zach Randolph took full advantage of Griffin's pain, putting up 25 points and 11 rebounds with no real challenge from the Clippers frontcourt. Paul was able to put up 35 points on the stingy Memphis D, but he could not make up for Los Angeles' pedestrian interior play.
Down 3-2, LA is at the brink of elimination. If the Clippers don't want Randolph and Marc Gasol to eat them alive on their home court, they need Griffin to be able to challenge them inside at the very least.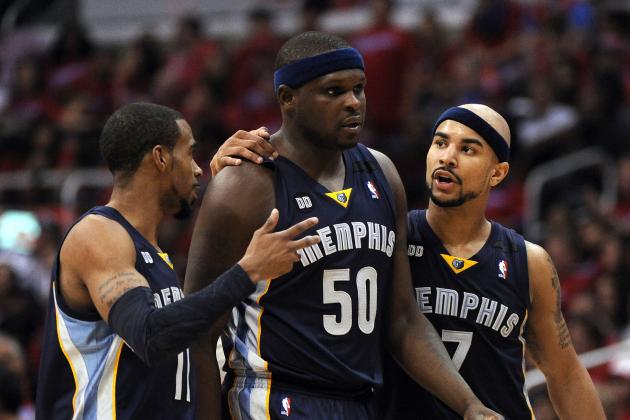 Harry How/Getty Images

Per ESPN's Kevin Arnovitz, Zach Randolph would like to remind everyone that Blake Griffin is not the only guy dealing with an injury right now.
"Banged up?" Randolph said. "I'm banged up. You forgot about my ankle? Banged up. My ankle is as big as a balloon. Talk to the trainers. I'm getting treatment every day. It's the playoffs."
Randolph dealt with injuries to that left ankle during the regular season, but he is not willing to let a nagging injury derail his postseason campaign. He's going to work for points in the low post, he's going to fight on the boards and he is not going to give in to the pain.
"Last year when I played in the playoffs, I wasn't 100 percent, but I was out there, so I had to be 100 percent," Randolph said. "It's the playoffs. It's a big-boy game."
Shots fired at Blake aside, Randolph is clearly not concerned about his ankle. With the way he's playing now, the Grizzlies shouldn't stress over it, but it is definitely worth monitoring.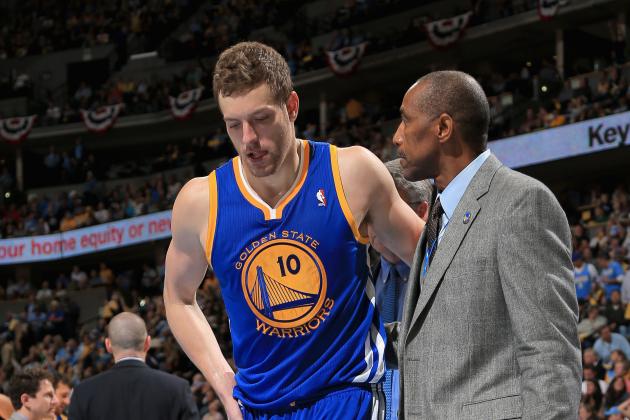 Doug Pensinger/Getty Images

In Game 1 of the Golden State Warriors' series against the Denver Nuggets, he went down with a torn hip flexor, effectively knocking him out of the playoffs.
Lee suited up and got a little over a minute of run in Game 6, less than six days after suffering his season-ending injury.
If the Dubs were still fighting their way out of the first round, Lee's long-term absence would have been less crucial than the status of Steph Curry's ankle. Yet Golden State got past Denver in Lee's brief return, so the focus now turns to whether Lee is actually back and when he can contribute again.
With a matchup with the Spurs looming, the answers to those questions are urgent. There is also little margin for error; if Lee comes back before he is ready, Duncan and company will make him pay.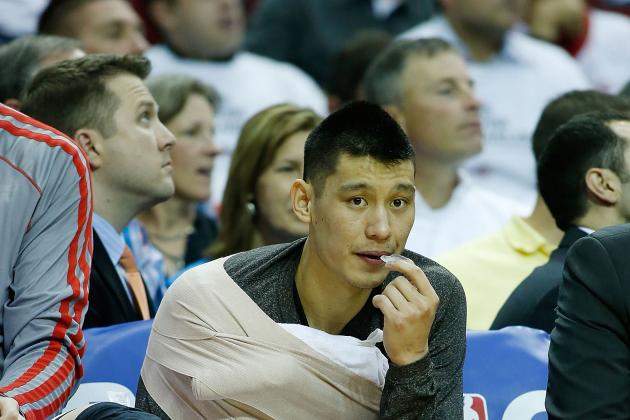 Scott Halleran/Getty Images

Jeremy Lin is day-to-day with chest contusion, which presents the Houston Rockets with two issues.
The first is basic and expected: How do you respond when your starting point guard goes down? Houston actually did not miss a step in solving that one, as Patrick Beverley stepped in and has outperformed the incumbent in this small postseason sample size.
Though he only locked down a spot in the rotation in February, Beverley is now averaging 33.4 minutes per game this postseason, scoring 12.6 points and pulling down 6.0 boards. Meanwhile, Lin was miserable in his three playoff games, putting up just 4.3 points and 2.7 assists.
Even without the injury, chalk this up as a cold streak for Lin—but does Houston trust him to take minutes away from Beverley when the newcomer is producing?
Playing do-or-die basketball against the Thunder gives Houston no margin of error for that question. How Lin performs and how the Rockets approach his injury could tip the balance between Houston fighting on and bowing out. It's exactly the kind of injury concern that drives teams mad.