Best NBA Playoff Series Comebacks of All Time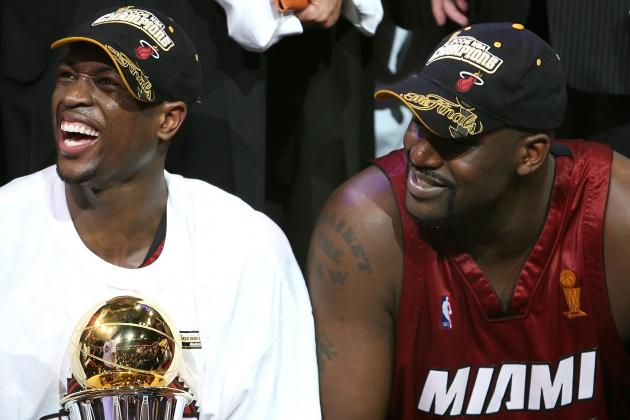 Ronald Martinez/Getty Images

It may not happen this year, it might not happen in the next decade even, but at some point an NBA team will find its way out of a 0-3 playoff deficit.
The first round of the 2013 postseason saw two clubs make a strong bid to enter the history books. Both the Houston Rockets and Boston Celtics turned 0-3 deficits into six-game series, but neither was able to complete the still impossible task.
The NHL and MLB have both witnessed 3-0 series leads get completely relinquished, most recently by the Philadelphia Flyers in their seven-game tilt with the Boston Bruins in 2010.
So basketball's lagging a bit behind its peers in that regard, although there's a reason for that.
An NBA team can't rely on a dominant pitcher or a stonewall goalie to change the complexion of a series. It takes a total team commitment over the 192 minutes (at least) to fuel a four-game spurt, with little to no margin for error.
But that's not to say that the rich history of the league has been devoid of some masterful series comebacks.
So in the spirit of these cardiac kids both past and present, why not take a look back at the 10 most memorable series comebacks in NBA playoff history?
Begin Slideshow

»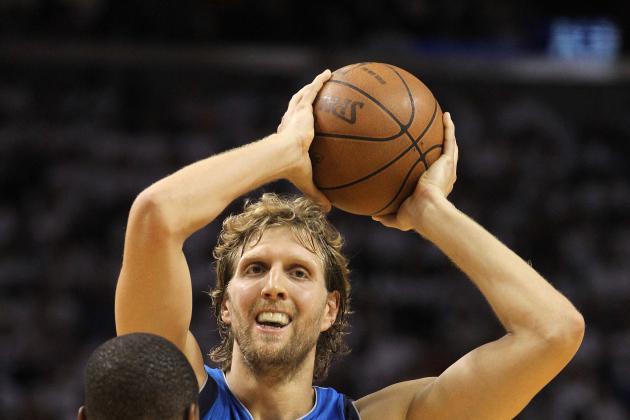 Ronald Martinez/Getty Images

There's been no shortage of comeback thrillers over the history of the NBA, but two particular series deserve mention even if they fell just shy of a spot in this list.
Charles Barkley's Phoenix Suns nearly squandered a league-best 62-win season, dropping the first two games of their best-of-five series with the eighth-seeded Los Angeles Lakers. But Chuck averaged 28.7 points, 12.0 rebounds, 4.7 assists, 2.0 steals and 2.0 blocks (via Basketball-Reference.com) as Phoenix won three straight games to avoid monumental disaster.
The Suns would advance all the way to the NBA Finals, where they fell victim to Michael Jordan and the Chicago Bulls during their first of two three-peats.
In 2011, Dirk Nowtizki's Dallas Mavericks faced the daunting task of dealing with the recently formed star-studded Miami Heat. Behind 24 points from LeBron James, the Heat ripped away home-court advantage with a 92-84 win in Game 1.
Miami and Dallas split the next two contests, which put history on the Heat's side, as 11 teams to previously take Game 3 in the 2-3-2 NBA Finals format had gone on to win the championship (via Sekou Smith of NBA.com).
Miami held a nine-point lead early in the fourth quarter of Game 4 but could not compensate for an uncharacteristic performance from James (eight points) and lost the game 86-83. The Mavericks won the next two contests by an average of 9.5 points, giving Dallas its first (and only) NBA title in franchise history.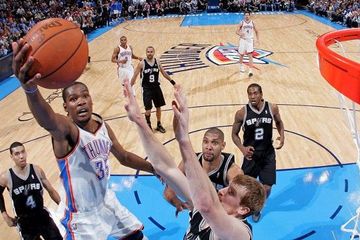 The most recent entry on this list saw the up-and-coming Oklahoma City Thunder matched up against a battled-tested and scorching-hot San Antonio Spurs squad.
Gregg Popovich's team closed out the regular season with a 10-game winning streak, then made short work of its first two playoff opponents, sweeping both the Jazz and the L.A. Clippers.
But Scott Brooks' youthful roster hadn't faced a much more difficult path through the playoffs, sweeping the Mavericks in the first round and dispatching the Lakers in five games in the conference semis.
San Antonio flexed its strength with a 24-18 edge in the opening quarter, but Oklahoma City roared back by winning the next two periods and carrying a 71-62 lead in the fourth. But the Spurs had no interest in snapping their streak in front of their home fans and blasted the Thunder for 39 points in the period to salvage a 101-98 win.
San Antonio ran its winning streak to 20 games with a 120-111 victory in Game 2, but it wouldn't last any longer than that. In front of a raucous Chesapeake Energy Arena, the Thunder raced past the Spurs en route to a 20-point win, then built their own winning streak with four straight victories to close out the series.
Three-time scoring champ Kevin Durant averaged 29.5 points, 7.5 boards and 5.3 assists in the series, but Oklahoma City's luck ran out in the NBA Finals. The Thunder took Game 1 of that series but dropped the next four to LeBron James and Dwyane Wade's Heat.
Before battling Barkley's Suns, Jordan's Bulls first had to get through the New York Knicks.
With legendary coach Phil Jackson manning the sideline and his team having brought home a pair of NBA championships in the last two seasons, the Bulls clearly had the advantage in the eye test.
But the Knicks had home-court advantage and made the most of it. Patrick Ewing's 25-point, 17-rebound performance gave New York a 98-90 win in Game 1. John Starks dunked his way to legendary status two nights later, and more importantly helped the Knicks take a commanding 2-0 series lead.
Back on their home floor for Game 3, the Bulls sprinted out to a 103-83 victory as Jordan flirted with a triple-double (22 points, 11 assists and eight rebounds).
His Airness poured in 54 points in Chicago's 10-point win in Game 4. Then he added to his storybook career with 29 points, 14 assists and 10 rebounds as the Bulls survived by a count of 97-94 in Game 5, while Knicks forward Charles Smith added an unfortunate chapter to his own tale by failing to convert four potential go-ahead shots in the final seconds.
Chicago ended New York's season with a 96-88 win in Game 6 before dispatching Barkley's Suns in as many games.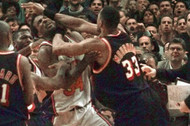 The rivalry between the Miami Heat and the New York Knicks was one of the dominant storylines of the Eastern Conference in the late '90s.
But it was their clash in the '97 Eastern Conference semifinals, the first of four consecutive postseason matchups between the teams, that kicked everything off and yielded an all-time great series comeback.
The third-seeded Knicks swept their first-round series with the Charlotte Hornets and kept up their strong play by stealing an 88-79 road win against a Heat team that had survived a five-game tilt with Shaquille O'Neal's Orlando Magic.
Miami salvaged a split on its home floor behind Tim Hardaway's 34 points in a Game 2 88-84 victory, but New York took full advantage of its home-court advantage theft by winning both Games 3 and 4 back in Madison Square Garden.
The momentum flipped (literally) in Game 5, and that had little to do with Miami's 15-point win.
With less than two minutes left in regulation, 6'10" Heat forward P.J. Brown flipped 6'0" Knicks point guard Charlie Ward over his shoulders and out of bounds. New York rookie John Wallace immediately grabbed Brown, and several players left the bench to join the melee (via Mike Wise of the New York Times).
Three different players, Brown, Ward and John Starks, were ejected for their involvement.
A more damaging blow came from the league office, though, which suspended Starks, Ward, Patrick Ewing, Allan Houston and Larry Johnson one game each.
Although the penalties were spread across two games, the undermanned Knicks couldn't keep the Heat from closing out the series with a 101-90 win in Game 7.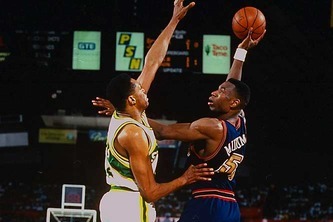 David may have had better odds in his biblical battle with Goliath than the Denver Nuggets had in their opening-round series with the Seattle Supersonics in 1994.
The top-seeded Sonics roared into the postseason after posting a franchise-best 63 wins, finishing 21 games ahead of the eighth-seeded Nuggets.
A pair of double-digit Seattle wins to open the series had Sonics fans reaching in their broom closets in anticipation of a seemingly inevitable sweep.
But Denver coach Dan Issel may have saved the series with a motivational and brutally honest assessment of his young club, telling the media, "To be honest, we just wanted to get some playoff experience this year."
Relieved of the pressure put forth by the enormous odds against them, Issel's players responded with a convincing 110-93 win in Game 3 when the series shifted to Denver.
After the Nuggets found their way to 94-85 overtime victory in Game 4, thanks to 27 points and 17 rebounds from LaPhonso Ellis and eight blocks from Dikembe Mutombo, suddenly the series was headed back to Seattle, where the Sonics had lost just four games all season, for a winner-take-all Game 5.
Seattle grabbed an early lead but carried just a three-point advantage into halftime. Denver battled back in the second half and had a lead late before Kendall Gill's last-second layup meant a five-minute overtime period was needed to settle the series.
Denver reserve Bison Dele (Brian Williams at the time) had 19 boards and 17 points, and fellow bench player Robert Pack poured in 23 points, including 10 in the fourth quarter, as the Nuggets eked out a 98-94 win to become the league's first eighth seed to eliminate a top seed.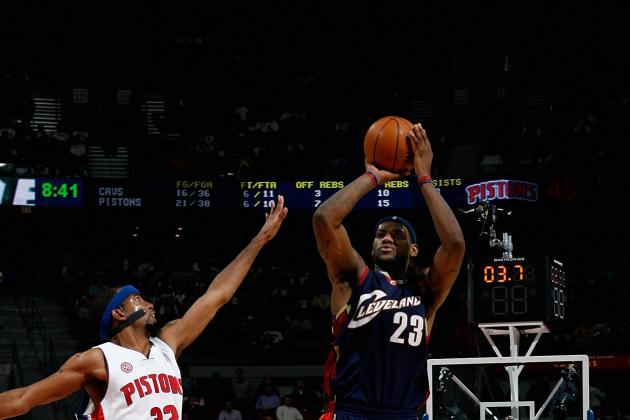 Gregory Shamus/Getty Images

For the second straight season, the Cleveland Cavaliers and Detroit Pistons squared off in the 2007 playoffs. This time around, the lights were brighter and the stage was bigger.
After Detroit had dispatched Cleveland in seven games in a 2006 conference semifinal a year before, the Pistons appeared as if they might be able to keep this series a little shorter.
Detroit opened the series with back-to-back home wins, both by identical 79-76 scores. The Cavs had the comfort of knowing they'd responded the previous year when the Pistons opened that series with a pair of victories, but the Pistons were able to lean on the experience of playing in the previous four Eastern Conference Finals.
Of course what the team-first Detroit team didn't have was one LeBron James, and his superstar presence would soon be felt.
The King poured in 35.0 points (on 52.1 percent shooting from the field), 9.0 assists and 8.3 rebounds in a trio of dominant performances (via Basketball-Reference.com), although none stood out quite like his masterful, series-changing effort in Game 5.
Cleveland had held serve in Games 3 and 4, meaning the series was all knotted up at two games apiece when the teams traveled back to the Palace at Auburn Hills for a pivotal Game 5 matchup.
The playoff-tested Pistons grabbed a 29-23 lead after the first quarter, but the Cavs had erased all of the six-point gap by the end of the third.
That's when James had seen enough. In one of the most remarkable playoff performances in league history, the King poured in Cleveland's final 25 points, 18 of them coming after the end of regulation, as the Cavs escaped with a 109-107 double-overtime victory.
When James' magic ran out in Game 6 (20 points, 3-of-11 from the field) rookie reserve Daniel Gibson was there to pick up the slack. Gibson erupted for a game-high 31 points, including five three-pointers, as the Cavs punched their first (and only) NBA Finals ticket with a 98-82 win.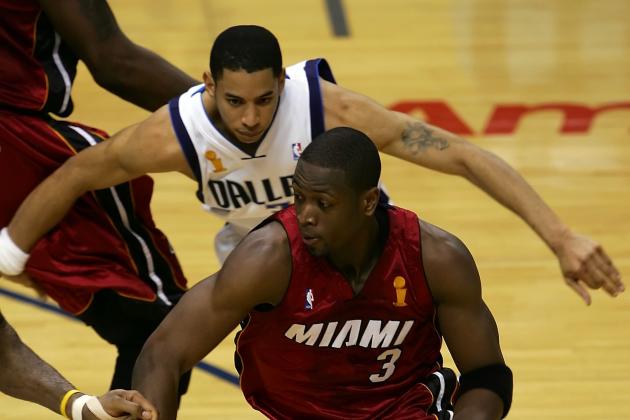 Lisa Blumenfeld/Getty Images

Although the Miami Heat enjoyed the better playoff perch (second seed in the East) than their 2006 NBA Finals opponent the Dallas Mavericks (fourth seed in the West), it wasn't hard to tell which team had had the more dominant regular season.
At 60-22, the Mavericks held the third-best record in the league but unfortunately played in the same division as the 63-win San Antonio Spurs. Without a division title on their resume, the Mavericks faced a tougher path through the playoffs than the 54-win Phoenix Suns and 44-win Denver Nuggets (a fact that necessitated the most recent change to the NBA's playoff format a few months later).
The Heat were no regular-season pushover, holding a 52-30 record on the year, but the Mavs were the clear favorites heading into the series.
That status was only strengthened by a pair of double-digit wins to open the festivities, with Jason Terry (32 points) doing the heavy lifting in Game 1 and Dirk Nowitzki (26 points, 16 rebounds) leading the charge in Game 2.
The friendly confines of the AmericanAirlines Arena aided Miami's strong start in Game 3, but a commanding 34-16 third-quarter effort from Dallas hinted that the series could be over before it got started.
But even a 13-point lead with six minutes left in regulation wasn't enough, as the stunned Mavericks (and the rest of the NBA) caught a firsthand glimpse of a budding superstar in third-year pro Dwyane Wade (42 points, 13 rebounds).
The effects of Miami's 98-96 Game 3 clearly carried over to Game 4, as the Heat won all four quarters (including an eye-opening 20-7 fourth quarter performance) en route to a 98-74 win.
Dallas responded in Game 5, though, carrying an eight-point lead into intermission. But spurred on by a Miami crowd that knew it was the last time they'd be seeing their team that season, the Heat rallied to force overtime and eventually found their way to a 101-100 win.
The game was not without controversy, though.
Despite shooting 11-of-28 from the field, Wade finished the night with 43 points aided by a 21-of-25 showing at the free-throw line. Those 25 free-throw attempts matched the charity stripe opportunities for the entire Mavericks team.
His last two attempts came with just 1.9 seconds left in regulation, turning a 99-100 deficit into a 101-100 win.
Wade poured in 36 points in Game 6, Dallas shot just 37.0 percent from the field and Miami's 95-92 win gave the Heat their first NBA championship in franchise history.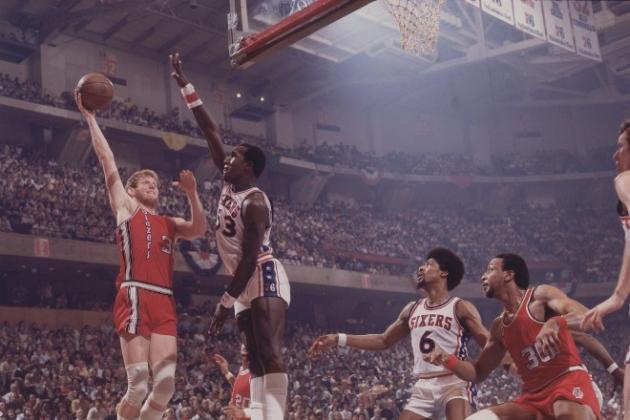 The ABA-NBA merger prior to the 1976-77 season made immediate impact in the finals that season.
The two title combatants, the Portland Trail Blazers and Philadelphia 76ers, built half of their starting lineups with former ABA ballers. Maurice Lucas was the pivotal addition for Portland, while Philadelphia landed the electric Julius Erving.
Erving and Doug Collins combined for a total of 110 points over the first two games of the series, as Philadelphia stormed out to a 2-0 series lead. Prior to that season only one team (which will be identified later on this list) had ever recovered from such a deficit in an NBA Finals.
But gaudy point totals quickly changed hands when the series shifted to Portland. The Trail Blazers erupted for 129 points in a 22-point victory in Game 3, then raced out to 130 points in a 32-point win in Game 4.
Portland built a seven-point lead after the first quarter in Game 5, then withstood a frenetic Sixers fourth-quarter charge to escape with a 110-104 win.
Portland's Hall of Fame center, Bill Walton, had 23 boards, 20 points, eight blocks and seven assists in a Blazers 109-107 win in Game 6 to secure the franchise's first (and only) NBA title.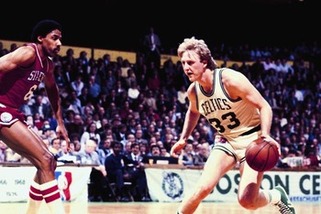 The Boston Celtics and Philadelphia 76ers' Eastern Conference battle in 1981 was everything a postseason should be. In fact, former ESPN.com analyst John Hollinger labeled it as his greatest series in NBA playoff history.
The superstar talents overflowed from both rosters.
Larry Bird was Boston's unquestioned leader, but he was far from its only option. Robert Parish manned the middle, Tiny Archibald orchestrated the offense, Cedric Maxwell flanked Parish and Kevin McHale set the standard for NBA sixth men.
Julius Erving dazzled as Philadelphia's go-to scorer, Bobby Jones set the defensive tone, Darryl Dawkins punished opponents and backboards alike and Andrew Toney played the role of Swiss Army Knife.
The series started in Boston, where the Sixers eked out a 105-104 win behind 51 combined points from Erving and Toney. But the Celtics soared to a 118-99 in Game 2 as Bird poured in 34.
Philly held serve at home, taking a commanding 3-1 lead with a 107-105 win in Game 4.
The Sixers held a 109-103 lead with 1:51 left in regulation in Game 5, but a three-point play from Tiny Archibald trimmed the gap to three. Bird added a layup to make it 109-108 with 47 seconds left, then stole a pass on Philadelphia's next trip but missed a floater. M.L. Carr corralled the offensive rebound, got fouled and calmly hit both free throws, helping Boston notch a 111-109 win.
Philly built a 13-point lead in the first quarter in Game 6, but Boston trimmed it to three over the next two periods. Bird's 18-footer gave the Celtics a 98-95 lead with a minute left, Maxwell added a pair of free throws and Boston survived with a 100-98 win.
Back in Beantown for Game 7, the Sixers again grabbed an early lead and nursed a four-point edge into the fourth quarter. They built that edge to seven with 4:34 left, but the Celtics wiped out the lead over the next 90 seconds.
Bird banked in a midrange jumper to give the Celtics a 91-89 lead with 1:03 left, and that would prove to be the series winner. Boston escaped with a 91-90 victory and went on to defeat the Houston Rockets in the NBA Finals.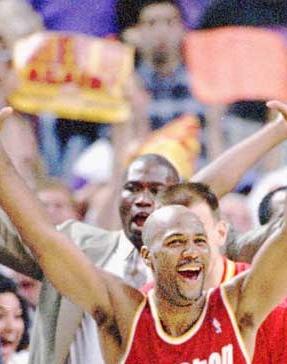 The 1995 Western Conference semifinal battle between the Houston Rockets and Phoenix Suns had it all: Hall of Fame talents, frantic comebacks and game-winners.
The defending champion Rockets were operating out of the sixth seed and needed all five games to dispose of the third-seed Utah Jazz in the first round. A 59-win season earned the Suns the second seed out West, and they made the most of it by sweeping the seventh-seed Portland Trail Blazers in the opening round.
That extra rest became evident when the Suns stormed to a 130-108 win in Game 1 and looked as if they might sway the entire series when they added a 118-94 victory in Game 2.
A 36-point, 11-board effort from Hakeem Olajuwon helped the Rockets flip the script in Game 3 as Houston coasted to a 118-85 win back on its home floor. But Kevin Johnson's heroic performance in Game 4 (43 points, nine assists and six rebounds) gave the Suns a commanding 3-1 lead with a 114-110 win.
Despite a combined 45 points, 28 rebounds and 10 assists from Johnson and Charles Barkley, though, Phoenix collapsed late in Game 5, managing just 18 points in the fourth quarter and overtime period combined. Houston's 103-97 victory trimmed its series deficit to one, and its 116-103 win two nights later tied it at three games apiece.
Back in front of their home fans, the Suns stormed out to a 26-13 lead over the first 12 minutes in Game 7. But the Rockets chipped away at that advantage in the second quarter, then completely erased it with a 40-28 third-quarter edge.
Kenny Smith hit a pair of free throws to give Houston a 110-109 lead with 45 seconds left in regulation. Johnson was fouled on the Suns' next possession and stepped to the line with a perfect 20-of-20 performance going. He hit his first attempt, but his second rimmed out, giving the Rockets the basketball with a tie score.
Robert Horry wound up with the ball near half court, then fired across court to an open Mario Elie in the corner. Elie skied to keep the pass from sailing over his head, replanted his feet and calmly buried a triple with just 7.1 seconds left in the game that proved to be the winning bucket in Houston's series-clinching 115-114 win.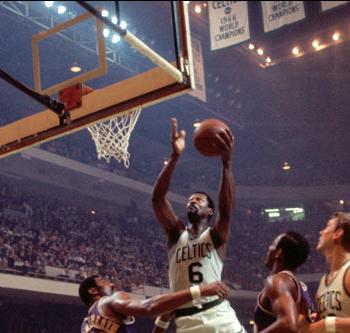 Despite having won 10 of the last 12 championships, the Boston Celtics entered their 1969 NBA Finals matchup with the Los Angeles Lakers as decisive underdogs.
The top seed in the Western Conference, L.A. had compiled 55 regular-season wins on the strength of its star-studded trio of Jerry West, Elgin Baylor and Wilt Chamberlain. The Celtics, meanwhile, worked out of the fourth seed in the East and featured an aging core led by player-coach Bill Russell.
West poured in 53 points in the series opener, Chamberlain dropped in a clutch basket with 23 seconds left in regulation and the Lakers survived with a 120-118 win. Forty-eight hours had done nothing to cool West's torrid shooting, as the Logo scored 41 points in the Lakers' 118-112 Game 2 victory.
At the time, no team had ever recovered from an 0-2 series gap in an NBA Finals.
But these Celtics weren't exactly a typical team. They held West to 24 points in Game 3 and rode John Havlicek's 34 points to a 111-105 win. West dropped 40 in Game 4, but the rest of his team managed just 48 and couldn't prevent Sam Jones' buzzer-beater to even the series at 2-2.
West added to his gaudy scoring totals with 39 in Game 5, but his teammates masterfully filled their supporting roles and L.A. grabbed a 3-2 series lead with a 117-104 win. Despite 52 points from West and Baylor in Game 6, the rest of the Lakers struggled and Boston once again evened up the series with a 99-90 win.
Boston built a three-point cushion after the first quarter in Game 7, and the two clubs played to a draw in the second period. But a 32-20 Celtics advantage in the third gave them a 15-point lead heading into the fourth quarter.
L.A. had sliced that lead all the way down to one point when Boston reserve Don Nelson rattled in an 18-footer as the shot clock expired. The Lakers scored late to leave a closer-than-it-was 108-106 margin in Boston's championship victory.
West averaged nearly 38 points per game in the seven-game series and was rewarded with the Finals MVP award, becoming the first (and only) award winner to ever play for the losing team.