Prospect Pipeline: Houston Astros' Top 20 Prospects After 2013 MLB Draft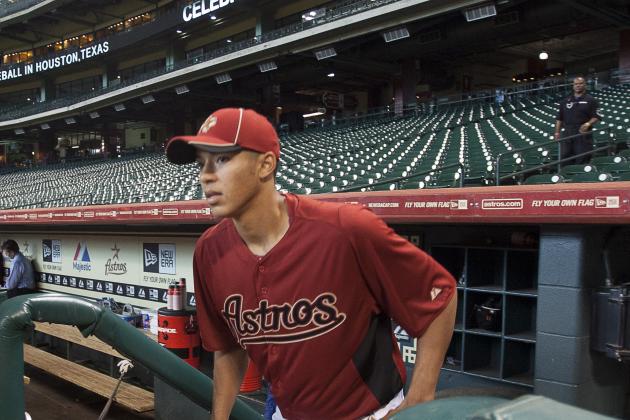 Bob Levey/Getty Images

The 2013 MLB draft has come and gone again as each major league team hopes to have selected the next Hall of Famer. With the return of the draft, an increased focus is placed on each of the 30 franchise's farm systems to see how bright the future is.
The 2013 Houston Astros don't have much to be excited about, but coming up in the minor leagues is a bevy of young and talented players hoping to make their mark on the major league club. Through recent trades and drafts, general manager Jeff Luhnow has boosted the depth and talent level in what was not so long ago a deprived and dry farm system.
With the first overall pick in this year's draft, the Astros selected Stanford starting pitcher Mark Appel. It remains to be seen, of course, how Appel will adjust to the professional game. It's hard to tell how he'll fit in with the ranks of current Astros prospects, or how the other Astros draft picks will fit in, but we can readily anticipate their arrival to the professional game.
They, along with the already growing collection of potential superstars in the farm system, comprise one of the best top to bottom systems in the game, and we hope to see them all soon in Astros uniforms.
Begin Slideshow

»
Ezra Shaw/Getty Images

Before we dive into the top 20, let's look at those who just missed the cut:
Jason Stoffel: A closer acquired in the Keppinger deal, and someone I'm very excited about joining the team soon for closing duties.
Jake Buchanan: An on-and-off pitcher who is currently on, which has caused him to jump up my list, and I sure hope he stays on that level in the majors.
Preston Tucker: Love his power, but I want to see him put it into a solid statistical season, away from Lancaster, which he could show with his promotion to Corpus.
Jack Armstrong: Hoping Tommy John surgery will have made him stronger like it does to some young pitchers, but he still can't pitch until next season.
Austin Wates: Great speed and can put the bat on the ball, can be a great lead-off hitter in the future.
Brady Rodgers: Similar to No. 20 on the list, just doesn't project to be much better, so I gave the nod to the new guy.
Ariel Ovando: Starting to think he is a full-blown bust even though he's still very young. Not expecting much out of him anymore with massive holes in his swing and untapped power.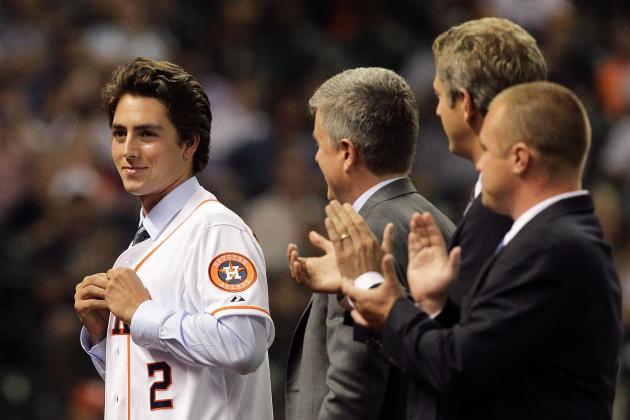 Bob Levey/Getty Images

Andrew Thurman was drafted in the second round of the 2013 draft out of UC Irvine and just barely slips into the 20th spot.
He has a projectable frame similar to that of Brady Rodgers, but he has higher velocity and bigger body at 6'3", 200 pounds, which will help him log more innings in the future and strike out more batters. His fastball can be upwards of 94 MPH, and relies heavily on his change-up, which has a lot of late movement and sits at around 80 MPH.
He'll need to develop a third reliable pitch if he hopes to go anywhere in the professional game, but Thurman has a high floor and a good ceiling, at worst becoming a middle reliever and at best being a middle-of-the-rotation guy.
This was a safer pick as the Astros attempted to get more polished talent into the system following the rawer 2012 draft. Thurman, as a junior at UC Irvine, posted a 3.21 ERA with 65 strikeouts, against only 14 walks. He'll need to continue to develop a third reliable pitch if he's planning on sticking around. He has been assigned to Single-A Tri-City.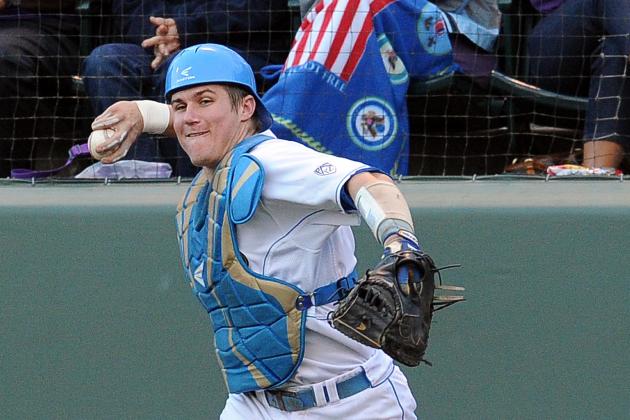 Jayne Kamin-Oncea-USA TODAY Sports

I've really liked Tyler Heineman since his days in UCLA, but I liked him even more when the Astros drafted him in the eighth round of last year's draft.
All he's done since arriving in professional ball is hit, as he won the NYPL batting title last year and is currently hitting just below .300 at High-A Lancaster this year, and while you shouldn't always buy into Lancaster statistics, there's still a lot to be excited about this underrated prospect.
Listed at 5'11" and 205 pounds, Heineman is able to produce a good amount of power and high contact, but his main trade is his defense. He can throw out any would-be base-stealers and can handle a staff very well.
It surprises me when I see other lists and Heineman is not even mentioned. He's a capable college player who could find himself replacing Carlos Perez on the big league level in two years or even less if he continues at his current rate.
He's close to being the best catching prospect the Astros have, with Perez, Max Stassi and recent draftee Brian Holberton being his only real threats. He has a high floor, and I could definitely see him being an All-Star catcher in his prime.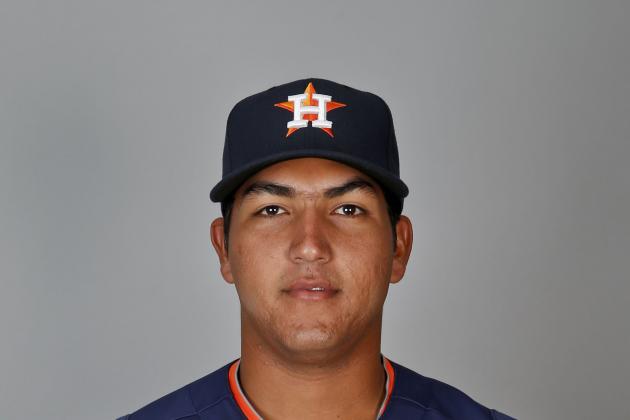 Derick Hingle-USA TODAY Sports

Carlos Perez was acquired from the Blue Jays in the big 10-player deal with Toronto last season and since then has shown himself to be exactly what the Astros thought he was: a defense-first catcher that can still hit for a high average and have decent pop.
He just recently got promoted to AAA Oklahoma City after hitting .283 at AA Corpus Christi and a .771 OPS. However, it is his defense that will help him shoot up into a place in Houston next to Jason Castro, fighting for the starting catching job, as soon as this September.
In his short stint with Oklahoma City, Perez is hitting .305 with a .784 OPS. If his bat continues to develop as it has and he shows he can continue to hit in AAA, a late-season call-up could lead to a full time job with the big league club, supplanting Carlos Corporan.
However, Perez will probably stay put in AAA for another year or maybe two at age 22, as he has time with catchers behind him, such as Max Stassi and Tyler Heineman, while Carlos Corporan and Castro are doing a great job with the big club.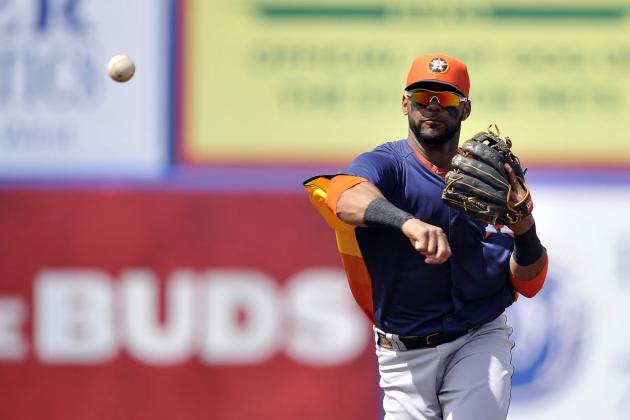 Brad Barr-USA TODAY Sports

Jonathan Villar was acquired in the ill-fated Roy Oswalt trade with the Philadelphia Phillies, during the atrocious Ed Wade era. At the time, he was a high ranked prospect who was deemed as "toolsy" and very raw but a potential top-notch, All-Star-caliber player.
Right from the get-go I didn't like Villar simply because of the "toolsy" tag, which was also used with former Astros busts such as Brian Hunter, Tommy Manzella, J.R. Towles, Jio Mier and Eli Iorg, so the term "toolsy" just gives me shivers right away.
While he is ranked very low and is dropping most boards quickly, Villar's lower ranking is also due to increased depth on the Astros part. He is currently hitting at a .282/.336/.445 slash line in his first year at AAA, which is a solid showing to go with his great glove.
With nobody fantastic above him (only Marwin Gonzalez and Ronny Cedeno), Villar could see a promotion later this year and the chance to be the stop-gap with Gonzalez until Nolan Fontana and Carlos Correa are prepared to take the reins.
Other than that, I don't see Villar having a role with the team, but he still does have a small amount of time to develop into a more advanced hitter. At age 22, it is still very possible, which no doubt would give him a leg-up on the competition with Gonzalez and Cedeno later this year.
Kevin Comer was acquired from the Blue Jays in the 10-player trade and was drafted in the first round in 2011. He stands at 6'3" and 205 pounds, which gives him a strong frame, from which he can throw his three already developed pitches, with his strongest being a mid-90s fastball.
Coming into just his second year as a pro, Comer is still incredibly raw, and his potential is far from being fully tapped. He'll probably start the season at rookie level or Low-A, after posting a 4.56 ERA and .265 opposing batting average in 49.1 innings pitched split between the Astros and Blue Jays rookie league levels.
He has a ceiling at about a third or second starter, but his floor is still lower than the major leagues, making him still a very high-risk player.
It remains to be seen whether or not he'll continue to grow, as only another season in pro ball will help the Astros see what they have in this young player. In his short time with Tri-City this season, Comer has an impressive 1.38 ERA in three games, with nine strikeouts in 13.1 innings pitched.
Joe Musgrove is almost a replica of Kevin Comer. Standing two inches taller and weighing about 30 pounds more, Musgrove was also brought over in the haul from the Blue Jays and was drafted out of high school in the first round of the 2011 draft. He also has very little pro experience and hasn't shown much success in his incredibly small sample size.
Musgrove reportedly has a good sinking fastball, and adds a splitter and curve, both developing pitches. It's because of those pitches that are already more developed than Comer's three basic set that I have Musgrove above his fellow ex-Blue Jay.
He has a high ceiling as a potential number two starter who can eat lots of innings and a low floor as a player who never cracks the majors. Just like Comer, only time will tell on whether this prospect is good enough to become a major league baseball player.
Domingo Santana was the PTBNL in the Hunter Pence deal with Philadelphia and has received mixed results since his arrival with Houston. At only 20 years old and already holding his own at AA, Santana is on a good pace to make the majors.
However, the highest ceiling he'll probably achieve is a third outfielder with some power in the middle of the order, but a more likely projection is a power bat, fifth outfielder off the bench (see Jason Michaels).
He has a ton of time to develop further, but he fits the prototypical power-guy who can't hit for average and strikes out too much. Another full year in AA Corpus Christi will definitely help his cause, as of right now he's hitting .249 with 14 home runs but with 90 strikeouts to only twenty four walks.
The power is exciting, but like many young prospects, Santana desperately needs to work on his plate discipline. If he mends his holes, then he'll develop into the blue-chip prospect the Astros need and roam the pastures of Minute Maid for years to come.
Asher Wojo was yet another pitcher acquired from the Blue Jays, drafted in 2010 in the first round. At age 24 and in AAA, Wojo already has the standard three pitch mix that are just about all MLB-ready offerings, including a mid-90s fastball, a curveball and his weakest pitch, the changeup.
So far this season, Asher has split time between AAA Oklahoma City and AA Corpus Christi, putting up some solid numbers, including a 2.99 ERA and 83 strikeouts in 90.1 innings pitched. He induces more fly balls than groundouts and won't cause many strikeouts.
Nonetheless, he's already a solid pitcher and is practically MLB caliber already. His ceiling is a third or fourth starter, and the only thing keeping him ranked above teammates Comer and Musgrove is his floor of a quality long reliever or even set-up man.
If the success continues in AAA, I wouldn't be surprised to see Wojo competing for one of the Astros' rotation spots if more than one player on the staff goes down. Jarred Cosart would easily have first shot. At 6'4" and 235 pounds, Asher Wojciechowski can easily become a reliable workhorse for the Astros for the next couple of years.
Vincent Velazquez was drafted by the Astros in the second round back in 2010 and has had an up-and-down career since.
Velazquez has gotten injured many times throughout his career including Tommy John surgery in 2011, but in between the injuries, he has put up solid numbers leading many to speculate his true potential. I believe he has the ability to be a solid No. 2 starter.
In Single-A right now, Velazquez is putting up average-to-below-average numbers, with a 3.93 ERA and a .244 opposing batting average to go with 80 strikeouts in 71 innings. Good, but not great numbers, especially for a low-level league.
I think Velazquez will pick it up and continue his rise up the ladder on his way into Houston. He'll continue to improve and hopefully be a mainstay in the rotation. I don't think he'll be a big innings-eating guy, but he has the talent to be on the top of a rotation and, at worst, be in the back end of a rotation.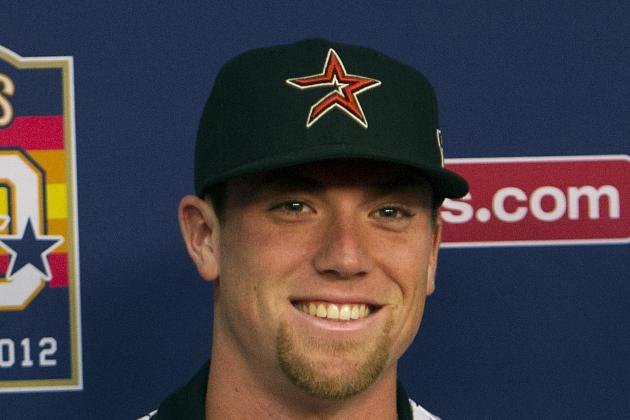 Bob Levey/Getty Images

Shortstop Nolan Fontana is an interesting player, drafted in the second round of last year's draft. He doesn't have any individual tools that will make you watch him, but all of his tools added together form one of the most solid and consistent players in the Astros farm system.
Standing at 5'11", a good height for a middle infielder, Fontana has a great eye and draws a ridiculous amount of walks, which helps lead to on-base percentages near .500. Right now in High-A Lancaster, Fontana is hitting .272/.417/.441.
He receded a lot after returning from an injury in early June and should bounce back soon and perhaps end the season in Double-A. He can hit for a high average and has a little bit of power to help throw in potentially 10-15 home runs in the big leagues.
In the long run, Fontana's role with the Astros is to fill in the shortstop position until Carlos Correa is ready. However, if Correa falters or Fontana succeeds, Fontana could take over short or even move to third or second.
Rio Ruiz was drafted last year as one of the creative picks Jeff Luhnow made after saving money on Carlos Correa. The high school third baseman was highly touted until he had a blood clot in his throwing shoulder his senior year, stopping him from playing and teams from scouting him.
Despite drawing constant comparisons to former superstar Eric Chavez due to his lefty swing, good contact ability, superb defense and good power, Ruiz has been unable to adapt to the professional game.
In the past couple of weeks, Ruiz has had a bit of resurgence, but until he is able to show that he can handle professional pitching, he will continue to fall down prospect lists, hitting only .225, with only three home runs, a pitiful .329 slugging percentage and fifty-three strikeouts.
He still has the talent to succeed not only in the minors but also for the Astros in the big leagues in the future. Repeating a year as a young player would more than likely help instead of hurt the developing Ruiz as he attempts to further his career. He could in the end become an All-Star third baseman, but his floor is very low since he's still raw.
Drafted in the fifth round of the 2011 draft out of Stony Brook, Nick Tropeano is one of the more intriguing prospects in the Astros system. He isn't a highly touted prospect, but he has a lot of finesse that help him to be a good pitcher. Standing at 6'4" and 205 pounds, Tropeano has a large frame that helps him eat innings and give him a higher ceiling.
Currently on the disabled list and having pitched injured for a while, Tropeano is pitching with a 4.40 ERA and posting 67 strikeouts in 73.2 innings pitched. Not his best work, but Tropeano is still developing and getting stronger at age 22. He's continuing to work on his fastball, as his velocity can head up to the high 90s. His change-up is his best pitch.
If he returns from his injury as strong as he was, then Tropeano could become upwards of a No. 2 starter if all goes well, and he could become a long reliever even if he doesn't fully pan out. He has great control, which could help him sustain a long successful major league career.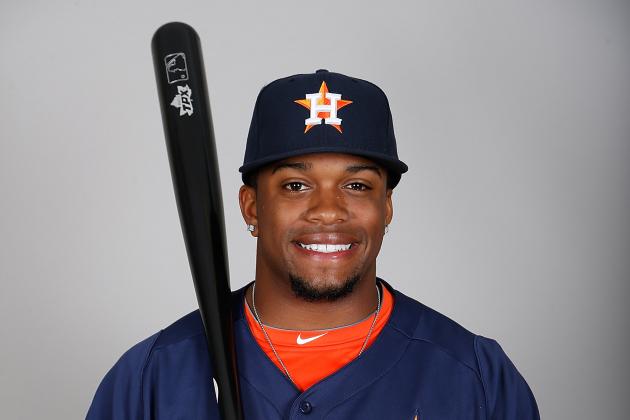 J. Meric/Getty Images

Delino DeShields Jr., the son of the former major leaguer of the same name, was drafted in the first round in 2010 and has been up and down since then. He is supposed to be much like his father was, a speedy lead-off hitter.
This season in High-A Lancaster, his first full season at that level, the 20-year-old second baseman has hit what would appear to be a solid .278 batting average and .393 slugging percentage, especially for a younger player based on league averages. But keep in mind this is Lancaster, the hitter's haven and pitcher's nightmare.
DeShields should have no problem hitting over .300 and smacking much more than his two home runs. The fact that he has been unable to do so is startling.
He is still a great fielder, but DeShields is supposed to be a great lead-off hitter with good power and amazing base stealing ability, having stolen over 100 just last season. He is young, so development could still occur.
I still have high hopes for DeShields, with his ceiling being about an All-Star caliber second baseman year in and year out, but he may not find a place on the team to start, with Altuve hopefully manning second for years, and perhaps even Fontana taking over at the position.
Before any of that happens, however, DeShields needs to advance his hitting, make less strikeouts, hit for higher average and get promoted.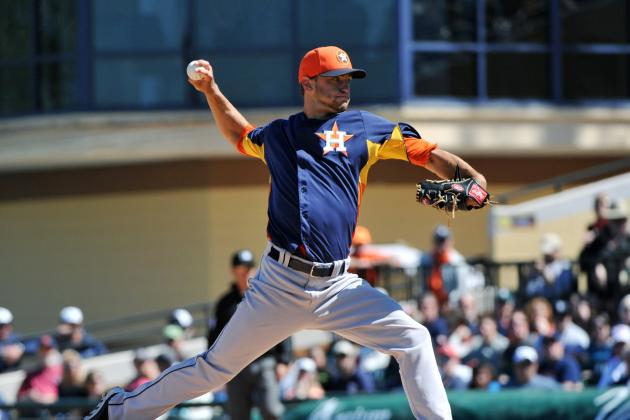 Al Messerschmidt/Getty Images

One of the key pieces in the Hunter Pence trade in 2011, Jarred Cosart has finally shaken off his injury-prone ways and has pieced together some solid seasons. He has a high-90s fastball, a developing curveball and a change-up, all MLB ready pitches, but he could still use a little bit of polish.
He worked a lot on his control of off-speed pitches, which he says has helped him to become a better overall pitcher and lead to his current success.
Currently one step away from the majors in AAA, Cosart is having a great season, posting a 3.05 ERA, while striking out more than one batter per inning, walking just about half a batter per inning and having opponents bat only .200 against him.
Jarred Cosart is prepared to take the next step and move into the major league rotation now, and he most likely will when Bud Norris or Erik Bedard are traded before August. He could become an ace but will more than likely become a No. 3 starter. Nonetheless, his arrival is readily anticipated in Houston.
To have somebody with the talent level of Mike Foltynewicz ranked so low on this list is a true testament to the strength of the Astros farm system.
Folty, with his powerful 6'4" 200 pound frame, can consistently hit 100 miles per hour on the gun throughout a start. With this kind of ability, it's easy to see why scouts around the league are beginning to take notice of the 2010 first-round draft pick.
Currently pitching in AA, Folty has pitched in 12 games since his promotion and has impressed so far, posting a remarkable 1.88 ERA, averaging more than a strikeout per inning and walking less than half a batter per inning.
This success has turned many heads and have many wondering when the big right-hander will be hoisted up to the next level. Mike has acquired these statistics using three pitches, his high 90s fastball, a curve ball and a change-up that he's reportedly working heavily on.
Foltynewicz has a great frame and the ceiling to be a true No. 1 starter, a potential Astros ace. His ability to hit so high on the radar gun has driven his floor up, with the ability to become a quality set-up man or even a closer.
A spot in the rotation is almost guaranteed for Folytnewicz. If he continues to develop he could become the franchise pitcher.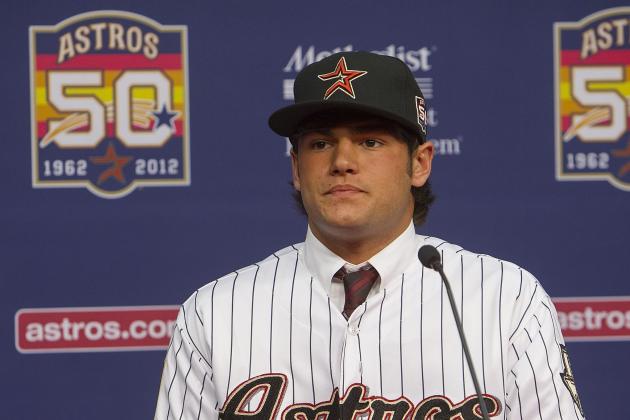 Bob Levey/Getty Images

Lance McCullers Jr. was my favorite prospect in last year's draft, and I was elated when the Astros selected him 41st overall, as he slipped due to signability issues. He was able to sign due to the money saved from the Carlos Correa deal.
Standing an inch shorter than Cosart and the same weight as Nick Tropeano, McCullers is able to generate enough power to hit 100 mph deep into starts, which he has done on occasion in A Quad Cities.
For the River Bandits this season, the 19-year-old starter has recorded a superb 2.07 ERA and opposing batting average of .217. He strikes out 78 batters in only 69.2 innings pitched. While these numbers are only from Single-A, they are remarkable for someone of McCullers' age.
If Lance McCullers continues to put up the numbers and develop the way he has through his first two professional seasons, he could find his way into Houston in three years.
When he arrives, he has the true potential to be a No. 2 starter for years to come, as one of the top pitchers in the game. If he doesn't pan out, his high arm velocity would be perfect for a closer or set-up role.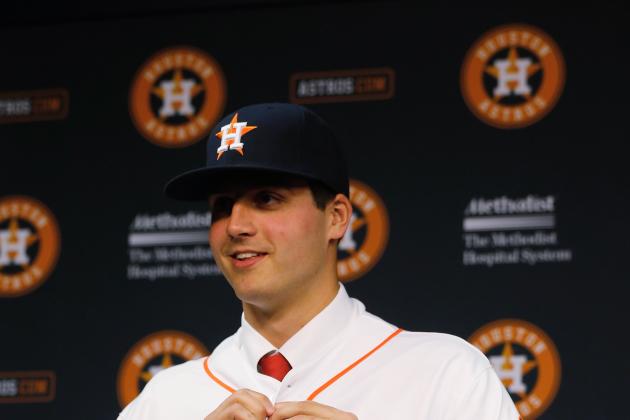 Scott Halleran/Getty Images

Mark Appel was the second consecutive No. 1 overall draft pick that the Astros had. He was the top prospect of the 2013 draft, and although I didn't want the Astros to draft him over others, such as Kris Bryant and Colin Moran, he still should be a very good pitcher.
The sole reason why Appel is ranked above McCullers Jr. on my list is because all of the "expert" scouts dub Appel as the next best pitcher in baseball. Many would be upset with me dropping him here to the No. 4 spot, but I believe that McCullers will be better in the long run.
Appel boasts a powerful fastball, which is already deemed MLB ready, and a change-up and slider that are developing quickly into above average pitches. Turning 23 in two weeks, Appel needs to be ready to shoot up the system quickly after starting his career in Tri-City in a few weeks.
He doesn't strike out as many batters as you'd like, but he still is a great pitcher, who as a senior for Stanford last season posted a 2.56 ERA and well over a strikeout per inning.
He could easily become the No. 1 pitcher in Houston in only two quick years, and his floor his so high that it is just as a back-of-the-rotation starter. No matter what, this was a wise pick for Houston, and Appel should help them return to glory.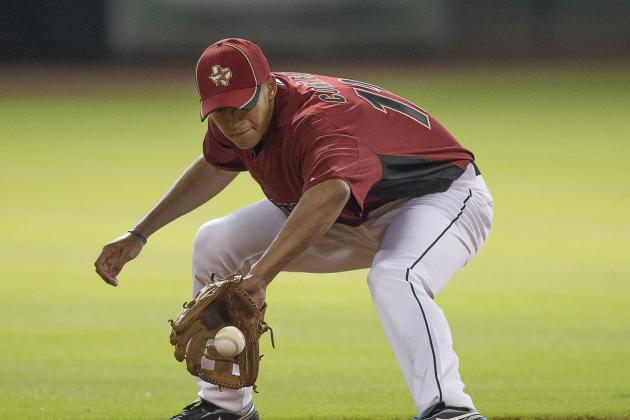 Bob Levey/Getty Images

Carlos Correa was the first overall pick taken by the Astros in the 2012 draft and has impressed since then. He was drafted for many reasons, including his amazing glove, hitting for good average and the ability to sign him cheaply, allowing for the drafting of many others on this list.
Standing at 6'4" and 205 pounds, the Puerto Rican shortstop has hit to a .317/.405/.435 slash line in his first full season at Single-A, stats that are boosted because of a red hot past month. That could lead to a promotion sooner rather than later.
Considering he's only 18, those numbers become even more astounding and make him look like a better player. He desperately needs to cut down on his strikeouts, but with him being such a young player, it's likely that he will develop more patience as time goes on.
Correa has the ceiling to become an All-Star caliber shortstop year in, year out, but as a young high school player, his floor is well below the major leagues. However, I believe he'll develop into a great major leaguer and contribute to the Astros for many years.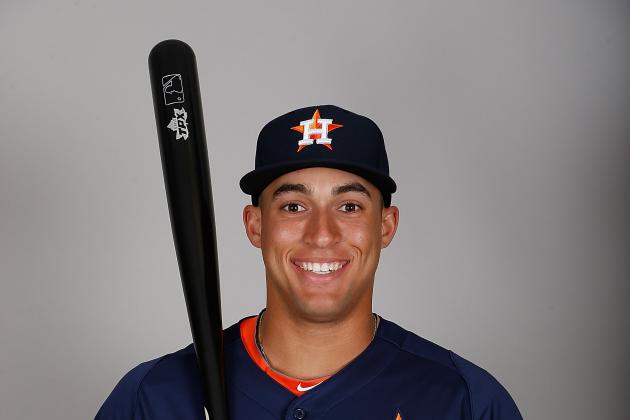 J. Meric/Getty Images

George Springer was the first pick made with Jim Crane's influence and is one of the big signs of the rebuilding phase. Drafted in the first round in 2011, Springer has impressed many scouts, showing that he can be a rare complete five-tool player.
In AA Corpus Christi, the 23-year-old outfielder hit .297 with a league leading 19 home runs, and since then has been promoted to AAA Oklahoma City. While he desperately needs to cut down on his horrendous strikeout rate, Springer is already a great hitter, with elite power and great ability to hit for contact.
To go along with his hitting abilities, Springer is also a great baserunner and has a fantastic arm in the field to go along with great range. He comes very close to being a true five-tool player.
If he continues to develop as he should and reduces his strikeout rate while also adapting to the advanced pitching he'll continue to face, he should have no problem becoming an amazing player in the majors.
With the likelihood of being called up next year, and even the possibility of a September call-up this season, Springer's potential is being heavily looked at. He could easily become a No. 3 hitter in a great lineup and be a consistent Gold Glover and All-Star. The sky's the limit for George Springer.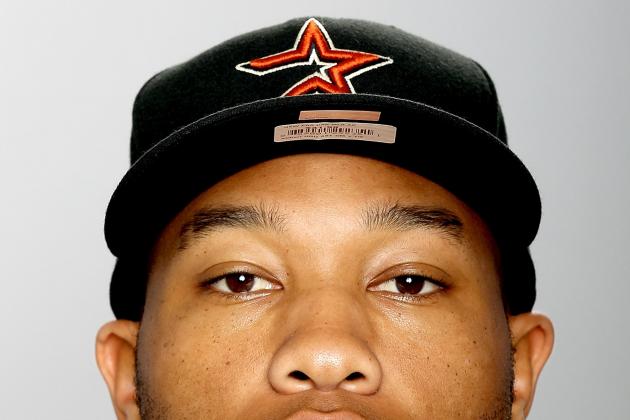 Matthew Stockman/Getty Images

Jonathan Singleton is supposed to be the future of Astros baseball. The highest-ranked first base prospect in the game was reeled in from the Philadelphia Phillies in the Hunter Pence trade and hopes to be the key factor in deciding the Astros the winner of the trade.
Standing at 6'2" and 235 pounds, the former eighth-round draft pick out of high school in 2009 has done nothing but hit since the beginning of his professional career. He just recently returned from a drug suspension, which hasn't deterred many scouts to be excited about him, but it has given him a slow start in his return.
He has moved up the ladder quickly since returning to form, and has slingshot himself into AAA Oklahoma City. This year in just 32 games, Singleton is hitting .245 with six home runs.
He has fantastic power and a unique ability to hit for high average. He isn't a fast runner and won't wow anybody with his glove or range, but he's solid in all three areas and should be fine sticking at first base.
As he continues to tap into his power and contact abilities, Singleton will advance through AAA and move into Houston. I don't think he should be called up this year, as he's only 21 and should get accustomed to the higher level of competition first in AAA.
But when he does get called up, most likely next season, the rebuilding phase will finally begin to see results, and he will usher in the new era of Astros baseball.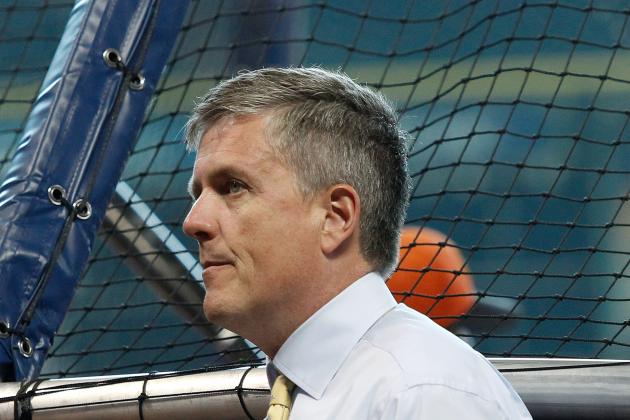 Bob Levey/Getty Images

After seeing the list of Astros prospects, it makes me very excited for the future of this team. Many of the top 20 have the potential to be elite-level players and have begun to tap into their potential. Jeff Luhnow has carefully constructed a great looking future team, and now it's only up to the prospects to fulfill their potential and pan out.
A breakdown of those on the list:
Acquired by trade: 8
Acquired by Astros originally: 12
Starting Pitchers: 10
Position Players: 10
Catchers: 2
Third Basemen: 1
Second Basemen: 1
Shortstop: 3
First Basemen: 1
Outfielders: 2
Luhnow has done his part, and now it's the prospects' turn to show what they can do.
Primary Sources: mlb.com
bleacherreport.com