Juventus vs. Palermo: Complete Serie A Preview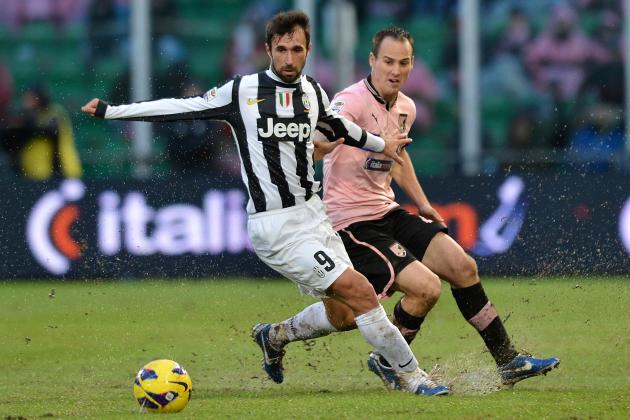 Tullio M. Puglia/Getty Images

The title is in Juventus' grasp.
With just 12 points left up for grabs this season, Juventus leads the Serie A by 11. A mere draw this Sunday at the Juventus Stadium will give the Bianconeri their second consecutive title—their 29th officially, although any Juve fan will tell you the true number is 31.
Securing the title this week will not be a mere walk in the park. The visiting clubhouse will be occupied by 17th-placed Palermo. The Rosaneri are trying to stave off relegation after a horrific season which has seen four coaching changes and a lengthy stay in the drop zone that only ended a week ago, when they crawled clear on goal difference.
In a game that heavily influences both ends of the table, how will things fall? Let's take a closer look at Sunday's matchup.
Begin Slideshow

»
Tullio M. Puglia/Getty Images

Juventus
Palermo
1897
Founded
1900
Bianconeri
Nickname
Rosaneri
1 (80)
Table Position (Points)
17 (32)
25-5-4
League Record (W-D-L)
6-14-14
29 (official)
Scudetti
0

2 UCL (last in 1995-96)

3 UEFA Cups (last in 1992-93)

Continental Cups

Europa League Rd. of 16 (2005-06)

Antonio Conte
Coach
Giuseppe Sannino
Gianluigi Buffon
Captain
Fabrizio Miccoli
WL*WWW
Last 5 Matches
WWDDW
*Second Leg of UEFA Champions League Quarterfinal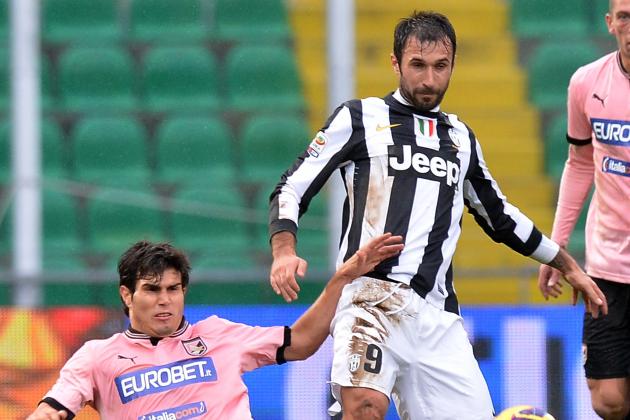 Tullio M. Puglia/Getty Images

A gritty 2-0 victory over Torino in the Derby della Mole at their old stomping grounds of the Stadio Olimpico di Torino last week has put the title on Juve's doorstep. A single point from this match will end the race for the Scudetto with three weeks to play.
Juve have looked far more dominant this season than they did in last year's title run, despite last year's unbeaten season. Last year saw Juve draw 15 times and win 23. This season Juve has already won 25 matches. Last week's match is a perfect example of a game in which the team would have been held to a draw last season, but was a win this season.
It's hard to top what Juve has done this season. They will likely spend the last three games of the year giving younger players a run and seeing how to start lining things up for next season.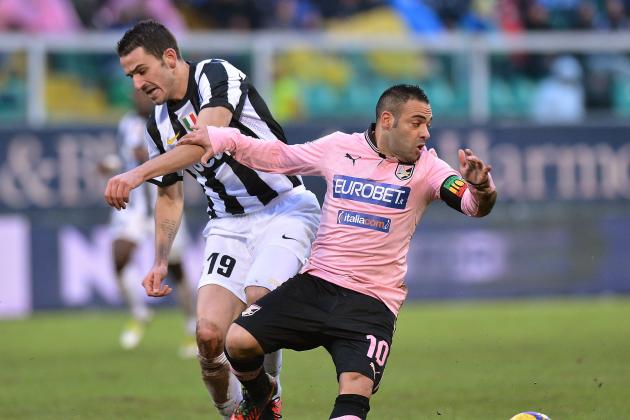 Tullio M. Puglia/Getty Images

It has been an absolute nightmare for Palermo this season. Notoriously unstable owner Maurizio Zamparini has changed coaches four times this season. Giuseppe Sannino was hired in the summer, but only lasted half a month before he was replaced by Gian Piero Gasperini. Gasperini was sacked in early February in favor of Alberto Malesani, only to take the reins again less than three weeks later. Gasperini's second stint behind the wheel was equally brief, and Sannino was brought in again several weeks ago.
The return of Sannino seems to have reversed the fortunes of the Sicilians somewhat. After a 2-0 defeat against Milan on March 17, Palermo has not been defeated, earning three wins and a pair of draws over the last five weeks.
Those 17 points have lifted them clear of the drop zone for the first time in months, although their position is tenuous. They're tied on points with Genoa and only two ahead of Siena.
The next four weeks figure to be a fight for the 17th spot on the table and Serie A safety.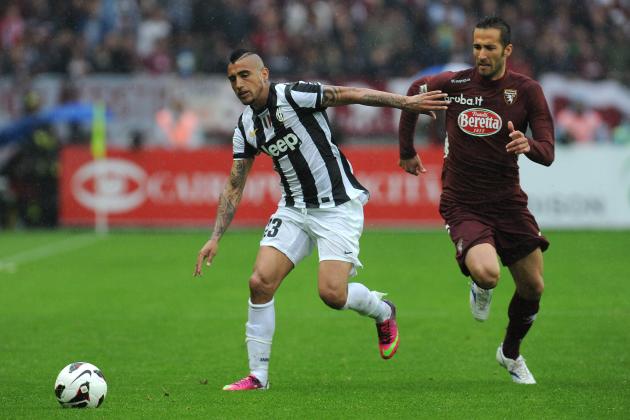 Valerio Pennicino/Getty Images

Arturo Vidal
King Arthur has been Juve's most important player all season. His late strike from range against Torino was a bolt from the blue when it looked as though the Bianconeri would be unable to penetrate their local rivals' defense. Over the course of the season, his defensive grit, devastating runs through the channels in midfield and endless motor has been what's made Juve go.
Vidal has a horde of big-time clubs drooling over the possibility of acquiring him, but he has repeatedly denied that he will be leaving Juve, with the latest denial coming a week ago.
Vidal will be vital to Juve's control of the midfield, as well as vital element of Antonio Conte's tactics.
Leonardo Bonucci
Palermo will likely try to lock down on Andrea Pirlo and the rest of Juve's midfield triangle. Bonucci's passing skills—unmatched by any defender in Italy and possibly the world—could be a vital link to the players farther up the field. if the Rosaneri force Conte's men to bypass the midfield and take a more direct route towards the goal.
Bonucci will also be vital in closing out forward Fabrizio Miccoli and attacking midfielder Josip Ilicic, who have blossomed into renewed form since the reappointment of Sannino.
As the anchor in the center of the defensive trio, Bonucci will be tasked with making sure the box in front of Juventus is closed.
Paul Pogba
Pogba's play has been hard to ignore the season—so hard that Antonio Conte has recently changed his formation to a 3-5-1-1, sliding Claudio Marchisio into a trequartista role in order to include Pogba more regularly in the starting lineup.
The 20-year-old Frenchman was the best man on the field for Juve in Sunday's win. He looked dangerous every time he had the ball and missed a sitter moments before Vidal's goal. With regular starters' minutes, he could blossom into one of the world's premier midfielders, and even now he is a huge part of Juventus' future plans.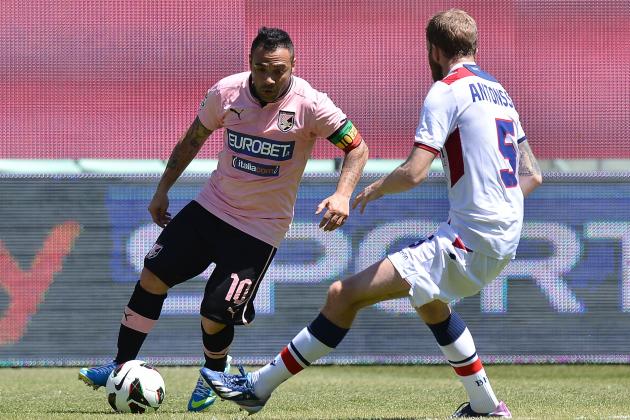 Tullio M. Puglia/Getty Images

Fabrizio Miccoli
The former Juve man has become a talisman for Palermo over the course of his time there, but this year has only seen six goals from the former 19-goal scorer. He has supplied eight assists, which is joint-fifth in the league. The most recent of those assists came on Josip Ilicic's winner last week against Inter.
If Palermo are to stand a chance at a smash-and-grab point (or three), Miccoli will have to be on the top of his game, both as an orchestrator and as a finisher. Otherwise, a loss could place his team in a tenuous position in relation to the drop.
Stefano Sorrentino
Acquired from Chievo as part of a winter transfer binge meant to stave off relegation, Sorrentino is one of the better goalkeepers in Serie A. Last year, he kept Juve to a 1-1 draw in the Juventus Stadium with a string of great saves, so he knows what it takes to keep Juve at bay in their backyard.
A team with a strong keeper is always one with a chance at an upset, and while the defense in front of him is not stellar, they've only let up two goals in their last five matches.
If Sorrentino can match the Juve front line, which often lacks bite, it could be a close match to the finish.
Josip Ilicic
The other link up top in Palermo's attack, Ilicic seemed to have slowed down ever since Javier Pastore's move to PSG, but he's scored 10 times this season and has generally been the Rosaneri's best player.
The Slovenian midfielder won last week's game against Inter with an early strike, and Juve knows all too well from previous encounters that giving him space to shoot is to invite trouble. If he and Miccoli are in top form, the Bianconeri could be in for an interesting day in the back.
Valerio Pennicino/Getty Images

Antonio Conte has recently made a tweak to the 3-5-2 that has been so effective for him over the course of the last two seasons. Employing a single forward and sliding Claudio Marchisio into a trequartista role, he unveiled a 3-5-1-1 formation a few weeks ago and seems to be sticking with it.
It's not entirely certain what precipitated the change. There are three likely possibilities. One is that Conte is trying to cover his lack of quality striking talent. His top three forwards, Mirko Vucinic, Alessandro Matri, and Fabio Quagliarella, are all in extraordinarily streaky form.
Meanwhile, Sebastian Giovinco is practically nonexistent in the plans at this point. It could be that the Juve boss was fed up with seeing a pair of under-performing forwards wasting his midfield's hard work.
The second is that Conte simply wanted to insert Paul Pogba into the lineup on a more regular basis, which would be totally deserved based on the quality of the young man's play since arriving in the summer from Manchester United.
The third is that Conte is using his massive pad in the standings to try and feel out what formations might best make use of incoming forward Fernando Llorente, who will arrive in the summer from Athletic Bilbao on a Bosman after a lengthy contract saga with the Spanish club.
Llorente is far better used as lone striker than as one of a pair, so it is likely that some change in formation will come next season. Whether that change is the existing 3-5-1-1 or a rumored move back to the 4-3-3 that Conte used at the beginning of last season remains to be seen.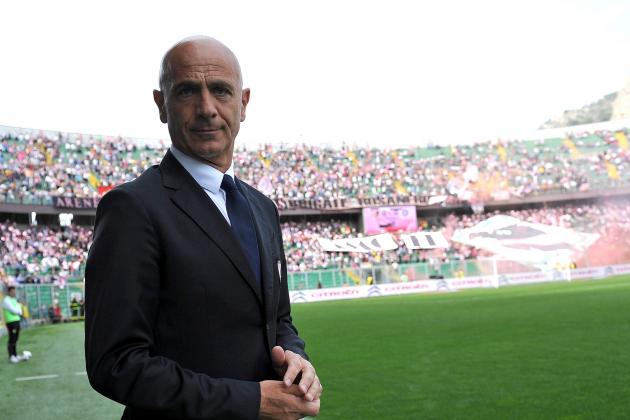 Tullio M. Puglia/Getty Images

It's often dangerous to talk about a Palermo manager with Maurizio Zamparini in charge. They could end up being fired before you can publish your piece.
Sannino has already known what it's like to feel Zampa's wrath this season. He was sacked halfway into the season's first month—a quick hook even by the Palermo chairman's standards—but was reappointed after three other coaching changes failed to produce the desired result.
In last week's upset win against Inter, Sannino utilized Ilicic out of position as a forward in a 3-5-2, pairing him with Miccoli. The move worked, as Inter was stifled and Ilicic able to grab an early goal.
In 11 outings with the 3-5-2, Palermo has earned more wins than with any other formation, so it should be the basis for Palermo's tactics going forward, as they fight to avoid the drop.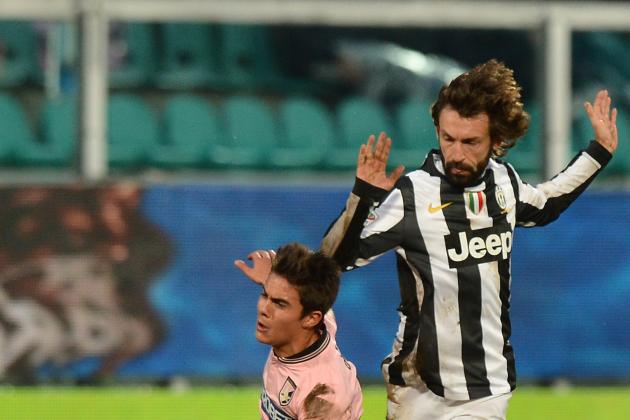 Tullio M. Puglia/Getty Images

Juventus has won the last three meetings between the two clubs by a combined score of 6-0, including a 1-0 victory at the Stadio Renzo Barbera in December. The difference was a second-half goal by Stephan Lichtsteiner, and Palermo ended up down a man at the final whistle.
Before that run of success, however, the Sicilians had carved out a niche as a bogey team for Juve, winning five of six league matches between 2008-08 and 2010-11.
Several players from those teams remain, especially Ilicic and Miccoli, so Juve will not be taking Palermo lightly.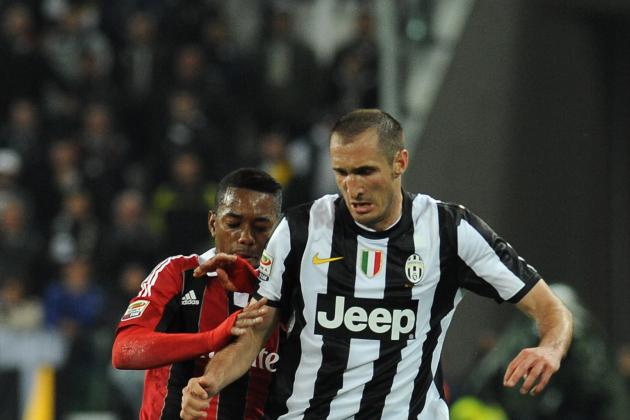 Valerio Pennicino/Getty Images

Giorgio Chiellini v. Fabrizio Miccoli
Juve's vice-captain played a fantastic derby last week against Torino, limiting any attempts to get down the left side of the field until Alessio Cerci got loose a few times in the very last moments of the match.
Miccoli will have to contend with Chiellini and the rest of Juve's stellar back three if he and Josip Ilicic are to have any chance at points on Sunday.
Carving through this team is a tall order even for top Serie A sides like Napoli and Milan, so the Palermo captain will have to be at his very best if his team is to take a scalp and help their push to stay up.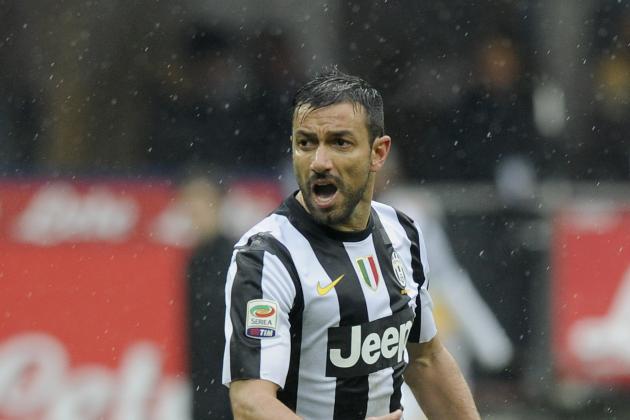 Claudio Villa/Getty Images

Fabio Quagliarella v. Stefano Sorrentino
Mirko Vucinic has had the bulk of the playing time up top in Antonio Conte's new 3-5-1-1 formation, but he looked dog-tired and ineffective against Torino. This is a total hunch, but my guess is that Quagliarella starts up top on Sunday to give the Montenegrin some rest.
At his best, Quagliarella is a lethal finisher—and at his worst he's utterly wasteful. Two seasons ago he looked on the verge of a 20-goal season, but a horrific knee injury ruined that season and put a bump in his career path.
Sorrentino is likely to be faced with some good goalscoring opportunities from his opponents, and he'll have to be at the top of his form in order to keep Juve out and his team in the game.
Expect Quags to get his fair share of those opportunities. Whoever keeps his nerve in those moments will decide who gets points when the full-time whistle blows.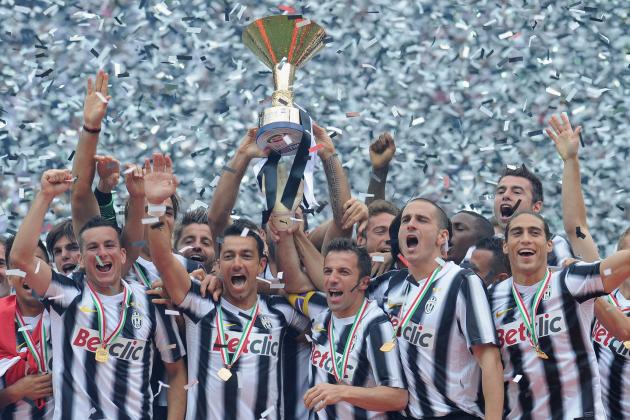 Valerio Pennicino/Getty Images

Palermo is motivated by the desire for survival, but with the title there for the taking, it's hard to see Juventus dropping any points here.
Juventus is playing at home against a relegation-struggler and has the championship dangling in front of their faces. They'll be revved up and have exponentially more quality than Palermo.
I think Juve ends up celebrating the championship in style.
My prediction: Juve 3, Palermo 0.