5 Prospects That Should Get New Jersey Devils Fans Excited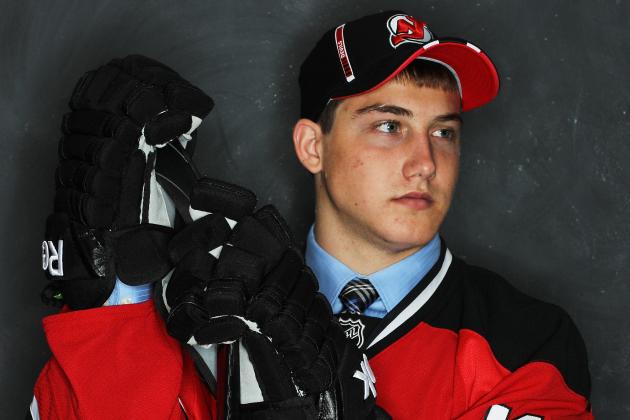 Nick Laham/Getty Images

Devils fans could use a pick me up. As local rivals on Broadway and Long Island begin first-round playoff series, New Jersey is excavating its locker room in preparations for a long offseason of head scratching.
They finished at 19-19-10, a disappointing .500 winning percentage in the lockout-shortened season. After a strong start the Devils remained in playoff position consistently until April 5th, when they fell out of the top eight and never returned. Losing Ilya Kovalchuk for 11 of the most important games of the season was crushing, but injuries are a part of the game and missing their top forward is not an excuse for losing 10 straight.
Now they have to contemplate a team-wide lack of scoring ability, as well as deal with several key free agents. The wound is still raw and the healing process is ridden with uncertainty.
But here is where the boost of morale comes in. Several good prospects are on the way, many of them blueliners. Here are five to keep an eye and ear out for, ordered by potential. Stephan Matteau is not included considering the amount of time he spent in New Jersey this season.
(all prospect stats acquired from hockey database (hockeydb.com)
Begin Slideshow

»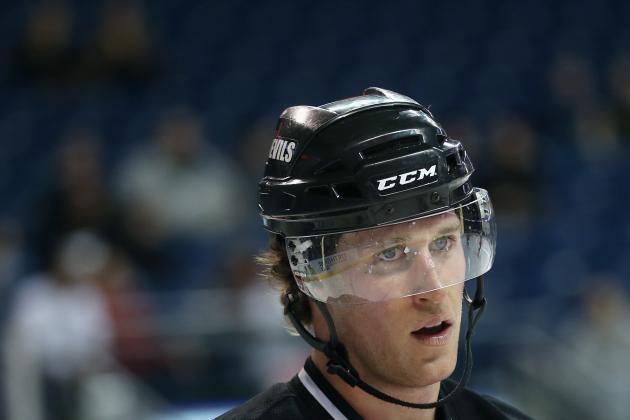 Bruce Bennett/Getty Images

At 23 years old, Brandon Burlon is the oldest player on this list. The reason he made the cut is the improvement made in his second year with the Albany Devils (AHL). He doubled his assist total to 16 in 2012-2013.
According to Hockey's Future, Burlon does not have any truly outstanding abilities but rather does everything pretty well. His well-rounded game fits pretty well with what Lou Lamoriello looks for in a player. Burlon is lauded for his skating ability and has drawn a comparison to Andy Greene's style of play.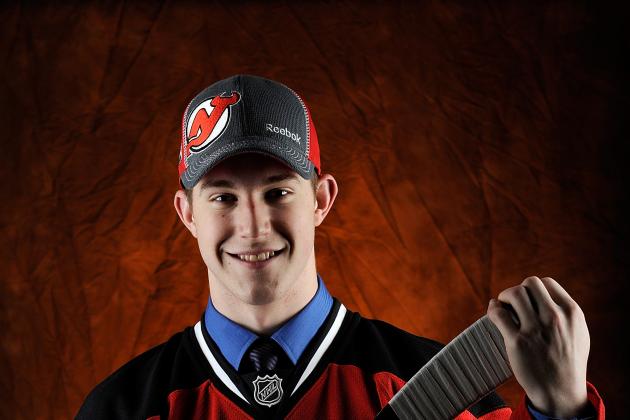 Jamie Sabau/Getty Images

Severson is the youngest on the list. At just 18 years old, the Saskatchewan native has room to grow into his 6 '2" frame. This year with the Kelowna Rockets of the rugged Western Hockey League Severson recorded 10 goals and 42 assists in 71 games.
He has steadily improved every year with his junior team and most impressively boasts great vision up the ice. Severson also possesses a hard, heavy slap shot that could be put to use on the Devils' power play in years to come.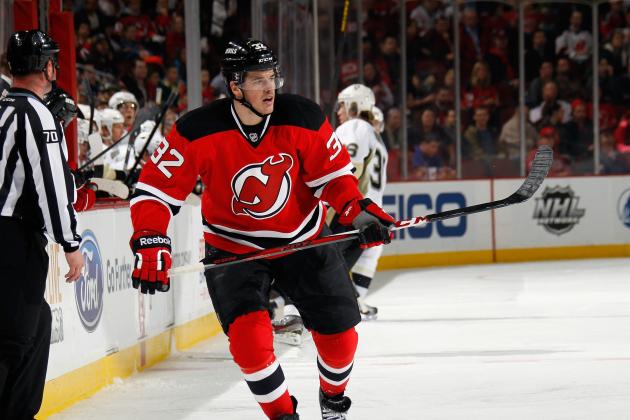 Bruce Bennett/Getty Images

Another great defensive prospect in New Jersey's system, Eric Gelinas has the size ( 6'3") and skill (16 goals with Albany in 2011-2012) to be an NHL mainstay for many years to come.
He appeared in one game with the big club in 2013, the second to last tilt of the season against Pittsburgh.
But that is not enough to disqualify him from the prospect list, and he is indeed a good one. He led the AHL is goals by a defenseman two seasons ago. Despite a regression in scoring this season, Gelinas still projects to land high among the Devils of the future.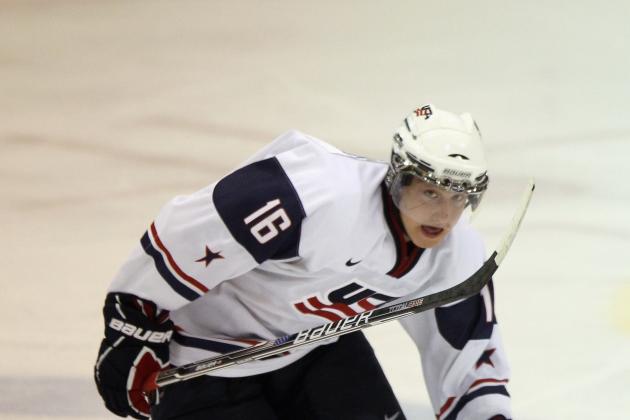 Bruce Bennett/Getty Images

Not many prospects can boast the feat of breaking a record set by Steven Stamkos. Reid Boucher is one of them.
Boucher posted monster numbers with the OHL's Sarnia Sting this season. His 62 goals broke Stamkos' previous record of 58 set in 2008. If the Devils are going to improve their offense, this is the first place to look.
Boucher played with the Albany club for 11 games at the end of this season, and logged a respectable five points. If he is going to make the leap to the NHL next year the kid has to have an impressive rookie and training camp. Unlike Stamkos, Boucher is modest in size at 5'10", 190 pounds. He would be wise to hit the weight room this summer in addition to improving his defensive game.
Boucher's shot accuracy and release are venomous to opposing goaltenders. There will be a lot of hype surrounding the 19-year-old after his torrid 2012-2013 campaign.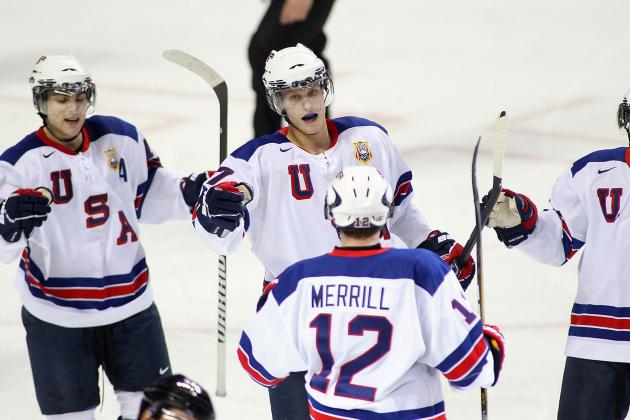 Rick Stewart/Getty Images

The Devils' top prospect comes with some maturity questions. After a 25-point freshman season at the University of Michigan and early comparisons to Ryan Suter, John Merrill's subsequent years at UM have been rocky. Things came to a head when coach Red Berenson suspended the junior defenseman for an undisclosed violation of team rules earlier this year.
He decided to leave the university altogether. In 12 games with Albany Merrill recorded one goal and seven assists. His rookie contract starts next fall.
He has a ton of upside, with the ability to impact the game on both ends of the ice. Merrill led the power play while at Michigan and rushes the puck ferociously, according to Hockey's Future.
Merrill has size, skill and obvious hockey smarts. The only questions lie off the ice, and who better than Lou Lamoriello to get through to a kid like this? The ceiling is very high.
As you can see, most of the top Devils prospects are defenseman. So don't expect much offensive improvement to come from within the organization. An area New Jersey either struggles in or simply neglects, the Devils will have to add offensive talent via free agency.