If you watched UFC 159 live, odds are pretty slim that you caught the moment when UFC light heavyweight champion Jon Jones' big left toe decided it was going to attempt to leave the Octagon while the rest of Jones' body was still focused on ending the fight against Chael Sonnen.
What you did see was a victorious and smiling Jones leaning in to talk to UFC commentator Joe Rogan and glancing down for a second only to see the hot mess his foot had become. Jones' smile was immediately gone as he uttered, "Oh, my word," before limping away and leaving bloodstains tracked across the canvas.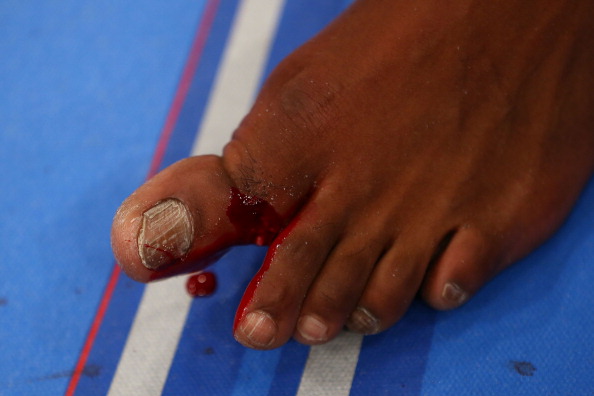 Jones did his best to play it cool in the cage, smiling and telling the crowd, "No laughing guys, this sucks," before forcing himself through the interview with Rogan while the medical staff worked on the toe.
The injury resulted in an indefinite suspension for the champion from the New Jersey State Athletic Control Board pending clearance from an orthopedist.
On the most recent edition of UFC Tonight, Orthopedic Surgeon Dr. Robert Klapper spoke in detail about Jones' injury, breaking things down in laymen's terms. Surprisingly, the doctor said that Jones' injury was a dislocation and not a break. Dr. Klapper then revealed that Jones should be back to fighting in six to eight weeks.
If Dr. Klapper is correct, the UFC dodged a pretty big bullet and avoid a lengthy rehab process for the light heavyweight champion.
Jones tweeted the following photo on the night of the fight:
Got my big toe back intact :) twitter.com/JonnyBones/sta…

— Jon Bones Jones (@JonnyBones) April 28, 2013
A few days later the champion followed things up, showing a sense of humor when he said:
Definitely learned my lesson, next time I'm getting my pedicure before the fight

— Jon Bones Jones (@JonnyBones) May 1, 2013
Bleacher Report will have more details on Jones' injury and rehab as they become available.