Grading Every Houston Rockets Players' 1st Round Performance so Far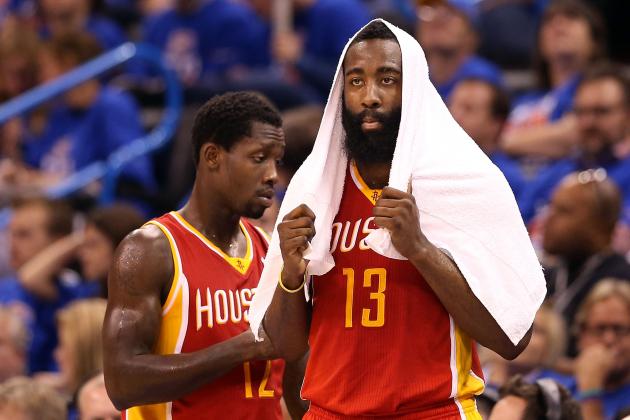 Christian Petersen/Getty Images

The Houston Rockets have exceeded expectations in the first round of the 2013 NBA playoffs, and many players have earned good grades for their strong performances.
Without Jeremy Lin since Game 3, the Rockets have proceeded to win two straight games and have all the momentum in their favor. Unfortunately for them, the Oklahoma City Thunder are a potent team—even without Russell Westbrook. The Thunder still have a one-game advantage in the series, so it's just a matter of winning one more game for them to advance.
With so many players playing well for Houston, Oklahoma City may not have as easy a go of it as they initially thought.
While some players are producing at a level similar to that of the regular season, others are stepping up their games at the sport's highest level.
*Note: The slides are organized by minutes per game, with the highest minutes per game coming first.
Begin Slideshow

»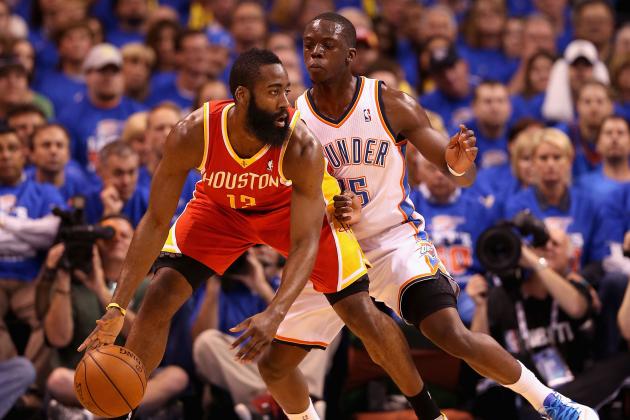 Christian Petersen/Getty Images

James Harden has put up similar numbers to that of his regular season stat line. He's scoring 26.4 points, dishing out 4.0 assists and grabbing 6.8 total rebounds per game. His 2.0 steals per contest have been a pleasant surprise and nice addition to the team's run-and-gun mentality.
Harden is hurting the team with his turnovers and offensive inefficiency, though. As a player who is the focal point on offense, Harden's two negatives can be detrimental to Houston's success.
He's committing 4.6 turnovers per game—far too many for a team with a lackluster defense like the Rockets. Turnovers lead to quick transition baskets, an area that the Thunder are particularly strong in.
Efficiency hasn't been a part of Harden's game for much of the second-half, but he's shooting just 40.9 percent from the floor and 32.4 percent from deep. For a guy that takes a decent chunk of Houston's shots, he'll have to improve in Game 6 if he wants to advance.
Grade: B (His scoring output keeps this grade from plummeting into the C/C- range.)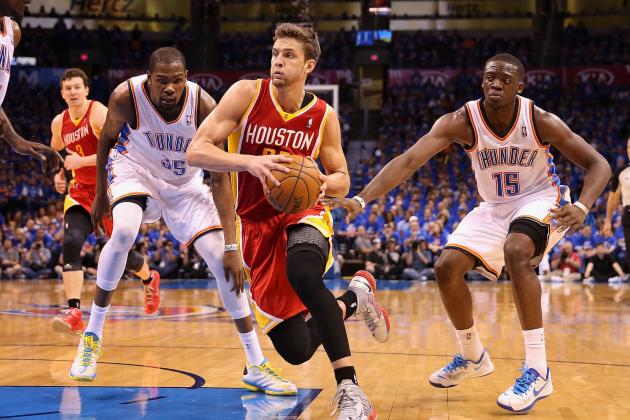 Christian Petersen/Getty Images

Chandler Parsons has performed very well in the first five games of the series, establishing himself as the unquestioned No. 2 scoring option with Jeremy Lin nursing a chest injury.
On 43 percent shooting (31.3 from three), Parsons is scoring 16.8 points per game. Of course, Parsons has done more than score. He is one of the best underrated stat sheet-fillers in the game and has put that on display this postseason. Parsons has pulled down 6.4 rebounds per game and has recorded 3.8 assists per game.
That 43 percent shooting isn't great (even though it's not all that terrible), but the Rockets can live with him shooting in that range. He's taking just under 16 shots per game and isn't really killing the team offensively by doing so. Parsons rarely forces bad shots and his misses are just a result of good defense or poor release at the height of his jumper.
Considering the fact that Parsons has remained consistent in his performance from the regular season to the postseason, he deserves a pretty good grade.
Grade: B+ (Even though his numbers aren't out of this world, he's gotten the job done and has stepped up with Lin out.)
Christian Petersen/Getty Images

Patrick Beverley has been great for the Rockets in the place of Jeremy Lin. Many argued that Kevin McHale favored Beverley over Lin during the regular season, but Lin's injury gives McHale the perfect excuse to play Beverley a significant number of minutes per game (33.4 to be exact).
His stat line is modest—12.6 points, 6.0 rebounds and 3.4 assists per contest. What makes his performance so special is the fact that he has only turned the ball over once per contest. This type of ball control is invaluable when your team's leading scorer is the turnover-prone James Harden.
Beverley has also shot very well from the floor (44 percent). His three-point shooting has been a nice surprise, as his 38.1 percent mark is second on the team.
One potential issue is that he has a tendency to get into foul trouble. He averages 4.0 personal fouls per contest, so McHale could find himself in a difficult situation if he gets two early fouls or three-plus before halftime. That's only a potential issue, though, so it doesn't hurt his grade all that much.
Grade: A- (The Rockets would not be in Game 6 without him—plain and simple.)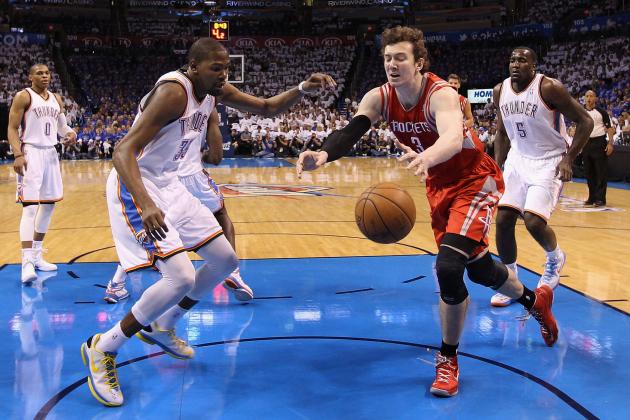 Christian Petersen/Getty Images

Omer Asik has been as solid as a rock down low for the Rockets on both offense and defense. He's fought hard against big men Kendrick Perkins and Serge Ibaka with the ball in his hands and has played hard-nosed defense against the two as well.
Asik has scored 12.2 points per game while shooting an impressive 59.4 percent from the floor. His efficiency down low has been essential to the success of the Rockets. The 10.8 rebounds per game he has grabbed show his resiliency on the boards and his consistency putting up double-doubles.
One of Asik's biggest contributions has come on defense. Aside from his 10.8 boards per contest (7.6 of which have been defensive), Asik has blocked 1.6 shots per contest. This makes him the top shot-blocker on the team this postseason.
Asik has done almost nothing wrong this postseason. He's been consistent and efficient, as well as a huge reason why the Rockets are in position to force a Game 7.
Grade: A- (His overall game is too strong to deserve anything but an A- grading.)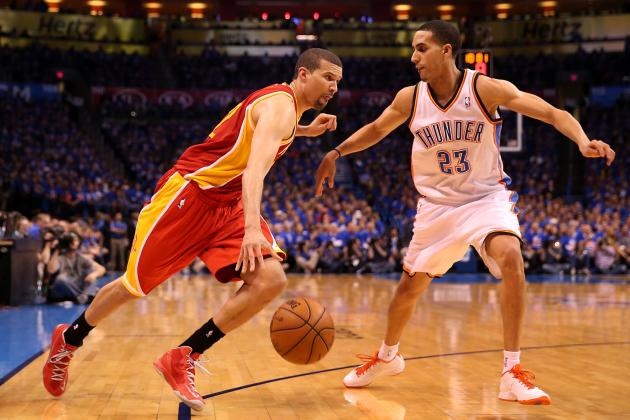 Christian Petersen/Getty Images

Francisco Garcia has been lights out from three this postseason, and that makes him an extremely valuable asset for the Rockets. He's shot 45.2 percent from deep, by far tops on the team. This has translated to a 10.6-points-per-game average.
Garcia provides quality minutes at both shooting guard and small forward. He's capable of subbing in for either James Harden or Chandler Parsons, making him an extremely valuable option off the bench for coach Kevin McHale.
Another important statistic about Garcia is that he's turned it over just 0.8 times per game. I know I've said it before, but on a team with Harden, turning the ball over at a low rate is integral to success.
Garcia isn't necessarily the team's sixth man, but he has played like a guy who deserves to be the first option off the bench.
Grade: B+ (The Rockets love to shoot threes, and he's the best at it so far—enough said.)
Christian Petersen/Getty Images

Carlos Delfino is one of the few players on the team that hasn't performed all that well. He's shooting a nice percentage from deep (35.5), but his overall field-goal percentage of 37.5 leaves much to be desired.
Delfino is valuable because of his ability to hit from deep. In that regard, he's done pretty well this postseason. He's failed in other scoring opportunities, though. He's averaging exactly five missed shots per game and, for a guy that doesn't play all that much, that's not a mark that'll help the team.
It's not that Delfino is killing the team. He could certainly be playing much, much worse. His inefficiency from anything other than deep is not helping, though, and the Rockets may be best served playing Garcia more minutes than he's already playing.
Grade: C- (Delfino has not shot well in a role that requires him to shoot.)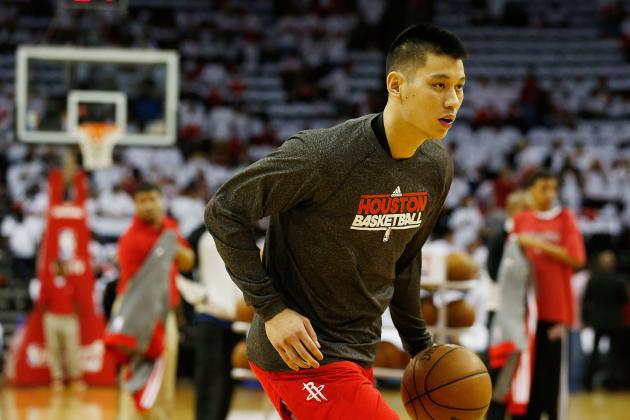 Scott Halleran/Getty Images

Jeremy Lin hasn't played since Game 3, so his grade is solely based off the first three games. The fact that he's missed two crucial games does hurt his overall grade, however.
Lin has struggled in three games. He's scoring just 4.3 per game and has added just 2.7 assists per game. These numbers represent that of a reserve (at best). Beverley has far exceeded Lin's play, and he may have earned himself a start in the next game that Lin is healthy.
Lin is shooting a putrid 25 percent from the floor and an even worse 11.1 percent from three. In his first career playoffs, Lin has failed to live up to the pressure.
It's unlikely that he'll improve his game considering the fact that he'll likely be playing injured (if he plays), so Lin's postseason has most certainly been a dud. If he doesn't stand out next regular season, Beverley could see even more playing time.
Grade: F (Injuries and utter disappointment make this an easy grading.)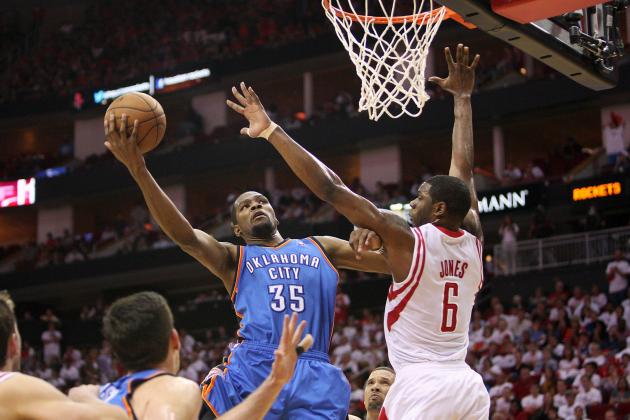 Troy Taormina-USA TODAY Sports

Rookie Terrence Jones has played just two games this postseason, making him essentially a non-factor. That being said, he hasn't really played terribly.
He's scored 4.0 points per game, while shooting 40 percent per game. By no means are those good numbers, but they could be far worse. What Jones brings to the table is athleticism, and that's not something that can be easily measured by statistics.
His athleticism allows the Rockets to run the floor frequently. Even though Jones hasn't played in "important" minutes, he's given Houston exactly what they need to follow their game plan—speed and athletic ability.
Power forward has been an area of need for Houston all season. Jones could provide what they're looking for from the 4 spot, but Jones' inexperience is keeping him on the bench. Maybe next season, rookie.
Grade: C (Jones has played well, but his inefficiency does keep him from a higher mark.)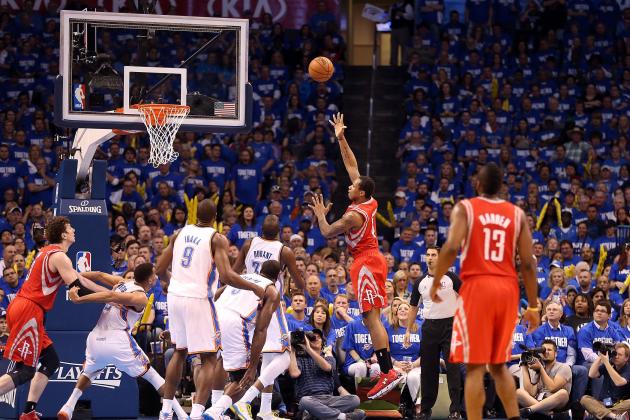 Christian Petersen/Getty Images

Greg Smith has played in four of the five games and has converted on 66.7 percent of his field-goal attempts, but he hasn't been worth playing a significant amount of minutes.
Smith's defense has been terrible. He's grabbed just 2.8 boards per game and has blocked less than a shot per game, though that is not the only reason he's been inept on defense. His plus/minus ratio has been terrible. Between Games 1 and 2, Smith posted a plus/minus of -49—an absolutely ridiculous number.
Smith offers promise offensively, but there's something about his play defensively that makes him a risk when on the court. The Rockets would be wise to limit his playing time moving forward.
Grade: D (Smith's plus/minus far outweighs his offensive efficiency. He's a liability.)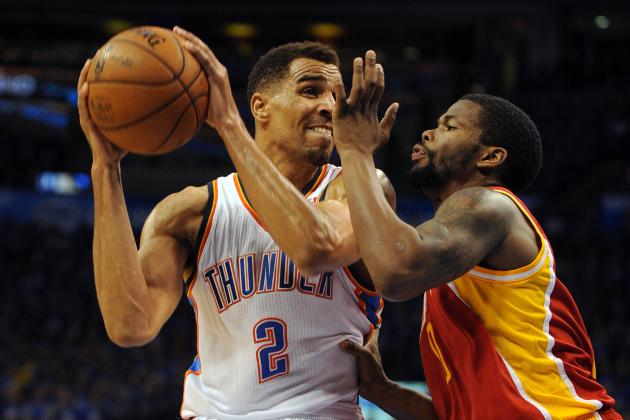 Mark D. Smith-USA TODAY Sports

Aaron Brooks has received playing time because of Lin's injury, but he hasn't been able to capitalize on the unexpected opportunity.
Brooks is shooting a disappointing 35.5 percent from the floor and 12.5 percent from deep. He's only averaging 2.0 assists per game and has been unable to spark the offense when on the court. His inability to score consistently when open has also hurt his ability to jump-start the offense.
Brooks is a relatively high-energy guy and provides good hustle. He sets a good example for his teammates as one of the last guys off the bench, but hasn't produced enough to warrant a high grading. As the reserve point guard, he needs to spark the offense more to earn a better grade.
Grade: D (Brooks provides energy, but hasn't been a good enough point guard off the bench.)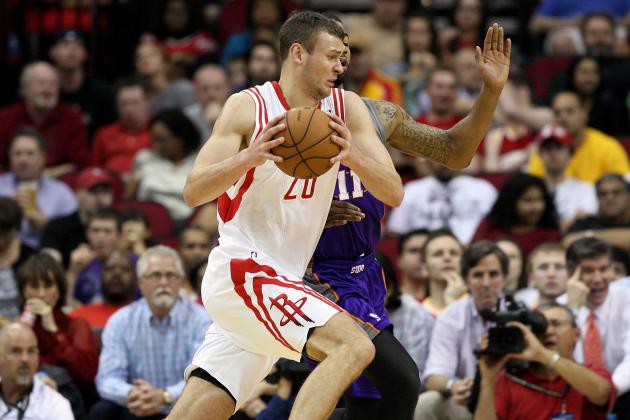 Troy Taormina-USA TODAY Sports

Donatas Motiejunas and James Anderson have played just a game apiece this postseason. With that being the case, their gradings can easily be established as "incompletes."
Motiejunas has scored 5.0 points per game in as many minutes, and he owns a perfect shooting percentage. Unfortunately for him, he's played in one game. In more time, Motiejunas may have been able to make an impact on the series.
The same can be said for Anderson. While he's missed the only two shots he's taken this series, the 8.0 minutes per game he's played were full of high energy. Anderson isn't very important because he plays behind James Harden, but his production off the bench has the potential to be important when Harden needs a rest.
Grade: Incomplete (Simply put, they've had no impact on the series.)