20 Athletes Who Deserve a Movie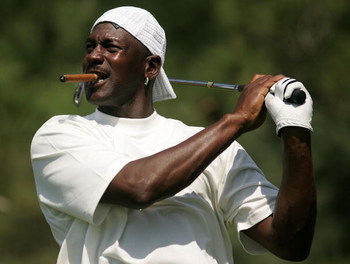 I admit I'm a sucker for heartfelt sports films, most do not gross all that much at the box office though, and it became painfully evident to me several years back why.
Most sports movies are not based off great athletes, more so, the underdog.
Rocky was based off of Chuck Wepner, not a bad fighter, but a bum nonetheless, who in reality attempted a few lawsuits against Stallone to get more money from the film, never really achieved anything in life.
Rudy, although a film that when I first saw it I cried on several occasions, is based off of a guy who wasn't THAT short, he was 5-foot-7 and even though had lots of heart was just not a good football player, and to this day it baffles me why he insisted on playing a defensive position, the guy may have made a decent RB, but not a d-man.

Plus it doesn't seem he worked out enough cause I know 5-foot-7 guys who weigh more than 165 pounds because they work to build more muscle.
Then there's all the other ones, The Rookie, about Jim Morris who played 21 games in MLB, and team movies like Hoosiers.
I don't care.
Getting back to Rocky, it was gold because Stallone starred in it, and Ali, about, Muhammad Ali, was gold because Will Smith was in. Just like Caddyshack rocked because of Dangerfield.
You see my point?
To have a high grossing sports film you need a star actor ( I know Stallone wasn't a star before Rocky but stay with me on this) and based off a true story on an athletes who was actually GREAT.
For the record, The Natural is my favorite sports film aside from the Rocky series and it was largely fiction and it was great because Robert Redford starred in it.
Anyway, enjoy the list.
20. Vladimir Salnikov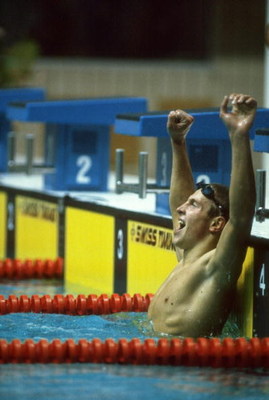 If you didn't know, no swimmer in Olympics history has ever won Gold in one event three times. Largely due to the physicality of the sport that rewards youth over experience.
Salnikov remains the only man to win two Golds in a three Olympic span, being barred by the Soviet government to participate in the 1984 Olympics.
His story could be told a thousand times, in the end, I'm sure with the right cast you could have a great feature film, probably a Russian language film which most Americans would never see.
Still, his achievements are one of the greatest in sports history and Michael Phelps may not win a single Gold in the 2012 Olympics for the reason mentioned above, it's never been done.
19. Don Bradman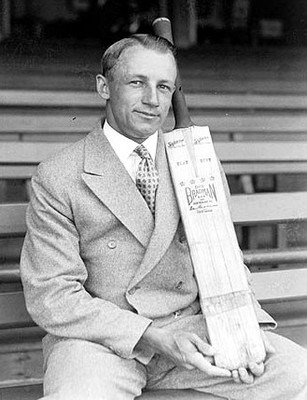 Cricket? Nobody cares about Cricket you say? You'd be wrong. There's only one good film made about the sport period, Lagaan, and it had numerous
inaccuracies and was racially based.
How bout a film about arguably the greatest athlete of all time? Don Bradman dominated his sport like nobody comes close in any other. I'm sure something could be worked out.
18. Pete Sampras/Andre Agassi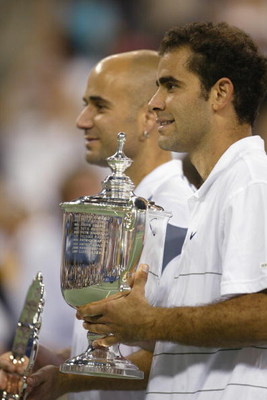 Tennis doesn't get cinematic attention because most directors don't know how to make it dramatic. How many have seen Roger Federer hit that ball in slow motion? Intense, no?
Make a movie about the intertwining careers of Pete Sampras and Andre Agassi, and all those around them in their era. If done right, this would make for a memorable sports movie.
17. Joe Montana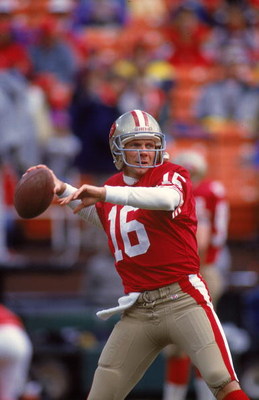 The greatest Quarterback of the Super Bowl Era deserves a motion picture. I'm just not sure it would sell all that well.
The only subplots aside from winning all the time, would have to be his shoulder surgery in 87 which allowed him to make a comeback and put up better statistical numbers, and then he got booted in favor of Steve Young and got the Chiefs to the AFC Championship game.
It's a great story but I don't think it would reach many sports fans, probably 49er fans and nostalgic NFL fans.
16. Bobby Orr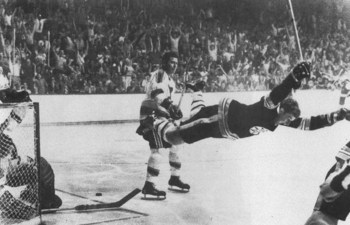 I sure know it would become the highest grossing film in Canadian history. Bobby Orr remains the only defenseman ever to win the Art Ross Trophy a.k.a scoring title in the National Hockey League, and he did it twice.
His knee problems and his partly life could be made to give a great subplot, and there you have it, the greatest hockey movie ever made.
15. George Chuvalo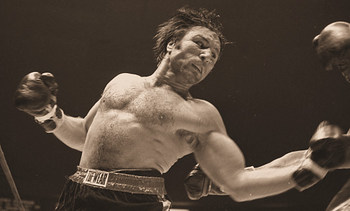 Never knocked down in 93 professional fights. I know what most sports fans would think, scrub opponents? Six-round fights?
How about he faced guys like Muhammad Ali (twice) and George "Big Hit" Foreman. And as you might expect, he got pounded, in the head, about a million times.
What's even more impressive is unlike Ali, Chuvalo suffers from no mental illness. That's right, the guy who got his head beat in 93 pro fights does not suffer from any serious brain injuries, and he's still alive at 71.
Of his 73 wins he got 64 KOs, so he wasn't a pushover either.
If Jake LaMotta got a film made after him, George Chuvalo deserves one as well.
Basically I want Raging Bull II.
To note, Chuvalo has had a very dramatic life with three sons dying of drug overdose.
14. Carl Lewis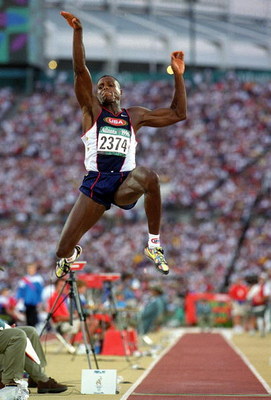 Assuming the guy didn't take steroids, as in, put a needle in me so I get stronger steroids, he should have a film.
At 35 years of age, he won his fourth Olympic Gold Medal in Long Jump.
Epic.
13. Nolan Ryan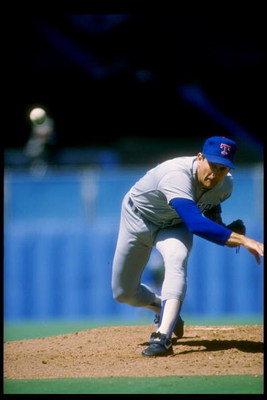 Quite arguably the greatest pitcher in MLB history, who wasn't accused of steroid use.
Enough said.
12. Mike Tyson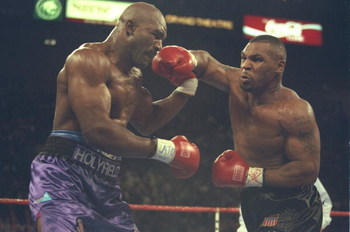 You could title it, THE ANIMAL. Or something along those lines. Iron Mike sure needs the money and I would go see it, the movie could include a Rocky-like montage of severe brutality.
And then of course there's no shortage of plot lines to his massive decline, wasn't Tyson at once worth $900 Million? Yeah, yeah, make a damn movie about the guy already, or is everyone waiting for Tyson vs. Holyfield III?
11. Michael Schumacher
The greatest Formula One driver of all time didn't always have it peachy. His five consecutive titles from 2000-2004 was a stamp of his dominance which he by a storybook process lost out on between 1996-1999, when he twice narrowly lost the points title.
Plus, there's not enough sports movies about Germans these days.
10. Pele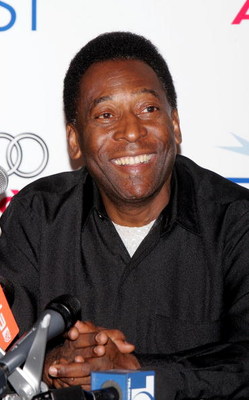 I am unfavorably surprised how Pele, the greatest European football player of all time doesn't have a cinematic motion picture made after him.
Soccer as it's not in North America is the most popular sport in the world, by a pretty good margin, and even if a film about Pele was to bomb in the U.S, it would probably make a bundle overseas.
9. Michael Jordan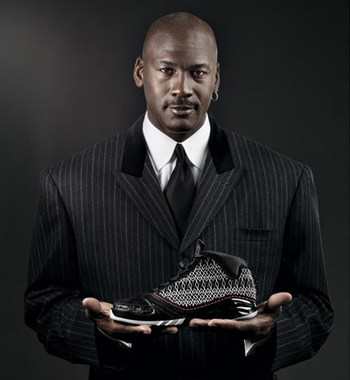 His Airness deserves a cinematic masterpiece.
Space Jam does not count.
8. Sergey Bubka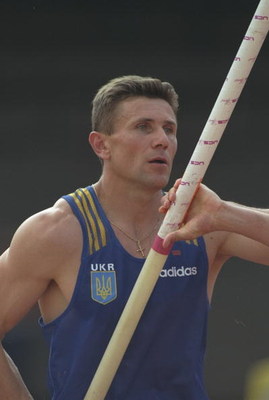 Actually voted the greatest athlete period by numerous international bodies, Bubka was the first Pole Vaulter to clear the 6-meter mark, and proceeded to keep breaking the world record for highest Pole Vault, most of them were his own.
In total he broke the 6 meter mark over 15 times in international competition, his career stretched from 1984 to 1994, and he set his highest record and the record to sate of 6.14 meters in 1994 at the age of 31.
As a Soviet citizen, I'm sure there's no shortage of cold war subplots that could be had, and how many movies have been made about Pole Vaulting?
7. Jim Thorpe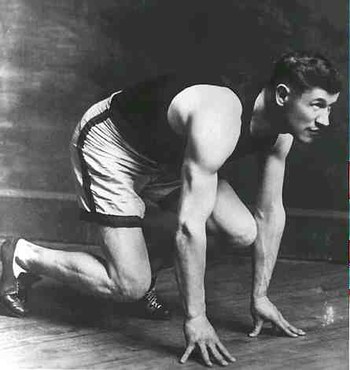 Probably the greatest athlete to grace our planet earth. The story of Jim Thorpe
really is tragic when you look at it.
I'm sure it wouldn't be the best sports film, but the guy is a legend and deserves to have his story be told on the big screen.
6. Haile Gebrselassie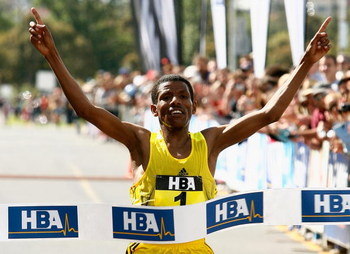 How bout a movie about a poor Ethiopian kid who ran 10k to school every day, and 10k back, and who's left arm was permanently warped from carrying books, this kid became an Olympic Gold Champion, twice, and broke 25 marathon records.
If Slumdog Millionare became such a hit, this film would be guaranteed to make double, right?
5. Jesse Owens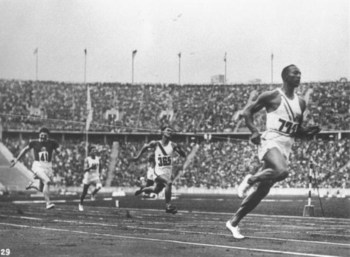 A movie about Nazis? It never gets old, and by the looks of how well movies like Valkyrie have done recently and more to come, with Tarantino's Inglourious Basterds, we needs a sports movie with Nazis on the side.
Most people of today still don't realize how bad racism was just 30 years ago, now imagine more than 70 years ago.
The Olympic Games, IN NAZI GERMANY! And a black guy takes four Golds.
Jesse Owens' life after the Olympic Games was not that glamorous and he died of lung cancer in 1980, it is widely supported Owens attempted to stop President Jimmy Carter from boycotting the 1980 Moscow Games, not long before his death, wouldn't that be a hell of an ending? And it's all true.
4. Barry Bonds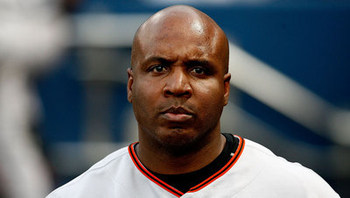 Start it as soon as he gets convicted and thrown in prison.
This would not be a feel-good sports movie, but it would be a sports movie the world needs. About a guy who cheated his way to the top, an accused girlfriend beater, and hated across the globe outside of San Francisco. His embarrassing decline.
You could also incorporate the whole steroid era of MLB in this movie, with Barroids being the main star. Oh, this would sell, this would sell big time.
3. Wilt The Stilt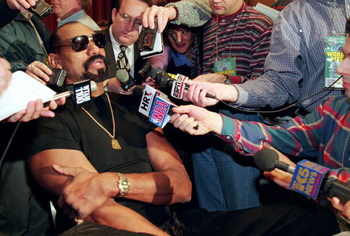 Was it 10,000 or 12,000 women he is claimed to have slept with? I don't recall but I can see James Bond times a million.
I would imagine the film would border pornography, but it could pass with a lightly cut hard R film, and then released uncut in the rest of the world, because ya know outside of America nobody gets offended by nudity in film.
So, we see Wilt The Stilt, played by, maybe Will Smith? But is Smith tall and cool enough to emulate Wilt? Point is, this film could be made like Scarface, the world is his.
2. Lance Armstrong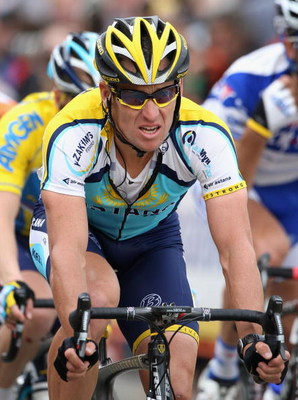 A common theme in today's world is what causes cancer, me, I've let the issue go, if I find out I got cancer I'll spend all the assets I have and then join the army. Cause if you know you're gonna die, might as well have fun with it.
Now I'm not sure if Lance Armstrong had this mindset when he found out he got testicular cancer, and then it spread to his BRAIN.
But he managed to beat the hell out of it, go back to cycling and win seven Tour De France titles in a row, for those who don't know, winning a major cycling Championship is like winning a grand slam in tennis, so if Federer won seven Wimbledons in a row, basically is what Lance did, except Federer never had to go through testicular cancer and have it spread to his brain with like less than 20 percent chance you'll live.
The story writes itself.......why isn't there a movie in the works on this yet? God damn you Hollywood you're full of idiots.
Oh sure I heard some crap about a movie being made starring Matt Damon.
So where is it huh?
1. Kurt Warner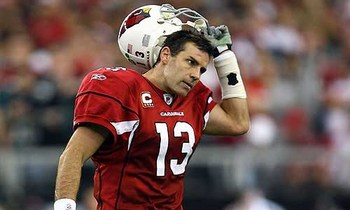 Kurt Warner career to the NFL started out being cut by the Green Bay Packers, he played Arena Football and then NFL Europe before getting backup spot to a sub-par Rams team.
He just so happened to be there when in the 1999 season, moves were made to make the St. Louis Rams contenders, but then the star QB fell and all hope was lost, except Warner was backup and stepped in to lead the team to the Super Bowl Championship.
That alone gives you a monster film to work with.
BUT WAIT! There's MORE!
He wins TWO, count em, TWO league MVPs, then gets injured several times and thrown out by the organization he made Champions, he gets sent to the Big Apple in New York but only as a pawn, and as he leads the Giants to a 5-4 record, he is, almost satanically pulled by coach Coughlin in favor of golden boy Eli Manning.
Then he gets sent to the worst team in the league, the Cardinals ( Cardinals, Lions, both bad ) and gets injured again to sit on the bench to another rising star Matt Leinart.
And then, comes the Baltimore game, if you don't know what I'm talking about, that is good, because I've just given you a crap load of reasosn this film would gross over 1 Billion dollars.
How would it gross that much?
SImple fact, if you got a good cast, and a good leading man who looks like Kurt Warner with acting talent, and put this film out the right way with advertising and this is within the next 10 years, FRESH!
Think fresh now. You would get every St. Louis Rams fan, every Arizona Cardinals fan and every die hard NFL fan to go to the theater to see this.
If you picked the right leading man you would probably score points with the ladies as well.
And then all the people who don't follow football might be swayed to see this for the way so many were swayed to see Rocky back in 1976.
Remember, Rocky made $117 million in the United States alone, which would be closer to $500 mllion today, why? Underdog, and a great extensive story.
Honorable Mention, O.J. Simpson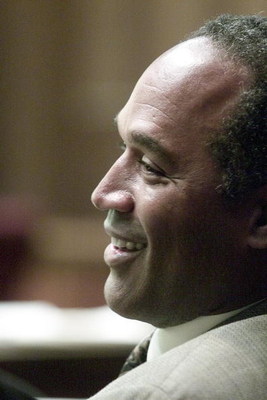 Now I'm not going to go into the whole Trial of the Century thing, although I thought he was innocent, The Juice has had a life worth reading about, and seeing on the big screen.
Only reason I didn't put him on the list is how the tale is not yet over, when does he get released? Will he die in prison? Will he get shanked in prison?
Unlikely the latter suggestion happens I know, but point is, I feel the story is not yet over......prison break out? From what I've seen he's in minimal security, hey, if Sarah Connor could do it, the first ever 2k yard man could too right?
Keep Reading