Grading Every Mets Pitcher in April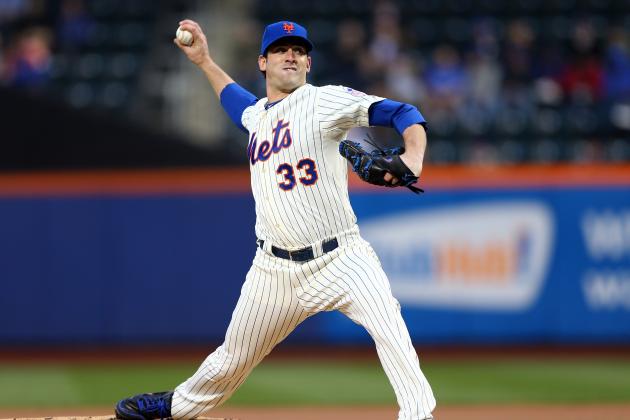 Elsa/Getty Images

In part two of the Mets April reflections, we look at the performances of the Mets pitchers during the first month of the 2013 season.
The Mets starting pitchers overall have done quite well, but the bullpen, aside from closer Bobby Parnell, has struggled and has not been any more consistent than it was in 2012.
The grades for the Mets pitchers are in and here they are.
Begin Slideshow

»
Mike Stobe/Getty Images

Grade: B
The Mets' Opening Day starter, Jon Niese, has pitched well so far overall, despite the conditions he has had to face in a few of his starts.
Two of Niese's six starts occurred in Minnesota and Colorado, which included snow and very cold temperatures. Nonetheless, Niese kept battling through both starts, just like he always has.
Niese pitched very well in his first two starts against the Padres and Marlins before the two starts in Minnesota and Colorado. Niese managed to pitch five strong innings against the Twins, but did not get as much run support against the Rockies when he suffered his first loss.
Niese then picked up a no-decision in his fifth start against the Dodgers, even though he had to leave the game in the third inning after being hit with a batted ball in the third inning. Niese then made his most recent start against the Phillies in which he took his second loss.
All in all, Niese has looked very good generally speaking, but could always use more run support from the struggling Mets offense.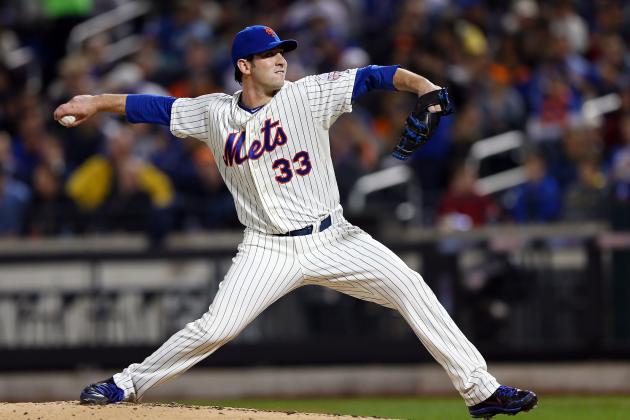 Elsa/Getty Images

Grade: A
Matt Harvey has certainly been the real deal for the Mets this year. He got off to an amazing 4-0 start in his first four starts and has been by far the most fascinating Mets player to watch in every one of his starts.
Harvey is 4-0 with a 1.56 ERA so far. He is tied for second in the National League in wins, while being third in ERA. His 46 strikeouts are tied for third in the league and his 0.82 WHIP is second in the league.
Harvey dominated the Padres, Phillies, Twins and Nationals, respectively in his first four starts before taking two no-decisions against the Dodgers and Marlins. In both of his most recent two starts, Harvey had pitched well, but did not get particularly good support from the bullpen.
Harvey could really be something special for the Mets both now and for the long-term future. At just 24 years old, he already has the velocity, control and inner strength of a seasoned veteran. A Cy Young Award or two in the future is very possible for Harvey.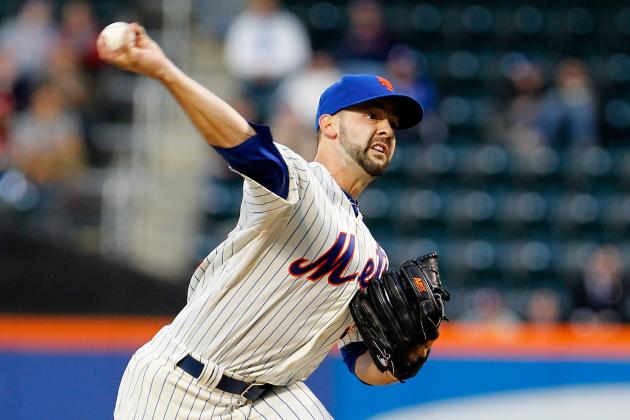 Mike Stobe/Getty Images

Grade: C-
One Mets pitcher that has not been particularly consistent is Dillon Gee, who is 2-4 with a 6.16 ERA.
Gee pitched well in his first start against the Padres, but did not get much run support at all and took his first loss. He then pitched very poorly in his next two starts against the Phillies and Rockies, before finally getting his first win against the Nationals.
Then Gee did not pitch well enough and got very little run support against the Phillies, which resulted in his fourth loss. In his most recent start against the Marlins, he picked up his second win.
Gee's season so far has been very uneven, but hopefully Gee can pitch more consistently like he did in 2011, when he won 13 games as a rookie.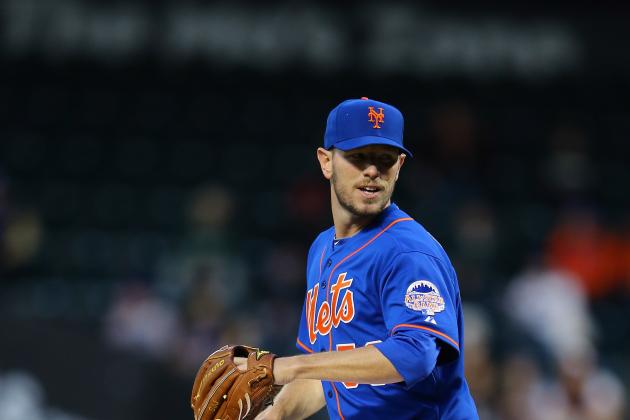 Al Bello/Getty Images

Grade: C
Jeremy Hefner really should be the Mets' long reliever, but because of injuries to Johan Santana and Shaun Marcum, Hefner has had to fill one of the spots in the Mets' rotation. Despite being on the short end of some very close games, Hefner has certainly not been an answer for the back end of the Mets' rotation.
Hefner has had two very poor starts against the Phillies and Nationals, but his other three starts have been solid overall. Yet, Hefner has had trouble catching a break. It seems as if every time Hefner pitches well, the opposing pitcher will do even better. Hopefully, some luck can go Hefner's way before Zack Wheeler eventually gets called up, which would most likely lead to Hefner going back to the bullpen.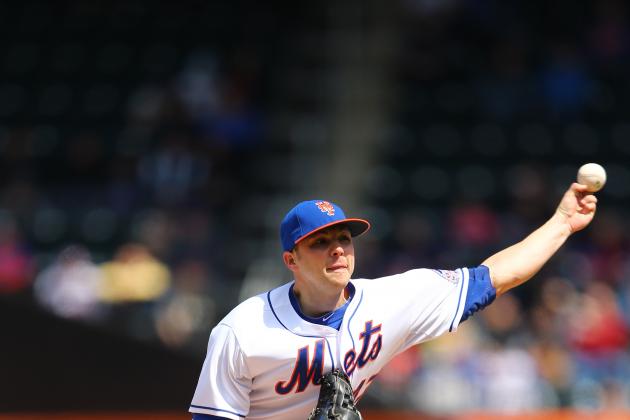 Al Bello/Getty Images

Grade: D
The Mets' first attempt at finding a fifth starter was with journeyman Aaron Laffey. Laffey did not pitch particularly well and ended up getting claimed off waivers by the Blue Jays when the Mets designated him for assignment.
Laffey started the Mets' sixth game of the season against the Marlins, but struggled and could not get past the fifth inning. He ended up with a no-decision. Then he threw one inning in Minnesota during a landslide win for the Mets. In his second start against the Rockies, Laffey struggled again and couldn't get past the fifth inning.
In his final appearance with the Mets, Laffey struggled as a mop-up reliever and was designated for assignment shortly after.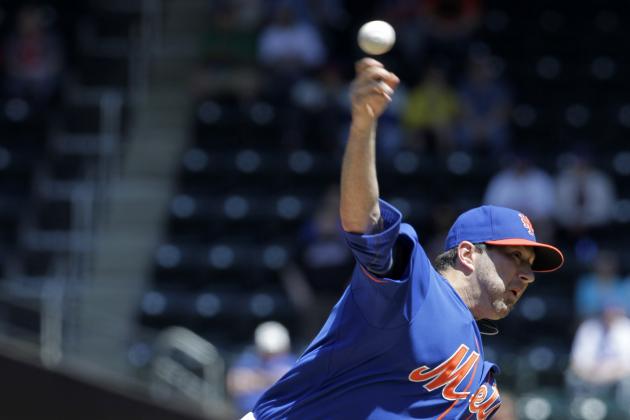 Jason Szenes/Getty Images

Grade: C
It took a few weeks for Shaun Marcum to make his Mets debut after having a neck injury that kept him in extended spring training. But now, Marcum is back and can hopefully give the Mets' rotation a much-needed boost.
In his first start against the Phillies, Marcum struggled and only lasted four innings, while taking the loss. More recently, Marcum made a relief appearance against the Marlins in a long 15-inning game in which Marcum ended up giving up the game-winning runs.
It's too early to really judge Marcum after only two appearances. Hopefully, he can stay healthy and continue the success he had with the Brewers.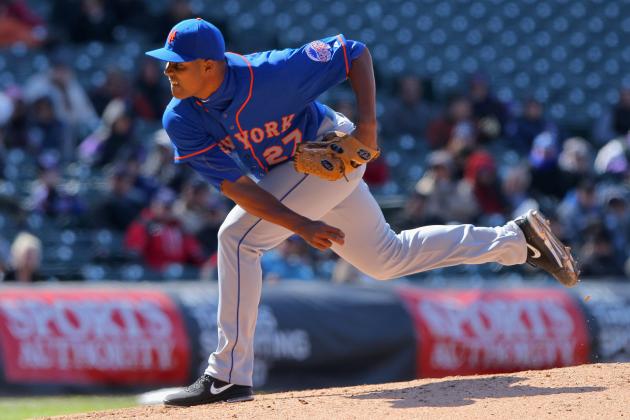 Doug Pensinger/Getty Images

Grade: B+
Overall, Jeurys Familia's rookie season has started on a good note. Familia was sent down to the minor leagues after just three games, but only to open up a roster spot for Aaron Laffey. About two weeks later, Familia was called back up and has continued to pitch very well out of the bullpen.
The converted starter has a 2.84 ERA in five appearances and has definitely been a bright spot in an otherwise inconsistent bullpen. If some of the Mets' other relievers continue to pitch poorly, Familia could possibly become the Mets' new setup man. Time will tell whether that becomes a reality.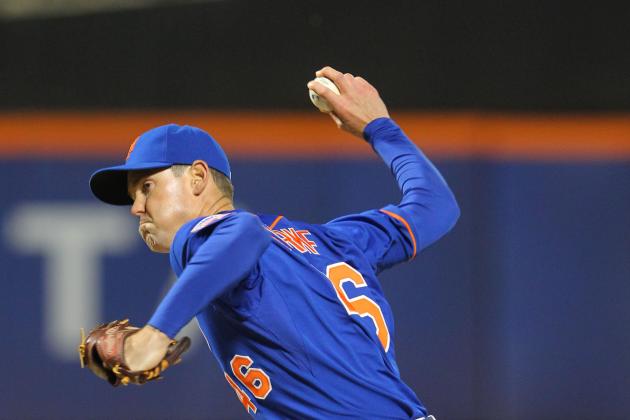 Brad Penner-USA TODAY Sports

Grade: D
One of the final players to make the Mets' Opening Day roster, Greg Burke did not pitch particularly well and got sent down to the minor leagues.
Burke had two particularly rough appearances against the Marlins and Rockies, but pitched better in his other five appearances. Nonetheless, his ERA rose to 7.36 and a minor league stint could be just what the sidearmer needs to pitch better if the Mets call him back up later in the season.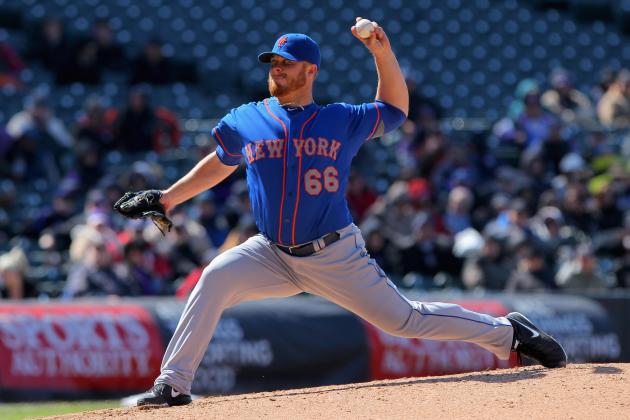 Doug Pensinger/Getty Images

Grade: D
One Mets reliever that has really struggled this year is Josh Edgin. Expected to be the Mets' primary left-handed setup man, Edgin pitched poorly enough to be sent down to Double-A Binghamton.
Edgin did not allow a run in each of his first four appearances and pitched well in his following two outings before falling apart in his next four straight appearances. In that span Edgin's ERA rose from 1.59 to 10.80. After a better appearance against the Phillies, Edgin's ERA was at 9.64 when he got demoted.
Edgin's demotion should not last too long and hopefully when he gets called up, he will pitch as well as he did in 2012.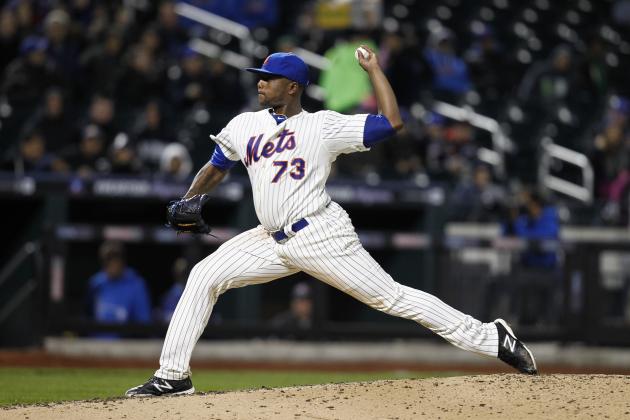 Jeff Zelevansky/Getty Images

Grade: D
Fellow southpaw Robert Carson was called up when Aaron Laffey got designated for assignment.
So far, in his three appearances, Carson pitched poorly in the first two, but better in the third. That would explain his 14.73 ERA because the sample size has been very small.
It will be easier to judge Carson once he pitches in more games and stays on the major league roster for a longer period of time.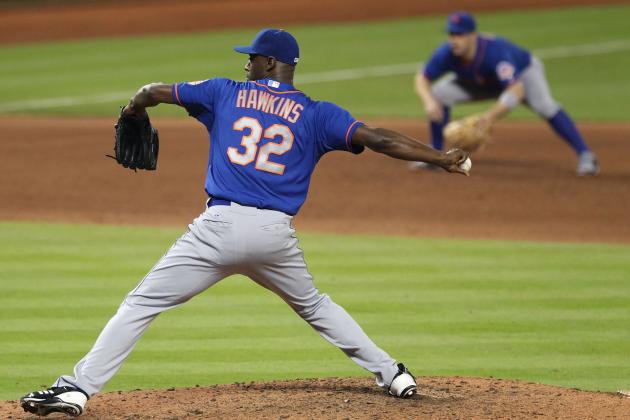 Marc Serota/Getty Images

Grade: B+
One of the Mets' more consistent relievers has been longtime veteran LaTroy Hawkins, who has a 3.18 ERA in 13 games pitched.
Hawkins has pitched well in 11 of his 13 appearances and has only allowed four earned runs so far. Despite being 40 years old, Hawkins can be a valuable asset for any bullpen and could even be good trade bait by July.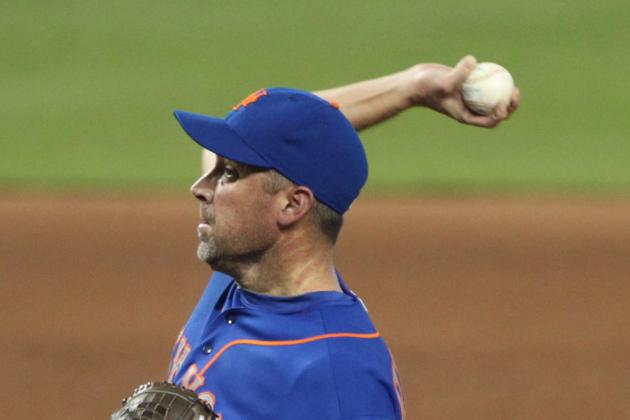 Marc Serota/Getty Images

Grade: B
Scott Atchison is another veteran right-handed reliever that has pitched well overall for the Mets thus far into the season.
Atchison has had one really bad outing in Colorado, but has allowed just five earned runs in 13 games. Like Hawkins, Atchison could be another trade candidate for the Mets in July.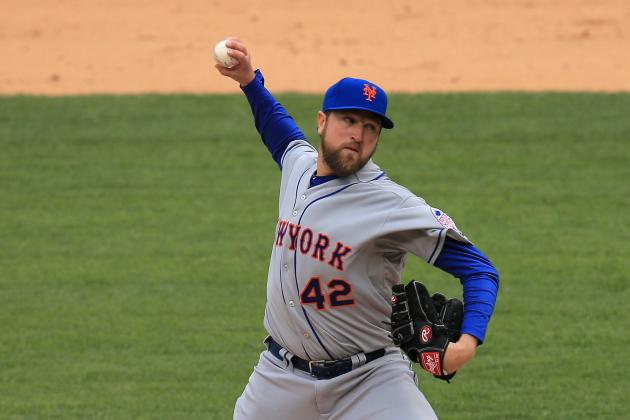 Doug Pensinger/Getty Images

Grade: B-
The Mets' right-handed setup man, Brandon Lyon, has done well for the Mets, despite having a 4.35 ERA in 13 appearances.
Lyon had one really bad game against the Dodgers and more recently, blew a save against the Marlins. But other than those two games, Lyon has been a solid reliever. If Bobby Parnell ends up struggling, look for Lyon to be the next to assume closing duties.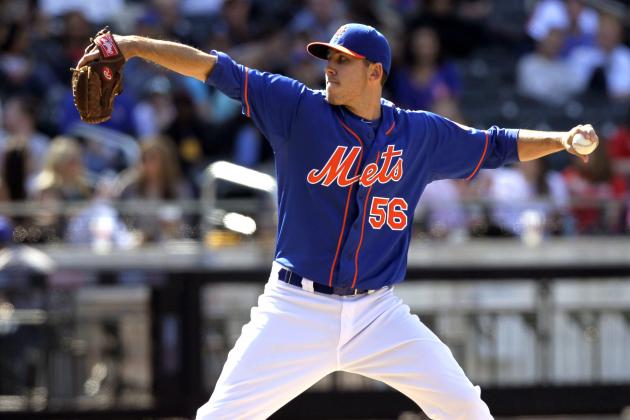 Jason Szenes/Getty Images

Grade: A
As a pitcher that had spent 14 years in the minor leagues, Scott Rice has done a tremendous job in his first major league season.
In 16 appearances, Rice has a 1.84 ERA and has allowed only three earned runs. Rice has pitched well enough to now be the Mets' left-handed setup man. This was probably not something many people would have expected to see this early in the season, but Rice's success, as well as Josh Edgin's struggles have led to this.
Hopefully, Rice's great story can continue as the 31-year old southpaw hopes to make the most of his rookie season.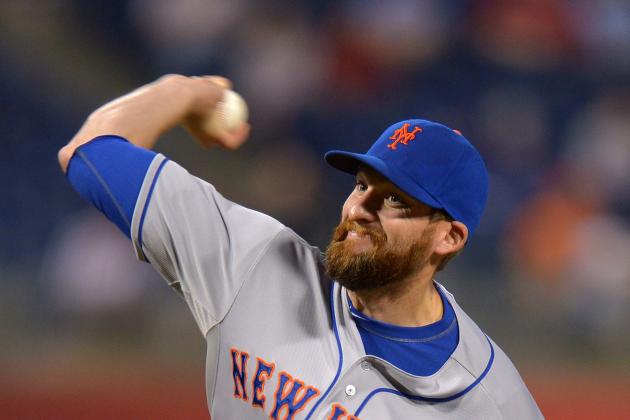 Drew Hallowell/Getty Images

Grade: B+
In his first season as the Mets' closer, Bobby Parnell has already pitched a lot better than Frank Francisco did in 2012.
Parnell has three saves and a 1.46 ERA in 12 appearances. He has allowed just two earned runs, but has also blown two other save chances. Parnell simply has not gotten too many save opportunities yet, but when more chances occur, he should be able to continue the success he has had since 2010.
The closing job is Parnell's to lose and that should definitely help his confidence if he were to ever struggle. But if Parnell can give the Mets some consistency in the closer position that they have not had since Billy Wagner was around, he could be closing for the Mets for a long time.