Winners and Losers from Second Week of 2013 NBA Playoffs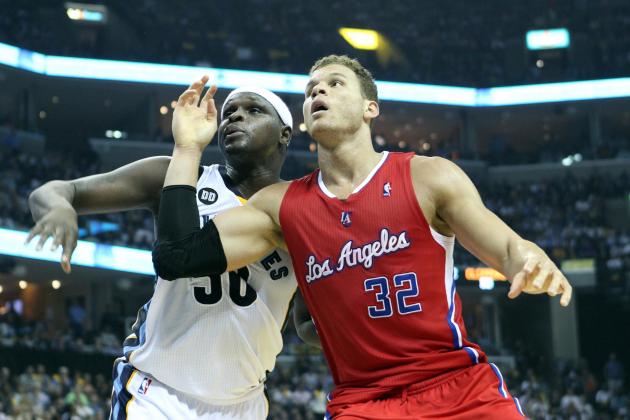 Nelson Chenault-USA TODAY Sports

The NBA playoffs are all about grabbing rare opportunities within a limited time frame.
There are only so many possessions, so many minutes and so many games to out-perform and out-think an opponent, and, in the end, the difference between advancing to the next round and going home can be as random as the bounce of a ball.
From last Saturday to now, here are the biggest winners and losers of these playoffs from the past week.
All stats used in this article are from NBA.com/stats.
Begin Slideshow

»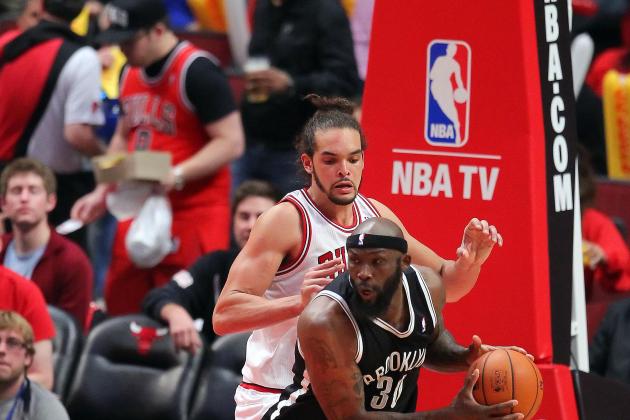 Dennis Wierzbicki-USA TODAY Spor

After routing the Chicago Bulls to open their first playoff series since moving to Brooklyn, the Nets have barely hung on to making it a seven-game affair.
In Game 6 they barely squeaked past a Bulls team that was ransacked by the flu, with no Luol Deng and Nate Robinson throwing up in a trash can during TV time-outs.
Forget about Derrick Rose for a second, Kirk Hinrich has been hobbled with injury, as has Joakim Noah and Taj Gibson.
The Nets are repeatedly facing lineups that lack any offensive ability whatsoever, yet they can't put games away like they should.
Brooklyn has more horses (a healthy Deron Williams and Brook Lopez) and more talent than Chicago, but even if they advance past this round they'll exist as nothing more than a speed bump against the Miami Heat.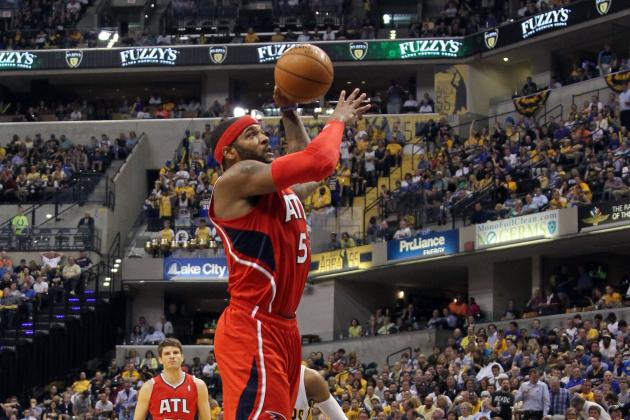 Brian Spurlock-USA TODAY Sports

There's always pressure on players competing in the playoffs right before they enter free agency. As one of the three or four top players entering the open market this summer, Josh Smith's next contract will surely be affected by how well he plays, and how far his team goes, in these playoffs.
With the Atlanta Hawks down two games heading home, Smith came forth with a brilliant effort in Game 3, attempting seven of his 13 shots at the rim and staying away from his kryptonite: the jump shot.
It was also during Game 3 when Larry Drew moved Smith to the small forward position in order to have him guard Pacers All-Star Paul George, who Smith thoroughly dominated.
Smith came back in Game 4 with a 42-minute, 29-point, 11-rebound, four-assist, three-steal, one-block performance only he could do (he even made two three-pointers).
Despite coming back to Earth a bit in Game 5, with 14 points on 16 shots, and spending most of the game on the bench with foul trouble, Smith has spent the last week looking like someone who might actually be worth a max contract this summer.
Robert Hanashiro-USA TODAY Sports

Suffering a high ankle sprain on an off day isn't great, but Griffin's problems existed before that. He was effortlessly throttled by Zach Randolph in Games 3 and 4, and in the series' last three games he's been out-rebounded by his biggest rival 31-17.
Looking at the big picture, the frustrations continue for a player who possesses all the physical tools and skill in the world. Now in his third season and second trip to the playoffs alongside the best point guard of this era, Griffin can't quite establish himself as a go-to scorer, or someone skilled enough to take over a playoff game and put a team on his back.
His jump shot hasn't yet improved to the point where defenses fear it, and defensively there's little he does to make a positive impact on close games. Unfortunately, this ankle injury could disallow Griffin from proving he's capable of turning things around.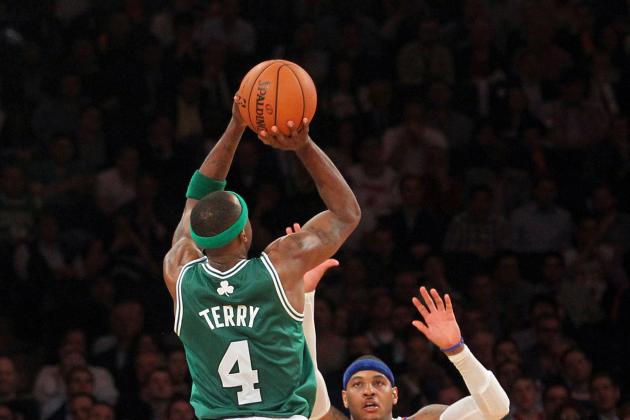 Brad Penner-USA TODAY Sports

After a wretched regular season filled with 25 times as many valleys as peaks, Jason Terry promised he'd show up when the games mattered.
Despite dragging his season-long slump into the opening round's first three games, Terry's made good on that promise with back-to-back brilliance in Games 4 and 5.
In Game 4 he saved Boston's season, scoring 11 points without missing a shot in the fourth quarter and overtime.
He followed that up with a humongous 17-point performance in Game 5, knocking down five three-pointers.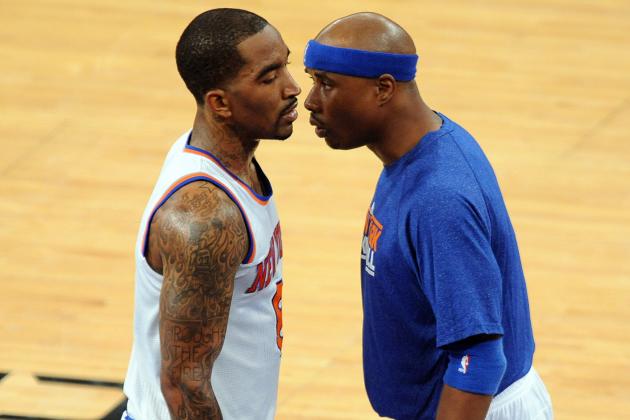 Joe Camporeale-USA TODAY Sports

Days after being awarded the Sixth Man of the Year trophy for his stellar, consistent offensive play during the regular season's final couple of months, J.R. Smith was ejected from Game 3 for purposefully elbowing Celtics guard Jason Terry in the mouth.
Smith was subsequently suspended for Game 4, and the Celtics barely won in overtime (with Terry leading them to victory). That's enough to put him on a losers list, but it doesn't stop there.
In his first game back from the suspension, Smith turned Madison Square Garden into his own personal freezer, missing his first 10 shots from the floor and finishing 3-of-14 as Boston won it on the road and stretched the series to six games.
For dessert, before the game, Smith and several of his teammates showed up to the gym wearing all black, as if they were attending Boston's funeral. It's never a good week for a player when they embarrass themselves on and off the court, as Smith just did.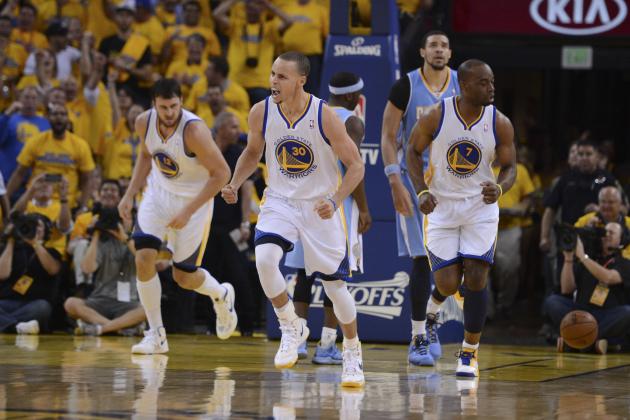 Kyle Terada-USA TODAY Sports

He's now, without argument, the best shooter of basketballs on the planet.
But Stephen Curry proved in this series to be much more than that, breaking defenders off the dribble, whipping no-look bullet passes to open defenders at the rim and finishing regularly with acrobatic shots in the paint.
After enduring a few bits of needless rough play from Denver's front line in Game 5, Curry responded with a Game 6 performance for the ages.
With his team trailing by two points at the half, Curry turned the entire game around in the third quarter with four three-pointers and 14 points. He also pulled three assists out of his back pocket and finished the closeout game with 22 points in 42 minutes.
Curry wasn't named to the All-Star team this season, but going by his performance in these playoffs, he should be a fixture there for years to come.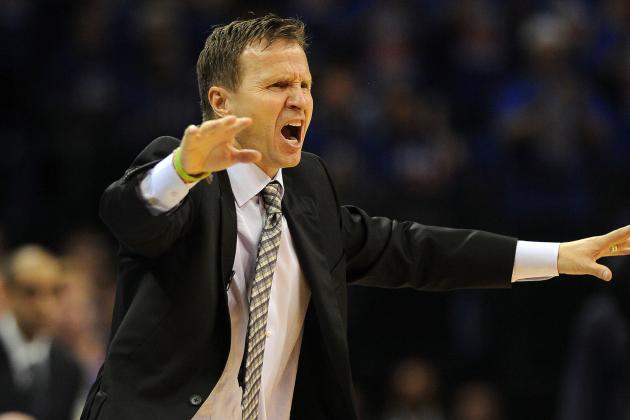 Mark D. Smith-USA TODAY Sports

It was announced one week ago that Russell Westbrook would undergo season-ending knee surgery, effectively murdering Oklahoma City's shot at making another run to the Finals.
Even with a healthy Westbrook, had the Thunder managed to defeat the San Antonio Spurs (or Memphis Grizzlies or Los Angeles Clippers) and get another crack at LeBron James and the Miami Heat, they'd be intense underdogs.
Now that Westbrook is gone, Oklahoma City has an offensive void that can't be filled, and the scoring responsibility he's assumed over the past couple seasons is far too large for the likes of Reggie Jackson, or even Kevin Martin, to take over.
The Thunder are still up 3-2 in the first round, but they've lost two straight and are playing desperate basketball. (Intentionally fouling Omer Asik in the fourth quarter of a closeout game at home? That's a problem.)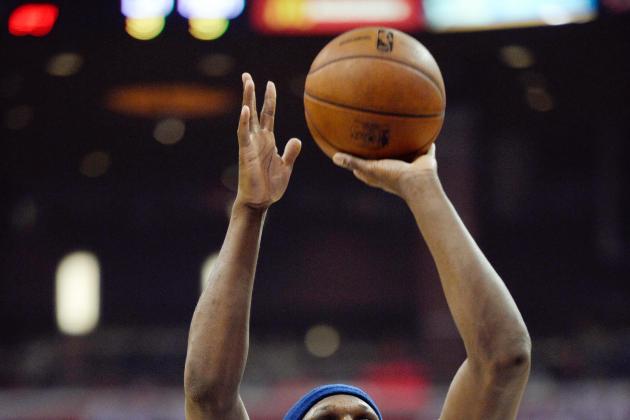 Robert Hanashiro-USA TODAY Sport

After two relatively uninspiring performances in the series' first two games, where he battled through foul trouble and limited touches in the post, Randolph has exploded into one of the most devastating forces these playoffs have seen.
In a crucial Game 3 back in Memphis, he attempted 18 shots and 10 free throws, scoring 27 points and grabbing 11 rebounds (six offensive). Blake Griffin, his counterpart, had just two boards total.
In Games 4 and 5, Randolph continued to play the part of "unstoppable force," scoring 49 points and grabbing 20 rebounds.
During the fourth quarter of a pivotal Game 5, Randolph went 5-of-6 from the field for 10 points in just over eight minutes of action. He's back to being the most dominant power forward in basketball, just at the right time.
With the Western Conference now up for grabs, Zach Randolph has as good a chance as anyone at snatching it.