Texas Football: 5 Longhorns Who Would Benefit from a Position Change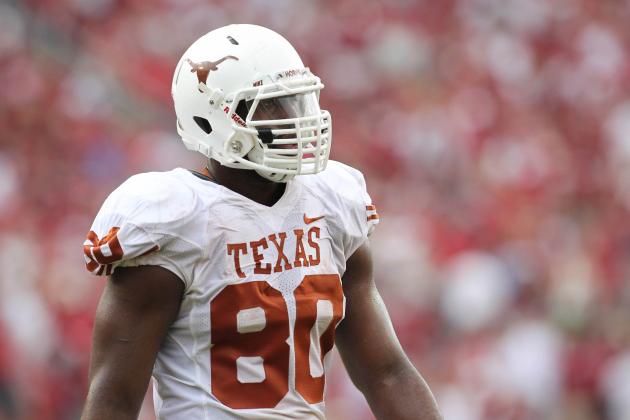 Tim Heitman-USA TODAY Sports
Recent NFL draft pick Alex Okafor made a position change that changed his career. Who will be the next Longhorn to follow in his footsteps?
A lot has been made about the Texas Longhorns returning 19 starters from last season's roster. But for two of them, a position change is necessary to remain major contributors on the team.
Mack Brown and his staff have made it clear that they are no longer playing favorites with this team. The best players will play, and the rest will have to earn what they get. Coupled with a new offense, the result means a lot of shuffling and some position changes on both sides of the ball.
But a position change, even late in a career, is not a death sentence to a player's career. Just ask recent fourth-round pick Alex Okafor, who switched back to defensive end his junior year and became a two-time all-conference player.
Whether any of these players will enjoy that same type of success remains to be seen. A change of scenery will be necessary to make it possible, especially for one of last year's all-conference players.
Begin Slideshow

»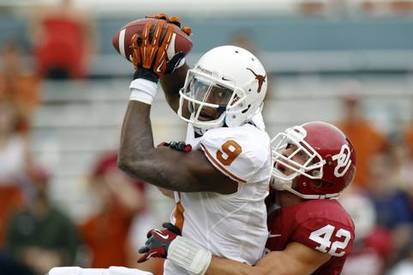 Harris has delivered when he has gotten his chances. - Michael Ainsworth/Dallas News
The player with the most glaring need to make a position change is John Harris, who is already well on his way to becoming a tight end. It just needs to be made official.
Fans are all fully aware of Harris' show-stealing performance (4 catches, 92 yards) in the spring game, which prompted the coaches to shift him to a flex role in the offense. Fans are even more aware of Texas' poor luck with converting receivers over to a full-time role at tight end. But in this offense, giving Harris a shot for first-string duties is a must this offseason.
With the space in this offense, there is no reason a blocking tight end should have a prominent role, especially with the nifty feet Texas has at running back. Harris gives Texas a big target over the middle, and the guy is hungry to prove himself. Before a foot injury derailed his 2011 season, he was a featured member of the offense.
So what if he is not a seasoned blocker? Neither is Aaron Hernandez, and he is a top-five tight end in the NFL. Give Harris his chance, and take tight end off of the Christmas list.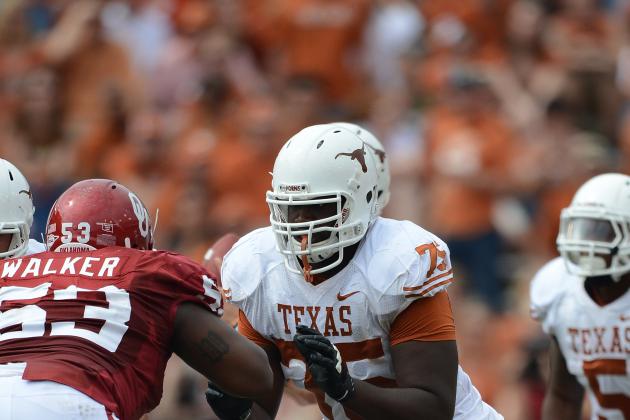 Matthew Emmons-USA TODAY Sports
Hopkins will have to switch positions if he wants to remain the starter.
It is a strange day when an all-conference player has to switch positions to stay on the field. But that is exactly what Trey Hopkins will have to do after a stress fracture robbed him of his spring. Luckily for him, there is a spot up front that is ripe for the taking.
After watching the 'Horns struggle to push the pile for their running backs, the coaches decided to beef up the left side of the offensive line with JUCO tackle Desmond Harrison. Harrison steps in immediately as the starter at left tackle, pushing last year's starter, Donald Hawkins, over to left guard and leaving Hopkins without a spot in the starting five.
Since Mason Walters is going nowhere, Hopkins' best bet once he returns is to try to unseat inconsistent center Dom Espinosa. Despite his strong spring, the Longhorns have needed an upgrade over Espinosa for two years, and Hopkins is certainly that. That is as long as he gets back soon enough to learn the position.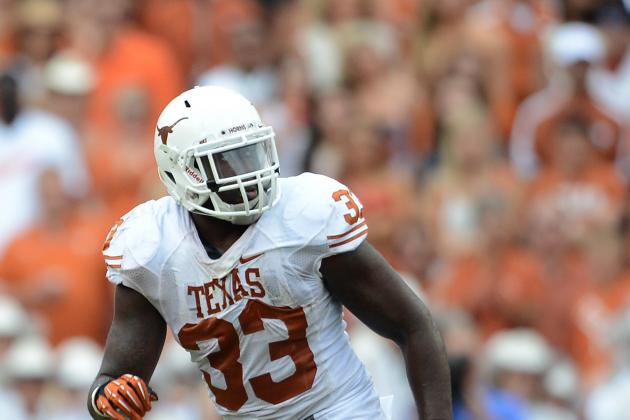 Matthew Emmons-USA TODAY Sports

Steve Edmond was a starter at linebacker for the Longhorns in 2012. While he was serviceable, it became obvious he was not the player the fans and coaches had hoped. A switch to defensive end gives Edmond a fresh start and another shot to make a real impact for this team.
Edmond was in over his head last season, and once Jordan Hicks went down with a hip injury, it became painfully obvious to us all. He was too slow, had trouble shedding blocks and did not have the instincts to compensate. All of these were major contributing factors to Texas allowing 4.6 yards per carry, third-worst in the conference.
But if he moves to defensive end, Edmond immediately becomes a faster player, and his other deficiencies become non-issues. In his one series here in the spring game, he forced David Ash into one of his two turnovers of the day.
He would have some fighting to do, and perhaps it will take an injury for Edmond to produce here in 2013. But with both Jackson Jeffcoat and Reggie Wilson gone in 2014, he could become an impact player and end his Longhorn career on a high note.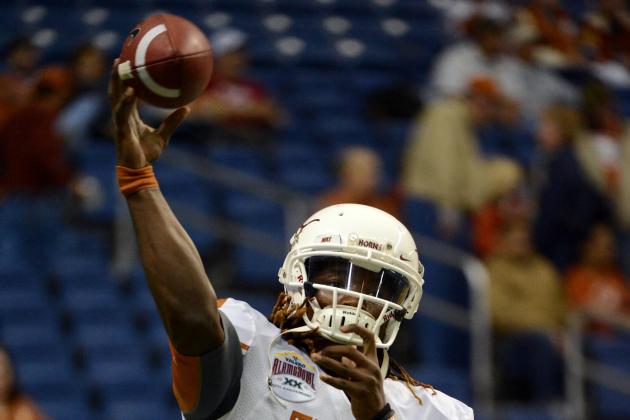 Brendan Maloney-USA TODAY Sports

With David Ash the starter for at least 2013 and Tyrone Swoopes already showing his potential, it's time for Texas to cut its losses with Jalen Overstreet and find a way to get one of its best athletes on the field.
Let's face it. Overstreet is never going to play quarterback for the Texas Longhorns. Even with a full year's edge on Swoopes, Overstreet has been unable to keep Swoopes from jumping him on the depth chart in only four months. And it is not going to get any easier with ESPN 150 quarterback Jerrod Heard coming on campus next year.
Still, Overstreet is too good of an athlete to let him ride the pine. At 6'2" with 4.5 speed, he has great measurables for the wide receiver position, a spot Texas could use some depth.
The 'Horns did the same thing with John Chiles, who became a consistent threat in his final two years on campus. Now it is Overstreet's turn.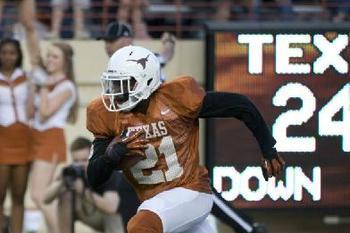 mackbrown-texasfootball.com
It is not so much about changing sophomore Duke Thomas' position on the team but simply defining one for him. Because right now, the Longhorns are just wasting his time.
As a backup to Carrington Byndom, Thomas performed well enough in 2012 to merit starting consideration in the Alamo Bowl to allow Quandre Diggs to play safety. But before the spring game, the coaches decided to run him at wide receiver almost on a whim. He did well with his three receptions, especially considering he was winging it.
Now the coaches are noncommittal with Thomas, even suggesting they might play him both ways in the fall (via the Dallas Morning News). If that happens, it is a major disservice to another one of their best athletes. Thomas is a good football player, but is he really so good that he would be a major contributor on both sides of the ball?
The answer is no. Playing, even practicing, him both ways at this stage of his career sets him back from being the every-down contributor he clearly has the talent to be. Pick the spot where he is going to have the most impact and leave him alone, or they'll otherwise risk wasting a player for no good reason.