Offseason Predictions for Every Major NFL Award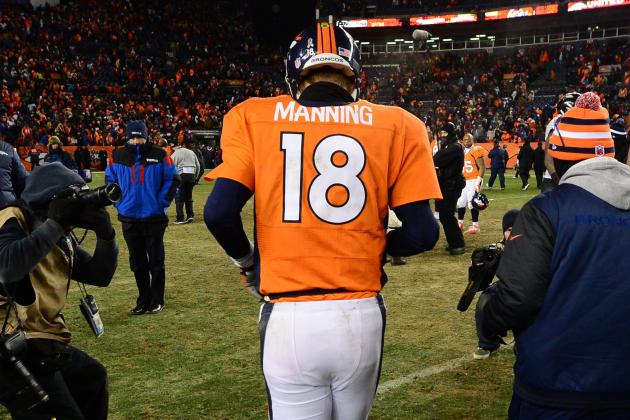 Mark J. Rebilas-USA TODAY Sports

The 2013 NFL draft is in the books, and now that we have a clear view of the 2013 season ahead, anticipation is building fast.
There's still a long way to go—the rookies haven't even shown up for minicamp, and then there's training camp, preseason games and a slew of roster cuts before we get games under way—but the season will be here before you know it.
Don't let it sneak up on you. Here are my early predictions for every major NFL award.
Begin Slideshow

»
The Houston Texans desperately needed a wide receiver to take away some of the attention from Andre Johnson. DeAndre Hopkins probably won't command double-teams at first—he'll have to earn that kind of attention—but at the very least, he can make an opposing defense pay for putting him on an island.
He made defenses look silly even when he was properly accounted for, raking in 82 receptions for 1,405 yards (17.1 yards per reception) and 18 touchdowns in 2012.
Wide receivers don't always have the easiest transition to the NFL, but Hopkins has a few things going for him:
He plays in the AFC South, where cornerbacks go to die (three of the four teams ranked in the bottom half of the NFL in passing yards allowed, with the Houston Texans narrowly missing out at 16th).

He will be one of two wide receivers on the field at a time for the Texans in the 12 personnel package (one running back, two tight ends, two wide receivers).

He is instantly a starter, but he won't get the majority of a defense's attention playing opposite Johnson.
The Texans are often thought of as a run-first team, but Matt Schaub ranked 12th in the league in pass attempts in 2012 and led the league in attempts in 2009. Perhaps the Texans will take to the air more now that they have a viable No. 2 receiver.
Stat prediction: 65 receptions, 950 yards, eight touchdowns
Much is made of scheme fits in the NFL draft. Some players supersede that discussion by being successful regardless of scheme. Datone Jones is that kind of player, but he couldn't have found a much better home than he found with the Green Bay Packers.
Playing in a similar defense to what he played in at UCLA, Jones will have an opportunity to play to his strengths in Dom Capers' defense: rushing up the field and pushing the pocket from the inside as a 3- or 5-technique defensive end in the 3-4.
Jones is similar in many ways to Texans defensive end J.J. Watt, in terms of his versatility to be stout at the point of attack and to shoot gaps to penetrate the backfield. Jones was a disruptive force in college, racking up 36.5 tackles for loss and 12.5 sacks in his three years as a starter (62 tackles, 19 tackles for loss and 5.5 sacks in his senior season). Interestingly, Watt's senior production was almost identical (62 tackles, 21 tackles for loss and seven sacks).
Jones will get an opportunity to start right away for the Packers, as they have searched for a replacement for Cullen Jenkins since the big man departed after the 2010 season.
Stat prediction: 60 tackles, 10.5 sacks, three forced fumbles
Robert Griffin III will be ready for Week 1. Dr. James Andrews told NFL Network's Ian Rapoport that RGIII was "way ahead of schedule" back in mid-February, and there's been nothing since then to indicate any setbacks.
Aside from Buccaneers cornerback Darrelle Revis, RGIII is easily the most publicized offseason storyline for a player returning from injury. It will likely become a two-horse race between RGIII and Revis for the Comeback Player of the Year award.
RGIII gets the edge for positional bias. If he comes back and plays anything like what we saw last year, the media reaction will be out of control.
Stat prediction: 305-of-470 (64.9 percent), 3,650 yards (7.8 YPA), 30 TD, 12 INT, 99.2 passer rating; 70 rush attempts, 400 yards (5.7 YPA), four TD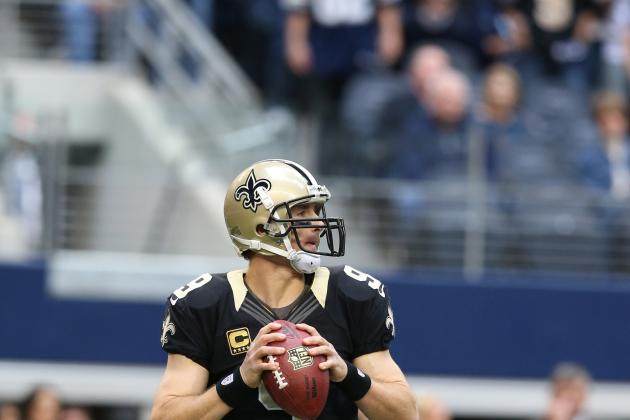 USA TODAY Sports

Four of the past six years, a quarterback has won this award. The only two exceptions are Adrian Peterson and Chris Johnson, both in seasons where they had rushed for over 2,000 yards. I don't see a back eclipsing that mark this year.
Drew Brees had an up-and-down season in 2012 by his lofty standards, but it's hard to think that he won't resume consistency with head coach Sean Payton back on the sidelines.
Brees has consistently set records for passing dominance over the past five seasons, regardless of who he throws to or how his team does. With Marques Colston, Lance Moore, Darren Sproles and Jimmy Graham to throw to, there's no reason he should struggle.
Stat prediction: 445-of-655 (67.9 percent), 5,076 yards (7.8 YPA), 40 TD, 13 INT, 103.1 passer rating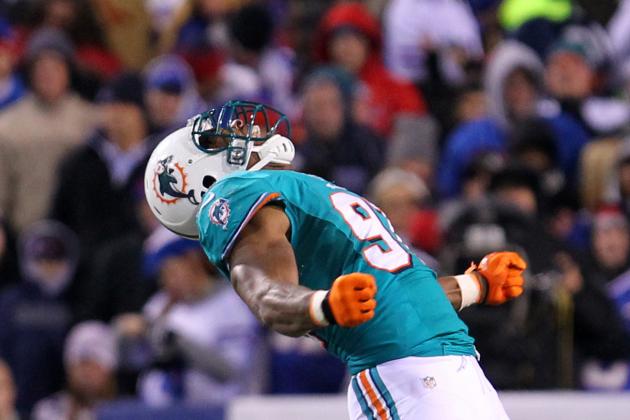 Timothy T. Ludwig-USA TODAY Sports

My gut wanted to go with J.J. Watt to win this, but then I noticed something: The only player to win Defensive Player of the Year twice in a row was Lawrence Taylor. I regard Watt as arguably the best defensive player in the game, but he won't catch anyone by surprise this year. He'll be the focal point of the game plan.
Cameron Wake just earned his first All-Pro selection and has shown the ability to be one of the best pass-rushers in the NFL. This could be the year he finally makes the jump in the eyes of the voting populous.
He graded out as the best overall 4-3 defensive end in football, according to Pro Football Focus, and ranked No. 1 among 4-3 defensive ends in their pass-rushing productivity metric (measures pressure created on a per snap basis with weighting toward sacks).
Wake finished the 2012 season on a high note, racking up 13 pressures, five hits and 5.5 sacks over the final five games of the season; that was with Jared Odrick playing opposite him. It's not that Odrick is a bad player, but he's not ideal for a 4-3 pass-rushing defensive end. Now that Wake will play opposite former Oregon outside linebacker Dion Jordan, the two should complement each other very well.
Stat prediction: 45 tackles, 31 solo, 20.5 sacks, five forced fumbles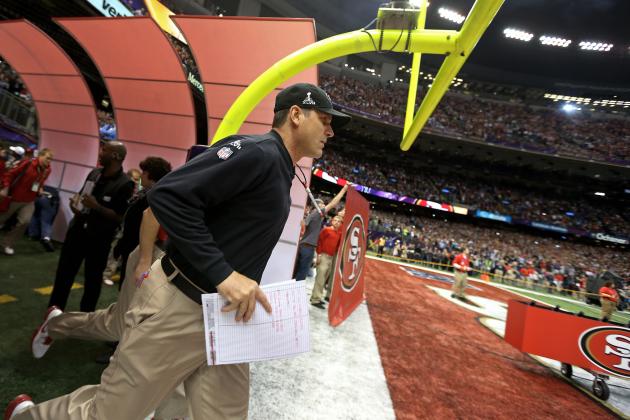 Mark J. Rebilas-USA TODAY Sports

Jim Harbaugh is known for his fiery sideline antics, but he's also one of the best coaches in the league.
He has already won this award once in his still-young NFL head coaching career. Only 10 other head coaches have won the AP Coach of the Year award more than once: Allie Sherman, George Halas, Joe Gibbs, Mike Ditka, Don Shula, George Allen, Dan Reeves, Chuck Knox, Bill Parcells and Bill Belichick. That's some hallowed company to be in.
The 49ers won the NFC West and earned the NFC's second overall seed for the second consecutive season in 2012. They have added to their roster this offseason with the acquisitions of former Ravens wide receiver Anquan Boldin and former Eagles cornerback Nnamdi Asomugha, as well as the draft selection of LSU safety Eric Reid in the first round. Those moves should all address holes on the roster.
Other than that, the 49ers return largely the same cast of characters that has dominated the NFC and the NFL as a whole for the past two seasons.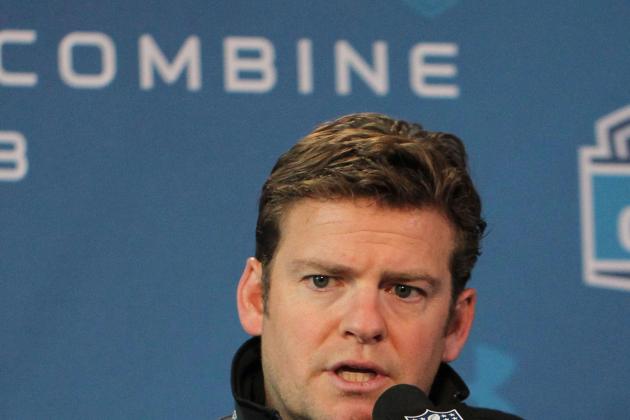 Brian Spurlock-USA TODAY Sports

The Seahawks didn't make a bevy of moves this offseason. They just made the best ones.
Defensive ends Michael Bennett and Cliff Avril look to make life without Chris Clemons much easier to handle. Wide receiver Percy Harvin adds a dynamic presence at receiver that was lacking, and the combination of the explosive Harvin with the Seahawks' bevy of bigger outside receivers must have Russell Wilson licking his chops.
With two defensive ends and a wide receiver, Schneider's moves have a high likelihood of garnering attention with their impact.
Not to mention, they got outstanding value in the draft. Alabama's run-stuffing nose tackle Jesse Williams was a projected first-round pick, but the Seahawks picked him in the fifth round. Getting Kansas State's Chris Harper in the fourth round could be another big steal, if he fits into the offense anything like the several other big-bodied receivers.
The Seahawks have built their team for long-term success, but they gave themselves a big-time boost for the near future with many of their moves this offseason.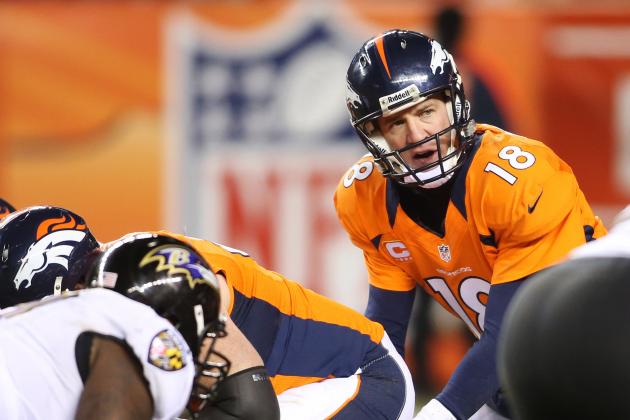 Chris Humphreys-USA TODAY Sports

Let's not overthink it.
Peyton Manning has won the MVP award a record four times, and he was a candidate for the 2012 MVP award.
Manning showed no signs of slowing down last year; in fact, he posted his highest average YPA (8.0) since the 2005 season and the second-highest passer rating of his career (105.8). The Broncos signed All-Pro slot receiver Wes Welker for the 2013 season, meaning Denver's offense could be even more dangerous than it was last year.
Some people say Manning and the Broncos' long string of success in the second half of the 2012 season was due to softer opponents. The 2013 schedule doesn't exactly have the Broncos running a gauntlet of tough opponents, with only five games against teams that went to the playoffs in 2012.
All the ingredients add up to a delicious statistical season for Manning.
Stat prediction: 420-of-615 (68.3 percent), 4,900 yards (8.0 YPA), 39 TD, 12 INT, 105.2 passer rating