Analyzing Each Member of the Dallas Cowboys' 2013 Draft Class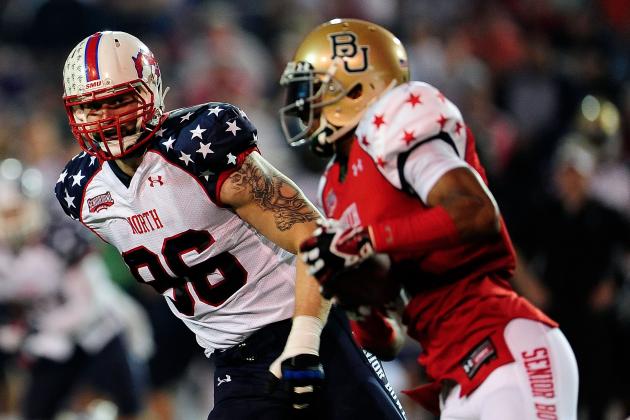 Stacy Revere/Getty Images

The Dallas Cowboys are not getting much love from analysts for their 2013 NFL draft selections, but the truth is, no one knows how the players will turn out. Minicamp and training camps have yet to begin and the players were barely issued jersey numbers.
Despite reaching for some players and ignoring need positions at times in this draft, the Cowboys did acquire some talent. Based on their skills, production in college and where they might fit with the team, here is the analysis for every Cowboys 2013 draft pick.
Begin Slideshow

»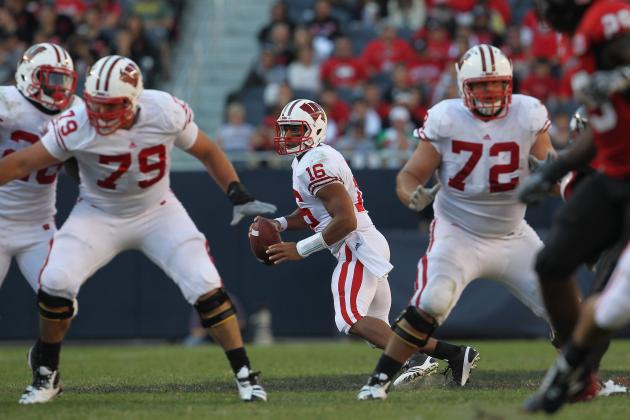 Jonathan Daniel/Getty Images

Travis Frederick might not have deserved a first-round selection, but those defending the pick are right when they say he can start right away. Dallas traded for center Ryan Cook before the 2012 season and re-signed Phil Costa, but they didn't pick Frederick to sit on the sidelines.
Frederick was chosen to compete for, and likely win, the starting center job so that he can learn the NFL game by direct experience. He might not prove to be better than Cook or Costa his first year, but Dallas now has a center it can rely on to protect Tony Romo.
At 6'4", 312 pounds he fits the build the Cowboys love in offensive linemen. Frederick has great upper-body strength to go with his frame. He is an impressive run-blocker and knows how to keep his feet moving at all times—attributes Dallas desperately needs on the line.
Frederick likely won't become a superstar or an annual Pro Bowl selection, but he will be a solid contributor up front for a long time.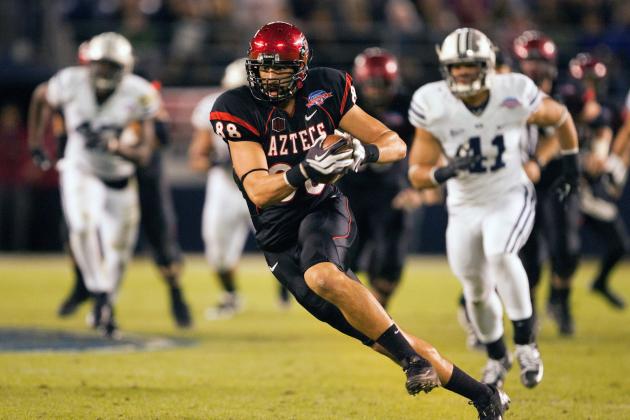 Kent Horner/Getty Images

Coming out of San Diego State after his junior year, Gavin Escobar might need some coaching up.
He has great height at 6'6" and knows how to use his hands for catching, but he struggles in blocking situations.
The Cowboys seem to want to add some two-tight end sets to their offense by taking Escobar, but as of now he's limited in what he can contribute.
Escobar's success depends heavily on improving his blocking skills and dealing with contact when running routes.
If he can become an adequate blocker and learn how to react to bump-and-run situations, Dallas will have a new weapon in the offense. If not, then owner Jerry Jones and Company can place him next to Felix Jones on the big board of failed early draft picks.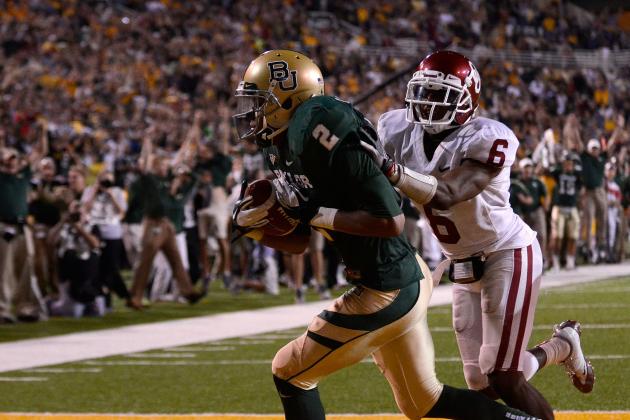 Sarah Glenn/Getty Images

Terrence Williams was one of Robert Griffin III's favorite targets at Baylor, and the Cowboys are probably hoping that becomes the case for Tony Romo as well.
The problem with this pick is figuring out who Williams will beat out for playing time. Dez Bryant posted a career-best season in 2012, and Miles Austin is still a talented receiver. Dwayne Harris is entering his third NFL season, but he had a second year with 222 yards on 17 catches in 2012.
Unless the Cowboys are committing to the shotgun full time, Williams is going to have a tough time getting snaps early in his career.
Williams runs a pretty route and knows how to reel in the football with his hands, but he can only do those things if he gets on the field. His best chance is to beat out Harris or hope that one of the incumbent receivers is cut or traded.
If Williams can get some playing time, he could prove to be the best player in the 2013 draft class for Dallas.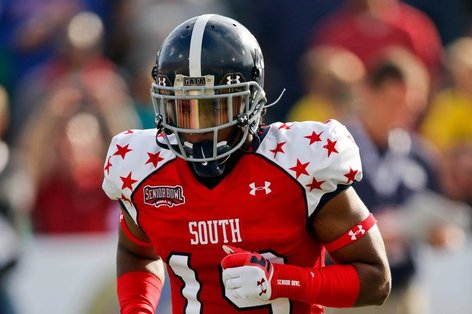 USA TODAY Sports
The Cowboys finally got around to addressing the safety position after all the top guys in the draft like Matt Elam and Kenny Vaccaro were gone.
Dallas settled on Georgia Southern product J.J. Wilcox, who could easily beat out Barry Church or Matt Johnson for a starting job this year. While Wilcox is from a small school and wasn't one of the premier names at his position this draft, he's still a great talent.
At 6'0", he has the height you want in a safety. He posted 88 tackles for Georgia Southern after moving permanently to the position. Wilcox has the ability to shock some analysts who had him below other top safeties, and it won't be hard for him to get on the field with Dallas.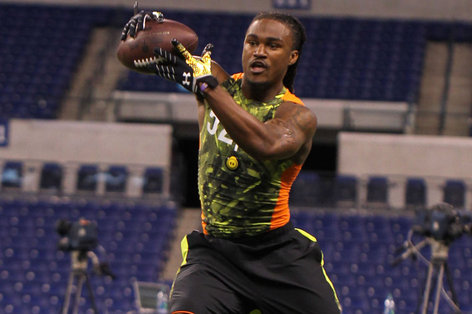 USA TODAY Sports
Dallas decided to draft another small-school defensive back in the fourth round when it took William & Mary corner B.W. Webb.
In his first game for the Tribe, Webb intercepted three passes and returned one for a touchdown. The Cowboys must have had those highlights in their head when taking him.
Sure, Webb is talented. He reacts well, closes space quickly and can defend the pass. Like Terrance Williams though, his issue is playing time.
The Cowboys spent big money to grab Brandon Carr in free agency last season and moved up in the 2012 draft to get Morris Claiborne. The team also handed Orlando Scandrick a contract extension last year.
All corner positions look to be full for the Cowboys for at least two more seasons, meaning Webb will not make an immediate impact.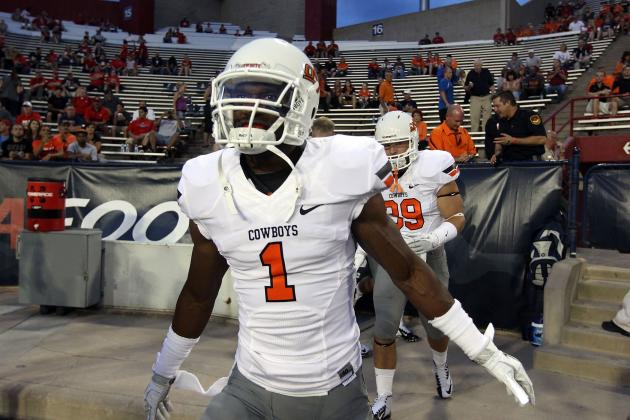 Christian Petersen/Getty Images

Oklahoma State product Joseph Randle is yet another example of the Cowboys addressing a need too late in this year's draft.
After the team parted ways with Felix Jones, no effort was made to bring in a veteran running back to back up DeMarco Murray. It seemed Dallas was waiting until the draft to address the position, and apparently didn't see it as a huge need.
Randle was selected with the Cowboys' second-to-last pick of the draft. While the new Cowboy has the skills to help in the passing and rushing game, he's ultimately just a guy.
He doesn't have the great potential of guys like Eddie Lacy or Monte Ball.
If Murray gets hurt for a significant amount of time this year, it is hard to imagine the Cowboys putting all their faith in Randle to carry the load.
Overall, Randle will likely always be a backup during his NFL career, and it's debatable how effective he'll be in that role.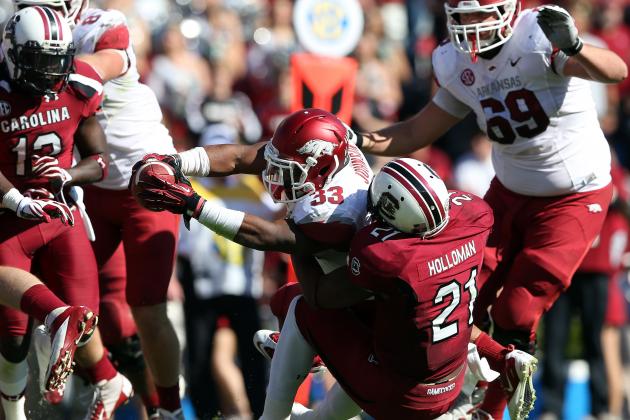 Streeter Lecka/Getty Images

DeVonte Holloman comes from a historically solid program at South Carolina and showed noticeable talent in his college days.
He actually transitioned from safety to outside linebacker for coach Steve Spurrier, so there could be some position versatility there. Regardless of his position, Holloman has agility and doesn't hurt a defense when asked to defend a receiver or tight end.
Being a sixth-round pick, Holloman has some work to do in training camp to earn his place on the Cowboys. If he does make the team, he has the tenacity to contribute on special teams, but not much else.