Detroit Tigers Grades for Every Player in April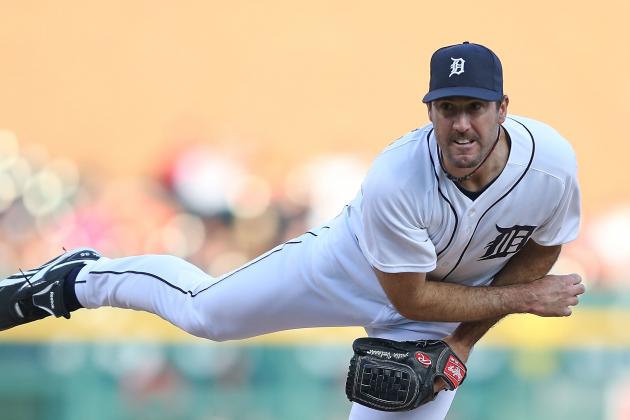 Leon Halip/Getty Images
Justin Verlander
The Detroit Tigers closed the first month of the season with a 15-10 record and a half game lead over the resurgent Kansas City Royals in the American League Central.
While their standing will be the ultimate judge of how successful their season will be, we can still break down how well or poorly each of the 25 pieces of the puzzle named the 2013 Detroit Tigers are doing after the first month.
No one likes report card day, it's something that we all had to go through. After a rough 9-9 start, this report card looks a lot better at month's end than it did a week ago.
Broken down in groups, here is how the Tigers graded for the month in the old-fashioned A-F grading scale.
*All statistics as of April 30 and courtesy of Baseball-Reference.
Begin Slideshow

»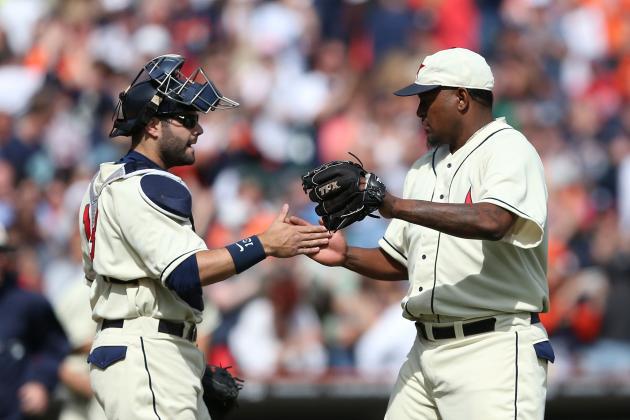 Leon Halip/Getty Images

Offensively, both Alex Avila and Brayan Pena have struggled. All three of Avilia's RBI came on solo home runs and his OPS+ stands at 48.
Pena—a below-average hitter to begin with—has an OPS+ of 37. Remember, an average batter has an OPS+ of 100.
Defensively, Avila has had two passed balls and thrown out 24 percent of runners trying to steal. That is actually the AL average.
Pena has not thrown out a runner in three attempts and has a passed ball in six starts.
Even with the success they have had in calling games, this is a weak spot.
Avila: D
Pena: D-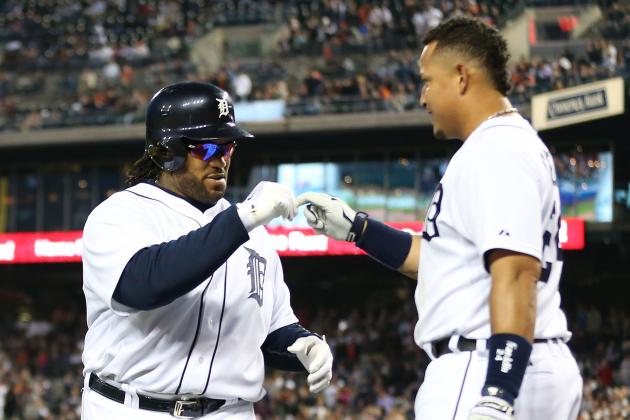 Leon Halip/Getty Images

When Jhonny Peralta's .292 batting average is the worst of the four starting infielders, you have a very productive offense.
Peralta, along with Omar Infante, Miguel Cabrera and Prince Fielder, have all produced. Cabrera and Fielder have combined for 11 homers and 55 RBI.
Infante has struck out only five times in 85 at-bats and Peralta has drawn two intentional walks.
Defensively, the quartet has made only five errors this season. They need to turn more double plays—only Toronto has turned less—but they are not making pitchers needing to make four outs to get the three needed in an inning.
Cabrera: A
Fielder: A
Infante: A
Peralta: A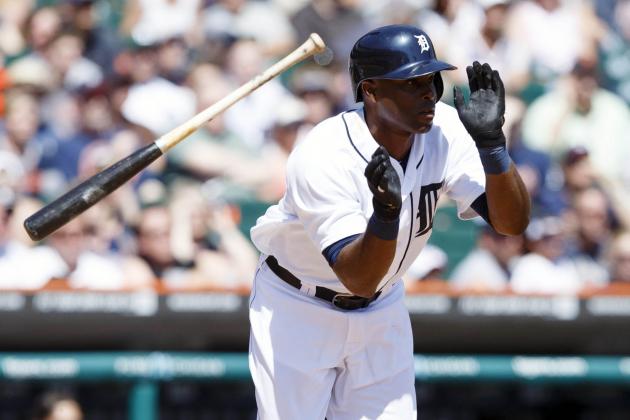 Rick Osentoski-USA TODAY Sports

Torii Hunter has quickly established himself as a fan favorite. His .370 average in April would project out to a career-high by 57 points if it held.
Austin Jackson has reached base 35.5 percent of the time and has scored 25 runs. Jackson has stolen five bases without getting caught as well.
Andy Dirks has yet to recover from a collision with a wall in spring training and has struggled mightily at the plate, hitting .218. However, he has swiped two bases.
Defensively, the trio has yet to make an error and has thrown out four would-be advancing base runners.
Hunter has excelled, Jackson has met expectations and Dirks has struggled.
Hunter: A+
Jackson: B-
Dirks: F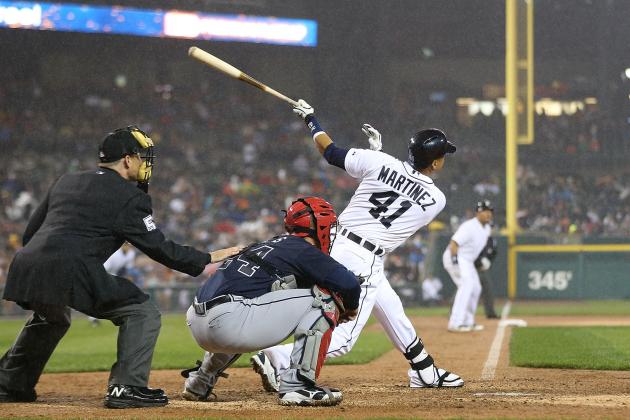 Leon Halip/Getty Images

April was not kind to designated hitter Victor Martinez. Coming off an injury that kept him sidelined for all of 2012, Martinez hit .221 for the opening month in 24 games.
Batting behind Cabrera and Fielder in the heart of the lineup, Martinez has not hit a home run.
He does have five doubles and has struck out just 12 times to 10 walks. He is seeing the ball, just not hitting it.
Matt Tuiasosopo has done a brilliant job filling in for the injured Dirks along with spelling Fielder at first and an occasional spot start at DH.
In 28 at-bats, Tuiasosopo hit .321, one home run and drove in six.
Don Kelly and Ramon Santiago have struggled at the plate, failing to drive in a run in 45 combined at-bats.
Martinez: D
Tuiasosopo: A-
Kelly: F
Santiago: F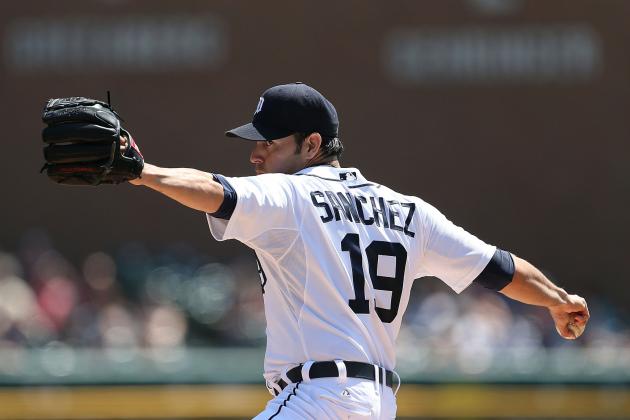 Leon Halip/Getty Images

This was going to have to be the bedrock if the Tigers were going to meet the expectations that come with a division title—four-fifths of that rotation has delivered.
Anibal Sanchez has proven to be the best of the bunch early.
At 3-1, he has an ERA of 1.34, not allowed a home run so far and a rotation-best 7 hits allowed per nine innings.
Max Scherzer has a team high 46 strikeouts and a 3-0 record.
Even with an impressive 13.2 strikeouts per nine rate, he may be throwing too many strikes as his 8.3 hits per nine is the highest rate of anyone not named Rick Porcello. His ERA of 4.02 is not bad, but not great either.
Doug Fister is trusting his defense behind him to do their job.
At 4-0, his 2.38 ERA in five starts is outstanding. However, he has hit eight batters.
Justin Verlander?
He is pitching better than his 3-2 record. With a 1.83 ERA in six starts, he is his usual workhorse self. Still, the velocity on the fastball is down a bit and his 2.5 walks per nine is the worst on the starting staff.
Then there is Rick Porcello.
An 8.84 ERA is not worthy of being in any rotation. His 19 earned runs allowed is more than Verlander and Sanchez combined.
Sanchez: A+
Scherzer: B
Fister: A
Verlander: B+
Porcello: F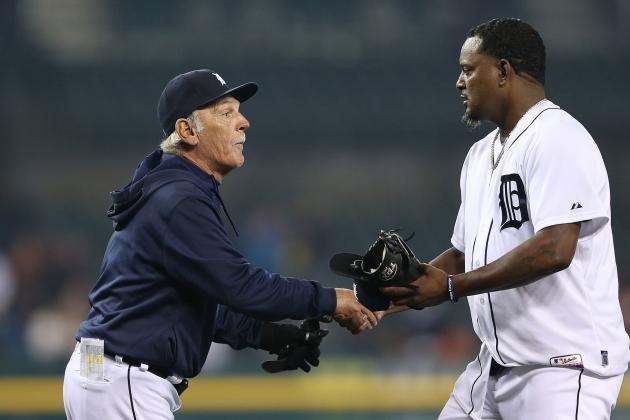 Leon Halip/Getty Images

The Tigers biggest question mark coming into the season has not been as shaky as some feared.
Sure, they had to re-sign Jose Valverde to actually come in and close games, but Darin Downs, Joaquin Benoit and Drew Smyly have pitched lights out.
Phil Coke, Octavio Dotel and Brayan Villarreal, however, have struggled.
Villarreal ended up getting demoted back to Triple-A Toledo. Coke and Dotel are on the disabled list.
Along with Benoit, Al Alburquerque has pitched 12 times this season. Control seems to be Alburquerque's biggest concern. In 12 innings, he has struck out 21, but thrown four wild pitches and walked 10.
Downs and Smyly have a WHIP under one and Benoit has surrendered two home runs.
Valverde has done very well in his limited time back with Detroit and Bruce Rondon's two appearances are night enough to grade. Rondon's lack of ability to throw strikes did earn him another trip to Toledo, but that was in May.
Smyly: A
Alburquerque: B+
Downs: B+
Benoit: B
Valverde: A
Coke: C-
Dotel: F
Villarreal: F-
Rondon: Incomplete