What Impact Will Landon Donovan Have When He Returns to USMNT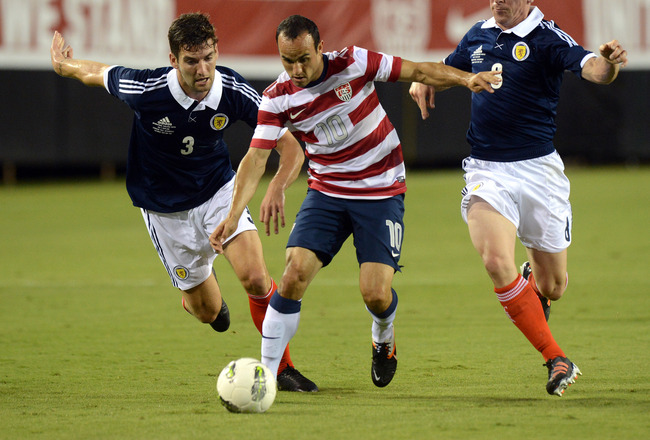 Gary Bogdon/Getty Images
A week-and-a-half ago, after an extended off-season sabbatical, Landon Donovan picked up his first goal and assist of the 2013 Major League Soccer season in a match against Sporting KC.
Although it would be premature to declare Donovan completely back to form, the game was a big step in shaking off the rust. And with the United States men's national team only five weeks away from a crucial three-game stretch of World Cup qualifiers against Jamaica, Panama and Honduras, the team could use him back.
So, what impact will have Donovan have if and when he returns to the USMNT?
Goals
With 49 international goals in his USMNT career, there is no doubt that Donovan could help the sluggish U.S. offense, which has only produced two goals in its first three hexagonal qualifiers.
Critics will point out that many of Donovan's international goals have come from the penalty spot, but Donovan proved last May in a friendly against Scotland that he still has the chops to do it in the run of play, pulling off a hat-trick in the game.
Playmaking

Donovan assists Dempsey

Arguably the biggest area in which Donovan can help the U.S. squad is with his playmaking ability. The U.S. has only managed a pathetic three shots on goal in its first three hexagonal qualifiers. And, if not for some excellent finishing from Clint Dempsey, the U.S. could easily be goalless in all three games.
Donovan's real value, especially as his once world-class speed has fallen off, is in his ability to make plays. Anyone who has watched Donovan play with the L.A. Galaxy over the past two years has seen the almost telepathic connection between Donovan and Robbie Keane.
With the USMNT, Donovan enjoys a similar connection with Clint Dempsey, and when the two are paired together, big things happen for the U.S.
Leadership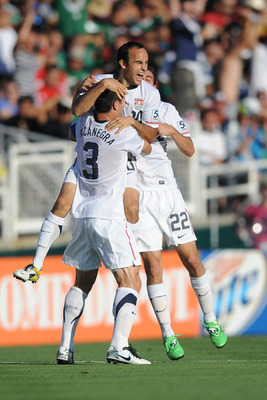 Kelvin Kuo-USA TODAY Sports
Some may argue that Donovan's absence from the team over the past few months has demonstrated a lack of leadership, and that is understandable. However, it was obvious last year that being the face of American soccer both in the United States and abroad since he was 20 years old had clearly taken its toll.
Since his return to the Galaxy this spring, Donovan has looked more relaxed, much as he did in his fine run of form from his loan to Everton in early 2010 leading into the 2010 World Cup.
With the U.S. captaincy in flux (Carlos Bocanegra was not called up for the March qualifiers), the U.S. is in need of some veteran leadership. Clint Dempsey deputized in the captain's role for the March qualifiers, and while he is certainly a leader on the team and worthy of being the captain, Dempsey is a more reserved, quiet player who shows his leadership through his play.
Every team needs vocal leaders, and Donovan is more than capable of stepping into that role whether it is as the captain or simply by his presence in the locker room and on the field.
Big-Game Experience

Donovan's goal v. Slovenia

There are currently three men in the U.S. player pool who have experience in the last three World Cups. One is Landon Donovan, the other two are Steve Cherundolo and DaMarcus Beasley.
The only one who has seen significant playing time in all three of those World Cups is Landon Donovan. In 2010, when the chips were down, the team looked to Donovan. Against Slovenia, down 2-0 at the half and against Algeria 0-0 in the dying minutes, it was Donovan who made the difference for the United States.
While the U.S. has other players it can look to to get the job done, especially Michael Bradley and Clint Dempsey, Donovan clearly has the experience on the biggest stage to be the hero when needed for the U.S.
With an 11-day stretch this summer in which the U.S. will play three very difficult World Cup qualifiers, having Donovan should only help.
Depth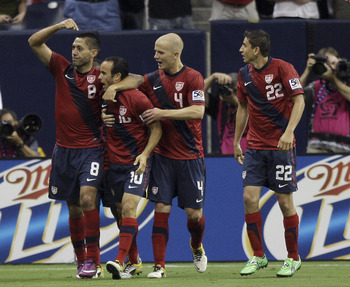 Bob Levey/Getty Images
Currently, the U.S. has plenty of options on the wing, Donovan's best position, but none of the U.S.' options have stood out at the position in Donovan's absence.
Graham Zusi played well against Mexico, but that performance followed several lackluster games by him against Canada, Honduras and Costa Rica. Herculez Gomez also did well out wide, but he is not a natural winger. U.S. youth options Josh Gatt and Brek Shea show promise but have yet to deliver on that potential.
Alejandro Bedoya is another possibility and has been playing well in Sweden, but he has not gotten much of an opportunity under Jurgen Klinsmann. Eddie Johnson was used wide in the October qualifiers, but has since then been used primarily by Klinsmann as a forward, Johnson's "natural" position.
Donovan is, in reality, the U.S.' best option on the wing even with so much potential competition. He is a proven veteran, a proven playmaker and a proven goalscorer. The same cannot be said for any of the U.S.' other options on the wing. And while Donovan's ability more than qualifies him for a spot in the starting XI, even if he isn't a starter, he could be a devastating presence for the U.S. coming off the bench.
The X-Factor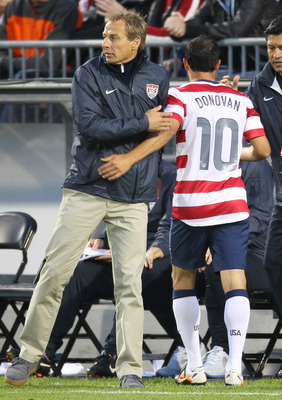 Tom Szczerbowski/Getty Images
The X-factor in the discussion on what impact Donovan's return will have on the USMNT is Donovan's relationship with U.S. head coach Jurgen Klinsmann.
Since Klinsmann took over the squad, there have been whispers that the two don't see eye-to-eye.
Donovan's absence from the team for much of Klinsmann's reign might seem to verify those rumors, but many of the games Donovan has missed have been due to injury.
However, Klinsmann didn't exactly close that rift when he stated last week (via Goal.com):
There are players clearly ahead of Landon Donovan right now. There is a chemistry being developed of a group and you have to feel where it is moving towards. He hasn't been part of the development of that team most of the time over the last two years, so chemistry is extremely important.
Donovan, for his part, has played the good soldier in this little melodrama, and the same article reports him saying:
"He (Klinsmann) certainly hasn't agreed with a lot of my choices and that's understandable."
However, if the U.S. struggles in the June qualifiers and Donovan is not part of the squad, or not getting any playing time, this rumored rift could turn into a cataclysmic disaster for the U.S. in the middle of a World Cup qualifying campaign.
If Donovan and Klinsmann can get on the same page, however, the U.S. should only be better with Donovan in the lineup.
Follow me on Twitter @JohnDHalloran
Follow me on Facebook www.facebook.com/AmericanTouchline
Keep Reading

United States (National Football): Like this team?