Picking a Combined Liverpool and Everton XI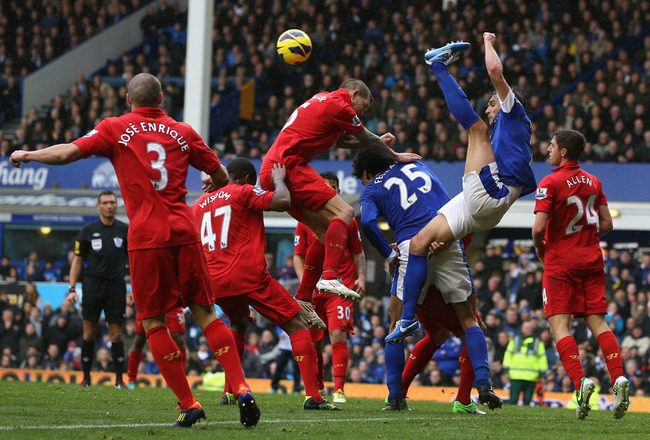 Clive Brunskill/Getty Images
For some fans, the idea of a Liverpool player appearing in an Everton shirt is their worst possible nightmare—and the same goes vice-versa. Very few players transcend the Merseyside divide, with even fewer doing so successfully. Abel Xavier, anyone?
Nick Barmby, of course, had rather more success, and there are the odd few—Peter Beardsley, Gary Ablett—who manage the crossover with not only dignity but success and respect from both sides.
But how about a combined team made of up players from both sides? It might never happen, but it could give an indication of the relative strengths of each side and an interesting insight into where success or failure might arise in the forthcoming Merseyside derby at Anfield on Sunday.
Here then is a mixed Liverpool and Everton XI, based solely on their performances from the present Premier League season.
Goalkeeper: Tim Howard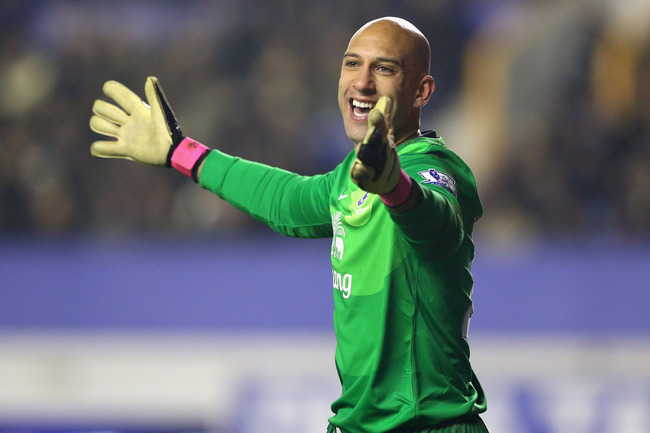 Alex Livesey/Getty Images
It's a pretty tough call for the first position between Pepe Reina and Tim Howard.
Most seasons, the Liverpool goalkeeper would probably take the spot, but he suffered tremendously at the beginning of the campaign with his form and fitness. Until around December or so, he was making unfortunate mistakes which were costing his team goals, while two spells on the sidelines with injuries during the season haven't helped with consistency either.
Since the turn of the year though, Reina has been far more impressive, racking up the clean sheets at pace.
Howard has been fairly consistent, showing few signs of errors and playing behind a settled defence in a system they are all comfortable with. The American has missed just two league games this season and has been a part of Everton's very strong performance at home all campaign.
The Reds have kept more clean sheets this season—14 compared to Everton's nine—but it's the Blues who have conceded fewer goals overall, 38 to Liverpool's 42, and Howard just about gets the nod here.
Right-Back: Glen Johnson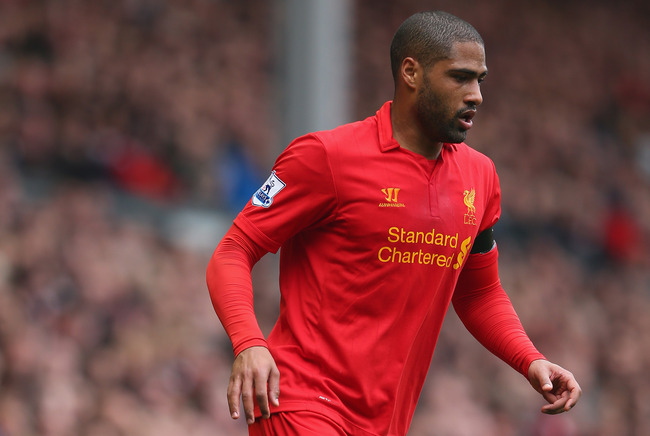 Alex Livesey/Getty Images
The right-backs for each side have had somewhat contrasting campaigns, with Glen Johnson performing as one of the best full-backs in the league for much of the season before tailing off with his form since March.
Seamus Coleman, on the other hand, was in and out on the team initially before suffering a hamstring injury, but his form has been far, far better since then and is ending the season very strongly indeed.
Johnson, though, despite his recent drop off, has been a constant outlet for the Reds on both sides of defence, has chipped in with a couple of goals and has kept himself fit to play 40 games so far this season, something he had not previously managed for Liverpool.
Left-Back: Leighton Baines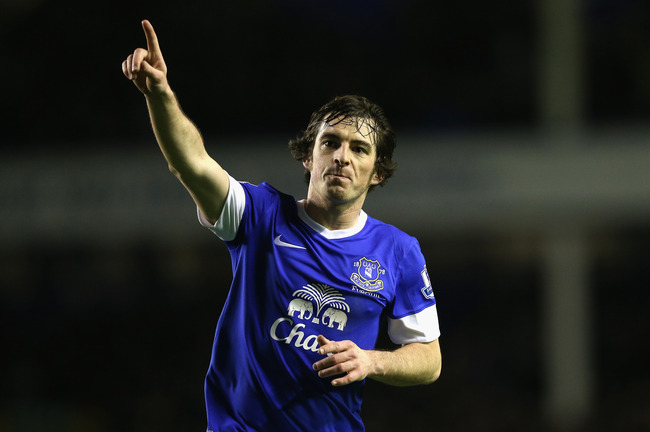 Clive Brunskill/Getty Images
On the opposite side, it is a similarly clear-cut case for selection.
While Jose Enrique spent the first five months of the season drifting in and out of form, and indeed of the preferred starting XI, Leighton Baines has arguably had his best season to date.
The England left-back has recorded seven goals and eight assists from his attacking full-back role and has been a constant source of chances on goal for his attacking teammates with excellent delivery both in open play and from set pieces.
He will be one of the key players in the Merseyside derby this weekend, where Blues fans hope he will perform as he has done for much of the campaign—and without the errors which led to the goal he gave away against Sunderland two weeks ago.
Right-Sided Centre-Back: Phil Jagielka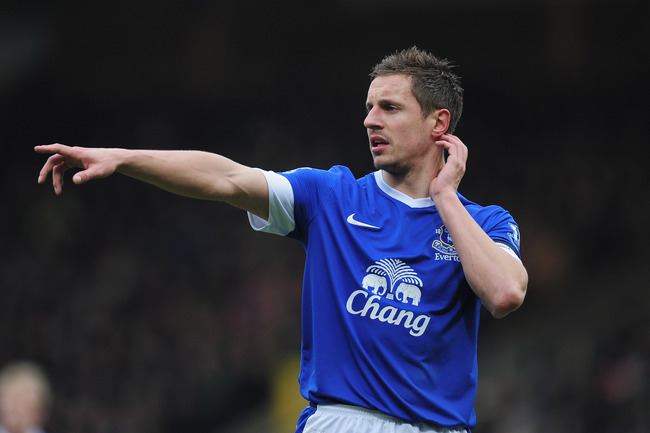 Jamie McDonald/Getty Images
Phil Jagielka has been an almost-ever-present this season, missing just two league games and being part of the fifth-meanest defence in the Premier League. His strength on the ground and in the air means he is very hard to beat for a range of opponents, and his improving performances are due to a better reading of the game as he gains in experience.
Liverpool had to make a switch in their starting XI midway through the season in this position, Jamie Carragher replacing Martin Skrtel, as they struggled to find the balance between organisation in defence and emphasis on attack within the team.
Carragher has enjoyed a steady half-campaign as he closes in on retirement, but Jagielka's fine form all season certainly warrants his place in this combined team.
Left-Sided Centre-Back: Daniel Agger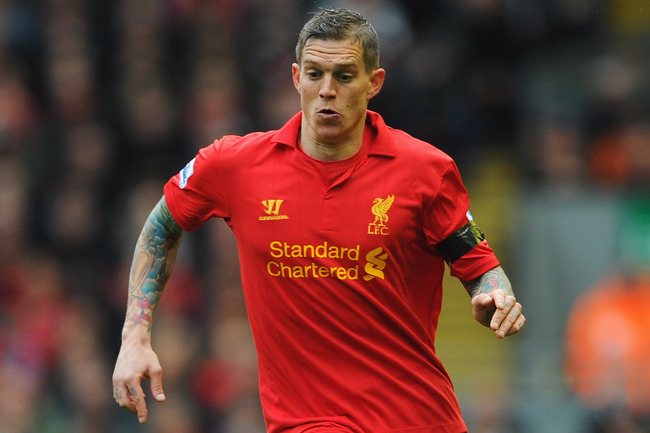 Michael Regan/Getty Images
On the opposite side of defence, it's a straight battle between Sylvain Distin and Daniel Agger—and despite some difficulty defending set pieces this season, Agger has performed better than Distin overall.
On the ground there are few who can outmanoeuvre or outthink the Dane, who reads the game very well and times his tackles to perfection. He also brings the ball out of defence into midfield with aplomb, is a reliable option to pass to under pressure and is fearless with challenges and blocks.
Distin doesn't have too many faults to his own game, but with both at their best—as Distin has been at times and as Agger has been for the past month or two—it is the Liverpool man who wins out.
Holding Central Midfielder: Marouane Fellaini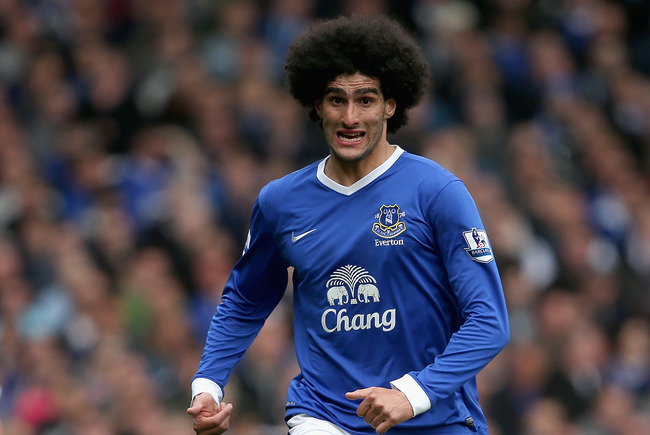 Clive Brunskill/Getty Images
Into midfield, and the positions start to become a little more blurred around the edges for two groups of talented but versatile middle-third players.
Marouane Fellaini enjoyed a fantastic start to the season, scoring eight of his 11 goals this Premier League season by December 1. He was, at the time, playing as the second forward though, a position he operates in very effectively for David Moyes' team despite preferring to play in a deeper role.
More recently he has seen game time in that central midfield position, and in Everton's most recent game, that is where he played, indicating he might be doing a holding job against Liverpool on Sunday.
Liverpool's deepest player has been initially Joe Allen and then Lucas Leiva. Both have had their good games and their less-impressive matches, which is a worry for Liverpool at times. Fellaini, though, has been consistently impressive for Everton regardless of the position he plays in, and his presence in the team guarantees their ability to hold onto the ball in different areas of the pitch.
Playmaking Central Midfielder: Steven Gerrard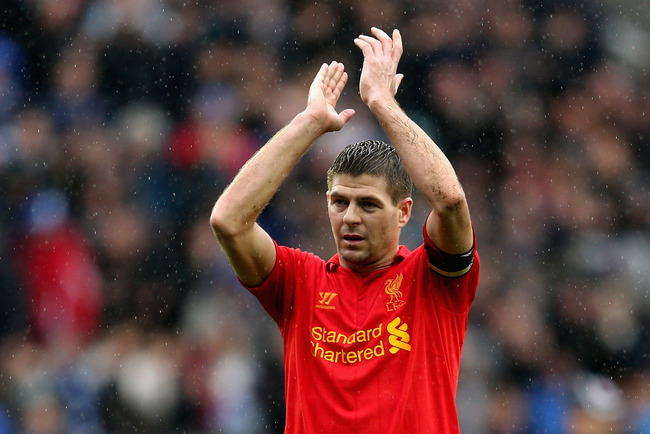 Warren Little/Getty Images
In the more creative central midfield role, Darron Gibson and Leon Osman have both been good without being exceptional this season. Osman perhaps is the more intelligent, technical and creative player, but neither can hold a candle to the exploits of Steven Gerrard.
Liverpool's captain suffered in his new, deeper midfield role at the start of the season but has come on leaps and bounds since around November, cementing his place as one of the best in the team and the league, turning it on when it really matters.
His ability to make breaking runs from deep is not dulled, though they come less frequently, but his passing and initiating of attacks when given space can kill a game in a heartbeat. Nine goals and nine assists in league play alone this season is evidence of his enduring ability.
Right-Sided Attacker: Kevin Mirallas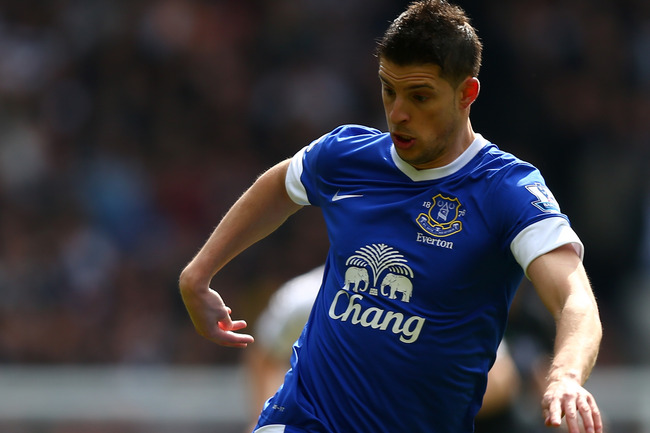 Clive Rose/Getty Images
Into attack and another Everton representative, with Kevin Mirallas the option ahead of Liverpool's Stewart Downing.
Mirallas has been used at times as an impact sub by his manager and operates on both flanks of the Blues' attack, but he consistently shows the ability to step into a game and have an effect. When starting matches he is energetic and aggressive in getting forward, and his pace is a real threat to the opposition.
The Belgian has managed four goals and three assists this term.
Downing lost his place in the Liverpool team early on in the season after continuing his ineffective performances from last year, but turned things around to win his place back in the second half of the season. Since then he has shown his best form since arriving from Aston Villa, claiming three goals and five assists in total this term, two of which assists came in his most recent outing.
Mirallas takes the position overall, though Downing is arguably the more in-form player heading into the derby match.
Central Attacking Midfielder: Philippe Coutinho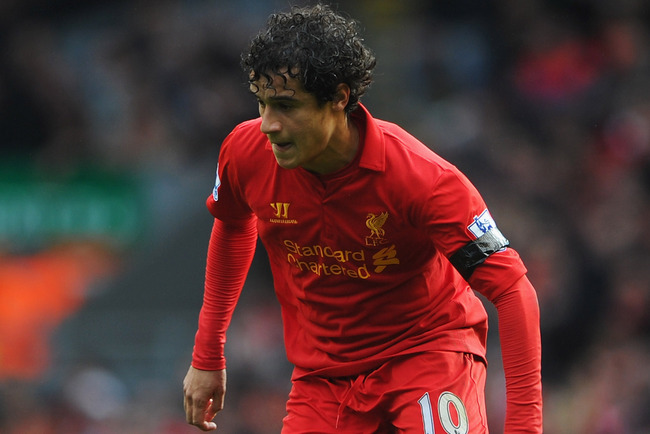 Michael Regan/Getty Images
With Fellaini already claiming a midfield position, Everton's main other candidates for this role would be either of their forwards or Leon Osman who plays an advanced central midfield role.
Though he has only been at the club for half a season, already Liverpool's Philippe Coutinho is showing that he is a player to be reckoned with in the Premier League, claiming two goals and four assists in just 11 league games to date. His technique and awareness, on and off the ball, are massive parts of the Reds' new-look attack.
The derby will be a different experience for him, but if Everton allow him space on the ball as Newcastle did last week, he will carve them apart.
Judging by Everton's past performances, closing down and not allowing him 30 metres of room in their own half won't really be an issue as it was with the Magpies.
Left-Sided Forward: Luis Suarez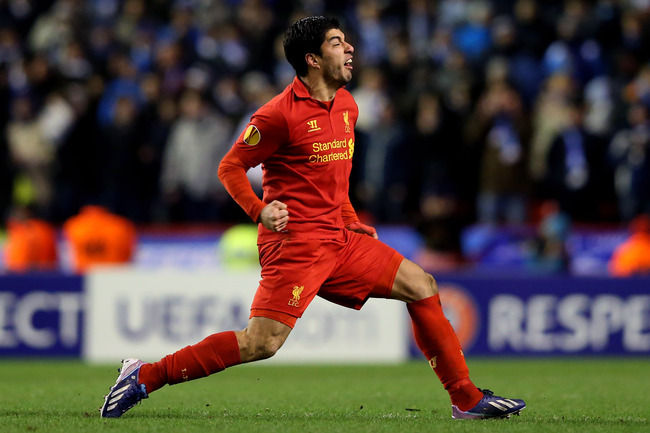 Alex Livesey/Getty Images
Pick the last two wherever you want; neither of Everton's front men have exactly been prolific or reliable this season, with Moyes more often than not making do with Victor Anichebe or Nikica Jelavic rather than picking them because they are precisely in form.
On the other hand, Liverpool's Luis Suarez has hit 30 goals in all competitions, with 23 of those coming in the Premier League. The Uruguayan forward has been a stand-out performer not just in the Liverpool team, but indeed throughout all of Europe.
He will miss the derby and another eight domestic games afterwards as a result of his current suspension.
Centre-Forward: Daniel Sturridge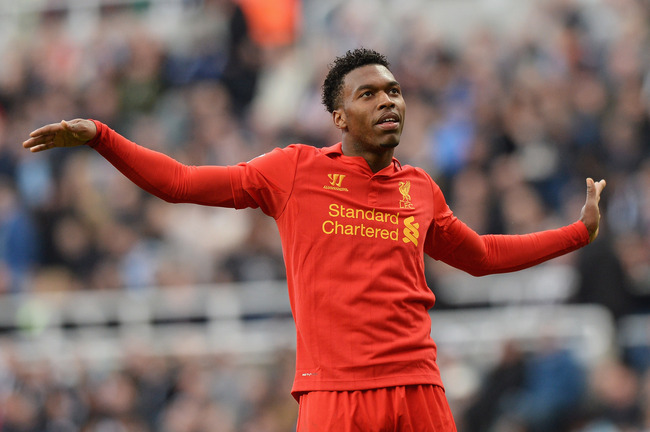 Gareth Copley/Getty Images
And similarly, the striker position goes to Reds' forward Daniel Sturridge. Only at the club since January, he has hit seven league goals from eight league starts (11 appearances total), already equaling the total that Jelavic has managed for the entire season and outscoring Anichebe who has played 23 games.
Sturridge will lead the Liverpool line in the derby and be charged with finishing off the chances to help Liverpool to three points.
The other infrequently featuring forwards for either side are Fabio Borini for Liverpool, who has been injured for most of the campaign and from Everton's team, Steven Naismith, who has mainly played from the flanks and reserve forward Apostolos Vellios.
There we have the entire combined Liverpool-Everton XI: Howard; Johnson, Jagielka, Agger, Baines; Fellaini, Gerrard; Mirallas, Coutinho, Suarez; Sturridge. We won't see it in action in a hurry—but would it be good enough to secure a top-four finish, which neither Merseyside club will manage to achieve this season?
Keep Reading

Liverpool: Like this team?