Kentucky Derby 2013 Odds: 10 Betting Tips from a Handicapping Expert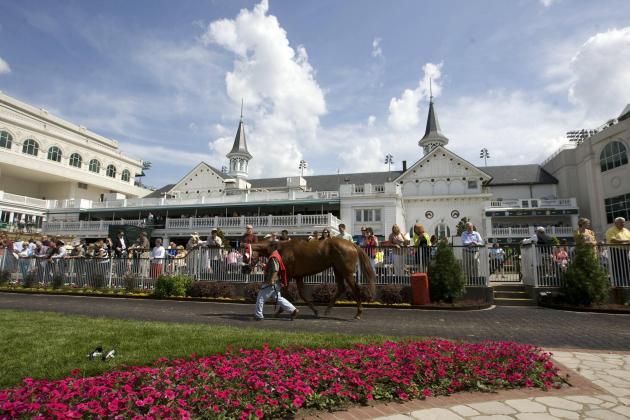 Mark Zerof-USA TODAY Sports

Don't let another Kentucky Derby go by where your focus is just the whiskey and fashion. It's one of the most prestigious sporting events in the world—spend some time getting to know the contenders and even get some skin in the game by placing an official wager.
Use these 10 betting tips to make it your most exciting Derby yet. Choose your horses wisely—and good luck!
Begin Slideshow

»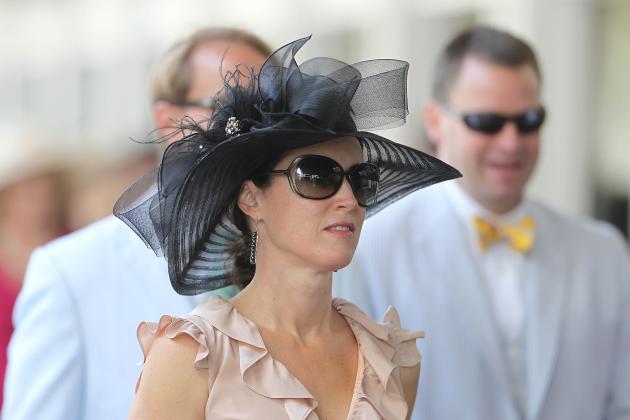 Mark Zerof-USA TODAY Sports
Style is a big part of the Derby. Make a bet that fits yours!
There are all sorts of bets you can place on the Kentucky Derby. The combinations range in probable payouts from $4 to $1 million, depending on the horses and their odds. For example, last year's Derby Superfecta (correctly choosing the first, second, third and fourth place finishers) paid out $48,046.40 on a $1 wager.
Doing a bit of research here will help you make your selections. Look at the different types of bets and think about how much you want to put on the line. Remember that the Derby can be full of surprises, so find a bet that you're comfortable with and get lucky!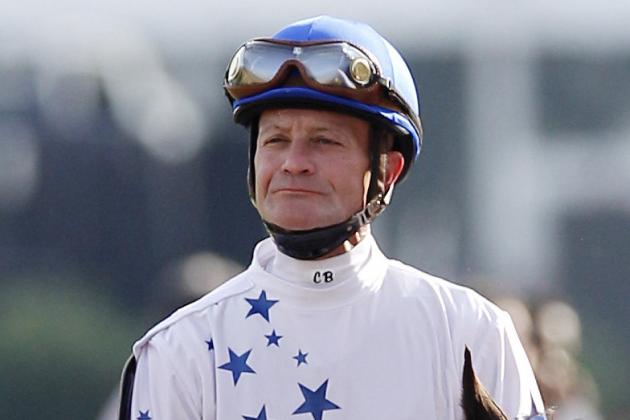 Frank Victores-USA TODAY Sports

They say history repeats itself, and that is definitely the case with horse racing. Jockey Calvin Borel has won three of the past six Kentucky Derbys and was just elected for induction into the Thoroughbred Racing Hall of Fame.
This year, Borel will ride Revolutionary, who is one of five horses trained by legendary trainer Todd Pletcher. Pletcher has only won the Derby once in 31 tries—Borel rode his horse Super Saver to victory back in 2010.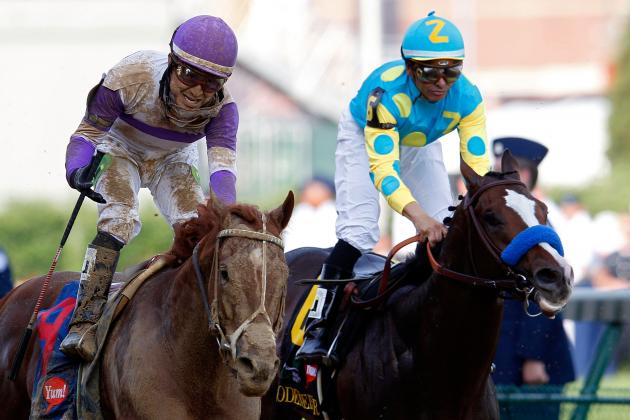 Rob Carr/Getty Images
If you did your research last year, you just might have gone with I'll Have Another.
No other race has as much written about it as the Kentucky Derby. This means that there can be a lot of noise, but if you tune in to the right signal you can pick up some pretty valuable information. TwinSpires.com is an excellent one-stop shop for all things Derby related.
An official partner of the Kentucky Derby, TwinSpires.com has a team of expert analysts to help you evaluate the contenders. Another resource with around-the-clock Derby coverage is Brisnet.com's The Handicapper's Edge newsletter, which is updated throughout the day with the latest news from Churchill Downs.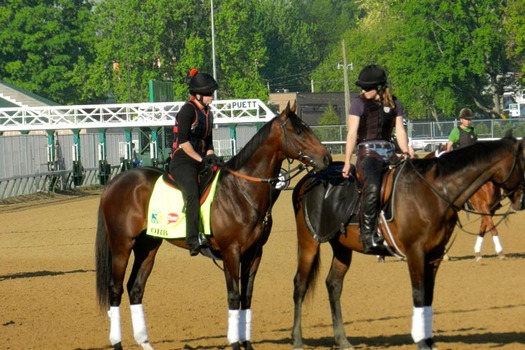 Orb has been getting plenty of attention. Are you convinced? Photo courtesy of America's Best Racing
Handicapping is an art that requires distilling a lot of information down to a singular prediction. That information comes in the form of data and human advice/perspective, and it can seem overwhelming.
Everyone has his or her own opinion and you should, too. When it finally comes time to place your bets, own your pick! There's nothing like winning those bragging rights in addition to cold, hard cash.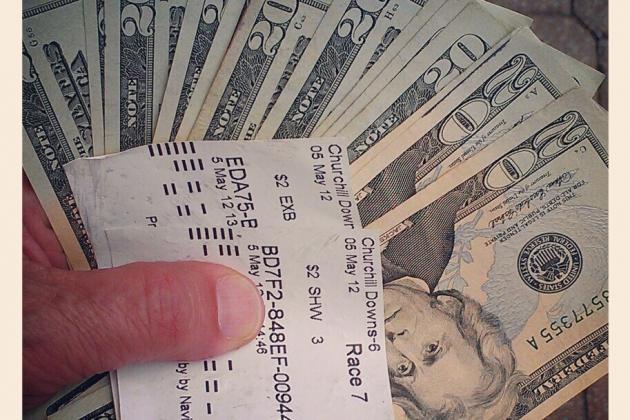 Jamie Squire/Getty Images

The Kentucky Derby is America's longest running and most prestigious horse race. It's also the biggest in terms of field size. Up to 20 horses can run for the roses, and more horses in the running means bigger payoffs for bettors. Don't be afraid to take a lottery mentality when betting the Derby. Do something out-of-the-box—you just might strike gold.
For example, my birthday is January 19, or 1-19. Regardless of the horses, I always bet a 1-19 in the Derby. Still waiting on the payout from this one, but it's just something I always do. Fun fact: anyone born on October 18 (10-18) would have hit a $4,904.40 exacta in 2005.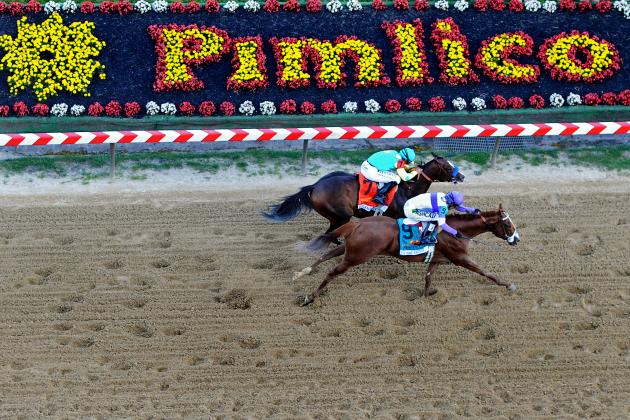 Patrick Smith/Getty Images
Just two weeks after the Derby, the top contenders will head to Pimlico.
The Kentucky Derby is the first race of the famous American Triple Crown. Many of the Derby starters will go on to race in the Preakness and Belmont Stakes shortly after.
Watching how the horses run in the Derby could give you an edge to picking a winner later. For example, sometimes horses lose momentum because of traffic on the track. The Preakness and Belmont have fewer starters, so a less crowded run might give a horse a better advantage.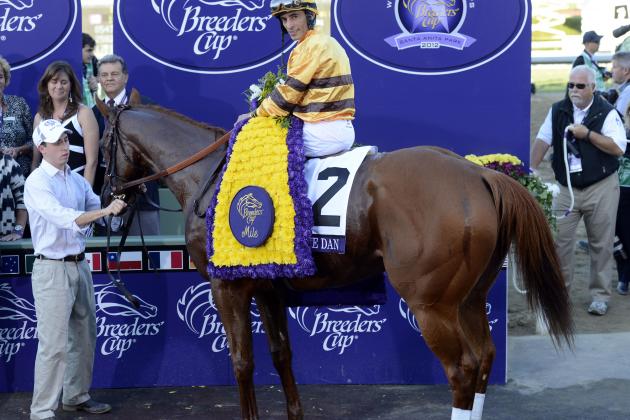 Rickard Mackson

Other opportunities to wager and win are the races leading up to the Derby. While these races are not as high-profile as the Triple Crown races, they are just as exciting and can offer insight to how the horses might perform at the Derby.
This year, the Woodford Reserve Turf Classic features Wise Dan, last year's Horse of the Year. Wise Dan will square off against Point of Entry, a four-time Grade 1 winner. Though Wise Dan and Point of Entry are too old to compete in the Derby this year, they are two of the best horses in the world and are magnificent to watch.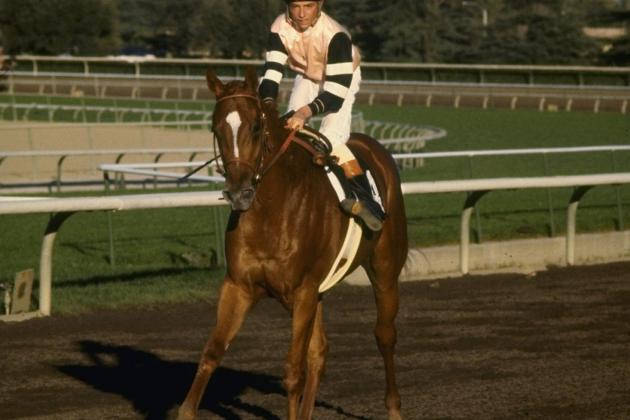 Getty Images/Getty Images
Affirmed and Steve Cauthen
It's been 35 years since Affirmed became the 11th Thoroughbred to sweep the American Triple Crown. Since then, 11 horses have come close—winning both the Derby and the Preakness but failing in the Belmont—but none have succeeded.
The question on everyone's mind following the Derby is, "Can he do it?" and you should be ready with an answer. Now that you know your way around the track (virtually, at least), you are well equipped to join the conversation.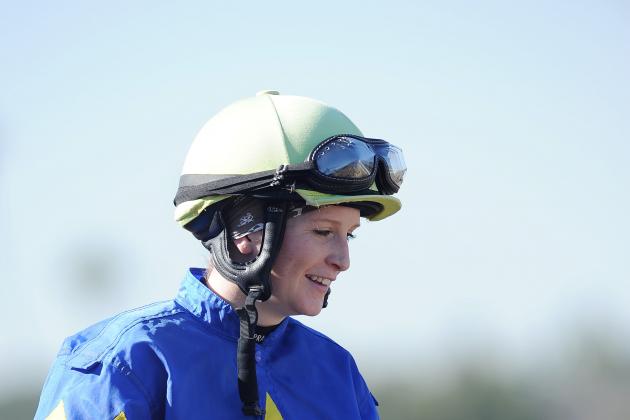 Jayne Kamin-Oncea

No female jockey has ever won a Triple Crown race and only six have even tried. Rosie Napravnik holds the record with a ninth-place finish aboard Pants On Fire in the 2011 Kentucky Derby—the best in American horse racing history.
Napravnik is back again this year, riding Louisiana Derby runner-up Mylute. Keep an eye out for her as she attempts to make history as the first female jockey ever to win the Kentucky Derby.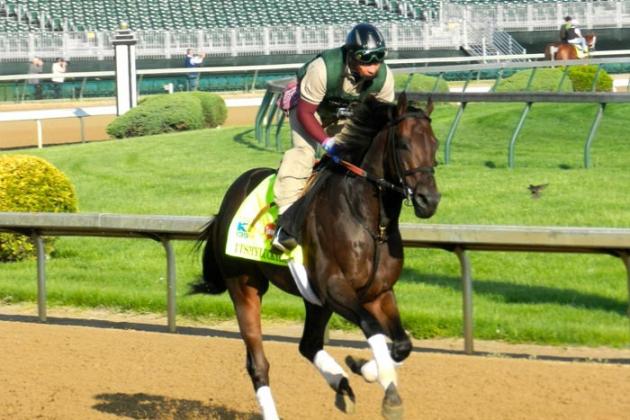 Photo courtesy of America's Best Racing
I'm taking my own advice here. Owning my own pick and answering the anticipated question of "Who ya like?" I'm officially putting in writing that Itsmyluckyday is my pick to win the 2013 Kentucky Derby.
My trifecta predictions (first, second and third place) are Itsmyluckyday, followed by Revolutionary and finally Goldencents. Good luck!