Ranking Upset Chances for Miami Heat's Remaining Opponents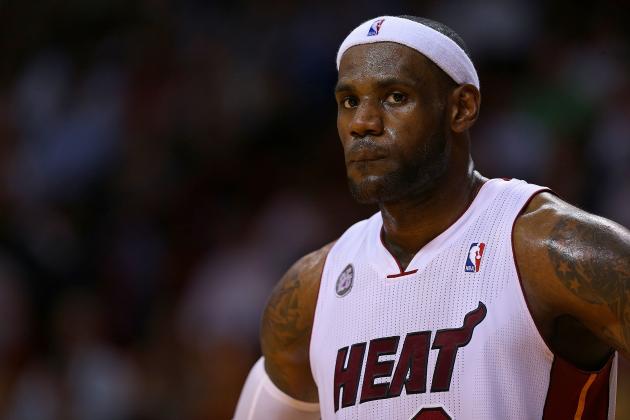 Mike Ehrmann/Getty Images
Can any NBA team beat "King James" and the Miami Heat?
The defending NBA champion Miami Heat are clearly the favorites to repeat as champs in 2013. That does not mean, however, that the remaining playoff teams should roll over, die and come back to life to play a tournament for second place.
It's true that the Heat appear poised to waltz their way to another championship following a sweep of the Milwaukee Bucks. Miami continues to click on all cylinders, while stars on other teams in the playoff picture are dropping like flies. Also, other key players are fighting through injuries (e.g., Joakim Noah and Stephen Curry).
Miami has the best player on the planet right now in LeBron James, but other NBA teams still have an outside chance at knocking him and the Heat off the pedestal.
No playoff team has a distinct advantage over the Heat, so they'll have to lean on their odds at pulling a shocking NBA upset.
Note: "Remaining opponents" are teams that could potentially meet up with Miami either in the Eastern Conference semifinals, Eastern Conference finals or NBA Finals.
Begin Slideshow

»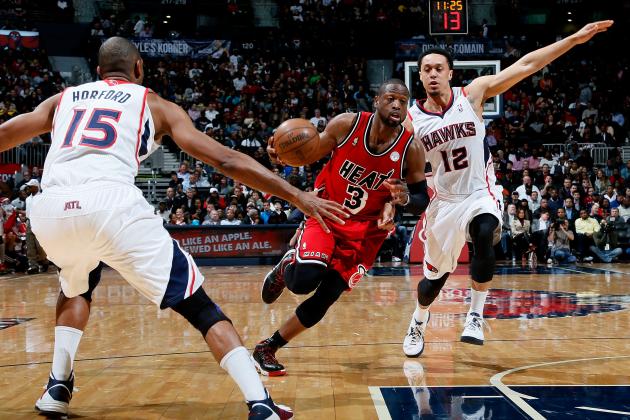 Kevin C. Cox/Getty Images

The Miami Heat are 7-1 against the Atlanta Hawks dating back to the 2011-12 season. Needless to say, that's not a good sign if you're a Hawk fan hoping for a championship run.
When you factor in that Miami was a dominant 4-0 against Atlanta this season, the odds of a playoff upset are even more grim. And if you really want to be bummed out, the Hawks will have to beat both Indiana and either the New York Knicks or Boston Celtics to even have a shot at the Heat.
Josh Smith and Al Horford are the anchors supporting the Hawks, and while Jeff Teague's emergence and Kyle Korver's outside shooting are nice touches, I simply can't see Atlanta beating Miami in a seven-game series.
Upset Chance: three percent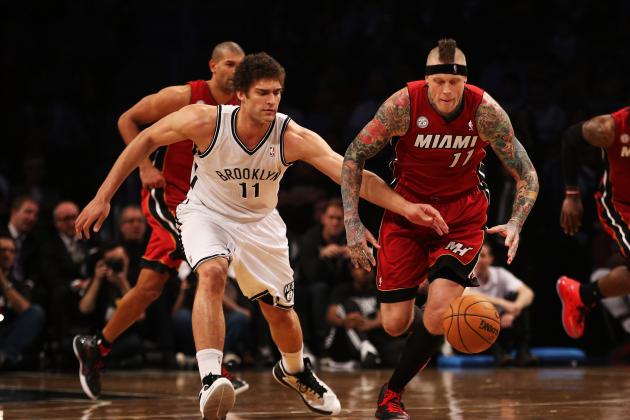 Al Bello/Getty Images

The Brooklyn Nets will have to win two straight games against the Chicago Bulls to advance. Ditto for the Los Angeles Clippers against the Memphis Grizzlies. The Boston Celtics can move on only by winning four straight against the New York Knicks (two down, two to go).
With these three teams fighting to keep their playoff hopes alive in Round 1, it's become increasingly evident that they'll have struggles with the best team in the league.
The Clippers and Nets are both hindered by spotty coaching. Vinny Del Negro has been on the hot seat for quite some time, mainly because the only play he seems to be able to draw up is "Chris, go score."
As for P.J. Carlesimo in Brooklyn, Alex Kennedy of Hoopsworld believes fans want him gone. Via Twitter:
A lot of fans in Brooklyn are fed up with P.J. Carlesimo, judging from my mentions. They want him out in the worst way.

—Alex Kennedy (@AlexKennedyNBA) April 26, 2013
Also, via Stefan Bondy of the New York Daily News, Gerald Wallace was recently quoted as saying, "I don't have a clue what my role is on this team." Yikes.
The Celtics don't have any coaching troubles with Doc Rivers at the helm, but they've been crippled by injuries. It doesn't help that Paul Pierce and Kevin Garnett are nearing the end of their Hall of Fame careers.
Overall, there's not much of an upset chance when you pit one of these three teams against Miami.
Upset Chance: 10 percent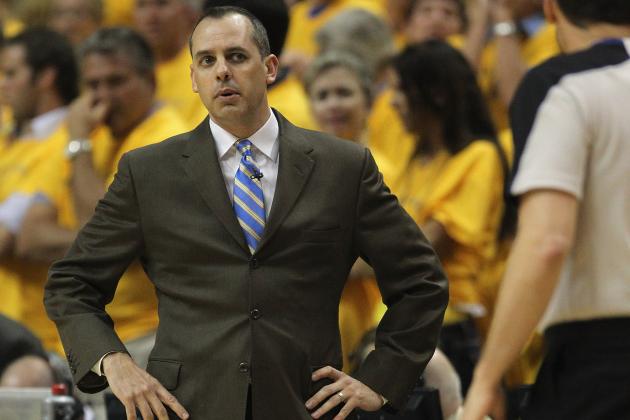 Jonathan Daniel/Getty Images

Throughout the regular season, my confidence in the Indiana Pacers continued to grow. During the 2012-13 campaign, Indy finished with a 2-1 record against the Heat and caused genuine matchup problems.
The Pacers have key advantages against the Heat because they play tremendous team defense and they're among the league's best rebounding teams.
Indiana seems to have built upon last year's playoff run when the Pacers limited Miami to 75 points in two wins. Indiana lost the series to the eventual NBA champions, but they have continued to show signs of success against the Heat.
A 2-1 record against the defending champs during the regular season is nothing to sniff at. However, Indy's Round 1 struggles against the Atlanta Hawks aren't a good sign.
After dominating the Hawks in Game 1 and Game 2 (winning by a combined 32 points), the Pacers have dropped off the map offensively in two road losses. It shouldn't be all that surprising when you consider that Indiana finished the regular season with a 19-21 record away from home. But after two great performances, I was expecting more from the upstart Pacers.
Indiana needs to worry about Atlanta before it's thinking "upset" over Miami. Of course, if the Pacers can't win a game on the road, they won't have a chance in a potential matchup with Miami.
Upset Chance: 20 percent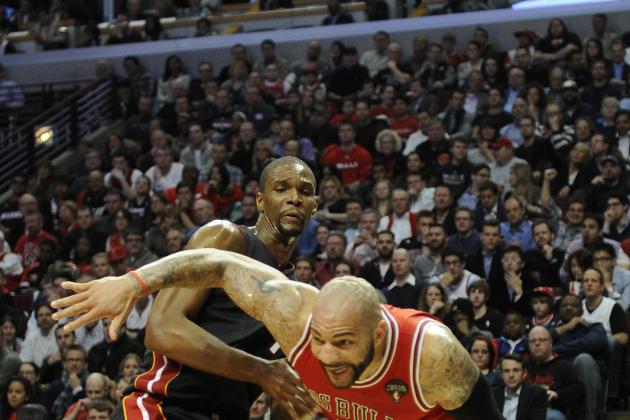 David Banks/Getty Images

The Chicago Bulls have an outside chance of beating the Miami Heat, but their odds would be considerably better if Derrick Rose returns.
Unfortunately for Michael Wilbon and other Bulls fans, it doesn't appear as if D-Rose will do so until next season. Rose was cleared to play by doctors back in March, but instead of taking baby steps to come back during the regular season, Rose has remained sidelined.
Of course, even if Rose makes a return during the playoffs, there's no guarantee that he'll be the same MVP-caliber player. He could return with the same gusto as NFL running back Adrian Peterson, but he could also sputter like New York Knicks guard Iman Shumpert.
Only Rose knows when he'll return to the court. There's no guarantee the decision will be to come back this season. However, there is a guarantee that the Heat will continue to play like champions.
For that reason, I don't like Chicago's chances.
Upset Chance with Rose: 30 percent
Upset Chance without Rose: 15 percent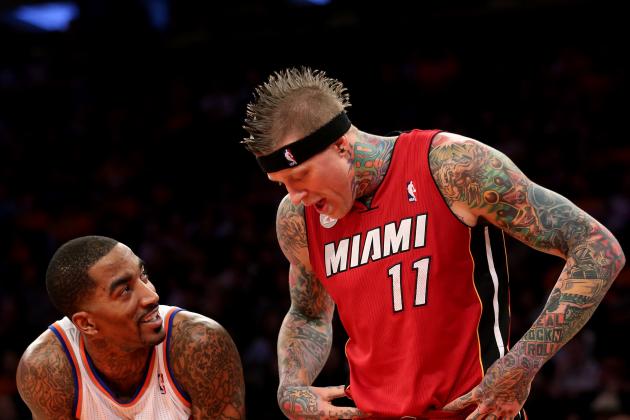 Nick Laham/Getty Images

During the regular season, the Miami Heat lost just 16 games. Miraculously, three of those losses came at the hands of the New York Knicks.
Perhaps more impressive is the fact that New York won one of those games without Carmelo Anthony (who was sidelined due to a finger injury) on Dec. 6.
Of course, one of the three Knick wins against Miami occurred when both LeBron James and Dwyane Wade didn't play.
Regardless of circumstance, however, there has been continued competitive balance between these two teams.
A major reason for New York's success against the Heat this season has been the three-point shot. In its three wins against the defending champs, New York drained 19 threes, 18 threes and 14 threes, respectively. The Knicks ability to shoot from beyond the arc has been the repeated X-factor for them.
Although the Knicks have had continued success against the Heat by burying threes, Miami will undoubtedly be preparing for that weapon should the two teams meet up in the postseason. Expect the Heat's perimeter defense to tighten up on shooters and cause New York problems.
Upset Chance: 30 percent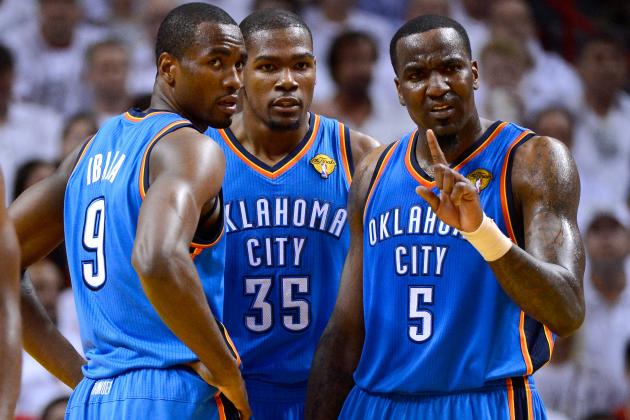 Ronald Martinez/Getty Images

Kevin Durant is the second-best player in the NBA without question. Although that's a moniker KD admits to be sick of, it's still a worthy title.
That being said, the Oklahoma City Thunder came up short of a title last season against the Miami Heat despite having a healthy Russell Westbrook and Sixth Man of the Year James Harden.
Not only has Miami improved in 2013, but OKC no longer has Harden on the roster, while Westbrook will reportedly miss the remainder of the postseason following surgery to repair a torn meniscus.
No matter how you slice it, that's a handful of factors working against the Thunder.
Unless Durant morphs into an angry, basketball-playing terminator/android (don't rule it out), I simply can't see OKC pulling the upset over the Heat given the team's turn of events.
Upset Chance: 30 percent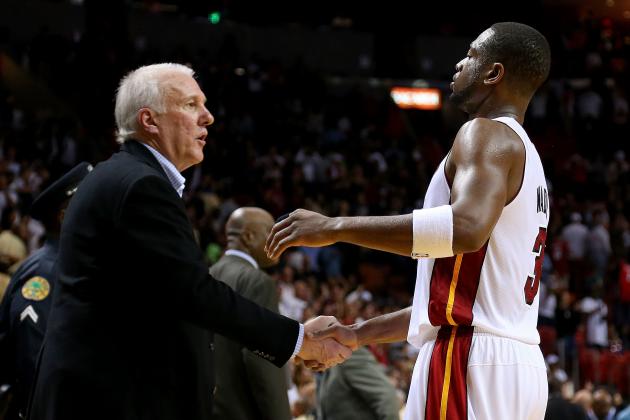 Mike Ehrmann/Getty Images

With the injury to Russell Westbrook, the San Antonio Spurs may have taken over as the favorites to come out of the Western Conference.
Tony Parker and Tim Duncan will continue to lead the charge on both ends of the floor, and if Manu Ginobili can prove he's 100 percent healthy, the Spurs will be a dangerous team for Miami to face.
Above-average role players like Kawhi Leonard, Danny Green, Tiago Splitter, Gary Neal and three-point sharpshooter Matt Bonner have the ability to face Miami's bench into a stalemate (if they don't outright outplay them).
With Duncan and head coach Gregg Popovich at the helm, it's impossible to count out the Spurs.
However, San Antonio is still a fragile team. Ginobili has been struggling with injuries for quite some time, and Duncan recently celebrated his 37th birthday. Do the Spurs have enough left in the tank to compete with the athleticism of the Heat?
I wouldn't call this a coin flip scenario, but the Spurs have a better upset chance than most, which is mostly attributed to Popovich's coaching prowess.
Upset Chance: 40 percent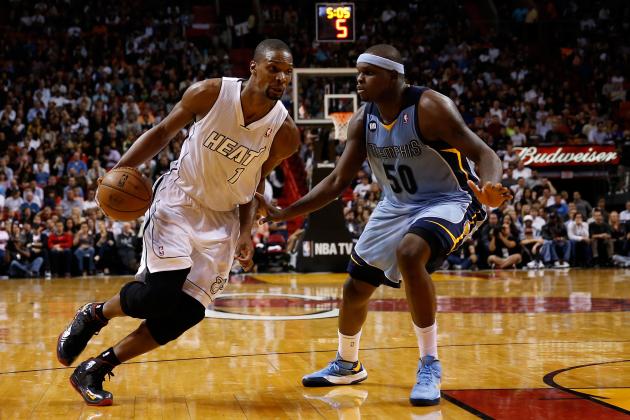 Chris Trotman/Getty Images

The Memphis Grizzlies are very similar to the Indiana Pacers in that they have two distinct advantages against the Heat.
First, they rebound the ball very efficiently. And second, they have stingy perimeter defenders in Mike Conley, Tony Allen, Tayshaun Prince and Quincy Pondexter who will make the Heat work hard for every basket.
Where the Grizzlies differ from Indiana, though, is on offense. Unlike a past-his-prime David West and the offensively inept Roy Hibbert (who shot just 44.8 percent from the field this season), Memphis has two elite interior talents.
Marc Gasol, the 2013 Defensive Player of the Year, is a tremendous passer for a big man who is scoring 18.8 points per game in the postseason. Zach Randolph, meanwhile, has shifted into his usual gear following two poor games to start the Round 1 series. He's averaging 20.4 points and 8.6 rebounds per game in the playoffs (leading the team in both categories).
The Grizzlies beat the Heat, 104-86, in November, then lost the second meeting between the two, 98-91, in March.
Unfortunately for Grizzlies fans, Memphis will conceivably have to get past Oklahoma City and San Antonio to have a shot at the Heat in the NBA Finals. If they manage to get there, don't count them out.
Upset Chance: 40 percent