Rating the Barcelona Players in Their 3-0 Loss to Bayern Munich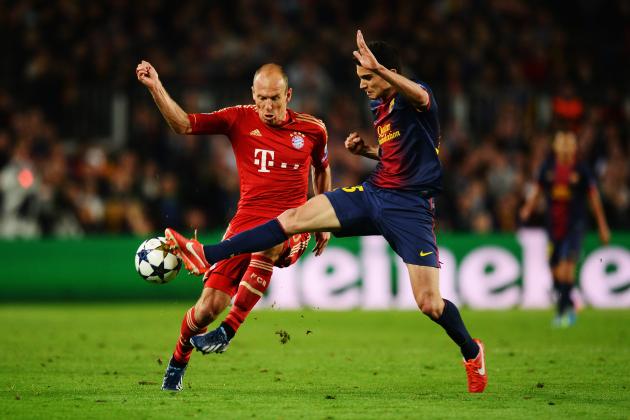 Mike Hewitt/Getty Images

Barcelona was finally eliminated from the Champions League after a 3-0 defeat to Bayern Munich. No surprise there.
But there was a surprise in the absence of Leo Messi. Without their star player, it was a rough night for the Catalans.
Several players were forced to step up, and a few did just that. But as a whole, the loss of Messi was evident in Barcelona's performance.
In this article, we will take a look at the player ratings for the Messi-less Barcelona in their defeat at the Camp Nou.
As always, check out the rating system below and note that all statistics are courtesy of WhoScored.com
1—Absolutely awful
2—No production whatsoever
3—Very little production
4—Worse than average
5—Average performance
6—Above average
7—Good production
8—Very high production
9—Nearly perfect performance
10—Absolute perfection
Begin Slideshow

»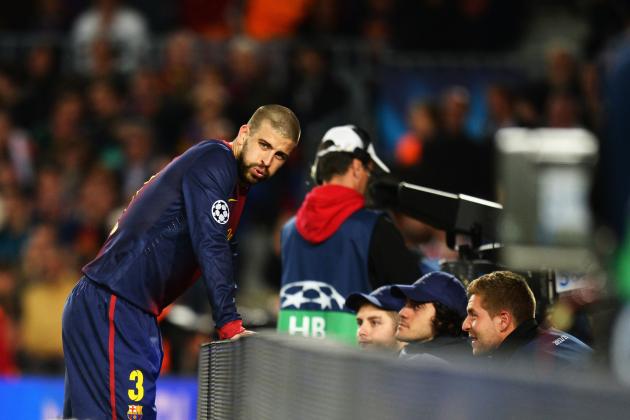 Mike Hewitt/Getty Images

Victor Valdes: 5/10
The Catalan keeper has been in good form lately, but this was not his night. He did claim two crosses, but he did not make a single save. Though Bayern's three goals were well-taken, one has to think Valdes could have done better.
Adriano: 5/10
The Brazilian worked well in Barcelona's attack, getting off two shots and enjoying a passing rating near 90 percent. But his two tackles were shadowed by his three disappointing fouls. His night was really capped off when he was beaten by Robben for the opening goal.
Gerard Pique: 8/10
Despite scoring an own goal, which was pure bad luck, Pique had a superb night. He made two tackles as the last man and won several key headers in and around the box. Until he beat his own keeper, fans were watching the real Pique.
Marc Bartra: 7/10
Judging the young defender is quite hard. He made two key tackles and over 10 interceptions. He also passed the ball very well and had two chances to score. But his positioning and decision-making nearly cost Barcelona on a few occasions.
Dani Alves: 6.5/10
The Brazilian right-back put in one of his better defensive performances at the Camp Nou. He made six strong tackles and used his speed to stay with Ribery. But his knack for attacking left Barcelona open for the last two goals.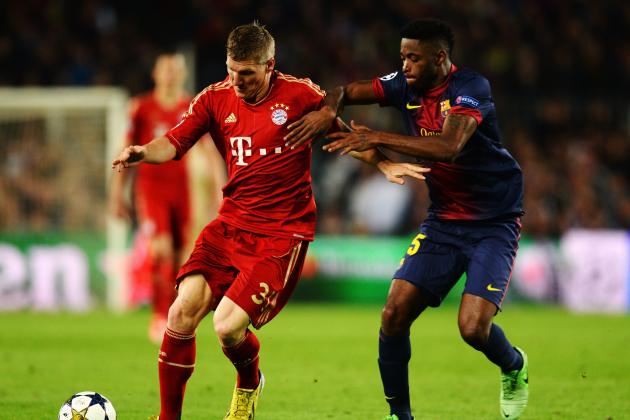 Mike Hewitt/Getty Images

Xavi: 6/10
Though Xavi enjoyed over 96-percent passing, Bayern did well to keep him out of the play. He did not pull the strings as he normally does and was fairly quiet at the Camp Nou.
Andres Iniesta: 6.5/10
Iniesta fared better than Xavi in the Blaugrana attack, but was held at bay as well. The Spaniard was able to get off two shots as well as two key dribbles, but in the end nothing really came from it.
Alex Song: 8.5/10
Song was very much Barcelona's best player on the night. He won countless balls and used his physicality to provide a wall in front of the defense. He even held a strong position in the attack. Song could not keep Bayern at bay by himself, though.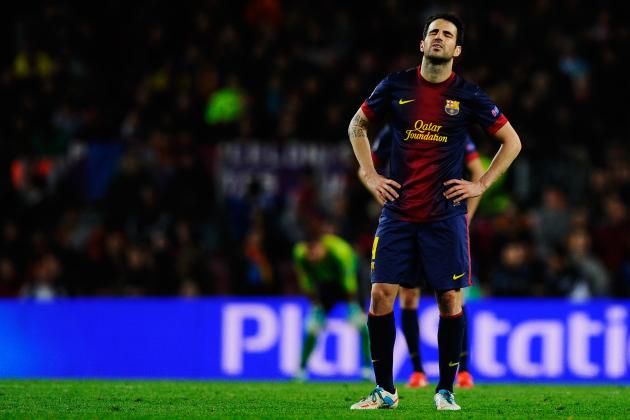 David Ramos/Getty Images

David Villa: 6/10
It was expected that Villa could provide more offense in a desperate attack. But Villa struggled mightily to be a threat, despite getting off four shots. He played very hard but never looked dangerous.
Cesc Fabregas: 5/10
The Catalan again looked very out of sorts filling in for Leo Messi. He did not get involved in the attack and never once made the Bayern defense really work. Cesc was arguably the flop of the match.
Pedro: 6.5/10
Pedro was quite possibly the best of three Barca attackers. He tracked back well to help in defense and used width to thin out the Bayern defense. His three shots tested Manuel Neuer, but nothing came of it in the end.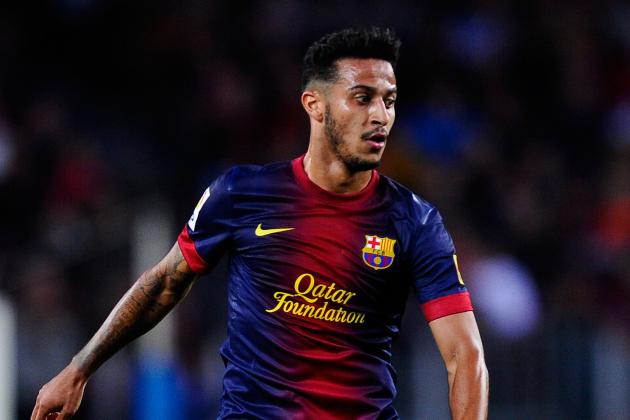 David Ramos/Getty Images

Thiago: 7/10
In his short time on the pitch, Thiago provided a spark. His dribbling and ability to pull out the defense made things harder for Bayern. He could have provided much more with a longer spell in the game.
Alexis Sanchez: 6/10
The ability of Alexis to beat defenders proved useful in the second half. Though he did not produce a goal, the attack was livelier with him in it. His defensive work also helped make up for an attacking Dani Alves.
Martin Montoya: N/A
Montoya was not on the pitch long enough to contribute anything of value.
How would you rate the Barcelona players? Who was the best on the pitch and the flop of the match? Leave your thoughts and comments below.
Tre' Atkinson. Follow me on Twitter for more discussions on Barcelona and La Liga.Follow @TreAtkinson