Setting Odds for Each Bengals Undrafted Free Agent Making the Roster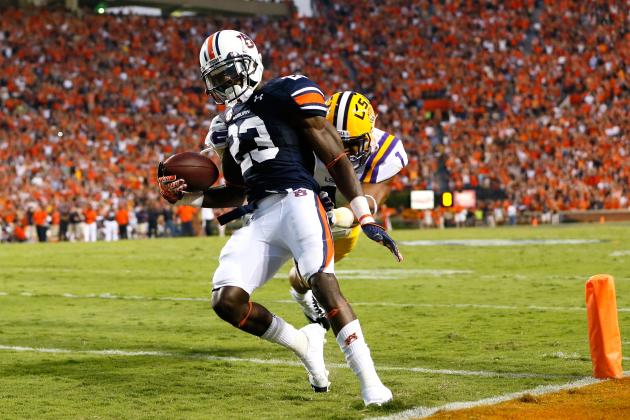 Kevin C. Cox/Getty Images
Onterio McCalebb may be the most recognizable name in the undrafted class for Cincinnati.
The Cincinnati Bengals absolutely nailed their 2013 NFL draft class with big names such as Tyler Eifert and Giovani Bernard, but now things get interesting as the front office attempts to put together a quality undrafted free-agent haul.
Cincinnati, like most of the teams in the league, hopped on the phones frantically as soon at Mr. Irrelevant was selected and starting reeling in some undrafted talent.
When you have a team as deep at the Bengals, especially after adding 10 more picks, it's next to impossible to make the roster as an undrafted free agent.
In the following slideshow, we'll detail the official signings the team has made so far and determine just how good of a chance each one has at making the final roster next season.
All prospect info courtesy of CBS.
All signings official per the Bengals website here and here.
Begin Slideshow

»
Travis Chappelear certainly is not the biggest name entering rookie minicamp for the Cincinnati Bengals, nor should he be, considering he played for such a small school.
That small school was N.W. Missouri State, member of the Mid-American International Athletic Conference and likely one of the biggest reasons Chappelear went undrafted thanks to his lack of quality competition.
Still, Chappelear was a solid pass-rusher during his time with the team and has something to offer in the form of depth. Defensive end is a talent-laden position for Cincinnati, but Chappelear could find himself on the practice squad based on potential.
Odds: 10 percent.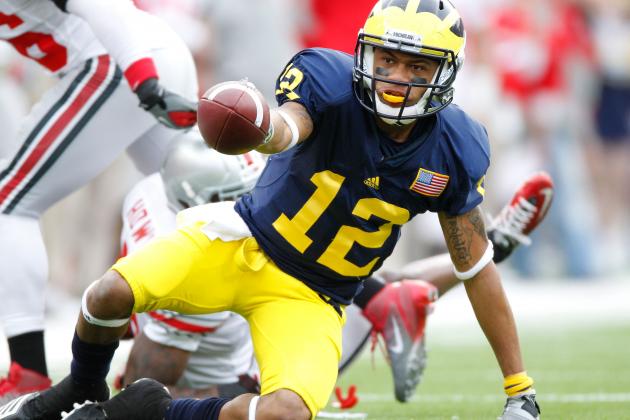 Gregory Shamus/Getty Images
Roy Roundtree is a name most fans should recognize.
For Cincinnati Bengals fans, Roy Roundtree may be the most recognizable name in the undrafted free-agent pool for the team.
At 6'1" and 178 pounds, Roundtree does not do any one thing in particular that well, which is the reason he ended up going undrafted. He can be a reliable pass-catcher if given the chance, but struggles with getting off the line when pressed.
While productive at a bigger school with over 2,000 career receiving yards, Roundtree is a project at the next level who may flash enough with Cincinnati to earn a roster spot.
Odds: 10 percent.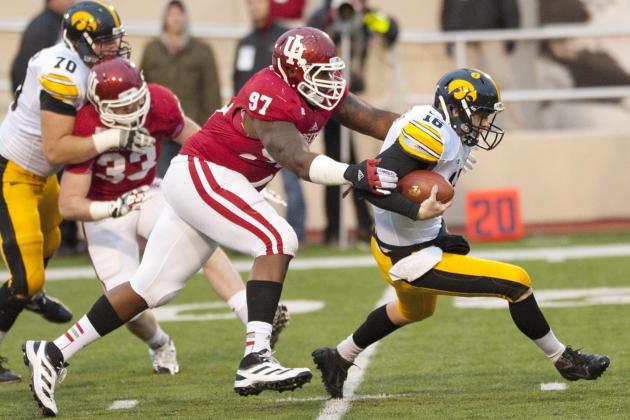 Jerry Schultheiss-USA TODAY Sports
Larry Black recorded eight career sacks at Indiana.
Indiana product Larry Black is by no means the biggest defensive tackle you've ever seen, but he makes up for his limited size at just 302 pounds with his motor.
Black racked up eight career sacks and 27 tackles behind the line of scrimmage in 48 appearances during his time with Indiana.
At this point, Black is a long shot to make the final roster thanks to a position that is one of the Cincinnati Bengals' strengths, not to mention two rookies were drafted last year. He could wind up on the practice squad.
Odds: 5 percent.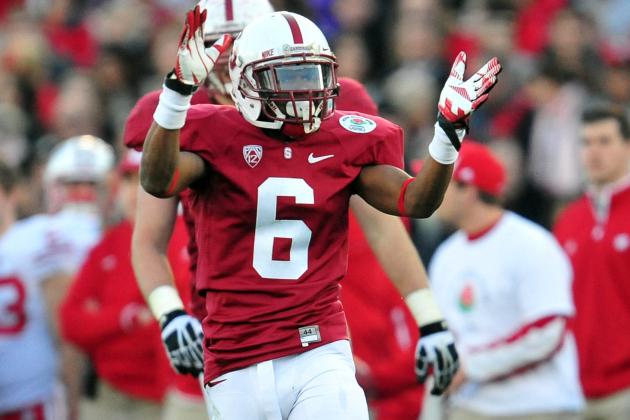 Gary A. Vasquez-USA TODAY Sports
Terrence Brown is a smaller corner who doesn't play that way.
Stanford's Terrence Brown is an undersized cornerback at just 5'11" and 176 pounds, but he was also one of the more productive corners the team had to offer during his time there.
Brown is a sold contributor against the run despite his size. He recorded 65 tackles last season alone before announcing his plans to enter the 2013 NFL draft.
For the Cincinnati Bengals, it never hurts to have too much depth at cornerback. Brown will engage in a battle with the likes of Brandon Ghee and Shaun Prater if he wants to make the final roster.
At least for now, his chances are not very good.
Odds: 15 percent.
Jayson DiManche was one of the best players Southern Illinois had to offer last season thanks to his exceptional ability to rush the passer.
On his way to leading the team with eight sacks last season, DiManche made himself a name to remember when it came to small-school prospects because he looked like someone who may have a chance at developing well given the right coaching.
DiManche is undersized at just 6'2" and 232 pounds, but he may be able to make his mark in training camp as a situational pass-rusher.
Odds: 10 percent.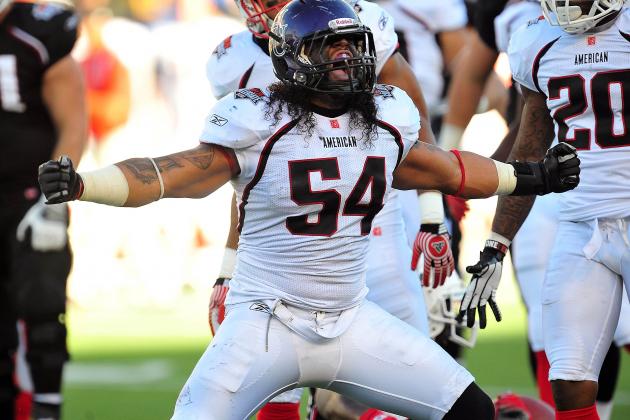 Gary A. Vasquez-USA TODAY Sports
Jordan Campbell is at a disadvantage right away because of his size.
Jordan Campbell has quite the story. He transferred out of USC after an off-field issue, but was never allowed to play a down with the Louisville Cardinals after an apparent glitch in the system.
Campbell finally found a home last year with New Mexico Highlands and recorded 104 tackles and 10 sacks.
The problem for Campbell is his size. At just 5'11" and 248 pounds, he's going to have a difficult time matching up well in coverage, and potentially against the run as well.
His production speaks for itself, but Campbell has a long road ahead of him if he wants to make the final roster.
Odds: 10 percent.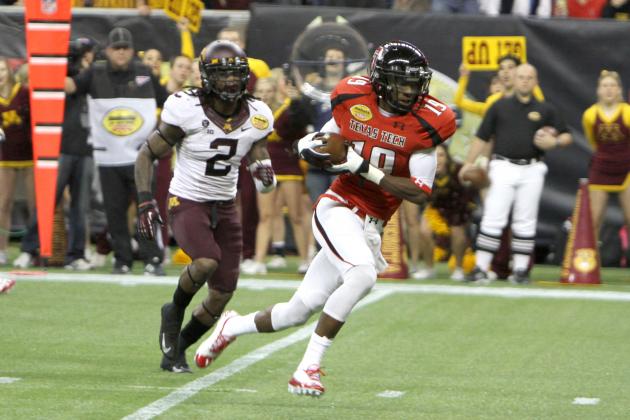 Michael C. Johnson-USA TODAY Sports
Troy Stoudermire alternated between receiver and cornerback in college.
Troy Stoudermire is an intriguing prospect to watch this preseason with the Cincinnati Bengals. During his career with Minnesota, he switched between the wide receiver and cornerback positions.
This, combined with less-than-ideal size at 5'10" and 199 pounds, resulted in him going undrafted.
That said, through his first three seasons in college, Stoudermire racked up over 3,000 yards on kickoff returns, making him a threat to score any time he received a kick.
This skill on special teams is something that won't go unnoticed this preseason.
Odds: 20 percent.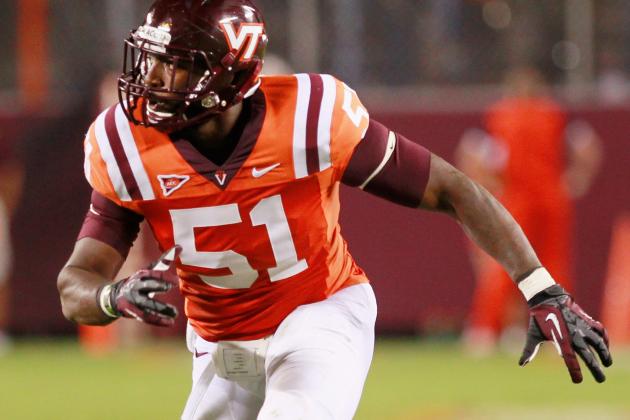 Geoff Burke/Getty Images
Bruce Taylor played well in college against the run.
Bruce Taylor is what is known as a downhill linebacker thanks to his propensity to blow running plays up as he sifts through blockers before meeting the ball-carrier.
The knock on Taylor is his lack of coverage skills and a serious Lisfranc injury that cost him a good chunk of his 2011 campaign.
Taylor wasn't bad in his comeback season last year, as he notched 76 tackles and 5.5 sacks. He has the size, production and experience in a complex defense to develop into a quality backup in the next few seasons if he can stay healthy.
Odds: 20 percent.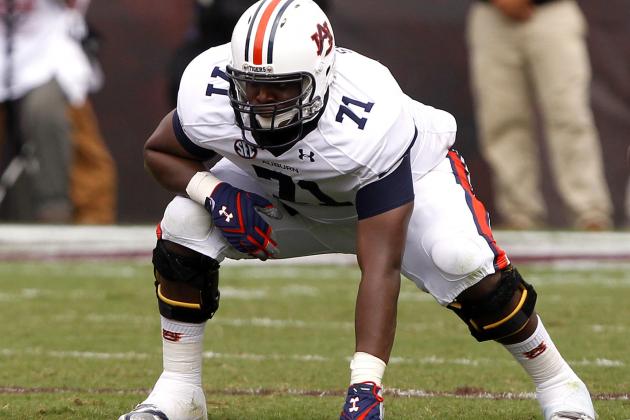 Butch Dill/Getty Images
John Sullen is a monster-sized guard who has hidden behind older players for most of his collegiate years.
The Cincinnati Bengals are still having some trouble figuring out what to do with the situation at left guard as Travelle Wharton and Clint Boling duke it out for the starting job.
It's also why the team has brought on John Sullen from Auburn after he slipped into undrafted free agency.
Sullen is a massive guard at 6'6" and 332 pounds who spent most of his collegiate days hidden behind players older than him. When finally given the chance, he was solid in most aspects.
The Auburn product seems destined to at least make a serious push for the practice squad.
Odds: 5 percent.
Tyrone Goard may not have played against the toughest competition at Eastern Kentucky, but he brought a big game thanks to his solid size at 6'4" and 205 pounds.
Goard wrapped up his career with 24 touchdown receptions and over 1,800 yards receiving while acting as the primary target of EKU's offense.
It's going to be an uphill battle for Goard with the Cincinnati Bengals. There is already plenty of young, developing talent such as Mohamed Sanu, Marvin Jones and more on the roster.
On sheer talent alone, expect Goard to stick on the practice squad. Final roster, not so much.
Odds: 20 percent.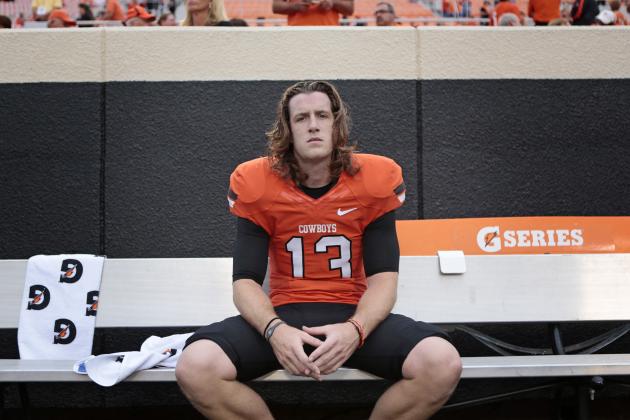 Brett Deering/Getty Images
Quinn Sharp had an impressive collegiate career before joining the Cincinnati Bengals.
The Cincinnati Bengals seem to have things set in stone at both kicker and punter thanks to Mike Nugent and Kevin Huber, respectively.
However, Quinn Sharp could make some noise this preseason. He's a jack-of-all trades who could compete for one or both jobs, depending on what the coaching staff wants him to do.
It's hard to see why Quinn went undrafted (outside of the obvious devaluing of his positions), especially after reading Bengals.com editor Geoff Hobson's description of him:
Sharp, the first three-time All-American in Oklahoma State history, finished his career as the nation's leading active punter with a 45.9-yard average as well as one of the top kickers with an 84.7 field-goal percentage. After leading the country in touchbacks for four straight years, the Bengals have listed Sharp as a kicker but he figures to also get some chances to punt.
Quinn is talented enough to make the roster, but it's unlikely unless there is an injury.
Odds: 35 percent.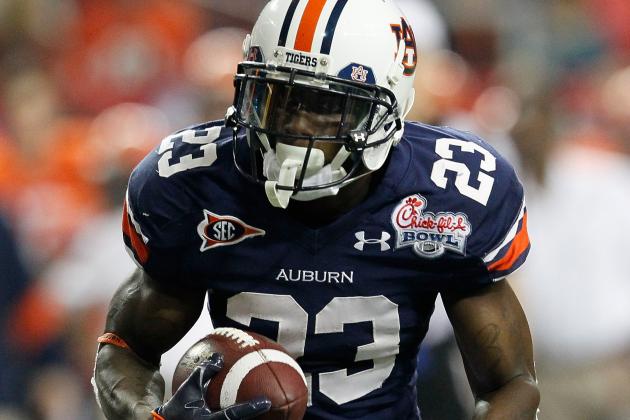 Kevin C. Cox/Getty Images
Onterio McCalebb will be trying the cornerback position with the Cincinnati Bengals.
Onterio McCalebb was one of the NFL Scouting Combine's fastest men before going undrafted and landing with the Cincinnati Bengals.
At just 5'10" and 170 pounds, NFL teams are afraid of durability issues with a running back like McCalebb, hence him going undrafted.
That won't be a problem in Cincinnati. As Bengals.com editor Geoff Hobson reported, McCalebb is going to be playing cornerback for the Bengals:
#Bengals additional CFAs: Auburn RB McCalebb listed at CB; LB Campbell of New Mexico Highlands; K Sharp of Oklahoma State

— Geoff Hobson (@GeoffHobsonCin) May 1, 2013
Where McCalebb really shines is on kick and punt returns. If he can perform well enough at that in the preseason, he's your best shot for an undrafted rookie making the Bengals roster this year.
Odds: 50 percent.
Follow me on Twitter for more NFL news and analysis.