The 20 Best Feel-Good Photos in Sports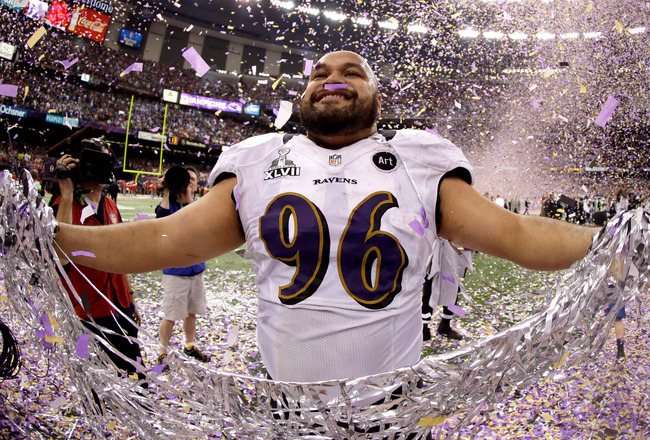 Ezra Shaw/Getty Images
How would one describe happiness in sports?
In our opinion, it's when a fan or athlete has the biggest smile on his or her face, either celebrating something great that just happened or a moment that brings people together.
Be it a big play or the ultimate goal, a championship, these are the photos from which we can just feel the happiness pour out.
Ricky Rubio Catches the NBA Playoffs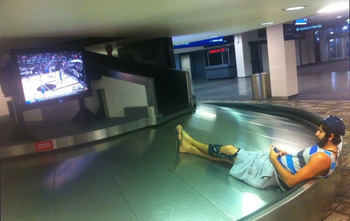 Image via Twitter.com/RickyRubio9
This photo might not be happy in the traditional sense, but seeing Timberwolves point guard Ricky Rubio sitting on an airport baggage claim carousel has to put a smile on your face.
Rubio's rookie season may have ended abruptly when he tore his ACL in March 2012, and his young Minnesota team may have missed out on the postseason, but his love of the game has to be admired as he lounges here to keep up with the action with his knee brace on.
French Soccer Fans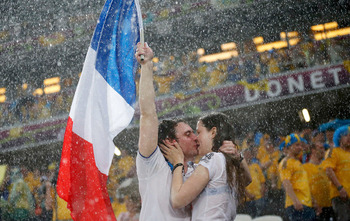 Image via Michael Buholzer/Reuters
In a photo reminiscent of the movie The Notebook, these two show us why a French kiss is the best way to celebrate sometimes.
Following a "Les Bleus" group-stage victory over Ukraine in Euro 2012, these two found that smooching in the rain is a hell of a lot more fun than singing in it.
Carlos Gomez Pops It Off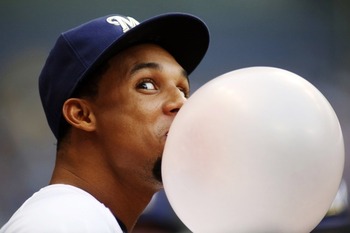 Image via darkroom.baltimoresun.com
Nicknamed "Go-Go," Milwaukee Brewers center fielder Carlos Gomez went all "go-go gadget gum" when he blew this enormous bubble at a game last season.
Gomez might be 27 years old, but seeing how happy he is with his accomplishment here, we'd have guessed he was just a little leaguer.
Kayla Harrison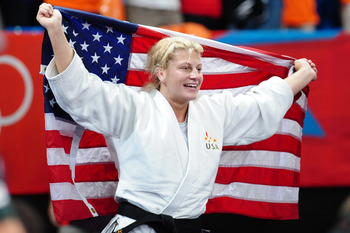 Laurence Griffiths/Getty Images
Anytime an athlete wins a gold medal, it's only natural to get a little choked up while busting out the biggest smile he or she has ever had.
But Kayla Harrison's was a bit more meaningful in this picture after she became the first American to capture an Olympic gold medal in judo during last year's Games.
Who would have thought someone with a black belt could have such a soft side?
Kevin Durant Tackles Fan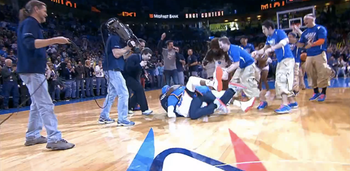 Image via 82andsunny.com
We saw this earlier in the season from fellow all-world player LeBron James too, and honestly, having a millionaire athlete tackle a regular Joe Schmo at a sporting event is one of the greatest sights we've ever seen.
These guys go out of their way sometimes to have bulky security guards and thick entourages, making them nearly impossible to get close to.
But when their joy comes out toward a fan for doing something like hitting a half-court shot to win $20,000, it's really cool.
D.J. Hayden Gets Drafted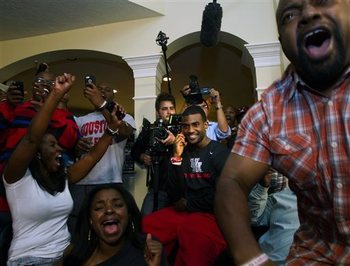 Image via Cody Duty/AP
Many sports fans know the story of D.J. Hayden, the cornerback the Raiders selected in this year's first round of the NFL draft.
After nearly dying following a freak injury that occurred at a practice last year while playing for the University of Houston, Hayden had a slim chance of playing football again.
Not only did he defy odds by being drafted, but to be the 12th player overall is something that puts a lump in your throat.
Mohamed Farah Wins Gold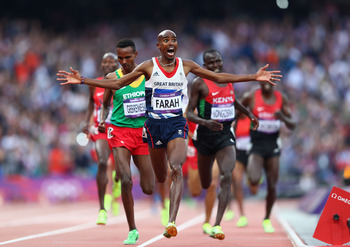 Michael Steele/Getty Images
In an absolutely shocking moment for Great Britain, runner Mohamed Farah, the 5,000- and 10,000-meter gold medalist in the 2012 Games, couldn't resist his excitement while ahead of the pack.
The organic celebration by Farrah as he crossed the finish line is one that puts winning an Olympic medal into perspective, especially if it happens on home land.
Johan Santana Is Whipped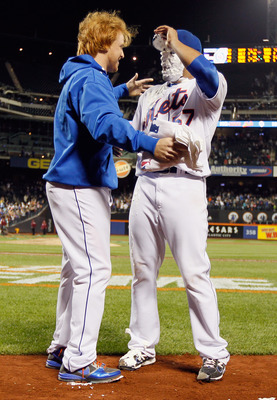 Mike Stobe/Getty Images
There are various stories on when the tradition started, but as we've seen over the past couple years, throwing shaving cream in the face of a teammate after a great accomplishment has become quite popular.
That's why seeing Johan Santana—who makes over $20 million per year—get nailed by lesser-known teammate Justin Turner following Santana's no-hit bid last year was just remarkable.
It was the first no-no in the history of the Mets franchise, so they had a lot of celebrating to do.
David Beckham Ends His MLS Stint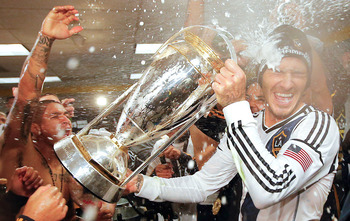 Image via Jae C. Hong/AP
There was a lot of criticism of David Beckham when he signed a record deal with the Los Angeles Galaxy in the summer of 2007. People wondered if one of the most iconic athletes on the planet could transform the popularity of soccer in the United States.
Though his presence may not be measured, in his last appearance for the club, Beckham went out on top by celebrating with champagne and championship hardware.
As a fan, you couldn't help but smile for Becks.
Ma'ake Kemoeatu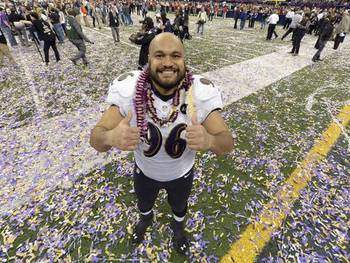 Image via JD Mercer, USA Today Sports
If you asked most people for their opinions on a 6'5", 345-pound behemoth like Ma'ake Kemoeatu, they'd probably tell you he comes across as a tad intimidating.
As this picture proves, though, if you catch the Ravens defensive tackle at the right time, he's nothing more than a gentle giant.
It's a Can of (Pop)Corn for One Astros Fan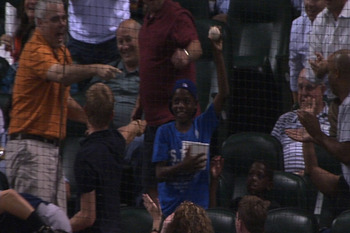 Image via deadspin.com
It's every kid's dream to catch a foul ball or home run at a baseball game.
Not only is it a souvenir to take home that the majority of fans don't get every game, but the story of how you do it is part of the joy.
Seeing this young Astros fan outsmart the guy in the orange shirt by using his popcorn bucket to snag the ball is pretty cool, and we can't help but flash a smile for the youngster.
Barry Zito's Kiss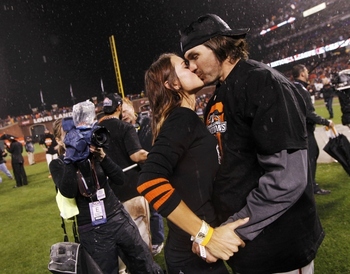 Image via Robert Galbraith / Reuters
On a wet and soggy field in San Francisco last October, the Giants' Barry Zito took a moment from celebrating the National League title with his teammates to acknowledge his wife, Amber Seyer.
In a tumultuous stint with the Giants after signing a mega deal with the club prior to the 2007 season, criticism was harsh for the veteran lefty.
Helping pitch his team to a World Series title may not have erased all the doubters, but it had to give him some validity.
We Are All Boston Strong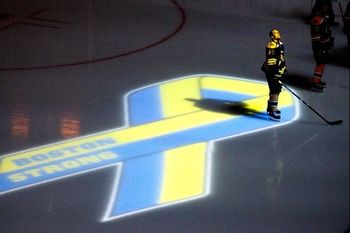 Image via Jim Rogash/Getty
In the wake of the Boston Marathon attacks just a few weeks ago, the country has rallied around the city to show support and sympathy.
The situation itself may have been mind-numbing, with everyone still questioning the motive behind the bombings, but it showed that humanity is still strong and nothing can break Beantown.
Sports were just an outlet to express all of that.
Manchester City Wins the Premier League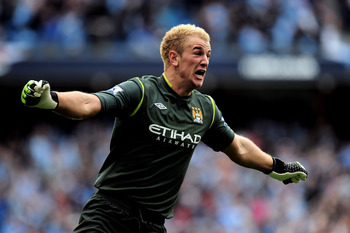 Shaun Botterill/Getty Images
The disbelief on the face of Manchester City goalie Joe Hart after the squad wrapped up the club's first Premier League title since 1968 is priceless.
"The Blues" have always been measured against city rivals Manchester United, so capturing the EPL and having the key to the city for at least one year is something that's indescribable—unless you happened to see it live.
Colts Cheerleaders Are 'Chuckstrong'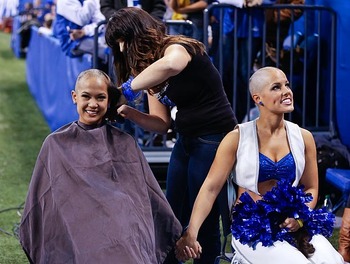 Image via Darron Cummings/AP
After being diagnosed with leukemia last year, Indianapolis Colts first-year head coach Chuck Pagano felt support from the entire city and other players around the NFL.
In the ultimate sign of unity, several Colts cheerleaders shaved their hair off to prove just how much they respected Pagano, proving that they too were definitely "Chuckstrong."
Andy Murray Conquers Centre Court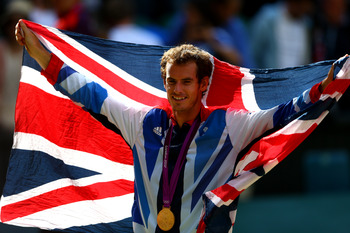 Paul Gilham/Getty Images
Finally! The Brits could say they were on top at Wimbledon—sort of.
Just several weeks after falling to Roger Federer in the Grand Slam tournament, the U.K.'s favorite tennis son, Andy Murray, captured gold in front of his home supporters by avenging the defeat and beating Federer in the gold-medal match in last year's Olympics.
It may not be the prestigious Wimbledon trophy, but it is still quite the accomplishment for Murray.
Florida Gulf Coast University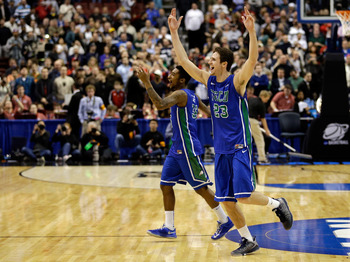 Rob Carr/Getty Images
Becoming just the seventh No. 15 seed in NCAA tournament history to bust everyone's bracket and upset a No. 2 team in the opening round, Florida Gulf Coast was ecstatic after its win.
We all know parity happens each year in sports, but seeing a team that many hadn't even heard of make a run all the way to the Sweet 16 is one of the best moments in sports so far this year.
Donald Driver Gets Silly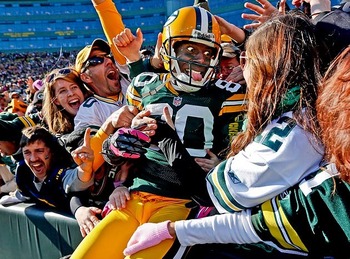 Image via Mike Roemer/AP
Who says the NFL stands for the "No Fun League"?
After scoring a touchdown last season, since-retired Packers wideout Donald Driver not only did the traditional Lambeau Leap, but in an instance of pure youth and happiness, he made a goofy face to a fan while being housed by other Packer supporters.
LeBron James' First Title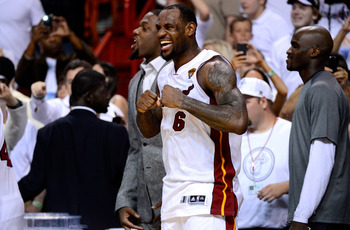 Ronald Martinez/Getty Images
It's no secret that LeBron James is the most analyzed and criticized athlete in the entire world.
Thanks to his unworldly talents, fans and journalists can get spoiled with the things he does on a nightly basis—and as a born-and-bred Clevelander, I admit to being one of them.
But seeing him jump up and down and dancing on the sideline once his Heat captured their first-ever NBA title last year was a sight that anyone who loves sports could smile at—regardless of personal opinion of the guy.
Fans could see the monkey falling off his back with each hop.
Kevin Ware's Louisville Teammates
Streeter Lecka/Getty Images
Who would have ever guessed that a moment of absolute despair would end up being so inspiring?
We all know the story of Louisville basketball player Kevin Ware, who, when attempting to challenge a shot against Duke, came down and had one of the most gruesome injuries ever witnessed in sports.
It wasn't only the reaction of his teammates that made this so heartfelt, but it was Ware motivating them while he was on the floor that brought tears of joy.
Keep Reading