If Derrick Rose were to announce his intention to return for Game 6 of the Chicago Bulls' series with the Brooklyn Nets or for the start of a possible second-round encounter with the Miami Heat, expectations for both himself and the team would go through the roof.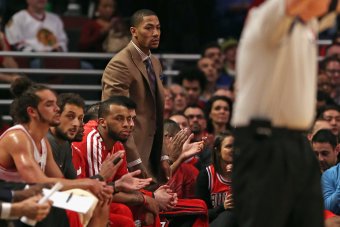 It would be impracticable for a returning Rose to reach those sky-high expectations. He's missed an entire year of play and would be thrown into the playoff fire, which is completely different than it would be if he returned during the regular season.
As it stands now, his ability to return remains in limbo. The latest comments came from the superstar point guard's brother Reggie Rose, who told Teddy Greenstein of the Chicago Tribune that the younger Rose was at around 90 percent and didn't rule out a playoff return.
When asked if it needs to be 100 percent to return, Rose replied: "His 100 percent might not be your 100 percent. It's hard. But the Bulls organization has basically told him: We support you. When you are ready, we will welcome you with open arms."

Like coach Tom Thibodeau, Rose has not ruled out his brother returning for a potential series with the Heat.

"I think anything is possible," he said.
Anything might be possible, but a rusty Rose finding a way to excel against a ferocious Heat defense in a playoff series would be incredibly difficult. There's simply no way to completely simulate what he would face on the practice court.
Rose is one of the most explosive players in the league when healthy—there's no doubt about that. But even if he feels 100 perfect health-wise, by no means does that mean he would be in perfect game shape. Again, those are two different things.
At the same time, fans would be expecting him to produce like the Most Valuable Player version of himself to help the Bulls finish off the Nets or upset the Heat. It's inevitable, and it's just another reason he shouldn't risk further injury this season.
The other Bulls deserve a lot of credit. They are one win away from reaching the second round despite having to endure endless chatter about whether or not Rose will be joining them on their title quest. It's the type of distraction that could easily derail a team.
When do you think Rose will return?
It also shows Chicago has put a formidable group together around Rose. One good enough to secure the fifth seed in the Eastern Conference and, with one more win, a spot in the second round of the postseason. All without a single minute from their star teammate.
The progress that's been made throughout the season paints a favorable picture for the future. When you combine that with the fact that the Bulls would be major underdogs against the Heat should they advance, the risk of Rose suffering a setback isn't worth the likely limited reward.
He must be worked back in slowly, and the playoffs certainly aren't the place to do that.