Grading Every Boston Celtics Players' 1st Round Performance So Far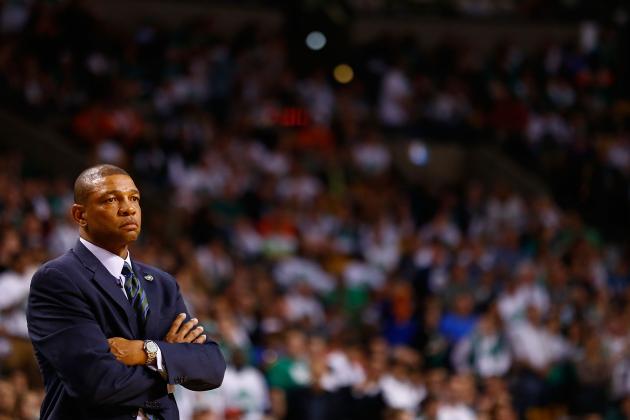 Jared Wickerham/Getty Images
Rivers hasn't had much to smile about this postseason.
It's no secret that the Boston Celtics' performance in the first round has been rather disappointing thus far.
A couple players have stepped up to give the team its best chance of victory. However, the majority of them are simply hurting the cause.
It's just a testament to the notion that you can only win as a team.
Thanks to sloppy play, the Celtics found themselves in a 3-0 hole against the New York Knicks. They were facing the possibility of exiting in the opening round of the playoffs for just the first time since Kevin Garnett arrived in 2007. The team is 56-39 in six postseasons since.
Boston has regained form and won the last two, forcing a Game 6. It's only the 11th time a team has taken the series to six games after falling behind 3-0.
Do the Celtics have enough left in the tank? Or is the team only prolonging the inevitable?
Only time will tell for Boston.
Begin Slideshow

»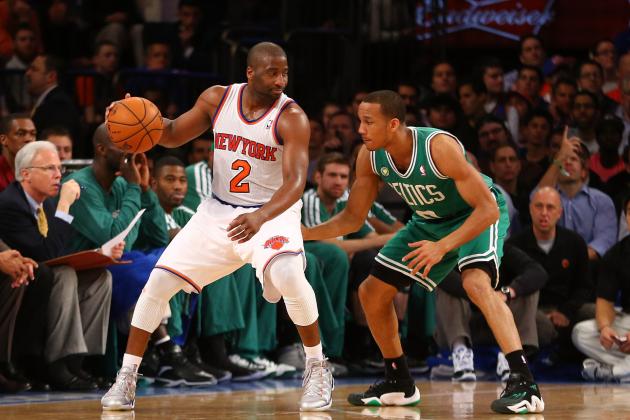 Al Bello/Getty Images
Bradley's defense is the only part of his game that hasn't been miserable.
Stat Line: 5 GP, 32.8 MPG, 6 PPG, 2.2 RPG, 1.4 APG, 1.6 SPG, 36.1 FG%, 25 3FG%
The Rundown
There might not be a more frustrating player on the Celtics roster than Bradley.
On the defensive end, he's proven to be one of the best in the league. But offensively, Bradley has been a liability for the team since returning in January.
Over 50 regular-season games, he averaged 9.2 points, 2.2 rebounds, 2.1 assists and 1.3 steals in 35.5 minutes a night. Bradley also shot 40.2 percent from the field and 31.7 percent from beyond the arc.
While his offensive production was decent during the year, it's been downright awful in the five games this series.
If you take away his great Game 1 performance—15 points (7-of-14 shooting), four assists and three steals—Bradley has averaged just 3.8 points and 1.1 assists over the other four contests. He's also only shot 6-of-22 (27.3 percent) from the field.
You can credit his defense for keeping him in head coach Doc Rivers' starting lineup.
With Bradley on the floor, Boston's defense rating is an impressive 92.8. But once he's on the bench that rating skyrockets to 105.2.
Bradley is a main reason why the Knicks have breached 90 points just once in regulation in the series.
While his defensive prowess is nice, it's Bradley's offensive production that is key to the Celtics' push for survival.
Grade: C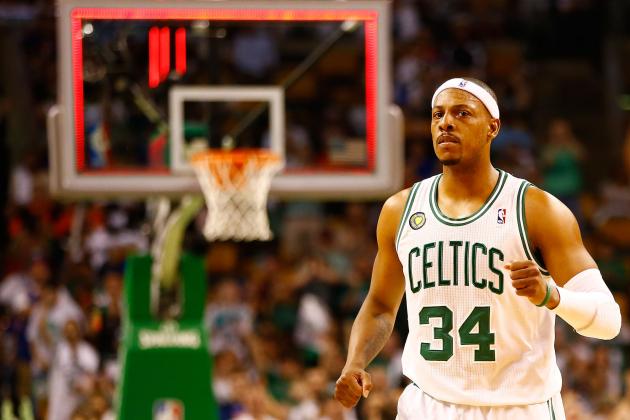 Jared Wickerham/Getty Images
Pierce has done what he can to keep the C's alive.
Stat Line: 5 GP, 42.4 MPG, 20.2 PPG, 5.4 RPG, 5.4 APG, 39.8 FG%, 31.3 3FG%
The Rundown
What else would you expect from Boston's captain?
Pierce has been the poster child for consistency, performing well in all five games this series. He's had at least 15 points, four rebounds and four assists in each contest.
Without Rajon Rondo, Pierce has taken complete control over the team. He's hit the big shots, made the critical passes and come down with the important rebounds.
What more can the Celtics expect from one player? Not to mention, a player on the wrong side of 30.
The only downside has been Pierce's lack of ball control.
The 35-year-old has averaged a team high of 5.4 turnovers per game. So it comes as no surprise that he also holds the lowest plus/minus on the team at -37.
But then again, mistakes tend to happen when you hold the ball for so long.
Either way, Boston wouldn't be where it is if it wasn't for the play of Pierce.
Grade: A-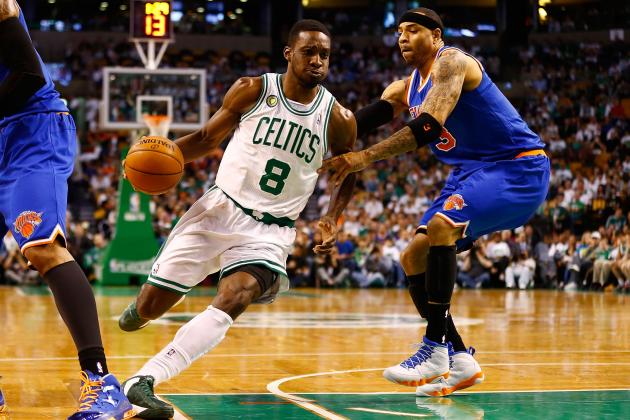 Jared Wickerham/Getty Images
Green has been one of Boston's lone bright spots.
Stat Line: 5 GP, 43.0 MPG, 20.2 PPG, 5.4 RPG, 2.6 APG, 45.2 FG%, 47.1 3FG%
The Rundown
Green is easily the biggest surprise for Boston.
After losing Rajon Rondo for the remainder of the season on Jan. 27, Green has taken his game to another level. In 38 contests since, he's averaged 16.4 points, 4.7 rebounds and 2.4 assists on 49.7-percent shooting.
But the biggest criticism aimed against Green was that he couldn't maintain his great play with both Kevin Garnett and Paul Pierce in the lineup.
Consider the critics silenced.
Through five games this postseason, Green is playing his best basketball of his season, maybe even his career. He's scored 20 or more points three times already this series—that includes 20 points in the first half alone during Game 1. Green also was critical in helping the team force a Game 6, scoring 10 of his 18 points in the fourth quarter during Game 5.
Not only is he scoring points, but Green has also been active on the glass. He's passed the ball well and made life difficult for opponents driving into the lane.
His play served as a spark to the Celtics' resurgence during the second half of the season. It's time the team uses him in the same way for the playoffs.
Grade: A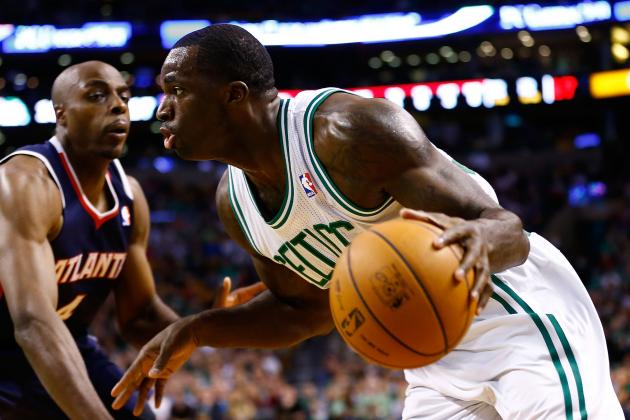 Jared Wickerham/Getty Images
Bass has disappeared in the postseason.
Stat Line: 5 GP, 32.2 MPG, 6.8 PPG, 7.2 RPG, 1.2 APG, 56.5 FG%
The Rundown
Bass' play against New York has got to be one of the biggest disappointments for Boston this postseason.
Expectations were high for the 28-year-old after he finished the regular season on a tear, averaging 13.9 points and 5.8 rebounds over eight games in April. Instead, Bass has been absent for most of this series.
Sure, he scored 17 points on 6-of-7 shooting during the team's Game 5 victory, but that's about the only positive that can be taken from his play. Who's to say that will continue? Who's to say that wasn't another one of Bass' fluke performances?
The biggest factor has to be a lack of confidence in his shot. During the last month of the season, Bass averaged 10.3 field-goal attempts per game. Over the first five games of the series, he's only averaged four shots a night.
With an already depleted frontcourt, the Celtics can't afford to have such a minimal contribution from their power forward position.
Grade: C-
Jared Wickerham/Getty Images
Garnett hasn't been himself for months now.
Stat Line: 5 GP, 34.2 MPG, 12.2 PPG, 14.4 RPG, 3.6 APG, 1.2 BPG , 46.0 FG%
The Rundown
Ever since injuring his ankle, Garnett hasn't been the same.
He only played in three of Boston's final 13 regular-season games. In those three contests, Garnett was essentially a shell of his former self, averaging just 12.3 points and 7.7 rebounds per game.
Those struggles have seemed to continue during the postseason.
Over the five games, Garnett has averaged just 12.2 points per game. That's the lowest mark in 13 playoff appearances during his 17-year career.
Sure, his early foul trouble in Games 1 and 2 didn't help his cause. But Garnett just hasn't looked the same with the ball in his hands. The ankle seems to be making life uncomfortable for the big man.
However, Garnett has managed to be as active as ever on the glass. He's recorded an incredible tally of 52 rebounds in the last three games.
The defense has been stellar as well.
With Garnett on the floor, the Celtics have a defense rating of 92. Without him, the rating shoots up to 104.8.
Garnett might not be at the top of his game, but even still, the team thrives when he's on the court.
Grade: B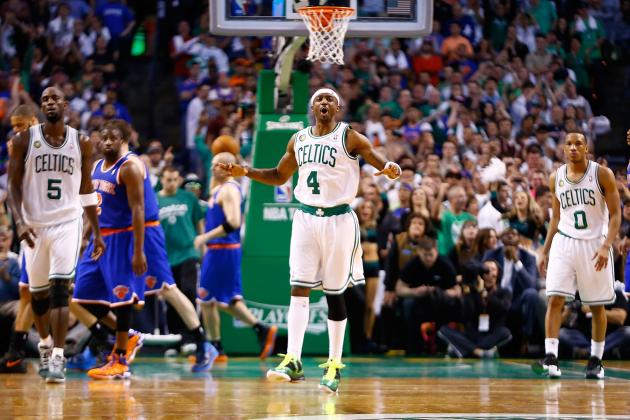 Jared Wickerham/Getty Images
The C's would love to see more of Terry's (center) heroics.
Stat Line: 5 GP, 33 MPG, 11.6 PPG, 1.8 RPG, 2.4 APG, 41.7 FG%, 41.4 3FG%
The Rundown
It was a tale of two cities when it came to Terry.
In the first two games in New York, he was downright awful. Terry shot 3-of-13 (23.1 percent) from the field, averaging 4.5 points, two rebounds and 1.5 assists per game. He also failed to score in six of the eight quarters played.
During the two games in Boston, Terry was fantastic. He shot 11-of-19 (57.9 percent) from the floor, averaging 16 points, three assists and 1.5 steals per game.
In fact, if it wasn't for Terry, the Celtics might already be out of the playoffs.
With less than two minutes remaining in overtime during Game 4, Terry got to work. He contributed all of Boston's final nine points to help seal a 97-90 victory.
But that wasn't all.
With the series moving back to New York on Wednesday, Terry proved he can perform on the road. He netted 17 points, while hitting 5-of-9 from beyond the arc. That included several clutch daggers in the second half.
Not only did it put all criticism to rest, but it also gave the team a reason to believe a comeback wasn't totally out of the picture.
It's imperative that Terry keeps it up.
Grade: B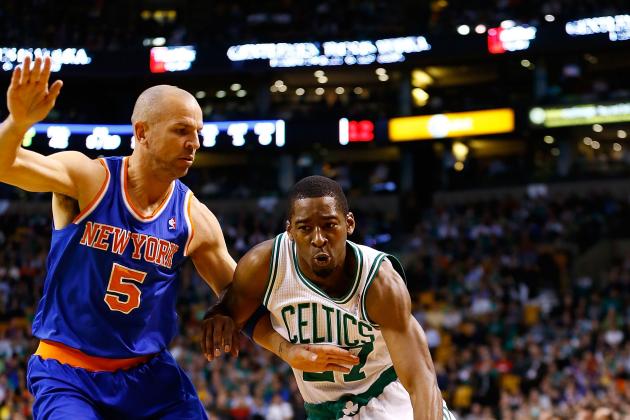 Jared Wickerham/Getty Images
Crawford has been a spark off the bench.
Stat Line: 4 GP, 14 MPG, 4.5 PPG, 0.8 RPG, 33.3 FG%, 30 3FG%
The Rundown
You never know what you're getting with Crawford.
Over 27 games during the regular season, he proved to be a spark off the bench. Crawford averaged 9.1 points, 2.7 rebounds and 2.5 assists over 21.6 minutes per game. He also shot 41.5 percent from the field and 32 percent from three-point range.
However, the postseason has been a different story.
In four appearances, Crawford is shooting just 33.3 percent from the floor. A lot of that has to do with his poor shot selection. Only 52.4 percent of his shots have come from inside three-point range.
Regardless, Crawford can boast the fact that he holds the highest plus/minus of any player on the roster this postseason (0).
He's already shown he has the potential to score, rebound and pass this season. The Celtics could really benefit from another demonstration.
Grade: C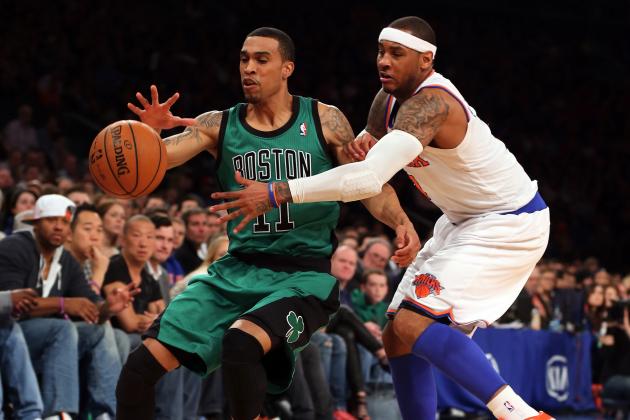 Elsa/Getty Images
Lee (left) has seemed to be left out of Rivers' rotation.
Stat Line: 3 GP, 11.7 MPG, 2 PPG, 0.7 RPG, 25 FG%
The Rundown
Lee has had quite the downward spiral this year.
After being pushed out of the starting lineup, not once, but twice, Lee's story has taken yet another unfortunate turn. Jeff Green's inclusion into the starting five has severely limited Lee's minutes.
During the regular season, he averaged 24.9 minutes per game. But through four games, Lee is only receiving 11.7 minutes per game. That includes not even being called upon during Games 4 and 5.
In the little court time Lee has seen, he hasn't been too active with the ball. He's only attempted four shots, hitting one. If it wasn't for four free throws, Lee might be looking at a scoring average below one.
Sure, Lee's performance this season has been ultimately disappointing. But it doesn't warrant him being completely left out.
Paired with Avery Bradley, Lee is a very good perimeter defender.
With its back against the wall, it wouldn't hurt Boston to give Lee a little more time to shine.
Grade: D-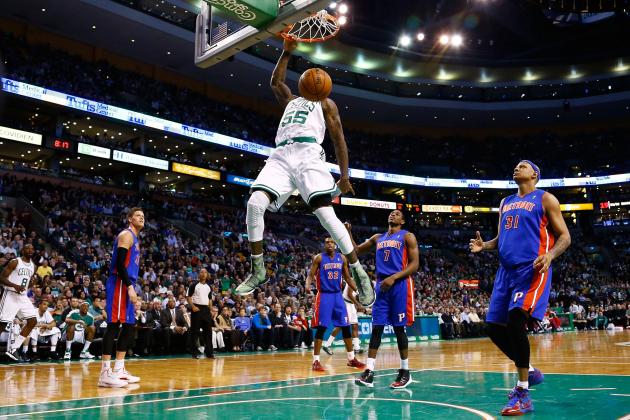 Jared Wickerham/Getty Images
Williams hasn't seen enough floor time to make an impact.
Stat Line: 4 GP, 9 MPG, 1.3 PPG, 1.8 RPG, 1.3 APG 25 FG%
The Rundown
It's a mistake to keep Williams caged up.
During the regular season, the 25-year-old proved he was an asset. He averaged 4.6 points, 1.8 rebounds and 1.6 assists over 13.3 minutes per game. Williams also shot 49.5 percent from the field and 33.3 percent from outside.
He made smart decisions with the basketball and even showed the ability to take it to the hoop hard. Williams was a great piece to the Celtics bench.
However, before Game 5, Doc Rivers had decided not to utilize him this postseason. Wednesday night, Williams showed why Rivers should reconsider.
In 17 minutes, Williams provided a spark for the team. He finished with four points, four rebounds and two assists. Rivers was so confident in his play that he left him in deep in the fourth quarter.
That's a sign of good things to come.
It's really a pity Williams hasn't seen much more time. Boston could certainly use all the playmaking guards it can get.
Grade: C+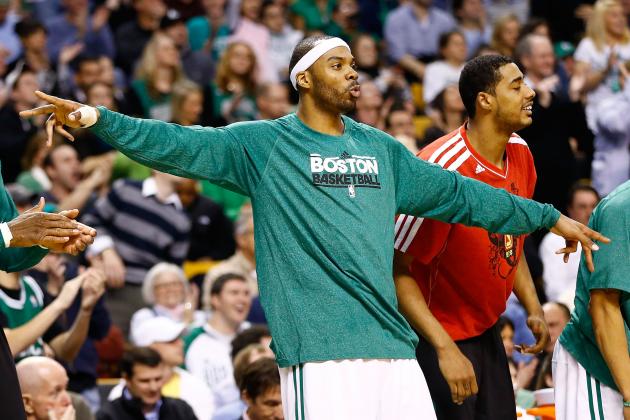 Jared Wickerham/Getty Images
Wilcox hasn't been given the time to shine.
Stat Line: 2 GP, 3.5 MPG, 1 RPG
The Rundown
Wilcox hasn't been feeling the love lately.
The big man was seen as relief to the Celtics' frontcourt depth issues coming into the season. With Rajon Rondo at the helm, Wilcox thrived. Then he got injured; Rondo also got injured and things only got worse from there.
Over 61 games, Wilcox managed just 4.2 points and three rebounds in 13.6 minutes per game. He also shot 71.9 percent from the floor.
Whether it's Wilcox's poor defense or a lack of space, Doc Rivers hasn't seemed to favor the 30-year-old as of late. He's sat out three games already.
As a result, it's been impossible to really give him a grade.
Grade: INC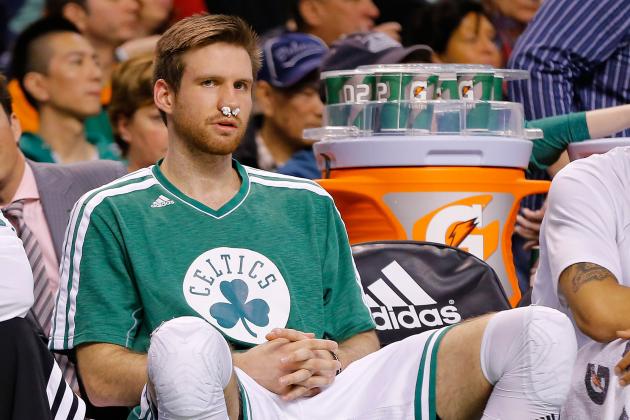 Jared Wickerham/Getty Images
Boston could benefit from seeing more Randolph.
Stat Line: 1 GP, 3 MPG, 3 RPG
The Rundown
Out of all his decisions, sitting Randolph could be the one that haunts Doc Rivers the most.
The 29-year-old was easily the best prospect that Boston brought in during the deadline. He's come in and helped patch up a hole the team needed filled.
In 16 games, Randolph averaged 4.2 points and 4.4 rebounds over 12.4 minutes per game. He also shot 58.3 percent from the floor.
Not only that, but Randolph gave the Celtics interior toughness. He was never afraid to put his body on the line, taking a charge when necessary.
Unfortunately, Randolph has only seen action in three minutes during Game 2.
Boston desperately could use his size down low.
Grade: INC
All stats used in this article are courtesy of NBA.com's Media Central (subscription required)
For complete team coverage and everything Celtics, you can follow Sebastian on Facebook and on Twitter