Dortmund vs. Bayern Munich and Europe's 6 Premier Rivalries Right Now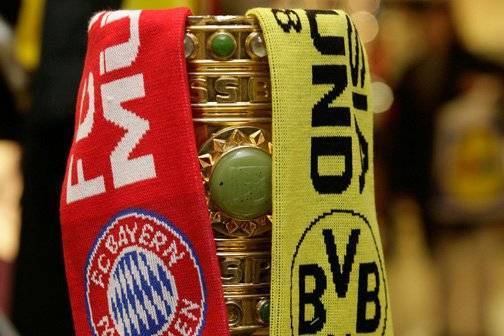 Photo via: http://www.thexiiplayer.com/
Rivalries like the one between FC Bayern Munich and Borussia Dortmund in world football are one of the reasons the sport is so special.
Some rivalries are bigger than others, like Manchester United against Liverpool dwarfing all other matches in the English Premier League. Some attract worldwide audiences, like El Clasico between Real Madrid and FC Barcelona. And some are just so important and vital that they dissect society completely.
Every league and every country has its own rivalries.
With the Champions League final between Bayern Munich and Borussia Dortmund set to take place May 25, Bleacher Report looks at the some of the biggest rivalries in European football.
Statistics provided by www.UEFA.com, www.soccerbase.com
Begin Slideshow

»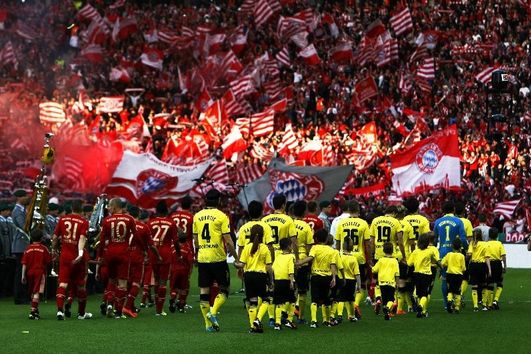 Photo via http://www.goalscoresoccer.com/
Over the great history of the Bundesliga, Bayern Munich vs. Borussia Dortmund has never been one of the biggest games on the calendar. For many the Schalke and Dortmund game will never be beaten, but in terms of a worldwide audience Bayern and Dortmund is the current king.
Over the last 20 years and with Borussia's rise to perennial title challengers, the game has gone on to be one of the most anticipated matches in Europe.
Taking its name from El Clasico in Spain, Der Klassiker, is now the Bundesliga match no fan wants to miss. Interestingly the two play at the Westfalen on Saturday before the Champions League final May 25.
It comes without the toxicity of the North West Derby in England or the Clasico even though fans are now beginning to take the rivalry to another level. Mario Goetze's recent £31.5 million transfer between Dortmund and Bayern caused great consternation amongst many Dortmund fans.
Goetze was one of the key young stars in Jurgen Klopp's brilliant side, and having seen him leave for their fiercest rivals, fans burned his jersey in protest.
Dortmund dominated their fixtures between 2010 and 2012, winning all five meetings between the sides as they won the Bundesliga twice. This season has seen FC Hollywood run away with the league and win two of the three matches between the sides.
With Pep Guardiola taking over next season, it certainly looks as if Bayern is set for a continued period of Bundesliga domination, but I'm sure Klopp will have something to say about that.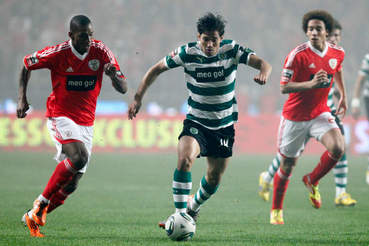 Photo via: www.leoeslions.wordpress.com
The Derby de Lisboa is the most important and fiercely fought derby in Portugal. It pits the two Lisbon based-clubs, Benfica and Sporting Lisbon, against each other and is always one of the entertaining matches in Europe.
The derby was really born in 1907 when a number of prominent Benfica players left for Sporting, who were then seen as the aristocrats of Portuguese football. Benfica have always been seen as the working-class club of Portugal and have built links with the many African immigrants who emigrated to the Iberian country.
Time has not been good to Sporting though, and from a position as one of Portugal's dominant teams they are now a good distance behind Porto and Benfica in terms of competition.
The rivalry amongst fans is as fervent as ever though. In 2011, following a 1-0 loss at Benfica's Stadium of Light a group of irate Sporting fans decided to take their frustration out on the stadium by trying to set it on fire.
All they succeeded in doing was heaping the ire of European football on their club, and the results have not improved.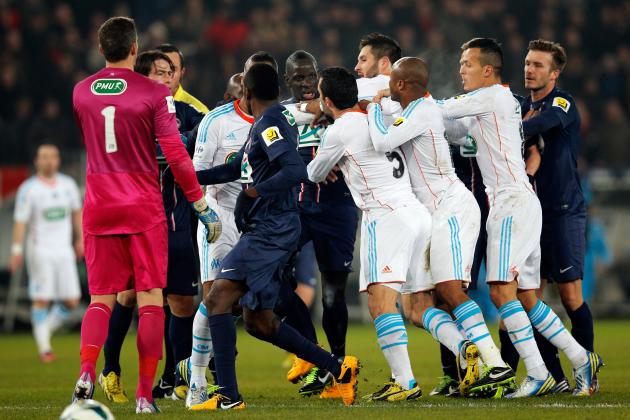 Dean Mouhtaropoulos/Getty Images

Le Classique is one of the younger rivalries in Europe and dates back to the 1971-72 Ligue 1 season.
In truth, the match is so much more than a test of strength between two of the most prominent teams in France. The history and culture of the game taps into French history and puts the country bumpkins of Marseille, in the South, against Paris Saint-Germain FC, their rich aristocratic rivals of the North.
This game has the very power to divide the entire country and is watched by almost the entire French football-watching public.
Marseille dominated the fixture during the '70s and '80s, but in recent years PSG and their Qatari millions have become the team to beat.
This development has seen the North-South divide grow even more, and now every single time the two teams meet there is a powder keg ready to blow.
If you have a game that could explode at any minute, how do you dampen it? You most certainly don't add Joey Barton!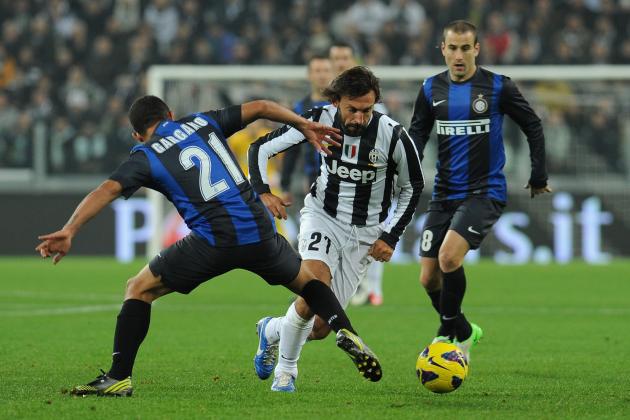 Valerio Pennicino/Getty Images

The Derby d'Italia sees Juventus and Internazionale as Italy's two most successful teams going into battle. The tie was given its name in 1967 by legendary Gazzetta Della Sport journalist Gianni Brera as it represented Italy's most intense rivalry from two clubs from different cities.
Juve and Inter have won as unbelievable 46 Serie A titles between them. Up until the Calciopoli scandal of 2006, which saw Juventus relegated, they were the only two sides in the history of Italian football never to be relegated from the top flight.
In over 200 games the Derby d'Italia has produced some of Italian football's greatest and matches, with Juve currently the dominant side and well on their way to a second title in the last two years.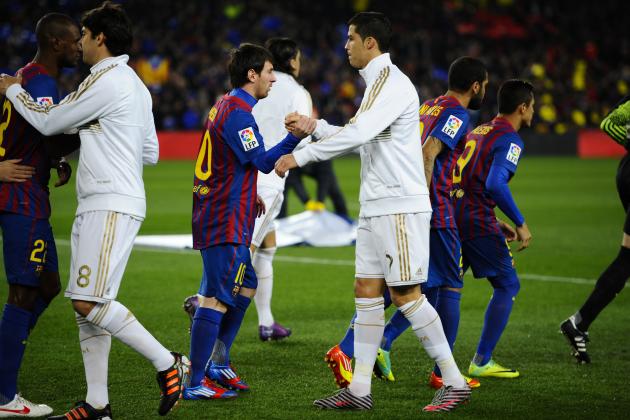 David Ramos/Getty Images

El Clasico between Barcelona and Real Madrid is easily the biggest rivalry in world football, be it international or club football.
After the Champions League final, it is the most watched club football match in the world and attracts a worldwide audience of almost 400 million people.
Between them they are by far the most successful clubs in Spain with Barcelona having won La Liga 22 times to Real Madrid's 32. Add all their trophies together and Barca move into the lead with 79 trophies to Real's 76. This includes 13 Champions League trophies, with Real holding the edge with a record nine.
Like all great rivalries there is great history to El Clasico. Real are the rich high-spending aristos of Spanish football and Barca represent the homegrown country team.
Lionel Messi vs. Cristiano Ronaldo currently gives the derby an extra spark, but it doesn't even need that.
The are political divides between Catalonia and the rest of Spain, but the rivalry was really forged with Alfredo Di Stefano's transfer into Spanish football. Both clubs thought they had signed the Argentinian, but after some confusion, he ended up playing for Madrid.
Since then some players have transferred between the clubs and it always almost leads to all-out war between fans. After Luis Figo transferred to Real Madrid, Barcelona fans famously threw a pig's head onto the pitch in protest.
Real Madrid is seen as the most popular football club worldwide with hundreds of millions of followers, while Barca have become the more popular team in Europe. Barca have also dominated La Liga of late, although Madrid have only lost one of the last eight meetings between the clubs.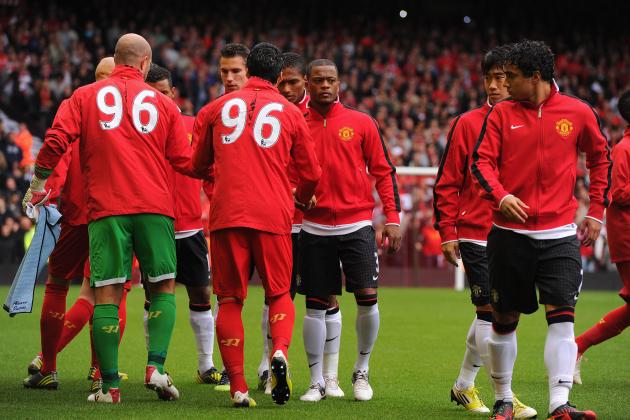 Michael Regan/Getty Images

English football has produced some of the greatest rivalries in world football, but the daddy of them all is the North West Derby between Liverpool and Manchester United.
Despite the Reds' lack of silverware over the last 20 years, the North West derby is still the biggest game in English football every year, and Liverpool and Manchester United are the most successful English clubs by some distance.
Liverpool dominated English and European football through the 1970s and '80s, winning an unprecedented four European Cups in a seven-year period between 1977 and 1984. They added an immortal fifth in 2005. The Reds also won 12 titles between 1972 and 1990.
The tide completely turned when Kenny Dalglish resigned in February 1991 with Liverpool three points clear at the top of Division 1. In time we would grow to learn that the Hillsborough disaster in 1989 had affected Dalglish deeply and that he needed to step away from football.
The following season both the Premier League and Champions League were born. Sir Alex Ferguson had positioned his team perfectly to win the EPL in 1992. United had arrived at the top at the perfect moment and benefited greatly from the huge monies on offer for success.
Since 1992, United have won 13 league titles and Liverpool has won none.
The two clubs, as England's most successful teams, have won 38 league titles between them with United edging ahead over the last two seasons with 20 wins.
This tie always produces heated matches and sometimes great games do break out. Their fans generally hate each other and taunt each other with the slightest provocation. In recent times the clubs have become involved and asked fan groups not to sing certain songs at each other.
The toxic atmosphere between fans has not been helped by players either.
In short, it is a game where everyone hates to lose.
Which way do you think the Champions League final will go, and what other great rivalries are there in Europe?
Leave your comments, thoughts and suggestions in the section below!