UFC on FX 8: Early Main Card Predictions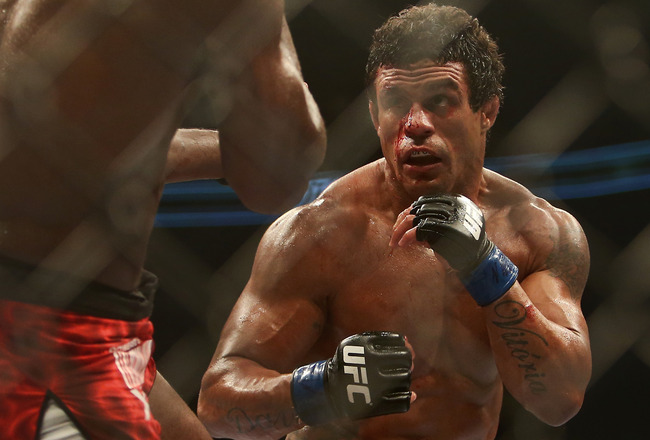 Tom Szczerbowski-USA TODAY Sports
The UFC is currently off for a couple weeks following a four-fight card April, but it's next installment is within eyesight. That event is UFC on FX, headlined by Vitor Belfort and Luke Rockhold in a pivotal middleweight scrap.
This event marks the return to Brazil, the hottest market currently possessed by the UFC. The fans come out in droves and will see Brazilian favorites such as Belfort, Ronaldo Souza and Jussier da Silva.
With that, here are the early main-card predictions for UFC on FX 8.
Chris Camozzi vs. Rafael Natal
Eric Bolte-USA TODAY Sports
The main card kicks off with a middleweight scrap between Brazil's own Rafael Natal and Chris Camozzi. The latter was originally a late replacement for CB Dollaway to face Cezar Ferreira, who also bowed out due to injury and replaced by Natal.
Natal is a Brazilian jiu-jitsu black belt who has developed his striking as of late. He has won three out of his last four, including a submission of late replacement Sean Spencer via arm-triangle choke in his last fight.
As for Camozzi, the Muay Thai fighter has rounded out his skills nicely in current times. He is riding a four-fight win streak which has seen him finish Dustin Jacoby and Nick Catone while earning decisions over Luiz Cane and Nick Ring.
Camozzi has really tightened up his takedown defense, which will prove worthwhile against a submission based fighter like Natal. He will use his superior striking mixed in with clinch work to wear down Natal and possibly earn a finish.
Prediction: Camozzi def. Natal via late TKO or decision
Rafael Dos Anjos vs. Evan Dunham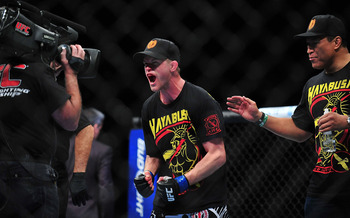 Gary A. Vasquez-USA TODAY Sports
We move to the only non-middleweight fight of the main card when lightweights Evan Dunham and Rafael dos Anjos collide to move into title contention.
Dos Anjos has looked great in his last three outings, punching a three-fight win streak over Kamal Shalorus, Anthony Njokuani and Mark Bocek. The BJJ black belt has been using an improved striking game along with his skilled top game to stifle and frustrate opponents.
Dunham has a chip on his shoulder, as he has wanted this fight since defeating Gleison Tibau at UFC 156. Dunham has fallen on hard times after a tear to open his UFC career, running a 3-3 record in his last six fights.
Dunham has solid takedown defense and can hold his own on the ground, but the question must asked; is his striking going to be up to par or will he be surprised like he was in the TJ Grant fight?
My bet is that Dunham uses that chip on his shoulder, mixing in striking and takedowns to earn a close, hard-fought decision.
Prediction: Dunham def. dos Anjos via decision
Costa Philippou vs. Ronaldo Souza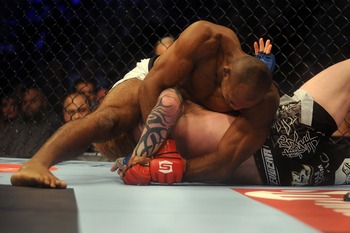 USA TODAY Sports
In the co-main event, UFC dark horse/workhorse Costa Philippou takes his underdog story with him to the cage to face Strikeforce veteran and champion jiu-jitsu artist Ronaldo Souza.
Philippou has gone from Ultimate Fighter 11 reject to top UFC contender in a short time. The Serra-Longo product has used a solid sprawl and overbearing boxing attack to run a five-fight win streak over the likes of Jorge Rivera, Jared Hamman, Court McGee, Riki Fukuda and Tim Boetsch.
Souza is making his UFC debut after a successful stint with Strikeforce. The world-class grappler and former champion of Strikeforce has won seven of his last eight, including submissions of Ed Herman, Bristol Marunde and Robbie Lawler.
Souza has greatly improved his standup, but he likely does not want to trade hands with a boxer like Philippou. Souza would best be suited to get inside, get Costa on his back and work his submissions.
It's hard to pick against Philippou because every time I have, he has proven me wrong. However, seeing Souza's most recent performances leads me to believe the Brazilian wins on his home turf.
Prediction: Souza def. Philippou via submission
Vitor Belfort vs. Luke Rockhold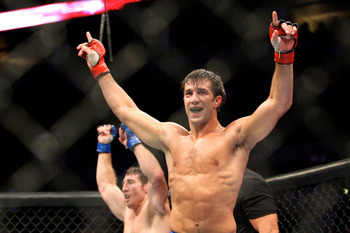 Scott Olmos-USA TODAY Sports
The main event should be an interesting one, as middleweight contenders Luke Rockhold and Vitor Belfort will meet to possibly jump into top contender talks.
Rockhold is the final Strikeforce champion and finds himself on a nine-fight win streak. Most of the wins have come against lower-ranked individuals, but his last three wins over Ronaldo Souza, Keith Jardine and Tim Kennedy have shown Rockhold is ready for top-level opposition.
Belfort is on a hot streak right now if you erase his title fight up a weight class against Jon Jones. In his last three middleweight affairs, Vitor submitted Anthony Johnson and knocked out Yoshihiro Akiyama and Michael Bisping in devastating fashion.
Though Rockhold has been impressive in his fights, many of his fights were tailor-made. Jardine is over the hill, the Souza fight he arguably could have lost, despite being the better wrestler and striker, and Kennedy is a submission wrestler, a style Rockhold matches up favorably against.
Vitor brings with him well-rounded skills and immense power. At any point, if he touches Rockhold's chin, the Strikeforce import could go down hard.
Vitor will do that within three rounds.
Prediction: Belfort def. Rockhold via knockout
Keep Reading