Questions about Tim Tebow's football future can fade away, at least for a while, as the polarizing quarterback has signed with the New England Patriots, the team announced.
UPDATE: Wednesday, June 12, at 1:50 a.m. ET by Ian Hanford
Tebow participated in Patriots mini-camp on Wednesday, showcased by this photo via New England's Instagram: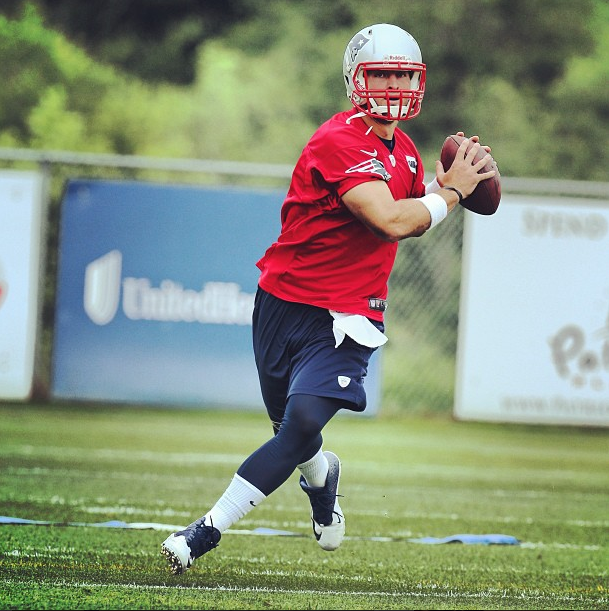 ---End of update---
ESPN's Adam Schefter and NFL Network's Albert Breer followed up the official announcement by reporting details of Tebow's contract.
Tim Tebow signed a two-year contract with the Patriots that included no guaranteed money.

— Adam Schefter (@AdamSchefter) June 11, 2013
Tim Tebow's deal with the Patriots is for 2 years at the league minimum, with incentives in 2014 based on playing time. No guarantees.

— Albert Breer (@AlbertBreer) June 11, 2013
Those minimum salaries for Tebow are $630K and $730K. So it's a two-year, $1.36 million deal, with playtime incentives in 2014.

— Albert Breer (@AlbertBreer) June 11, 2013
The Patriots' Pro Shop already has Tebow home and away jerseys available for pre-order, and they released a look at his jersey despite him not having an official number yet.
Tebow wore No. 15 when he played for the Florida Gators, Denver Broncos and New York Jets. However, fellow Patriots backup quarterback Ryan Mallett currently wears No. 15, so the newcomer will be forced to don No. 5, according to Newsday's Neil Best.
Number 5 for @TimTebow as a patriot

— Neil Best (@sportswatch) June 11, 2013
ESPN's Ed Werder originally reported the news that Tebow was going to sign with the Patriots on Monday, June 10.
Just filed to ESPN: The Patriots are signing QB Tim Tebow and expect him to be in minicamp tomorrow

— Ed Werder (@Edwerderespn) June 10, 2013
Mike Freeman of CBS Sports reports that Tebow playing tight end for New England is a possibility:
Tim Tebow will sign with New England, source confirms to me. Plan, I'm told, is Tebow will study a great deal at tight end.

— mike freeman (@realfreemancbs) June 10, 2013
However, Evan Silva of NBC Sports passes along that the Patriots intend to play Tebow under center, per Werder:
ESPN's Ed Werder on Tim Tebow: "I have confirmed that the #Patriots signed him with the intent of playing quarterback."

— Evan Silva (@evansilva) June 10, 2013
The Patriots also released third-string quarterback Mike Kafka, which prompted this tweet from Bleacher Report's own Matt Miller about where Tebow will slot:
If you're curious about what position Tebow will play in New England, the release of #3 QB Mike Kafka should tell you.

— Matt Miller (@nfldraftscout) June 10, 2013
There was no guarantee Tebow would be given another chance in the NFL after being released by the New York Jets this offseason. His 2012 season quickly morphed into a nightmare for both the team and himself, leaving the front office little choice but to let him go after they drafted signal-caller Geno Smith out of West Virginia.
ESPN's SportsNation has already provided us with a glimpse of how Tebow will look in a Patriots jersey:
THIS is what Tim Tebow will look like in a Patriots jersey: pic.twitter.com/7FK1sQMp4W

— SportsNation (@SportsNation) June 10, 2013
Despite Silva's tweet, the jury is out on just how the Patriots plan on using Tebow. After winning a playoff game against the Pittsburgh Steelers as a quarterback in 2011, Tebow was relegated to taking snaps as a punt protector and tight end in 2012 with the Jets.
With Tom Brady firmly entrenched as the starter for at least the next half decade, we could potentially see Tebow lining up to help the team in some unconventional ways.
Last October, Patriots coach Bill Belichick had some serious praise for the polarizing Tebow (via New York Daily News):
He's a good runner, strong runner, very strong, good thrower, mobile in the pocket, smart player, can do a lot of different things. You certainly have to be aware when he's in there. In the kicking game, he's dangerous because of his versatility... He carries the ball quite a bit so to some degree he's a running back.
The former Florida star's limited production will always be overshadowed by the media hype that follows his every move. The distraction of his presence was something that every team had to seriously consider before pursuing him.
When Tebow showed up at the team facility, the media was out in full force to see the team's newest acquisition and to ask him about his move to one of the AFC's top contenders.
However, Tebow refused to take questions, opting instead to issue a statement to the media, saying among other things that he was grateful for the opportunity to play for one of the top organizations in the NFL, per ESPN's Mike Reiss.
Tim Tebow: "First and foremost, I just want to thank the Patriots for giving me an opportunity. I'm very thankful ..."

— Mike Reiss (@MikeReiss) June 11, 2013
Tim Tebow: "... It's such an honor to be a Patriot and play for Coach Belichick and Coach McDaniels, and learn under Tom ..."

— Mike Reiss (@MikeReiss) June 11, 2013
Tim Tebow: "and be a part of this great franchise & very successful franchise. I found out 1st hand; lost to them several times ...

— Mike Reiss (@MikeReiss) June 11, 2013
Tim Tebow: "It's going to be a lot of fun. I'm looking forward to working hard every single day & getting a lot better ...

— Mike Reiss (@MikeReiss) June 11, 2013
Tebow: "... and learning under some great people. That's all I got. Thank you all so much & God bless. I'm sure we'll be talking more soon."

— Mike Reiss (@MikeReiss) June 11, 2013
Tebow also participated in 11-on-11 drills, and yes, he took them under center as the quarterback.
Here's a shot of Tebow under center in 11-on-11s. pic.twitter.com/KIt1da0kFk

— Luke Hughes (@LukeFHughes) June 11, 2013
Ultimately, Tebow does possess the ability to help a team win games. Probably not as a full-time starting quarterback due to a subpar completion rate (48 percent for his career), but instead by playing various roles on offense and special teams.
Tebow has accounted for 29 touchdowns (17 pass/12 rush) and just 16 turnovers in three seasons since the Denver Broncos selected him in the first round of the 2010 NFL draft. He has also averaged five yards per carry. Obviously, the numbers aren't all bad once you get away from the pure-passer elements.
That said, the Jets traded for Tebow on the basis that they would be able to create a wide-ranging role for him, and to say that it didn't work out would be an understatement.
Bart Hubbuch of the New York Post previously reported Tebow wasn't willing to make a commitment to becoming a tight end. It's a storyline that's remained pretty consistent since the Heisman Trophy winner ended his time with the Gators, as he has wanted to remain an NFL quarterback.
League sources confirmed that the few teams that contacted the Jets about Tebow were open to trading for him only if he was willing to move to tight end, but Tebow continues to refuse that possibility.
What's your opinion of the move?
Whether Tebow's stance changed during the process of finding a team is unclear. Either way, his best chance of making even a limited impact next season and beyond is working with the coaching staff to get involved in any way he can.
If there's one thing that shouldn't be questioned when it comes to Tebow, it's his drive to succeed. He's a good teammate and can help a team win if put in the right situation, which is the bottom line as to why he's been given another shot.
Both sides can only hope it goes exponentially better than his time with the Jets.