Grading Every OKC Thunder Players' 1st Round Performance so Far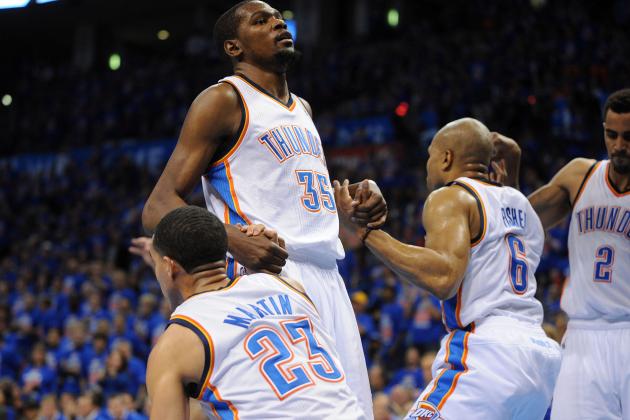 Mark D. Smith-USA TODAY Sports

As of this writing, the Oklahoma City Thunder may be in grave danger of being on the wrong side of NBA history.
The Thunder currently hold a 3-2 series lead against the Houston Rockets, but have lost a lot of momentum since star point guard Russell Westbrook went down with a season-ending knee injury during Game 2.
Now, in order to prevent an unprecedented 3-0 comeback from the eighth-seeded Rockets, the Thunder must band together as a team, with each individual stepping up his own game.
Each player on the OKC roster has fared a bit differently throughout the course of these first five games, so let's break it down and give everyone a grade for their series performance so far.
Begin Slideshow

»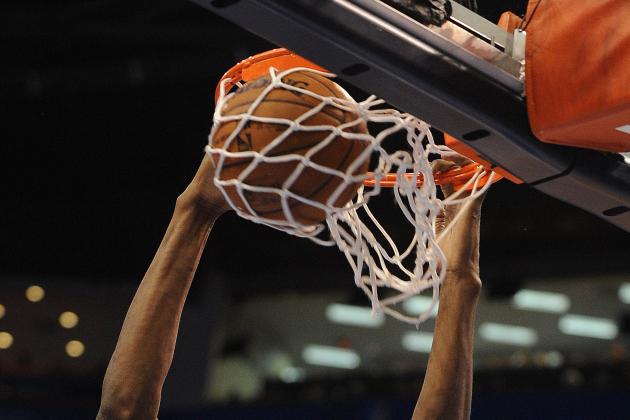 Mark D. Smith-USA TODAY Sports

Outside of the blowout that happened in Game 1, these reserves didn't get to see too much light of day so far in this series.
Though Ronnie Brewer has a lot more veteran presence than these younger guys on the list, he's been used rather sparingly by head coach Scott Brooks.
Jones III and Thabeet both logged five minutes each in Game 1, but combined for just two points, one steal and one rebound.
Both Lamb, as well as Daniel Orton, haven't seen the court at all this postseason, which surely wouldn't change unless another game got way out of hand.
Overall, these few guys haven't had much of an impact at all on the Thunder's postseason thus far, but it's less to do with poor play and more to do with lack of playing time.
Grade: Incomplete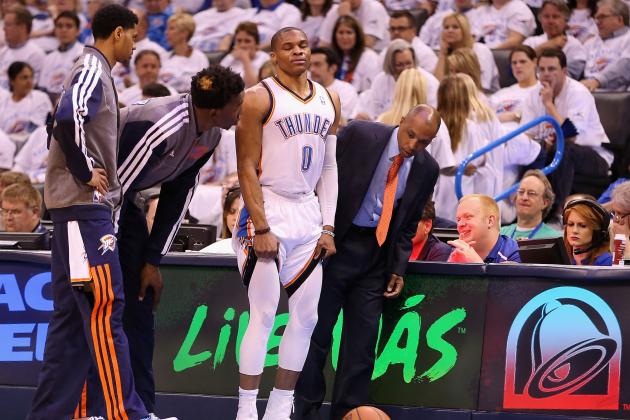 Christian Petersen/Getty Images

As a player who hasn't missed a single game in his entire basketball career, it was understandably shocking to learn that Russell Westbrook would be out of commission for a while due to a torn meniscus suffered in Game 2.
In the first two contests, Westbrook was being Westbrook. With a near triple-double in Game 1 (19 points, eight rebounds, and 10 assists) he followed it up in Game 2 posting 29 points, five rebounds, four assists and four steals. Not to mention that 20 of those 29 points came in the second half, where he unknowingly played with his already torn meniscus.
It's been a tough year for quite a few teams dealing with injuries to their stars (Boston, LA Lakers, Chicago), but seeing the Thunder's tenacious guard go down has knocked the team back from contender to a somewhat-underdog.
Though he only played two games, Westbrook played very well in both of them and contributed to the Thunder taking a 2-0 series lead going into Houston. For that, I can't help but give him some praise.
Grade: A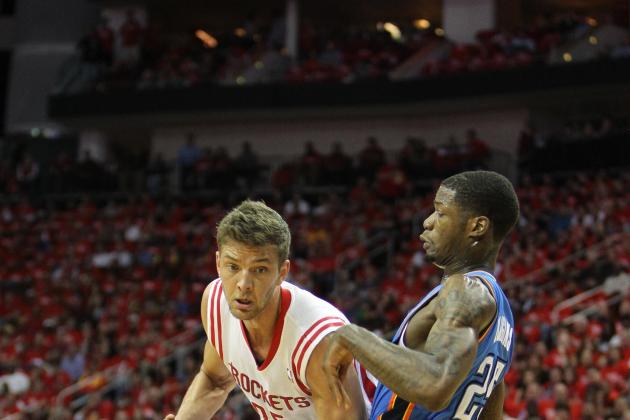 Brett Davis-USA TODAY Sports

After a pretty inactive first few games of the series, the need for strong defenders on the court for OKC led to a bigger chunk of playing time for DeAndre Liggins in the past two games.
Liggins didn't see a lot of regular time in Brooks' rotation during the regular season, playing in only 34 games and for an average of 7.4 minutes per contest.
For Games 4 and 5, though, he logged 20 total minutes (14 of which came in Game 5). There wasn't too much of a statistical contribution from Liggins, but his main purpose was primarily serving as a perimeter defender on scoring threats like James Harden.
In terms of playing his role, Liggins has done fairly well but also hasn't done anything that really makes him deserve more playing time than he's already getting. Therefore, I'll give him a passing grade, but nothing higher than that.
Grade: C-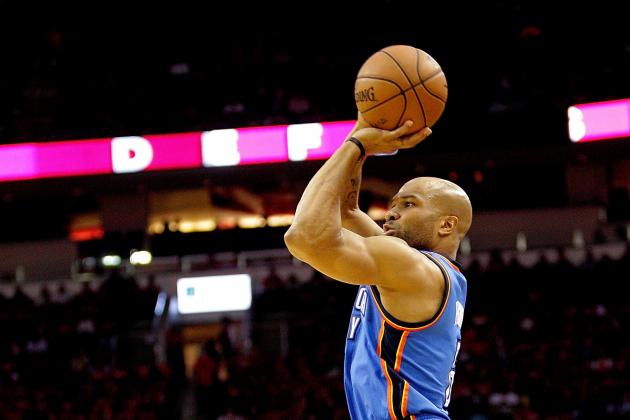 Bob Levey/Getty Images

Before Russell Westbrook's injury, the Thunder were getting questioned a bit for bringing in a third point guard in the midst of Reggie Jackson's development.
Now, though, Derek Fisher has a lot more responsibility weighing on him than anyone expected him to have when he re-signed with OKC this past February.
Seeing increased minutes in Games 3-5, Fisher has done alright at generating offense by acting more as a spot up shooter rather than facilitator when playing the point.
Fisher is averaging 7.6 points per contest so far in the playoffs, which isn't bad considering the Thunder's need for every single player to pitch in on the Westbrook-less offense.
It's also been really important to have a veteran guard behind Reggie Jackson, who still has a few kinks to work out in his game. The experience Fisher has, especially in postseason play, contributes a lot more than people give him credit for sometimes, and it's helped minimize the blow from Westbrook's injury.
On the other hand, he's had some puzzling shot selection and hasn't functioned well to set up teammates too effectively either. Therefore, his grade can't go too high since he's really only helped with a smidgen of scoring.
Grade: C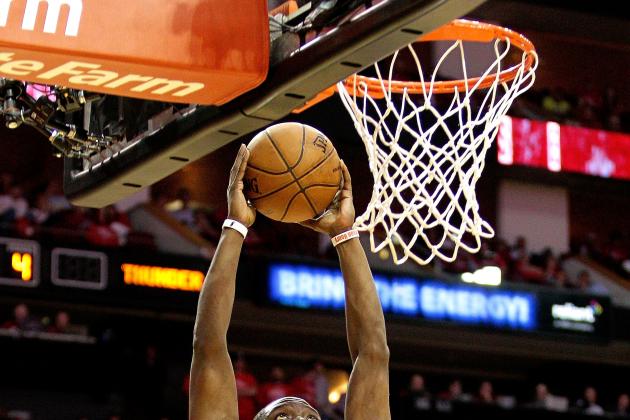 Bob Levey/Getty Images

Reggie Jackson was the first person my mind went to following Westbrook's injury, as he was Westbrook's heir apparent to the starting point guard role.
Sometimes, opportunity is thrust upon you and Jackson has handled this sudden transition beautifully. Though his game has several differences compared to Westbrook, Jackson's managed to incorporate it into the Oklahoma City offense, and his team has suffered a lot less because of it.
In Games 3, 4 and 5, Jackson scored 14, 18 and 20 points (respectively), and hit two very clutch free throws that sealed Game 3 for the Thunder.
No one expected Jackson to be able to score so well, and I think that lack of pressure has really helped him play his game offensively. While he doesn't have the passing ability of Westbrook (yes, Westbrook can pass), Jackson has made up for it by rebounding well for his position (four boards in both Games 4 and 5) and minimizing his turnovers (only averaging two per game for the postseason).
Overall, Reggie has worked hard to grab the backup spot and he was ready when his number was called to be the starter, so it's been a very successful playoff run so far for him.
Grade: A-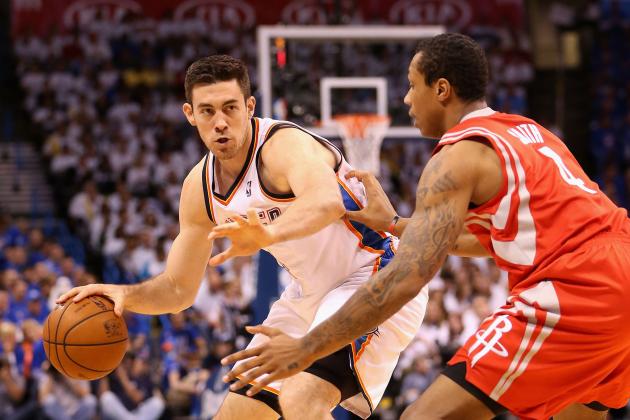 Christian Petersen/Getty Images

It's been a somewhat strange postseason for everyone's favorite hustling big man, Nick Collison.
Collison averaged 18.6 minutes per game during the regular season, but has seen that time decrease in the playoffs, where he's playing just 13.8 minutes.
He played a very good Game 1 against the Rockets, notching eight points on 4-of-4 shooting to go along with five boards and four assists. Since that game, Collison has struggled a bit, including Game 3, where he shot just 2-of-9 in his 17 minutes of game time.
In Game 5, he logged only seven minutes, but made the most of it with six points, two boards and two blocks.
So it's been kind of hard to get a read on Collison's up-and-down kind of play in the last few games, but his play style is a type that factors in far more outside of the box score stats. Therefore, his intangible contributions give him a good enough grade, even if Scott Brooks has been leaving him out of the rotation a bit more than usual.
Grade: B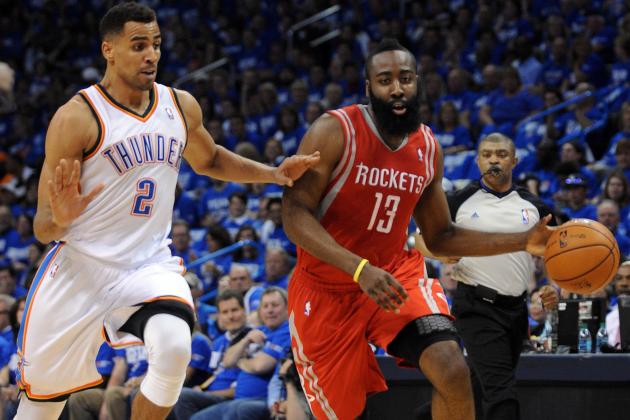 Mark D. Smith-USA TODAY Sports

The Thunder's resident defensive specialist has really expanded his offensive game this season, but he's had a little trouble transitioning that improvement into his playoff performance thus far.
Thabo Sefolosha is shooting just 38 percent this postseason, but has been posting respectable all-around averages of 7.4 points, 3.0 assists, 6.0 rebounds and 1.4 steals per game.
Oklahoma City doesn't play Sefolosha to hit shots, but it's a nice bonus. He's in the games primarily as a defender and mostly on Houston's biggest scoring threat and former teammate, James Harden.
As far as his defensive assignment on Harden goes, Sefolosha hasn't quite been as good as his reputation holds him to be, as Harden's dropped at least 30 points in three of the five games of the series.
Locking down Harden is crucial to OKC closing out this series, and they need Thabo to really focus in on doing that so the Rockets would be forced to use their other, less consistent options on offense.
Overall, though, Sefolosha's effort has been there, but the results are a little less than desired for Oklahoma City.
Grade: C+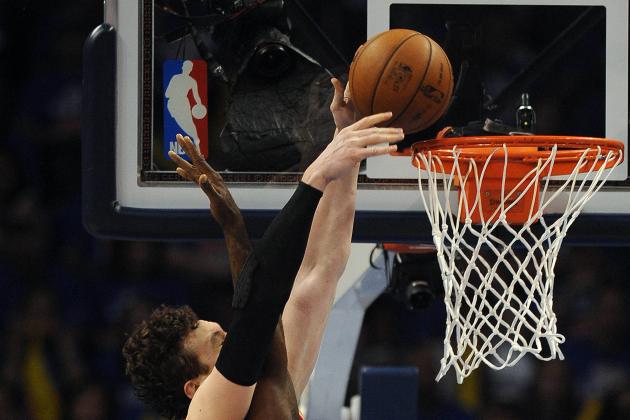 Mark D. Smith-USA TODAY Sports

It's getting harder and harder to defend Kendrick Perkins as the starting center for the Oklahoma City Thunder, especially with how he's performed so far in the postseason.
In his five games during the playoffs, Perkins has just 12 points total and as many fouls (20) as he has rebounds.
I'll be the first to admit that Perkins isn't exactly one of those players who will pitch in significant numbers, but he usually compensates for it defensively. That hasn't really been the case, specifically in the last two days with Rockets big man Omer Asik having monster games of 17 points and 14 rebounds and then 21 points and 11 rebounds in Games 4 and 5, respectively.
Given the fact that Asik's recent 21 points mostly came from the free-throw line due to the "hack-a-Asik" method that Scott Brooks implemented, that strategy only came into play because Brooks didn't trust his defense, an area that Perkins is supposed to be an anchor in.
Nevertheless, Perkins has shown a lot of holes in his game in the second straight postseason, after his poor performance in the most crucial series the Thunder had last season against the Heat in the Finals. There's time to get back on track for Perk, but he's been giving Brooks a lot of reason to adjust the lineups and decrease his floor time.
Grade: D+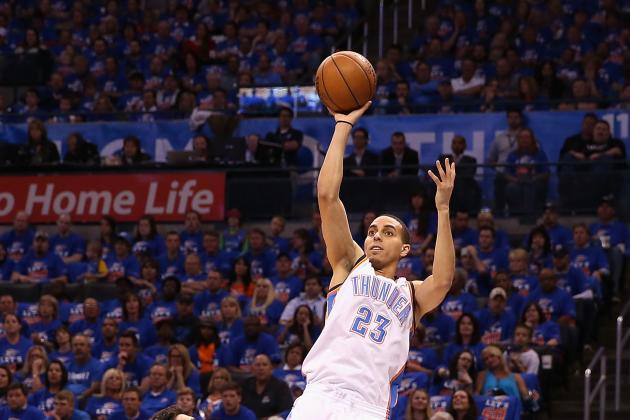 Christian Petersen/Getty Images

Speaking of disappointing, Kevin Martin has struggled in just his second postseason ever.
After a great season where it seemed Martin meshed well into his new, sixth-man role, he has followed it up with a pretty dismal playoff series so far.
Martin is shooting just 30 percent, a far drop from the 46 percent he shot during the regular season, and he had his worst shooting night in Game 5 where he went just 1-of-10 and 0-of- 5 from three-point range.
This is not the type of performance that Oklahoma City needs, especially since they need all hands on deck to keep the offense afloat without their second-best scorer in Russell Westbrook.
There is some hope for K-Mart, though, since he has a track record of being able to get out of slumps. The Thunder, however, are hoping that it's much sooner rather than later.
Grade: C-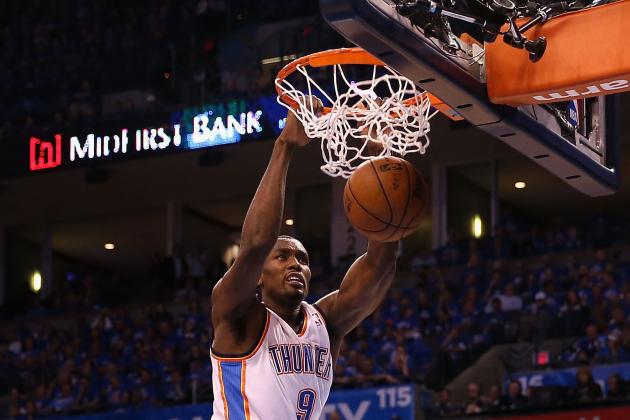 Christian Petersen/Getty Images

Serge Ibaka can make some explosive plays on both ends of the ball, but he's been relatively quiet in a sense during the playoffs.
That quietness has nothing to do with his performance, as he's doing really well numbers-wise (13.6 points, 8.6 rebounds, 3.2 blocks per game). It has more to do with how quietly good Ibaka's been as most of the focus has been on Kevin Durant or Russell Westbrook and his absence.
While the scoring could be a bit higher for Serge, he has played how he's been expected to and more on defense and is rebounding well. More importantly, Ibaka has really helped to pick up some of Perkins' slack to solidify the interior defense of Oklahoma City.
Though it may not seem like it at times, Ibaka is capable of scoring in the 20s if given the ball, thanks to his versatile post game and shooting range.
Overall, Ibaka is playing great all-around basketball, but he could be even better if he sees more touches.
Grade: B+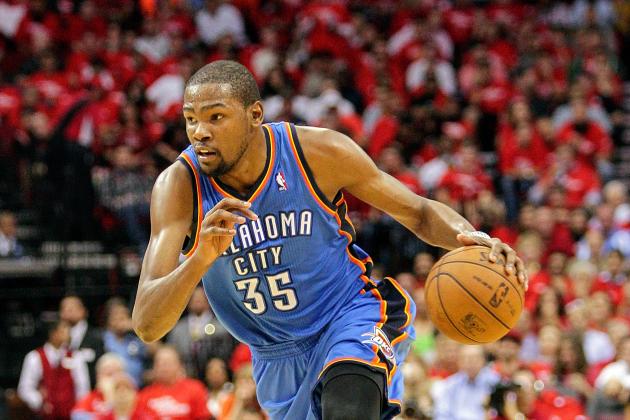 Bob Levey/Getty Images

Perhaps the most interesting part of this whole Russell Westbrook injury was seeing how well Kevin Durant managed to be the lone superstar on the court for Oklahoma City.
There's been countless people claiming that Durant would be much better off without Westbrook, saying that Russell is taking too many shots away from him.
Sure, it seemed like KD would be just fine running the show by himself when he dropped 41 points on the Rockets in Game 3, but there's a deeper truth behind the high scoring.
That truth is that Durant has always had someone to lean on when his shots weren't falling. Don't get me wrong, Durant is an amazing basketball player, but the team's success has depended so much on both him and Westbrook being able to create their own offense. Without Westbrook now, Kevin Durant is forced to try and create everything on his own.
But when KD struggles, his second options are limited and inconsistent. This creates a dreadful mix for the team, which is what we saw in the second half of Game 5, especially in the fourth quarter where Durant was 0-of-5.
Besides his more recent struggles, KD has done everything he possibly could to carry this Thunder team offensively, scoring 41, 36 and 38 points in the games without Westbrook. Additionally, he's been filling in at point guard, and he's been able to rack up some assists (6.0 per game) as a result.
We don't know how much longer Kevin Durant can carry the load that he's used to sharing a lot more equally with Westbrook. What we do know is that his effort will be there night in and night out and for that, he will get the highest grade.
Grade: A+