Washington Nationals: Grades for Every Player in April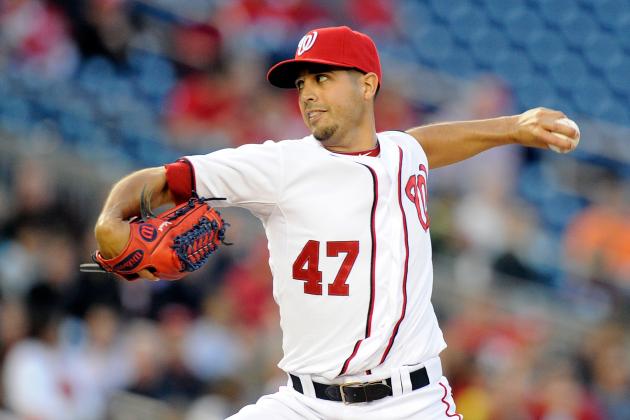 Greg Fiume/Getty Images

There may not be any team in the majors happier to be done with April than the Washington Nationals. With such high expectations entering the season, the 13-14 record they produced in 2013's opening month is both unexpected and disappointing.
That rests solely on the players, as Davey Johnson has done everything possible to put the best product on the field at all times. There are a few players have standout campaigns early on, but many players who were expected to be important players have struggled.
Now that April is in the books, the Nationals should expect their biggest producers to get back on track. Veterans don't often struggle for extended periods of time. With this in mind, Nationals fans shouldn't worry about the fact that they are 4.5 games out of first place in the National League East.
Improvement from key stars will result in higher individual grades, but for now, many players on the Nationals have earned low grades for the month of April.
*Note: Because of Jhonatan Solano's and Anthony Rendon's short stints with the club (or Rendon's inevitably short stint, rather), they have been left off the slideshow. Both would have received "incompletes."
Begin Slideshow

»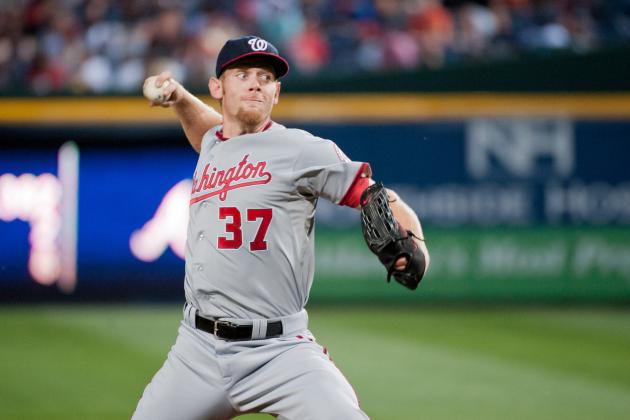 Kevin Liles/Getty Images

For all the hype surrounding Stephen Strasburg this offseason, his start to the 2013 campaign has been so mediocre that it's almost been disappointing.
His 1-4 record is a result of poor offensive showings by his teammates, but he certainly hasn't deserved the opposite record. Strasburg has been a .500 pitcher at best.
He's walked 12 batters in 37.1 innings en route to a 1.21 WHIP. Both of those numbers are uncharacteristically high for Strasburg and unhealthy for pitchers looking to work deep into ballgames. He has struck out 36 batters, though, which is right on par with his career pace of at or over a strikeout per inning.
Strasburg needs to improve on locating his pitches to prevent free passes. His numbers will improve once that happens. All in all, he's been average.
Grade: B-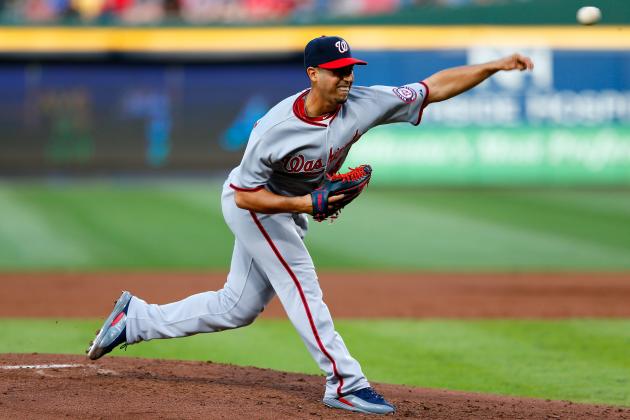 Kevin C. Cox/Getty Images

As last season's third-place finisher in the NL Cy Young voting, Gio Gonzalez could not be pitching much worse through his first six starts. It all comes down to walks.
He's issued 18 walks in 32.0 innings. He's also served up four home runs and allowed 26 total hits. With baserunners on, these hits have scored a ton of runs. Gonzalez has allowed 19 earned runs this season, by far the most on the team.
Gonzalez really needs to pick it up. As one of the team's top pitchers, Gonzalez needs to limit walks and work on getting outs earlier in the count. It's funny saying this, but he's been very unreliable in 2013.
Grade: D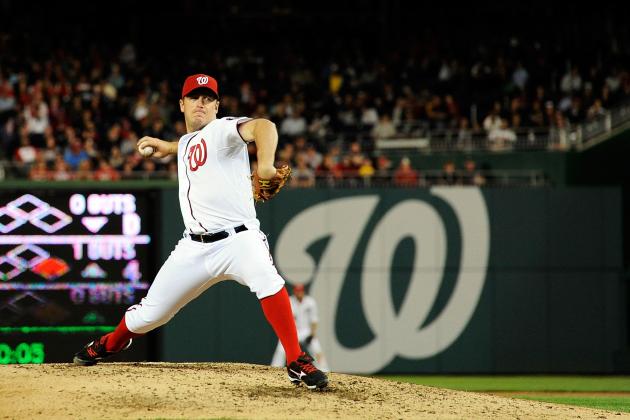 Patrick McDermott/Getty Images

Jordan Zimmermann is one of the few pitchers on the roster that has seen success in the early going. Through five starts, Zimmermann has been simply fantastic.
He sports a 4-1 record, 2.00 ERA, .186 BAA (batting average against) and 0.86 WHIP. These numbers are all leading the team's starters.
The Nationals would be in a much greater hole in the division without Zimmermann. He's already shown improvement from last season's breakout campaign, and his continued success could be a sign that the Nationals will have three legitimate aces for the better part of the next decade.
He's been the unquestioned ace thus far, however.
Grade: A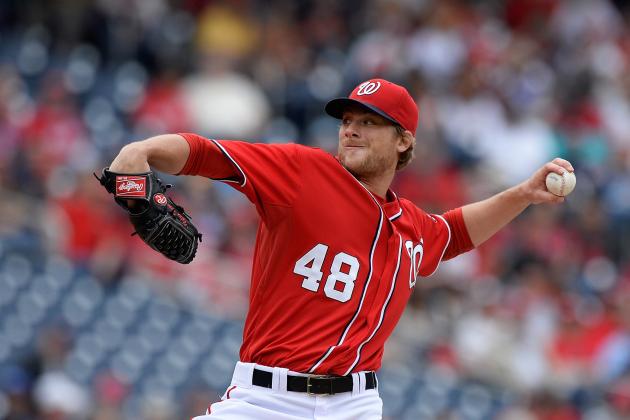 Patrick McDermott/Getty Images

Detwiler doesn't have the nice record that Zimmermann does at 1-2, but his pitching so far hasn't been that far off.
He sports a 2.03 ERA in 31.0 innings, walking just six batters and striking out 16. The most impressive thing is that he's only allowed just one home run.
Detwiler established himself as a legitimate starter in the bigs with his breakout performance last season, and he's continued his progression in 2013. While he may not be able to keep up these great numbers, he'll most definitely be an important starter this season.
The only thing that worries me with him is how many hits he allows. He's allowed 36 hits in 31.0 innings, and batters have posted an average of .298 against him. Pitchers who allow a ton of hits have the propensity to allow runs—it's simple logic.
Grade: B+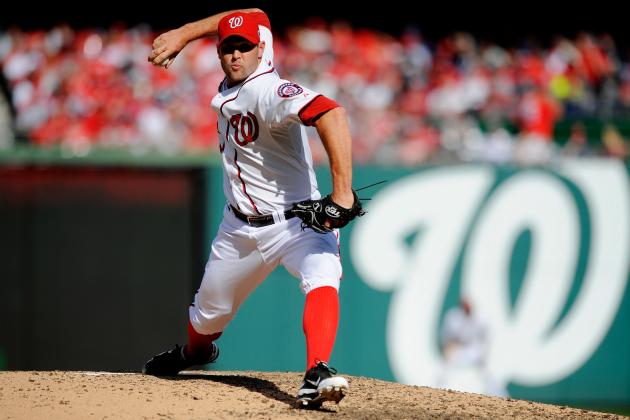 Patrick McDermott/Getty Images

Craig Stammen has been Washington's most reliable reliever—not Tyler Clippard or Rafael Soriano.
His 2.84 ERA is the lowest in the pen, and his 12.2 innings pitched are second to only left-hander Zach Duke. He's struck out 15 batters, which is impressive for a guy that isn't necessarily a power pitcher.
As a late-inning reliever, though, I'd like to see him let fewer runners on base. His WHIP is 1.11, but his BAA is .233. That's not ridiculously high, but I personally like my relievers to be a bit more reliable.
Stammen has been used eight times already because of the unreliability of Drew Storen and others so far, so I expect his numbers to improve when he gets a little more rest in between appearances.
Grade: B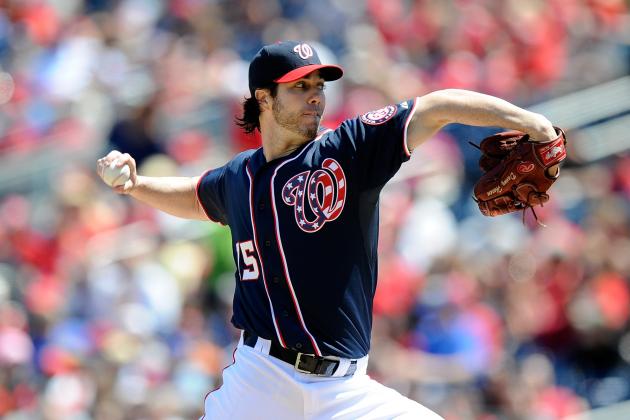 Greg Fiume/Getty Images

Dan Haren appears to be a bust after his horrible month of April. Signed on a one-year deal, Haren was expected to provide stability and veteran leadership to the tail end of the rotation. Instead, he's provided almost nothing of value.
His 6.29 ERA is worst on the team. His .355 BAA and 1.77 WHIP are also team lows. He's even allowed six home runs. Haren has been extremely hittable and has put a ton of hitters on base—this is not a recipe for success.
Haren has the career success in his favor, so Johnson likely won't consider replacing him until after May. If he keeps this production up, Johnson will definitely have to think about making a change.
Grade: F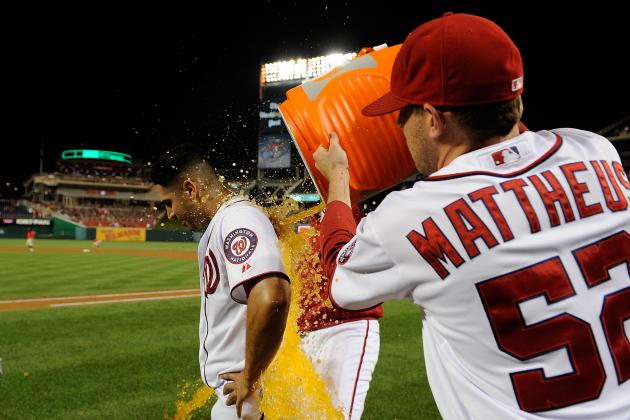 Patrick McDermott/Getty Images

Ryan Mattheus is in the same boat as Stammen. He's already appeared in nine games, and his semi-inflated numbers are likely a result of being used so frequently.
His ERA of 3.27 is respectable for the season's first month, but a reliever as important as Mattheus should have an ERA near a full run lower by season's end. He's already blown a save opportunity and has allowed 12 hits in 11.0 innings pitched.
Couple that hit total with the three free passes he's issued and you've got his WHIP of 1.36. That's certainly not good, but it's not nearly as poor as his .279 BAA. Mattheus has been very hittable, and it's had an effect on the stat sheet.
Grade: B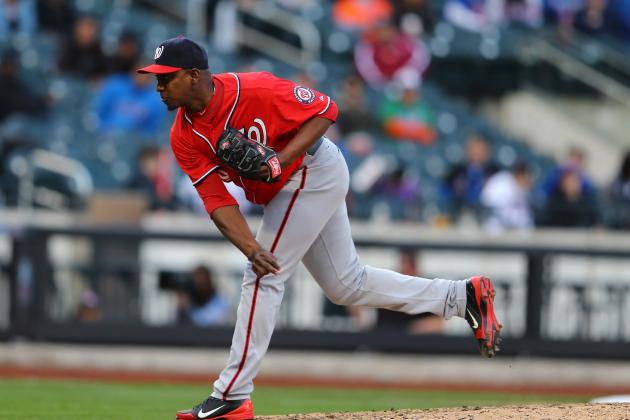 Al Bello/Getty Images

Rafael Soriano, the team's biggest signing of the offseason, has saved seven of the eight opportunities he had in April. You can live with a blown save here or there, as long as they don't come about all that frequently.
His WHIP of 1.00 is right where it should be. So is the .194 clip that the opposition is hitting against him. What's killed Soriano, so far, has been the home run ball.
He's already allowed two home runs in 10.0 innings pitched. If nothing else, a closer's job is to at least keep the ball in the ballpark. Allowing home runs as a closer is generally associated with blowing saves. He'll definitely have to work on keeping pitches down in the zone and hitting his spots in May.
Grade: C+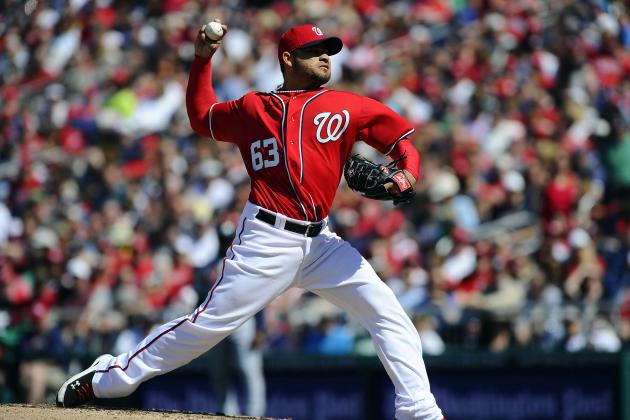 Brad Mills-USA TODAY Sports

Henry Rodriguez is the most frustrating pitcher on the Nationals to watch, and likely, the most frustrating pitcher to manage for Johnson.
His BAA is a stellar .147, but his WHIP is an inflated 1.45. That can be completely attributed to the fact that he's walked nine men in 9.2 innings. It goes without saying that nine walks in that few innings is detrimental to his success.
Surprisingly, his ERA still sits below 4.00 at 3.72. This is mostly because baserunners generally don't advance due to opponents' inability to get a hit. That walk total is scary, though, and it's obvious that he hasn't improved from last season.
Grade: C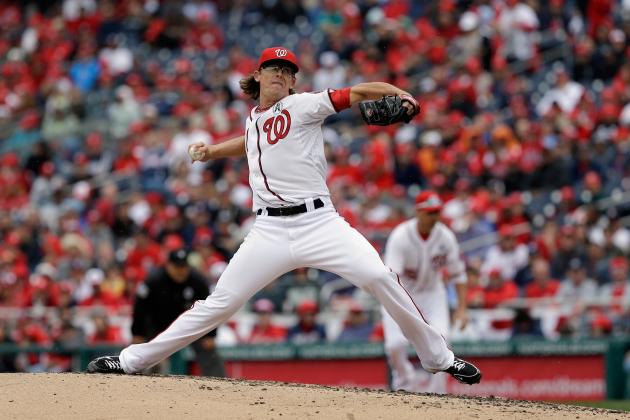 Rob Carr/Getty Images

Clippard has been a huge disappointment, and his issue is similar (although not as extreme) to that of Rodriguez's.
Clippard has walked eight batters in 10.1 innings, giving him a WHIP of 1.26. Opponents also hit .147 against him, just like they do against Rodriguez. As somebody the team relies on to pitch the eighth inning in close games, Clippard will have to stop putting so many runners on base.
Who would have thought that Clippard and Rodriguez would be on practically the same level at the end of April? I actually would not have been totally surprised if Rodriguez matched Clippard's production. With the opposite being the case right now, the Nationals bullpen could be in trouble.
Grade: C-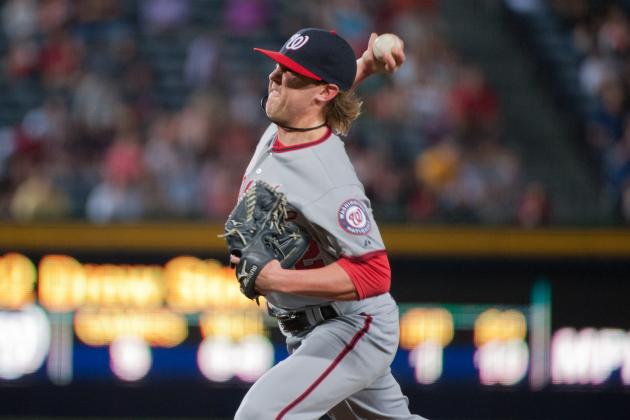 Kevin Liles/Getty Images

Drew Storen, Washington's former closer of the future, has struggled ever since his Game 5 performance against the St. Louis Cardinals in the NLDS.
He's been terribly unreliable over 10 appearances ever since, so bad that his role as the seventh-inning reliever could be in danger. Both Stammen and Mattheus have pitched significantly better.
He sports a 5.23 ERA, and the opposition has hit a ridiculous .333 against him. He's allowed 15 hits in 10.2 innings and has served up two home runs. His WHIP of 1.55 is atrocious.
Storen needs to figure it out soon. He's on the fast track to losing his job and being relegated to unimportant innings in blowouts.
Grade: D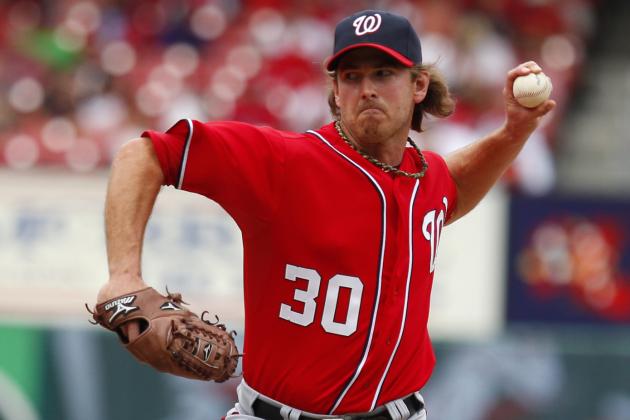 Kyle Rivas/Getty Images

Only one pitcher has been worse than Haren this season—that's none other than left-handed specialist Zach Duke.
As the team's lone left-handed reliever, Duke was expected to at least get out a lefty or two when called upon. Instead, he's allowed nearly everyone to get on base, via either hits or walks.
Opponents are hitting .305 against him, and his WHIP is 1.55. It may be early, but it looks like about that time to consider looking for alternate options. The NL East is filled with strong left-handed bats. Having someone to get those guys out is key.
Grade: F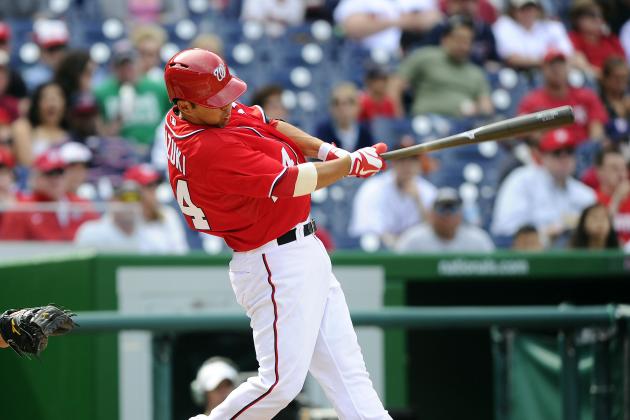 Brad Mills-USA TODAY Sports

Kurt Suzuki has been a pleasant surprise offensively. Known mostly for his defense, Suzuki has actually been able to hold his own at the dish.
He's hitting just .241, but his .348 on-base percentage more than makes up for his inconsistencies hitting the ball. The two home runs and seven RBI he's racked up have also been nice bonuses for the Nationals lineup.
Suzuki really makes his money handling the pitching staff. The pitchers haven't executed well so far, but Suzuki's presence behind the plate has mitigated what could have been a disastrous April for the team's pitchers.
I have no doubts that the Nationals would have fared much worse if Suzuki were not the catcher for 20 of the team's first 27 games.
Grade: B+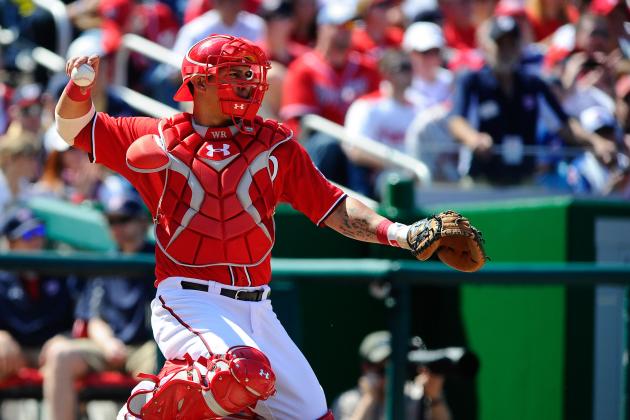 Brad Mills-USA TODAY Sports

Wilson Ramos has not played in several weeks now due to injury, but he hit well in the seven games he was able to suit up for.
Batting averages and on-base percentages aren't very good judges of success after just 23 at-bats, but the fact that he's already hit two home runs is good to note.
Catcher was the weakest offensive position in Washington last season. With Suzuki and Ramos both hitting at least pretty well, the lineup gets a whole lot deeper when everyone else is producing too.
Ramos needs to prove that he's healthy in May to receive a grade when the next batch of evaluations come out in about a month.
Grade: Incomplete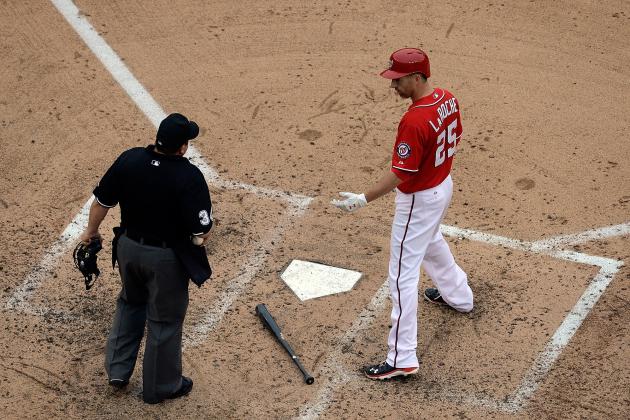 Patrick McDermott/Getty Images

Adam LaRoche has been the biggest lineup disappointment for the Nationals. After a career year in 2012 and a nice new contract during the offseason, LaRoche was expected to come in and continue on the same track that he ended last season on.
Instead, he's essentially been valueless at the plate. His line of .136/.213/.259 is almost laughable. Three of his 11 hits have been home runs, but he's only driven in eight and has just one double. LaRoche has always been known for having patience at the plate, but he's even struggling in that category.
What's most alarming is the fact that he's struck out 29 times. LaRoche is struggling in every meaning of the word when it comes to hitting.
The one thing that's saving him from being a complete failure is his fielding. He's among the best first baseman in baseball.
Grade: D (literally for defense)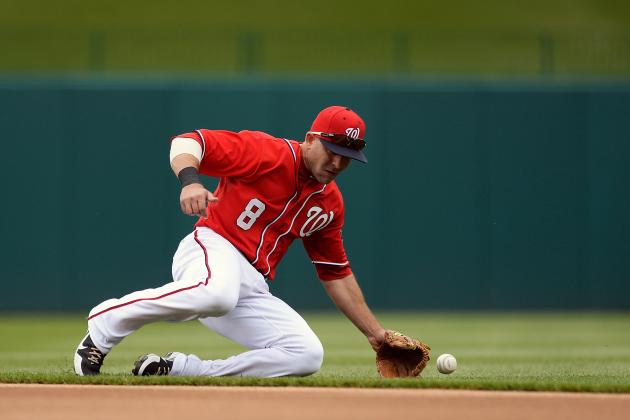 Patrick McDermott/Getty Images

Danny Espinosa strikes out a whole lot—18 times through 81 at-bats, to be exact. He led the National League in strikeouts last season, so it's fair to say that this was expected.
What's really hurting the team is his inability to get on base. He owns an average of .173 and an OBP of .212. With just three walks compared to 18 strikeouts, Espinosa needs to learn to be more selective at the plate.
Likely, the only thing keeping him in the starting lineup over Steve Lombardozzi is the fact that he has slightly more power than the reserve infielder. Espinosa has two home runs and seven doubles compared to Lombardozzi's no home runs and three doubles.
I wouldn't be surprised if the two switch roles come the end of May.
Grade: C-
Al Messerschmidt/Getty Images

Like I said in the previous slide, Lombardozzi may find himself as the starter within the next month or so. That wouldn't, however, be a result of Lombardozzi winning the job—it would come from Espinosa losing it.
Lombardozzi has been just a little better at the plate with a line of .244/.262/.317. He's only driven in three runs, though. The young infielder is more of a contact hitter than Espinosa, but he also doesn't strike out nearly as much as a result. This could prove invaluable to the Nationals.
Moving him into the starting lineup would result in a loss of depth on the bench. This makes a switch unlikely, but Johnson will be forced to consider it if Espinosa keeps striking out at alarmingly high rates.
Overall, Lombardozzi posted a solid April.
Grade: B-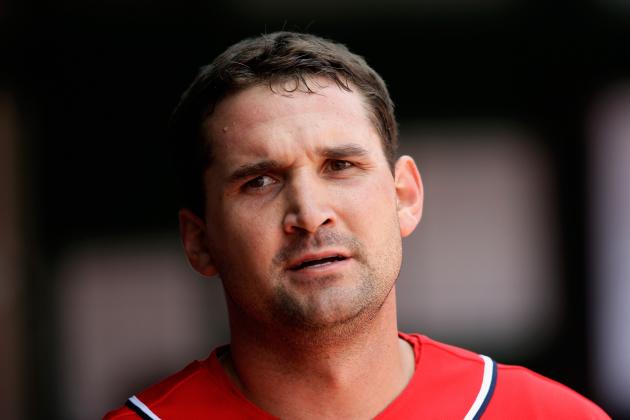 Rob Carr/Getty Images

Ryan Zimmerman may not have been hitting all that well in the 15 games he was active for before going down with an injury, but at least he was knocking in runs.
Even with a line of .226/.311/.358, Zimmerman had already driven in 11 runs before hitting the disabled list. Of his 12 hits, two have gone for doubles, one has gone for a triple and one cleared the fences for a home run. The Nationals expect much more from him, but this type of production can at least be considered passable for April.
Where he's really hurt the team is on defense. Likely related to his hamstring injury, Zimmerman has had problems at the hot corner. Having already committed four errors this season, Zimmerman was in no shape to move laterally or plant and throw.
Grade: C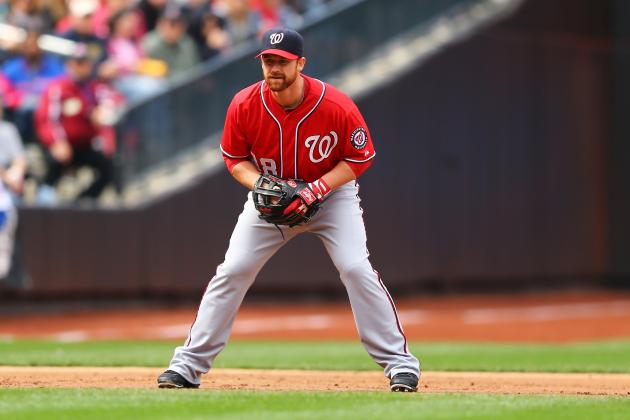 Al Bello/Getty Images

Davey Johnson loves going to his bench to make switches late in games, but the play of his bench has been questionable at best. Chad Tracy is one culprit of poor play, hitting under .200 after 30 at-bats in April.
He's struck out exactly one-third of the time (10) and has only driven in two runs. Tracy has only five hits and hasn't scored a run this season. Defensively, he offers little to no value and is no better than your average third or first baseman.
There's no wonder why the team decided to call up Anthony Rendon to start at third while Zimmerman recovers on the DL. Tracy is too inconsistent to perform well in regular at-bats. He needs to pick it up enough to at least become a valuable pinch-hitter.
Grade: F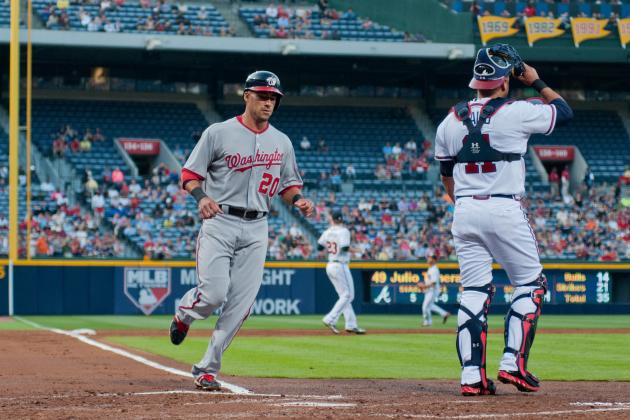 Kevin Liles/Getty Images

Ian Desmond is the lone infielder performing well. He's hitting .301/.318/.524 with three home runs, eight RBI, 10 doubles, two triples and three stolen bases in 103 at-bats.
The only knock I have is that he has struck out 26 times compared to just three walks. I can live with that, though, because of his high batting average and ability to make things happen with his legs.
Desmond has been great towards the bottom of the lineup and has kept the line moving in an effort to put the big hitters at the top of the lineup in opportunities to drive in runs. To this degree, he has done a great job.
Desmond really broke out last season, but it looks as if he's again improving in 2013.
Grade: A-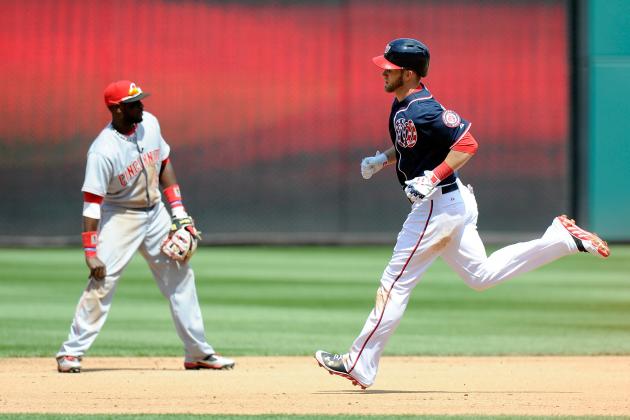 Greg Fiume/Getty Images

Bryce Harper has been the most successful player on the Nationals this season, and a case can be made for him having the best month of any position player in the league.
He crushed nine home runs, drove in 18, hit six doubles, stole a base, scored 18 runs and posted a line of .344/.430/.720. If those aren't MVP-type numbers, then I don't know what are.
Because it is entirely too early to crown anyone the MVP, let's just keep it simple and give him a much deserved "A+" for the month of April.
Grade: A+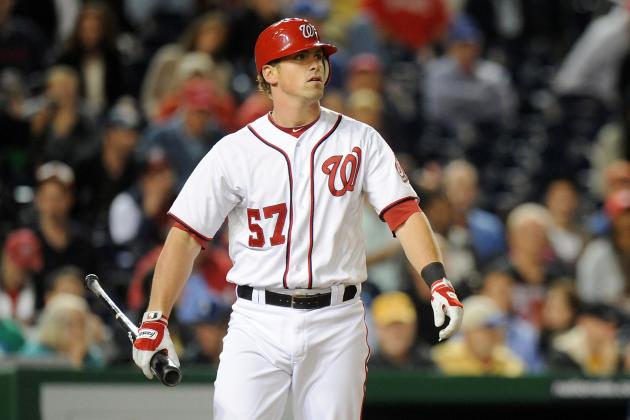 Greg Fiume/Getty Images

Tyler Moore has struggled to find any sort of consistency at the plate in the limited number of at-bats he's received this season. After 25 at-bats, his line sits at .200/.231/.360.
Moore has tallied just four RBI and has struck out 11 times. He's flashed none of the power that made him a huge success in his rookie season in 2012. Moore's name was floated about when talking about the first baseman of the future in Washington during the offseason, but this type of production has silenced those beliefs.
The fact that he's driven in four runs and tallied four doubles in limited time off the bench keeps him from earning a failing grade, but he's in line to fail if his numbers aren't better in a month or so.
Grade: D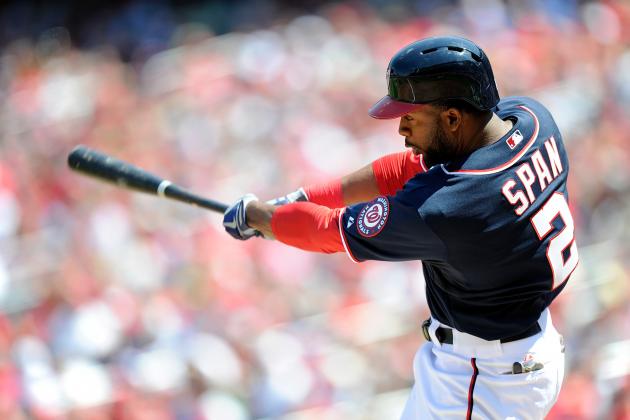 Greg Fiume/Getty Images

Denard Span was believed to be the missing link to a potentially unstoppable offense for the 2013 season. He has performed exactly as expected. Unfortunately, his new teammates haven't lived up to the hype.
Span sports a line of .276/.349/.316 with a triple, nine RBI and four steals, all while playing very good defense in center field. He has scored only nine runs atop the lineup, but that's a direct result of the guys behind him failing to do their jobs.
Even though his numbers aren't the flashiest, I give Span a high grade because of his impact on the team. If anyone else were hitting leadoff for this team at its current level of production, I doubt the Nationals are one game under .500—they're likely much worse.
I won't give him an "A" because of his relatively pedestrian numbers, but I'll give him the highest grade I can without doing so.
Grade: B+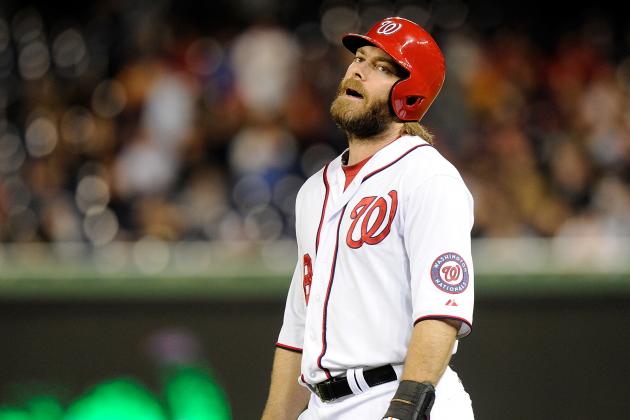 Greg Fiume/Getty Images

After hitting just five home runs in 300 at-bats last season, Jayson Werth has already cleared the fences four times in 98 at-bats. It appears as if Werth has finally blown the dust off his home-run stroke.
Werth provides a lot to the Nationals. Not only is he an important member of the lineup, he is also a leader in the clubhouse and example-setter on the field. Werth gives it his all on every play. This mentality definitely does not go unnoticed among the team's younger core.
He likely wants to raise his average up from .265, but Washington can live with that number if he continues to hit home runs. He's driven in 10 runs, too, so it's clear that he's been able to get the job done without hitting over .300.
Grade: B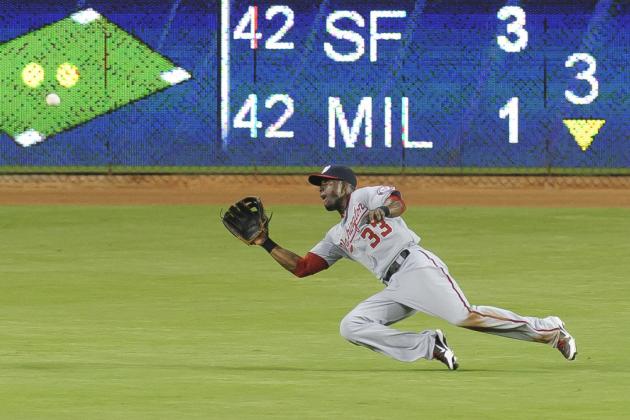 Steve Mitchell-USA TODAY Sports

Roger Bernadina is probably having the worst season of any player named to his respective team's Opening Day roster.
Through 18 at-bats, Bernadina has just one hit, seven strikeouts and one walk. His OBP (.105) is nearly double his batting average (.056), and his OPS of .161 is around half of what you'd like his OBP to be. Bernadina has been down right awful at the plate.
The spark he provides to the team is very important to his game, but he needs to hit better if he wants to see the field more. Johnson has refrained from resting his outfielders because of the incredible struggles Bernadina is going through at the dish.
Washington may be forced to look at Eury Perez down in the minors if Bernadina can't improve soon.
Grade: F