Projecting the 2013 Impact and Stats for Each Cardinals' Draft Selection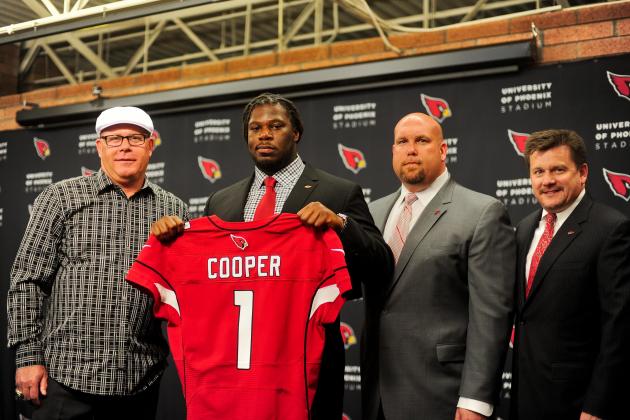 Matt Kartozian-USA TODAY Sports
Bruce Arians (left) and the Cardinals put together a strong draft class.
The Arizona Cardinals had a successful NFL draft, making nine selections and putting together a solid class.
The team picked up two offensive linemen, two linebackers, two running backs, a safety, a tight end and a wide receiver.
Arizona also picked up an extra fourth-round pick by swapping spots with San Diego in the second round of the draft. San Diego used that pick on linebacker Manti Te'o.
They also picked up an extra sixth-round pick when they made a trade with the New York Giants in the fourth round. The Giants wound up taking quarterback Ryan Nassib with that pick.
With the nine players they drafted, Arizona believes all can contribute.
Start the slideshow and see what type of impact they will have in 2013.
Begin Slideshow

»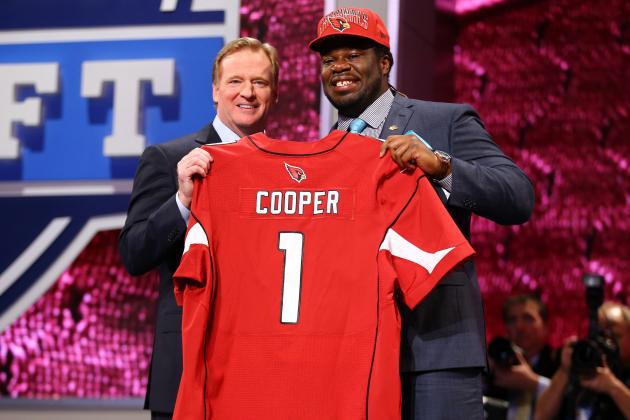 Al Bello/Getty Images
Cooper was the first-round pick for Arizona.
Arizona took offensive guard Jonathan Cooper from North Carolina with its first-round pick.
Cooper is expected to compete for a starting job in 2013.
His path to a starting spot became much easier when Arizona released guard Adam Snyder on Monday.
Snyder started 14 games last season for the Cardinals but was part of the offensive line that allowed 58 sacks.
Impact: Cooper solidifies a shaky line and the Cardinals give up less than 45 sacks for the first time in five years.
The Cardinals' ground game is able to get moving and their yards per carry is more than 4.0 for the first time in recent memory. Cooper can make a strong pulling guard and get to the second level to bolster the running game.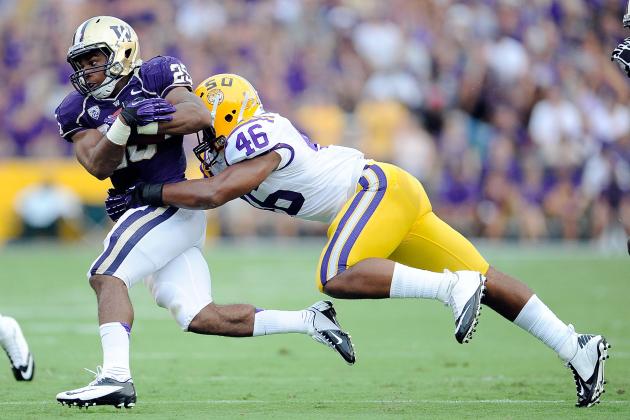 Stacy Revere/Getty Images
Minter (right) chases down a Washington Husky.
Minter should give the linebacking corps a nice boost and that's why he was taken in the second round by Arizona.
He's a linebacker that knows how to stop the run first and foremost—which is what the Cardinals need.
Additionally, linebacker Daryl Washington will be out of the lineup for the first four games of the season. Washington was hit with a four-game suspension by the league for violating the substance-abuse policy.
Minter will have the opportunity to shine from the first game of the season and will benefit from Washington's guidance when he gets back on the field.
Analysis: Arizona stiffens up on run defense as Minter is able to get to ball carriers quickly and be disruptive in the backfield. Stats: 41-63-104, 4.5 sacks, 2 FF, 1 INT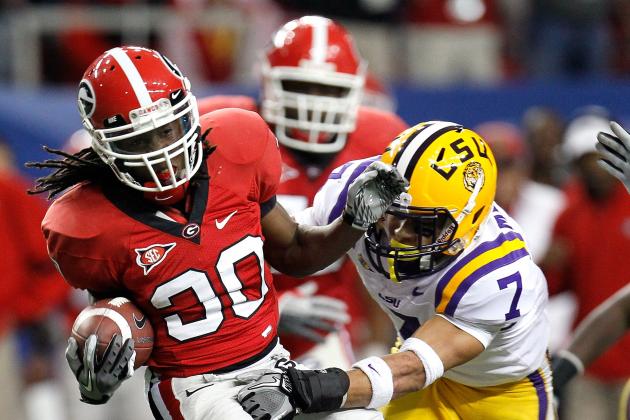 Kevin C. Cox/Getty Images
Mathieu wraps up a Bulldog in the 2011 SEC Championship game.
There may not have been a more polarizing player in the 2013 NFL draft than Tyrann Mathieu, and Arizona took him in the third round.
Some people see him as an aggressive cornerback who can be lethal in the return game and cause turnovers. Others see him for his off-field issues and use that to shape their image of him.
Focusing on his on-field persona, Mathieu measures up short in stature but makes up for it in talent.
Mathieu will likely play free safety and be used in the kick return game to capitalize on his speed.
Analysis: Arizona's pass defense continues to excel and he's going to be a force to be reckoned with in the return game. Stats: 87 tackles, 4FF, 2INT, 37KR, 591 yards, 1 TD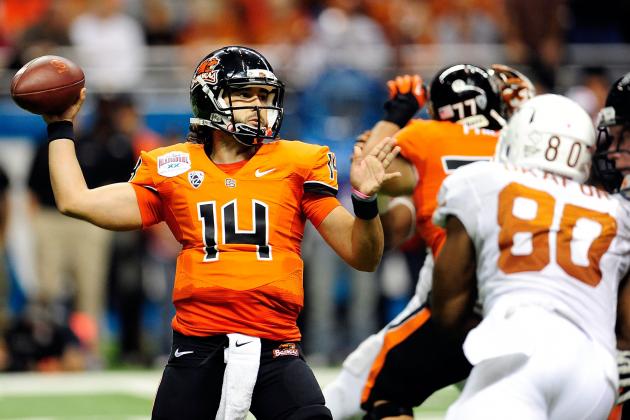 Stacy Revere/Getty Images
Okafor makes a beeline for the Oregon State quarterback.
Alex Okafor was scooped by the Cardinals with the first of their two fourth-round picks.
Okafor has the size (6'4" 264 pounds) to play at the NFL level and can sniff out and shut down the run. In his final season at Texas, he posted 54 total tackles with 16.5 for loss and 12.5 sacks.
He can bring some much-needed pressure from the outside and should be able to spark the defense.
Okafor will also be reunited with fellow college teammate Sam Acho.
Analysis: Okafor should be able to shed blocks and cause much-needed pressure on opposing quarterbacks. Stats: 61 tackles, 7.5 TFL, 5.5 sacks, 2 forced fumbles.
Patrick McDermott/Getty Images
Watford threw blocks for the James Madison Dukes.
Earl Watford was taken by the Cardinals to shore up the offensive line, and the guard from James Madison can be a big force behind that.
Watford (6'4", 300 pounds) possesses 34-inch arms which are huge in the blocking game.
He's quick at the snap and would be perfect in a zone blocking scheme. If Arizona doesn't change into zone blocking, Watford would be able to perform as a pulling guard and give the Cardinals that extra wrinkle in their offense.
Analysis: Watford should help with blocking in the running game.
The Arizona running backs should be able to gain better yardage on power runs while the play-action passing game should see good gains with Watford and Cooper at guard.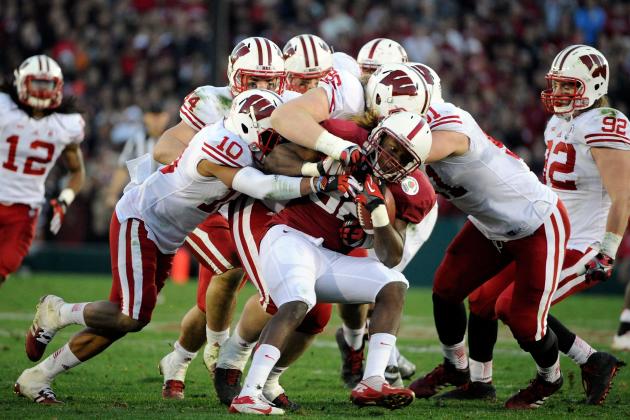 Robert Laberge/Getty Images
Taylor gets surrounded by Badgers at the Rose Bowl.
Taylor was taken in the fifth round by Arizona and is a strong, solid back.
Taylor is going to make his impact felt with his north-south running abilities between the tackles. Taylor can find the holes in the running game and hit them in a hurry.
He doesn't have great breakaway speed so Taylor could be the short-yardage back that Arizona has been missing for a few years.
He can block on passing situations and can make catches out of the backfield so he might make some appearances as a third-down back.
Analysis: Taylor is going to churn between the tackles and put solid but not spectacular stats together. Stats: 102 carries, 474 yards, 4 touchdowns; 13 receptions, 188 yards.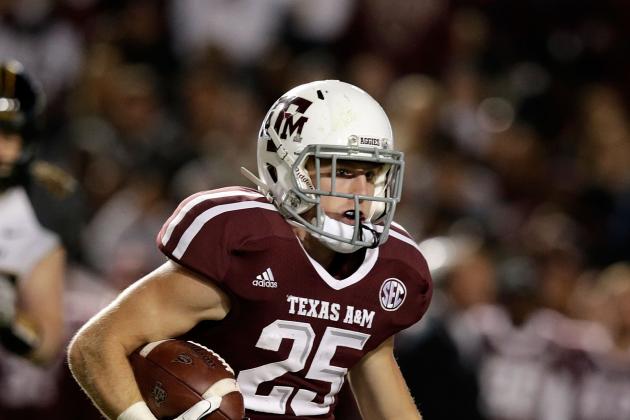 Scott Halleran/Getty Images
Swope looks for extra yardage against Missouri.
Swope is a blazing fast wide receiver that Arizona took in the sixth round of the NFL draft.
How fast, you ask?
Swope ran the 40-yard dash in 4.34 seconds at the combine which was the second-best time among all players. His speed made him a standout at Texas A&M as he posted 89 catches for 1,207 yards, and 11 touchdowns in 2012.
Swope can use his speed and agility to make defenders miss.
Swope looks like he could be the first true slot receiver Arizona has had on its roster in several years.
Analysis: Swope is going to find a fit as a slot receiver in the Cardinals' offense.
With Michael Floyd and Larry Fitzgerald on the outside, Swope looks to fit in the inside quite well. His speed and leaping ability (37" vertical) make him a threat and his ability to pick apart coverages will only add to his value.
He's also not afraid to go over the middle for passes so it gives Carson Palmer another solid option in the passing game. Stats: 61 receptions, 812 yards, 4 touchdowns.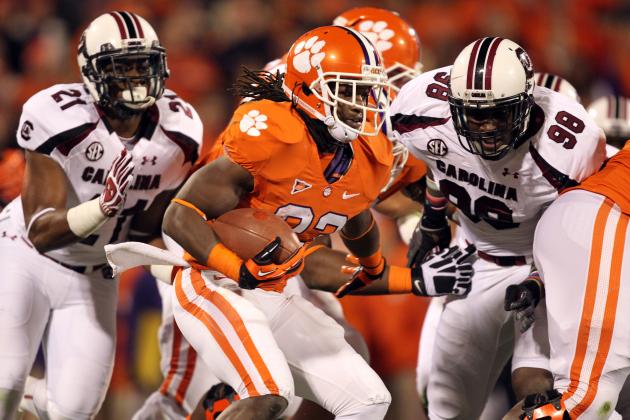 Streeter Lecka/Getty Images
Ellington looks to evade the South Carolina defense.
Ellington was one of the two sixth-round picks Arizona made at the draft.
Ellington is the kind of back who is small but speedy and is a nice compliment to Taylor's powerful bruising style.
He can keep his balance after contact and continues to make lateral cuts and wiggle away from defenders. He has the vision and patience to pick his way through defenses and take what they give him.
Analysis: Ellington is going to add confidence, depth and production to the Arizona backfield and could be on the field for all three downs as well.
Stats: 94 carries, 348 yards, 3 touchdowns; 18 receptions, 188 yards.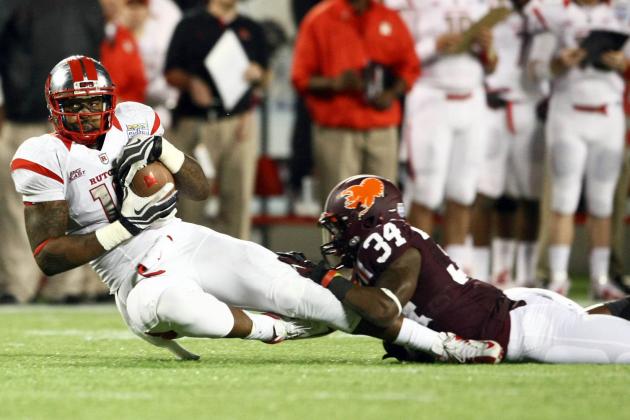 Douglas Jones-USA TODAY Sports
Jefferson, left, makes a catch against Virginia Tech.
DC Jefferson of Rutgers was the last of the nine picks Arizona made at the draft.
He's a large presence at 6'6" and 255 pounds. That could cause some havoc down the seam against linebackers. Jefferson is also a sturdy blocker as well and that's going to be favorable for the Cardinals.
Analysis: Jefferson is more of a blocker and doesn't get involved much in the passing game as evidenced by his 47 catches in 50 career games at Rutgers.
Stats: 18 catches, 142 yards.