Seattle Mariners: Grades for Every Player in April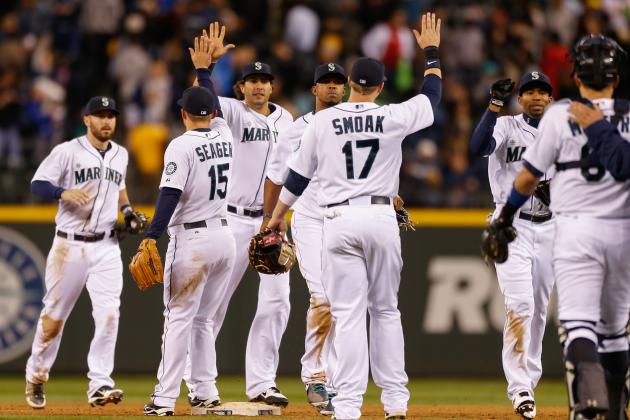 Otto Greule Jr/Getty Images

The first month of the 2013 baseball season is in the books. Hopes were as high as they've been in years for the Seattle Mariners and their crop of young talent combined with some veteran bats, but through 29 games, the offense has remained stagnant and the pitching has been severely inconsistent.
That being said, the team has played more games this season than any other team. In fact, the Twins have played only 23. The Mariners got just one day of rest in April and just completed their 15th straight game without a day off.
Good news though, Seattle gets five days off in May. The bad news, they travel a ton. The M's visit a total of eight cities (including Seattle) in May and play nearly twice as many games on the road as they do at home. At least they'll be rested though, which bodes well for their bullpen, run ragged thus far.
Before I grade Seattle's individual players through one month, I'll first grade the team as a whole.
Pitching: C+
There have been bright spots, but overall the Mariners pitching staff isn't getting it done this season. It ranks near the bottom of the league with a 4.13 ERA and 115 earned runs allowed. It has held hitters to a respectable .246 average, but many of those hits have gone for extra bases, emphasized by a league-worst 38 home runs allowed.
The pitching was so strong last season, and with very few changes to the staff, it was expected to have a repeat performance. Maybe the new Safeco Field dimensions have hurt pitchers more than they've helped hitters to this point.
Hitting: B-
The power numbers are up, buts the runs aren't. The Mariners have a burning case of LOB (runners left on base), and as a result, the offense is scoring just 3.32 runs per game. A total of seven bases have been swiped, which is last in the league, and 219 strikeouts against 79 walks doesn't help the cause. The hits are coming, but not driving in any runs. The home runs are coming, but with nobody on base. For the Mariners to be a good team, they need to move runners along much more than they have been and play more small ball.
Defense: A
The defense has been solid once again this year. The team ranks third and fourth in fielding percentage and errors, respectively. One area that needs improvement is throwing out base stealers. Jesus Montero and Kelly Shoppach have thrown out just three would-be base stealers in 19 attempts, which makes the pitching look much worse than it is given the low WHIP and strong K/BB ratio.
Overall Grade: B-
So far, the Mariners are underachieving and have the ability to turn things around. Many players are finding their swings and helping to rack up double-digit hit totals in the box score. The starting rotation is good for two-three quality starts per week, and that total needs to improve for the team to contend in a competitive American League. Increasing RISP averages and decreasing GIDP totals are also key, and those issues correlate and equally contribute to Seattle's offensive problems.
Without further adieu, here are grades for every Mariners player this season.
*All stats via MLB.com, ESPN.com and Baseball-Reference.com.
Begin Slideshow

»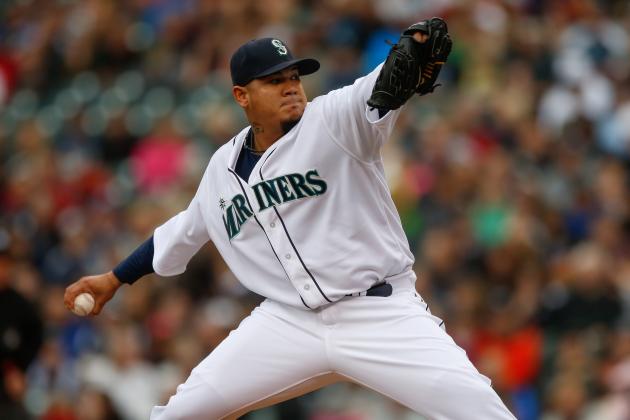 Otto Greule Jr/Getty Images

Breakdown: King Felix is being King Felix. He's pitched extremely well, but his record doesn't reflect it due to poor run support. But through six starts, Hernandez is 3-2 with a 1.90 ERA, 0.96 WHIP, 44 strikeouts, seven walks and has allowed no more than four runs in any start. The season is still early, but it could be the King's best yet.
Grade: A+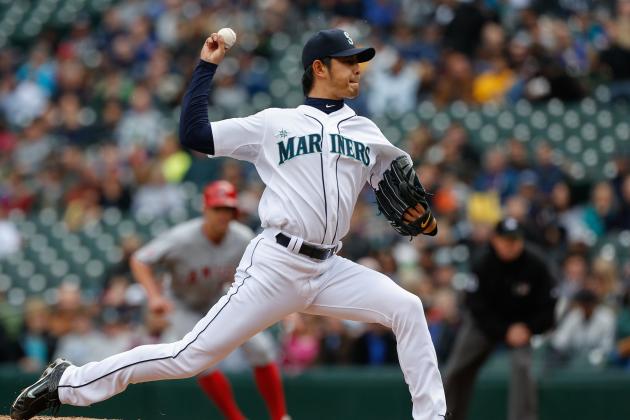 Otto Greule Jr/Getty Images

Breakdown: If you hadn't heard of Felix Hernandez, you would think second-year pitcher Hisashi Iwakuma was Seattle's ace.
He's among league leaders with his freakishly low ERA and WHIP (1.67, 0.69) and has allowed no more than three runs in any start this season. His low pitch counts lead to early exits, which have led to only three decisions, but the Mariners are 4-2 in his six starts, making the organization look very smart for making him one of its top offseason priorities.
Grade: A+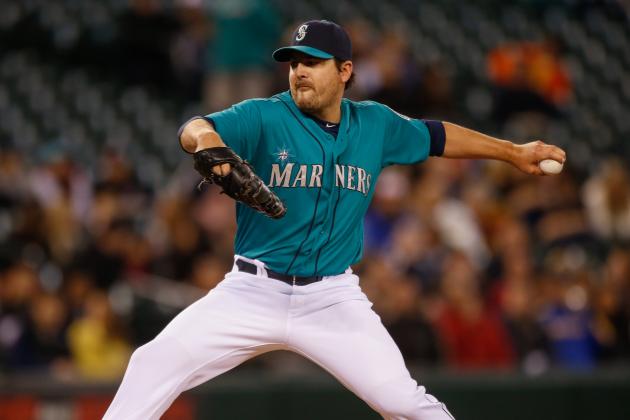 Otto Greule Jr/Getty Images

Breakdown: Joe Saunders' starts this year have been either very good or very bad. In three very good starts, he's thrown 22.1 innings, giving up three runs (two earned) on 13 hits. In three very bad starts, Saunders has gone 13.2 innings, allowing 19 runs, all earned, on 27 hits.
If Joe can consistently pitch the way he's capable of, or even find a happy medium, he and the Mariners will be much more successful.
Grade: C+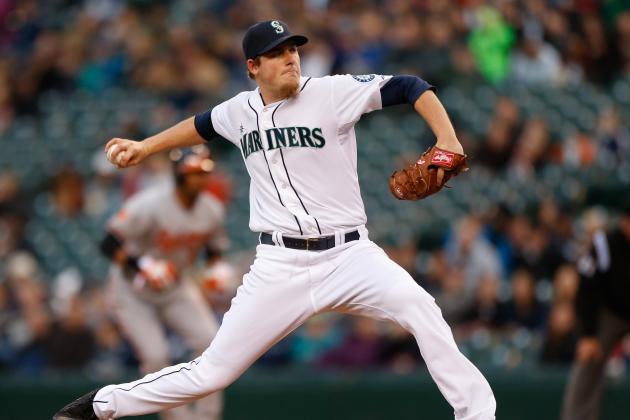 Otto Greule Jr/Getty Images

Breakdown: It's tough to know what to expect from a 22-year-old pitcher making his big league debut on the fourth day of the regular season.
After a promising and impressive spring, the young Brandon Maurer has sputtered through his first six starts. But through the struggles, manager Eric Wedge has stuck with him, and I'm glad he did. Six starts is an extremely small sample size to work with, and Wedge obviously believes in the kid.
He's looked better as of late, and an adjustment period might be just what he needs. He has good stuff, and it'll only get better.
Grade: B-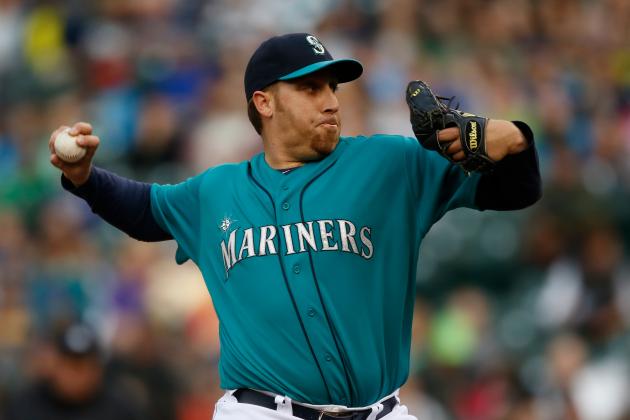 Otto Greule Jr/Getty Images

Breakdown: I know he's only made three starts, but Aaron Harang has looked downright awful. I appreciate general manager Jack Zduriencik's attempt to improve the starting rotation, but so far the experiment has failed miserably.
Harang is 0-3 with an 11.37 ERA. What's more discouraging, he's pitched considerably worse in each outing.
Meanwhile, the player he was essentially traded for, Jon Garland, is pitching well in the back end of Colorado's rotation.
Oops.
Grade: F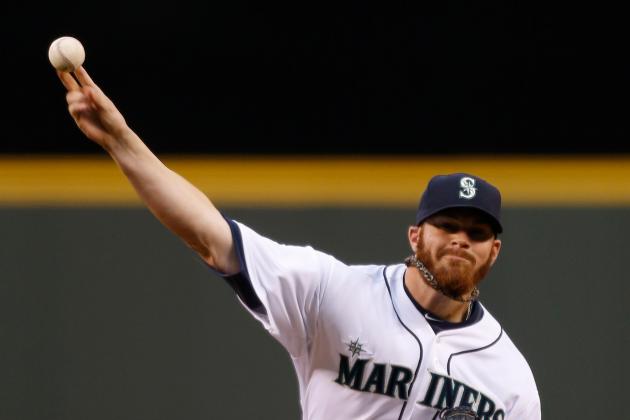 Otto Greule Jr/Getty Images

Breakdown: Blake Beavan was demoted to bullpen duty after just two starts this season and has struggled just as mightily.
He's allowed at least one run in six of seven outings thus far, totaling 19 earned runs in 20.2 innings with an 8.27 ERA.
The Mariners bullpen as a whole has been rocky this year, and it wouldn't be surprising to see Beavan sent to the minors very soon.
Grade: D-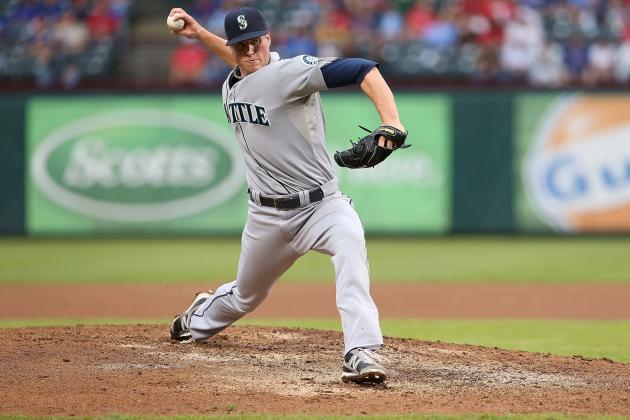 Ronald Martinez/Getty Images

Breakdown: Young fireballer Carter Capps has had a couple bad outings, but overall he's pitched very well and has been a workhorse out the pen this year.
He gets in trouble when he leaves his 97 mph fastball over the plate, but most of the time hitters find themselves unable to hit it. Capps has fanned 19 hitters in 14.1 innings and has a 2-1 record with three holds. He's great for middle or late innings and can toss two innings if needed, a valuable commodity in the bullpen.
Grade: B+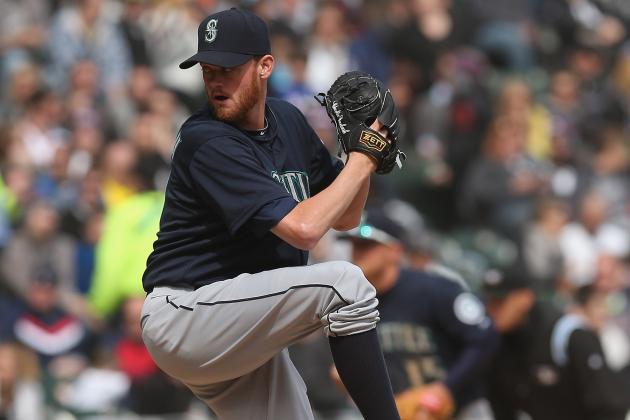 Jonathan Daniel/Getty Images

Breakdown: Mostly used as a left-handed specialist, Charlie Furbush has pitched effectively for Seattle this year. His lanky body and three-quarter release make his off-speed pitches nearly unhittable, especially for left-handed hitters.
One area for improvement is Furbush's K/BB ratio, which is currently at 2-to-1. Being the kind of guy who may come in to face only one batter, walking him half the time can get your club into some hot water.
Grade: B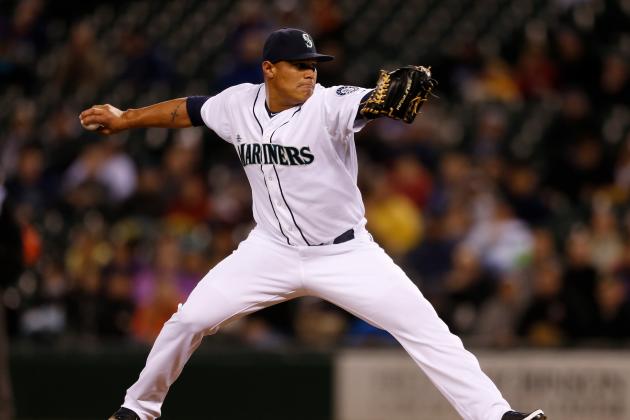 Otto Greule Jr/Getty Images

Breakdown: The 24-year-old rookie has been impressive so far in his young career. Making his major league debut just two weeks ago, Yoervis Medina has done his job out of the bullpen. He hasn't been put into many high-pressure situations yet, so we don't know how he fares in times like those, but easing him in slowly is a good method, and Eric Wedge recognizes that.
His ERA is 2.84, and he's allowed just three hits in 6.1 innings while ringing up nine opposing hitters. Medina is likely to stay with the big club for a while.
Grade: A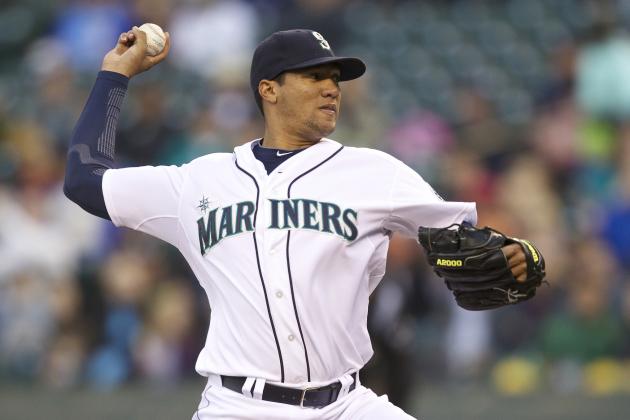 Stephen Brashear/Getty Images

Breakdown: Hector Noesi had a miserable end to 2012, and his spring was just as bad. So when he was called up earlier this month, it surprised me to say the least. But he's pitched well and has established himself as the long reliever out of the pen.
Noesi has only thrown 7.1 innings in three outings, but he's allowed just one run and looks more confident out on the mound. If he can continue to put up strong number out of the bullpen, he might be granted a few starts later on this season.
Grade: B+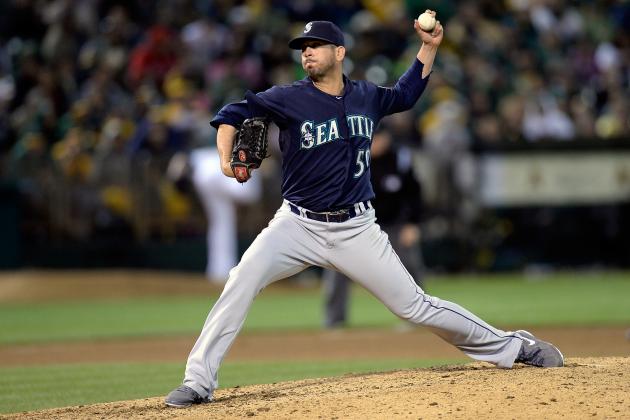 Thearon W. Henderson/Getty Images

Breakdown: When I heard the Mariners had called up Oliver Perez last summer, I wasn't quite sure what to expect. To my pleasant surprise, he's pitched very well for Seattle in his brief stint.
He was impressive out of the bullpen last year and has improved this season. In 11.1 innings, he's given up just one run on six hits, good for a 0.79 ERA. Eric Wedge can turn to him late in the game with confidence.
Maybe he should have been a reliever all along.
Grade: A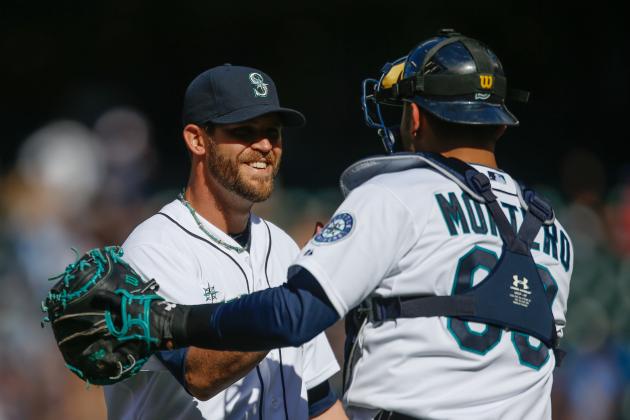 Otto Greule Jr/Getty Images

Breakdown: Ever since he was promoted to closer last season, Tom Wilhelmsen has consistently delivered. He's off to a great start this year, converting on all eight save attempts, allowing one run on four hits in the process.
If he keeps this up, he's likely on his way to his first All-Star Game.
Grade: A+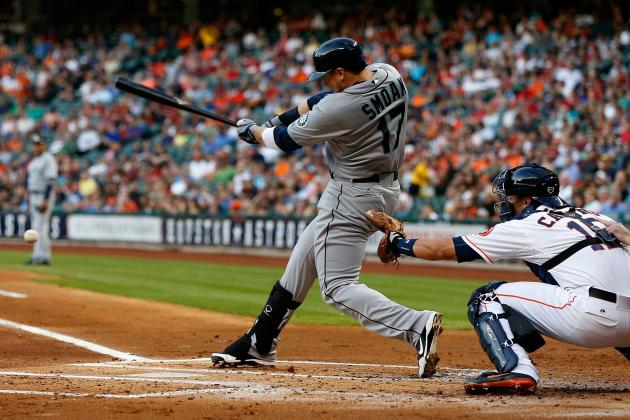 Scott Halleran/Getty Images

Breakdown: Justin Smoak's had a ton of pressure on him ever since he was acquired in the Cliff Lee trade, and so far he's been labeled a bust. After a strong conclusion to 2012 and spring training, hopes were high that he would finally turn things around and be the scary hitter he was thought to be.
He's off to a slow start this year but has shown improvements. He's drawing considerably more walks and has hit safely in six of his last eight games.
Smoak hit just one homer in April, but his recent hot streak bodes well for his numbers going forward.
Grade: C+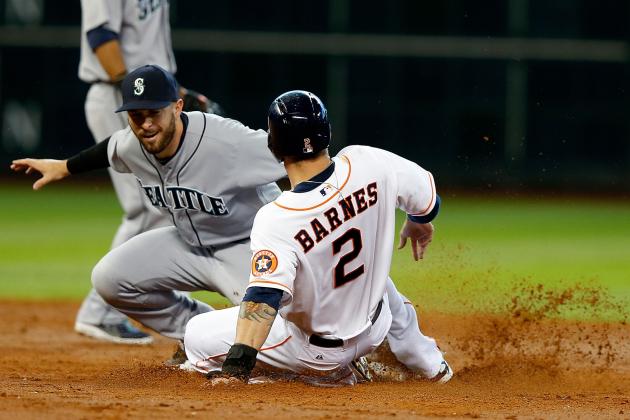 Scott Halleran/Getty Images

Breakdown: Dustin Ackley is another guy who hasn't lived up to high expectations. The second overall pick four years ago, he had tremendous hype as a hitter and utility fielder.
It looked like 2013 might be a rough season for Ackley, as he was hitting just .091 after 10 games. He's turned it on as of late though, actively sporting a 10-game hitting streak. He changed his stance and that's obviously helped, but Ackley needs to show more patience at the plate, as he's drawn just three walks this season.
Grade: B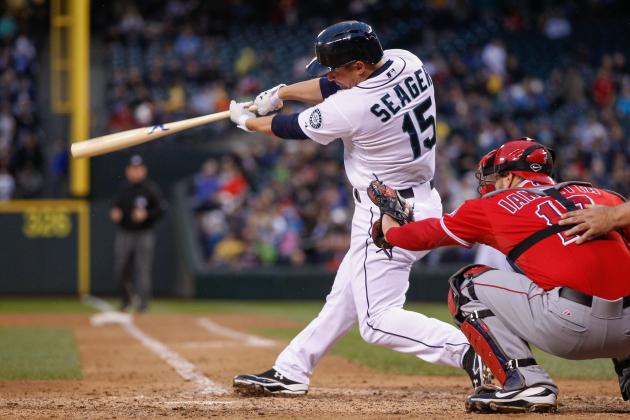 Otto Greule Jr/Getty Images

Breakdown: Without a doubt, Kyle Seager was Seattle's offensive MVP for April. He leads the team in several statistical categories and is among league leaders in doubles with 10.
He recently snapped a 16-game hitting streak, which raised his average from .147 to .301. Seager has been one of the few consistent hitters this season and has set the tone for the rest of the lineup.
Grade: A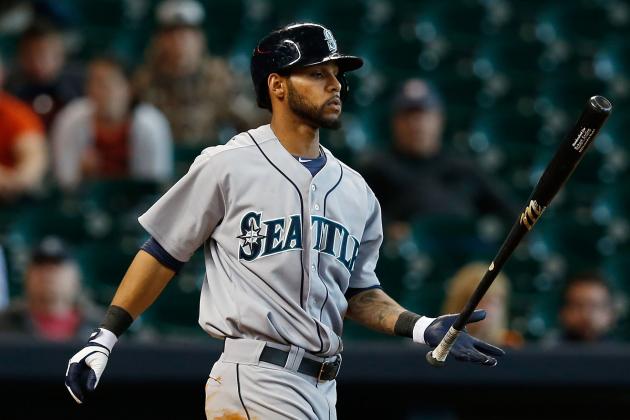 Scott Halleran/Getty Images

Breakdown: Offensively, Robert Andino has never been one to "wow" anybody. But he's a dependable utility infielder and solid glove. He was recently promoted to starting shortstop in hopes that he would produce more than incumbent Brendan Ryan, and he is.
But he's hitting only .200 and rarely gets on base. The Mariners have a serious problem at short.
Grade: C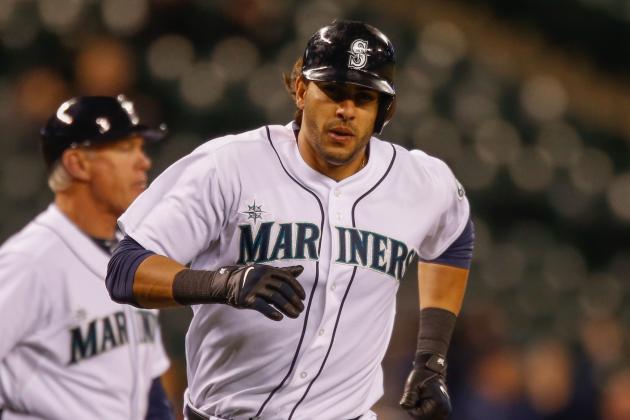 Otto Greule Jr/Getty Images

Breakdown: The return of Michael Morse to Seattle has been powerful. He leads the team in home runs with eight and is a threat to go deep every time he steps to the plate.
After a blazing hot start in which Morse hit six homers in eight games, an injury kept him out of a few games and he went cold at the plate. He's heating back up though, as he's gone yard twice in the team's last three contests.
Now to the negative.
Most of his long balls have been solo shots. It's not Morse's fault, but he's not producing with runners on. He also has as many strikeouts as he does walks and hits. In fact, he's struck out in 18 of 24 games this year.
If Morse can keep hitting home runs but also show more discipline, he could have an All-Star season.
Grade: B+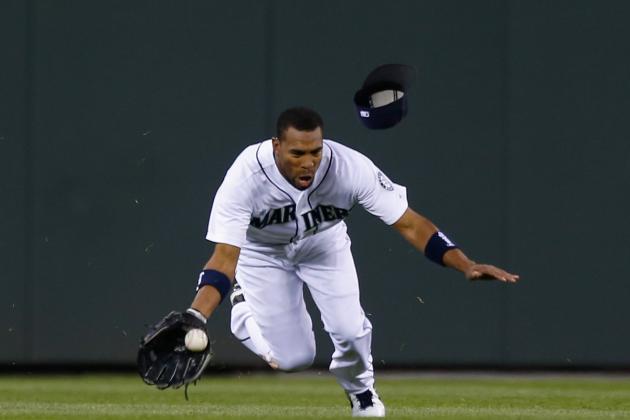 Otto Greule Jr/Getty Images

Breakdown: Barely over a month ago, Endy Chavez didn't have a job in Major League Baseball. Now he's hitting .309 and playing every day in Seattle.
Chavez was signed late in spring training and called up when the entire outfield seemingly got hurt all at once. Ever since he's been the Mariners' most reliable hitter out of the leadoff spot and has been dependable in the outfield. He's another guy who needs to draw more walks, though, and his speed could be utilized more.
When Franklin Gutierrez is finally healthy, the Mariners will have to keep Chavez in the majors. He's played too well to send down.
Grade: A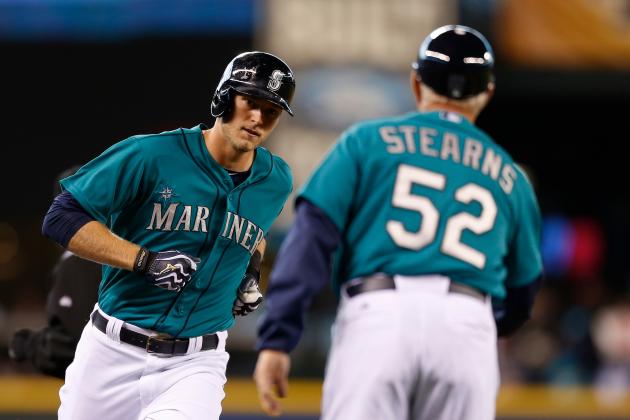 Otto Greule Jr/Getty Images

Breakdown: The Mariners took a big hit when Michael Saunders went down with an injury. I had huge hopes for him this season, and staying healthy was one of them. But when he has been healthy this year, Saunders has been one of the best players on the team.
He's superior in the outfield and is developing into a five-tool player. He slugged a home run in his first game back and appears to have lost nothing in his time on the DL.
Grade: B+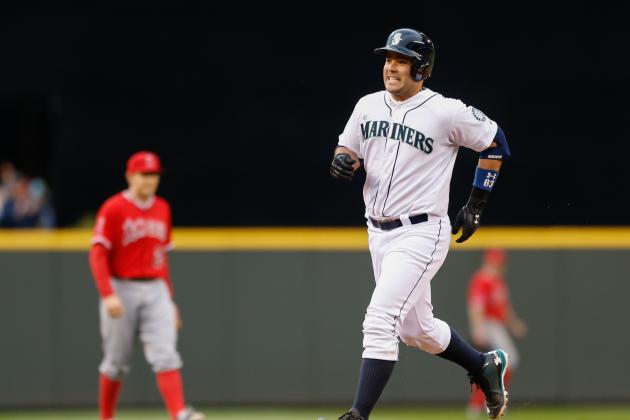 Otto Greule Jr/Getty Images

Breakdown: I'm already beginning to give up on Jesus Montero. I know he's only 23 and has some power, but he's a liability behind the plate and looks like he's in extreme pain when he runs (see picture above). He's been seeing a decrease in playing time this year due to poor play, and his lone highlight is a monster home run against the Astros.
If Montero continues to be unproductive, rookie Mike Zunino could see some big league action sooner than later.
Grade: D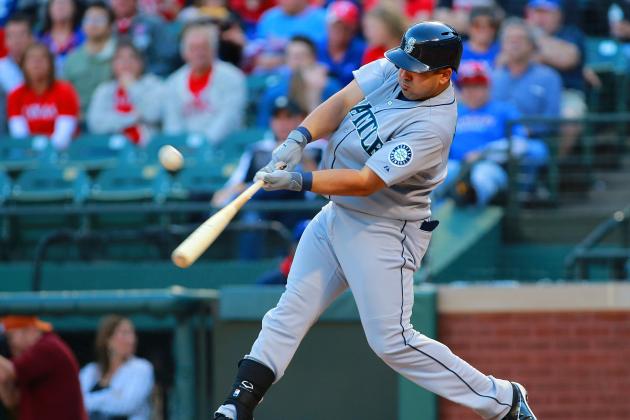 Rick Yeatts/Getty Images

Breakdown: Newcomer Kendrys Morales is off to a bit of a slow start, but he's been consistent. He isn't afraid to work the count and draw walks, and I don't doubt that his average and power numbers will improve.
When he finds his power stroke, the middle of the order with him, Morse and Seager will be dangerous.
Grade: B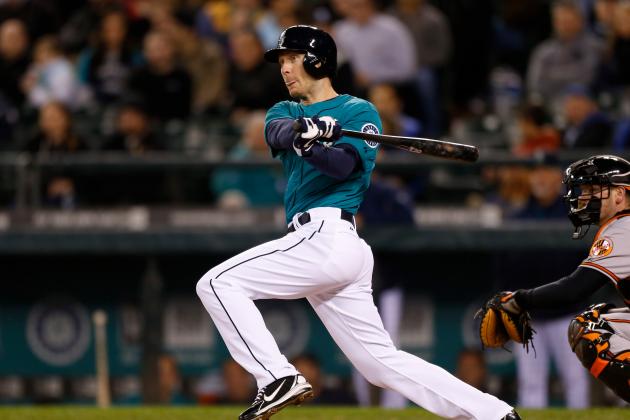 Otto Greule Jr/Getty Images

Breakdown: Most people agree that Jason Bay will never be the Jason Bay of old. But he has played much, much better already this year than he did in past years with the Mets.
He's hitting a very respectable .273 and has slugged a couple homers, making him a solid fourth outfielder. It will be interesting to see what happens when Gutierrez comes off the DL, but my guess is Bay will still get playing time.
Grade: B+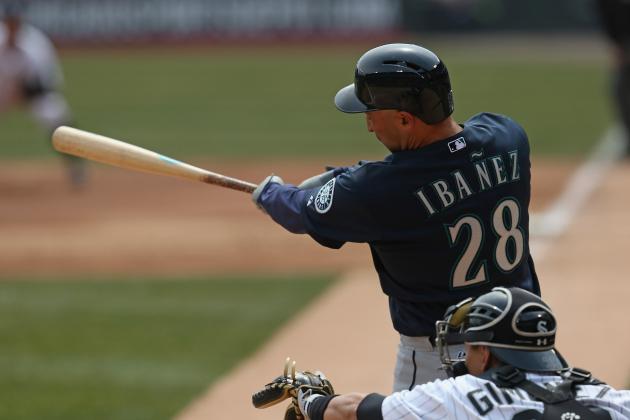 Jonathan Daniel/Getty Images

Breakdown: The return of Raul Ibanez hasn't been as successful. Maybe it was the hitter's sanctuary that is Yankee Stadium, or maybe he's just at the end of a great career.
Ibanez is hitting just .158 this season and has struggled to find his swing. He hit the best when he played consistently, but everyday playing time will be tough to come by with the plethora of outfielders Seattle has on its roster.
I hate to say it, but Ibanez may be the odd man out when Guti gets healthy.
Grade: C-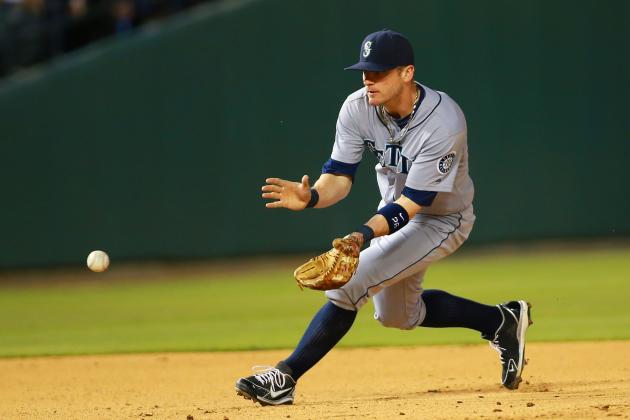 Rick Yeatts/Getty Images

Breakdown: Brendan Ryan's season-long slump is at an all-time low. He's batting just .149 this year, and as great as he is defensively, the M's need to shop for a shortstop.
It was only three years ago that Ryan hit .294 in St. Louis. Maybe Seattle really is where hitters come to die.
Grade: C-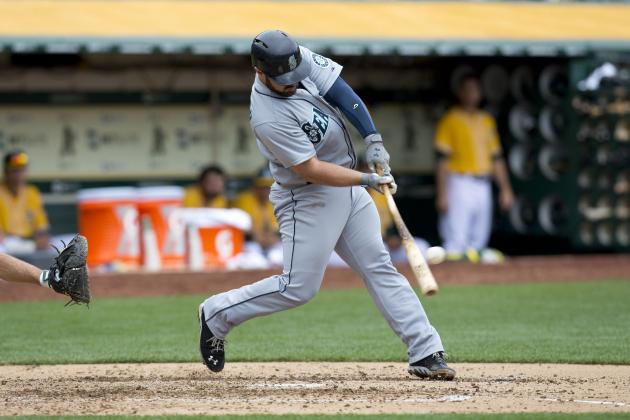 Jason O. Watson/Getty Images

Breakdown: Kelly Shoppach is doing everything better than Jesus Montero. He's hitting .273 with an impressive .804 OPS and is far superior behind the dish.
At this point, it's only a matter of time before Shoppach becomes the everyday catcher, and I think the only reason he isn't already is because Wedge has faith that Montero will turn things around.
Either way, Shoppach provides a positive veteran presence in the clubhouse and can grow one heck of a beard.
Grade: B+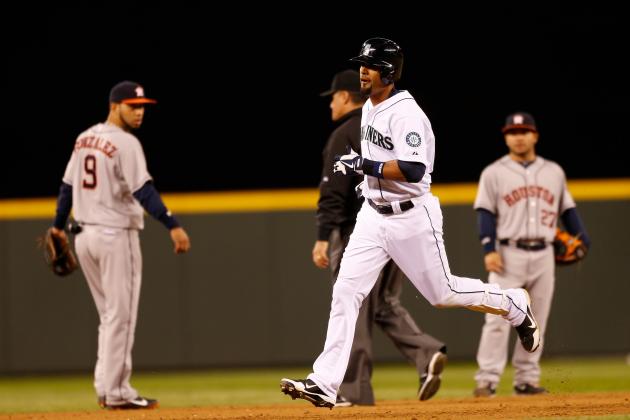 Otto Greule Jr/Getty Images

Breakdown: Franklin Gutierrez was off to a fantastic start until it happened again. Another injury sidelined him for two to three weeks. Stints on the DL are too expected at this point, but Guti's too good when he's healthy to part ways with. He's the most unlucky baseball player in the league.
Before he got hurt, Franklin was hitting everything. His four homers and 10 RBI were among the best on the team, and half of his 14 hits had gone for extra bases.
He'll be greatly missed until he comes back, but when he does, I expect him to pick up right where he left off.
Grade: A