Building the Ultimate Highlight Reel from Miami Heat's Regular Season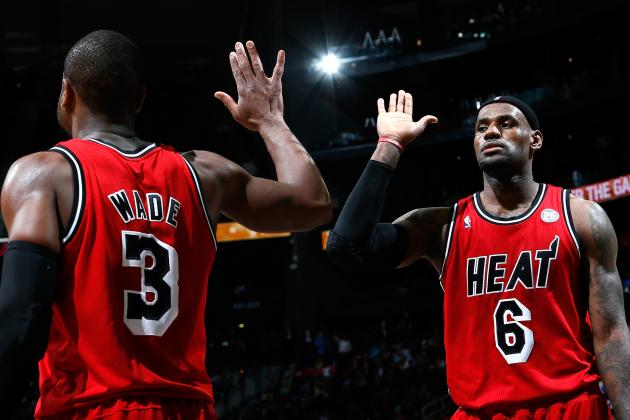 Kevin C. Cox/Getty Images

When LeBron James, Dwyane Wade and Chris Bosh decided to join forces almost three years ago, one of the first thoughts that played through the heads of basketball fans was the highlights the Miami Heat would produce.
And sure enough, the Heat have provided thrills everywhere they've gone over the past three seasons.
This past regular season was no exception, as Miami, Wade and James especially appeared to click in ways rarely seen on a nightly basis in this league. It's why the defending champs strung off 27 straight wins and are now the overwhelming favorites to take it all again this summer.
But it's also why this team is so fun to watch, regardless of your preference for the stars and the Heat organization.
Cramming 10 plays into this list was anything but easy, but this was the result.
Begin Slideshow

»
Not shockingly, the highlight reel begins with LeBron James and Dwyane Wade.
Just days after watching the Miami Hurricanes' Shane Larkin and Kenny Kadji execute an off-the-backboard alley-oop, Dwyane Wade and LeBron James did their best copycat job in Atlanta.
It might not have been the most exciting dunk of the Wade and James era in Miami, but the twist allows this one to crack the top 10.
In a rare occurrence, we have a discombobulated series of events that results in an impressive ending for LeBron James and Dwyane Wade.
James' athletic ability and physical prowess to not only go up and get Udonis Haslem's pass, but also haphazardly control the ball as he loses his balance is already impressive as it is.
It's what he does next that forces this moment into the year's top 10.
While falling and without looking around him, James knows exactly where Wade is, tips him the ball and allows Wade to easily score on the fast break.
Lucky? Perhaps.
But make no mistake about it, this play illustrates just how incredibly comfortable Wade and James are with each other while both are on the court.
The Wade-to-James alley-oop plays are plentiful over the course of the regular season, so it can be difficult to cut down to the elite few of the year. Whether you like finesse, athleticism or pure strength, the Wade-to-James alley-oops vary to fit all preferences.
This one made the cut and rolls in at No. 8 because it contains a rare element.
It's not often we get to see reverse dunks in live-game action, let alone reverse alley-oop dunks. Of course, however, James gives us both here with this eye-popping jam that was set up ever so nicely by Wade.
Apparently Ray Allen, the game's all-time leader in three-point buckets, also knows a thing or two about tossing the perfect alley-oop, as exemplified in this clip.
Not only is Allen's pass picture-perfect, but the play also just so happened to be timed so that Dwyane Wade could posterize Brooklyn's Kris Humphries in the process of throwing down the alley-oop.
We're used to seeing this from LeBron James and Dwyane Wade by now, but Norris Cole got in on the quarterback-like action this year with his long toss to Wade in Toronto.
What stands out to me is that this is a chest pass from Cole, who's still in stride. Hitting a moving target like that, at that distance, is not an easy feat.
And when you consider the fact Cole that was still in motion, it becomes all the more impressive.
It's plays like these that have made it so difficult to dislike LeBron James, at least while he's on the floor.
The most impressive part of this alley-oop is actually not the fact that James tossed it to himself. That has been done before, and quite frankly, James' dunk in this instance wasn't overwhelming compared to other slams in his past.
What sets this self alley-oop apart from the rest is James' creativity and quick thinking.
If you watch closely, you can see that James initially leaves his feet thinking he's going to toss it over to Mike Miller for the alley-oop.
However, once in midair, James has the awareness to realize his teammate is covered, switches hands and tosses it off the backboard for an easy two.
It didn't take long for Ray Allen to win over the hearts of the Miami Heat's fanbase.
Just days into the regular season, Allen completed this four-point play to push the Heat over the Denver Nuggets.
The real question is, though, what would have been said about LeBron James' final-seconds dish had Allen's jumper rimmed out?
As recently as two years ago, LeBron James was constantly criticized for his inability to perform down the stretch.
Whether it was avoiding the last shot or hitting the back of the rim, fans and analysts alike were always quick to call out the Heat's star for lacking the clutch gene.
All of that criticism is now long gone, and James hasn't looked back since.
In this moment, there was no dishing to teammates, and there was no hesitation.
James went for the kill and nailed it, propelling Miami to its 23rd straight win and downing the Boston Celtics in the process.
He's never come out and directly said it, but it's pretty clear Chris Bosh relishes any opportunity he gets to serve as Miami's alpha dog.
And with both LeBron James and Dwyane Wade sidelined with injuries, that rare opportunity again presented itself to the Heat's prized forward.
This time, Bosh hits a smooth three from straight on to give Miami the win on the road in San Antonio.
You knew it was coming. It had to be.
In fact, I wouldn't be surprised if some of you skipped ahead until you found it.
LeBron James' posterization of Jason Terry was not only one of Miami's top plays of the season, but it was also one of the top moments of the entire NBA regular season.
The explanation for this one isn't necessary. Just click play and enjoy.