Minnesota Wild vs. Chicago Blackhawks: Live Score, Updates and Analysis
The 2013 NHL Stanley Cup playoffs began with a thriller in the Windy City. Top-seeded Chicago survived a major scare from upstart Minnesota, prevailing 2-1 in overtime.
The Blackhawks overcame the Western Conference's eighth-seeded squad when Bryan Bickell beat Wild goalie Josh Harding with an excellent move to his right. Teammate Viktor Stalberg set up the game-winner with an excellent inside feed.
Despite ending up on the wrong side of the scoreboard, Harding was the story of the night. He made was sensational throughout his first playoff start after Minnesota goalkeeper Niklas Backstrom suffered a leg injury during pregame preparations.
Harding stopped 35 shots but his counterpart, Corey Crawford, kept Chicago alive with crucial stops during the game's late stages. A valiant effort by Minnesota but it's the Blackhawks who start this series with a win.
Chicago 2, Minnesota 1 (overtime)
Blackhawks lead series 1-0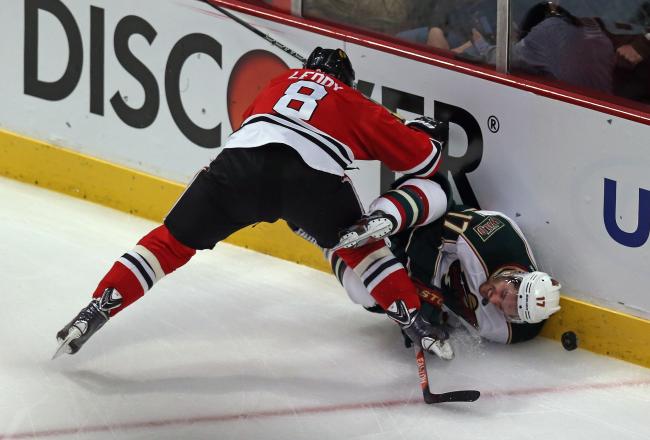 Harding couldn't come up with save No. 35. Chicago takes game one when Bryan Bickell puts on a beautiful move to beat Harding off a well-placed pass from teammate Viktor Stalberg.
Great effort by Minnesota, but the Western Conference's top seed prevails 2-1. The decisive goal came with 3:25 remaining in overtime.
Tremendous chances on both ends of the ice. Patrick Sharp nearly punctuated the game with a rebound effort but Harding again stays in front.
The goalie who began the day expecting to take a seat on the bench has been tremendous. Harding has 34 saves in his first playoff start.
3:55 remaining in overtime...
The Wild begin power play with 12:26 remaining in this first overtime. With under a minute remaining on the man-advantage, Chicago evens things up when Tom Gilbert picks up a holding penalty.
We'll have four-on-four hockey for 52 seconds.
Chicago standout Marian Hossa nearly notched his second goal of the game to put this one away. He worked to Minnesota goalie Josh Harding's right but Ryan Suter stayed with him just enough to create a difficult angle on the shot.
Harding extended his stick left and knocked away the would-be game-winner. Suter has been sensational throughout the game, validating the team's high-profile pursuit of the coveted free agent defenseman last summer.
Minnesota takes a time out with 15:22 remaining in overtime.
Overtime has commenced in Chicago (Los Angeles and St. Louis are also headed to an extra session).
In the playoffs, it's a 20-minute period. Action continues indefinitely until the next goal ends this series-opening thriller.
Many pegged this as an extreme mismatch. Minnesota is turning heads against the Western Conference's top seed tonight.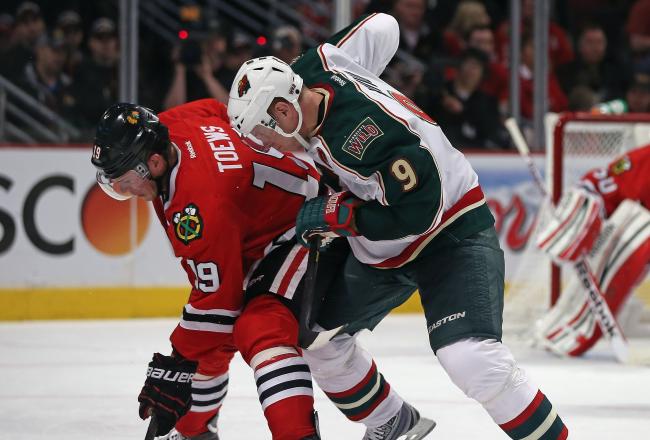 It didn't take long for the Stanley Cup playoffs to remind us how amazing this postseason tournament can be.
Chicago and Minnesota are headed to an extra session. The Blackhawks, already a heavy series favorite, had to be licking their chops when Wild starting goalie Niklas Backstrom was scratched after suffering a pregame leg injury.
Instead, one of the NHL's most intimidating offensive attacks has been stymied by replacement goaltender Josh Harding. He owns 27 saves through 60 minutes of action.
Stay tuned for coverage of overtime in Chicago.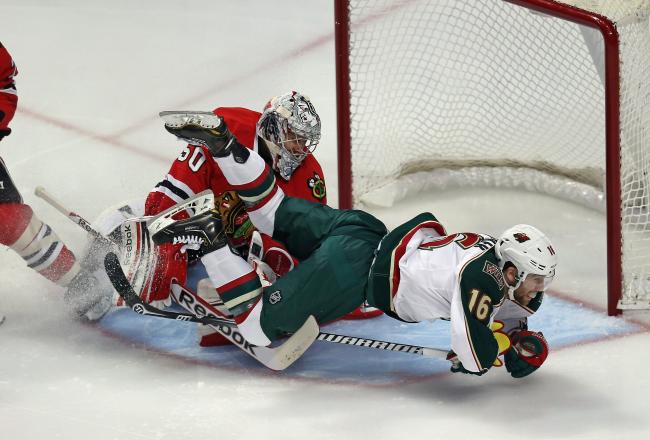 Chicago goalie Corey Crawford suddenly has 19 saves after staving of a few Minnesota flurries in a short span. The 28-year-old has made some highlight-reel stops in this third period to prevent the eighth-seeded Wild.
Chicago is still sputtering on the offensive end. A team built on scoring can thank its goalie for keeping this a tie game.
This is scary territory for the league's most successful regular-season squad.
Still 1-1 with 3:30 remaining in regulation.
Minnesota went on the power play as the third-period clock dipped below 13 minutes. Corey Crawford comes up with some monster saves on a few excellent Wild attempts inside.
Great opportunities for Minnesota on the man-advantage, but Chicago kills the penalty. It's still a 1-1 game with 10:20 remaining in regulation.
Chicago has stepped up its offensive efforts here in the third period, posting seven shots in the first seven minutes of action. Despite some great looks for the Blackhawks, it remains 1-1.
Tip of the cap to Harding. For getting the call late he's doing well. #Blackhawks #Wild

— South Side Slugger (@SoxHawksNBulls) May 1, 2013
Minnesota goalie Josh Harding continues to be the story here. He's certainly gaining respect with every save, even from opposing fans...
The top-seeded Blackhawks head into the third period locked in a dogfight against Minnesota. The Wild scored less than five minutes into the matchup and Chicago veteran Marian Hossa knotted the game at one goal apiece with a second-period power play goal.
Chicago has outshot Minnesota 16-13. A game that began with a recipe for an opening-round blowout is extremely intriguing with 20 minutes remaining in regulation.
Stay tuned for updates throughout the third period!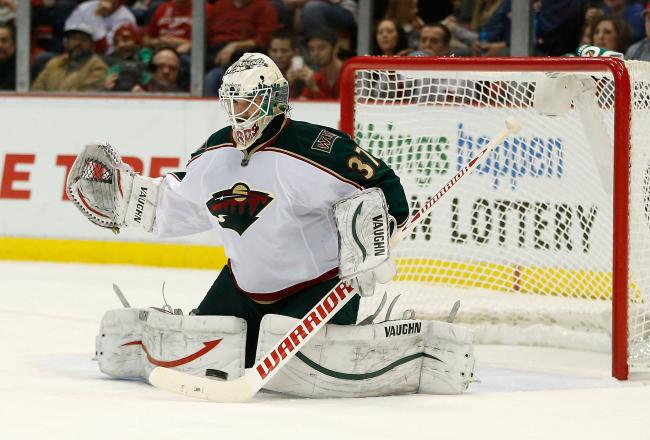 Prior to the season, Minnesota goalie Josh Harding was diagnosed with multiple sclerosis. Although he's only playing because of an unfortunate pregame injury to NHL wins leader Niklas Backstrom, the veteran is standing tall on the national stage.
Harding has stopped 13 of 14 shots Chicago has sent his way so far tonight. The Blackhawks and Wild remain locked in a 1-1 stalemate with 4:40 remaining in the second period.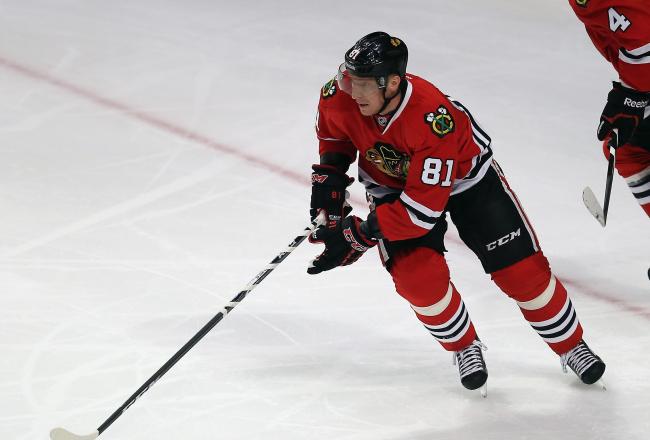 Hossa continues to be a postseason star. He capitalized on excellent pass and blew a shot by Minnesota goalie Josh Harding.
We'll see if Harding's cage is rattled. He's stood tall so far.
The Blackhawks are on the board!
Marion Hossa scores the game-tying goal off passes from Patrick Kane and Duncan Keith.
The second period has started in Chicago. We'll keep you posted throughout the duration of this first-round Western Conference collision,
Through one period of play, the Minnesota Wild are ahead of Chicago 1-0 despite losing starting goalie Niklas Backstrom during pregame session.
Both teams have tallied six shots on goal. Cal Clutterbuck scored 4:48 into the game on the Wild's first shot of the contest.
Stay tuned for second-period action!
Wild goaltender Niklas Backstrom was reaching for a puck during warm-ups and appeared to injure left leg. #Blackhawks

— Chris Kuc (@ChrisKuc) April 30, 2013
The latest on Niklas Backstrom injury from Chicago Tribune reporter Chris Kuc...
Minnesota, already without starting goaltender Niklas Backstrom, sees standout defenseman Clayton Stoner head to the locker room after a violent collision on the boards.
The Wild may be winning, but these injury losses are likely to impact this game at some point. Chicago is simply too strong not to exploit the absences.
A quiet crowd of Blackhawks still waiting to be awakened.
The game has entered an offensive lull as these teams feel each other out early in the series. There hasn't been a shot on goal in five minutes.
Minnesota still in front 1-0 with 4:44 remaining in first period.
The game has entered an offensive lull as these teams feel each other out early in the series. There hasn't been a shot on goal in five minutes.
Minnesota still in front 1-0 with 4:44 remaining in first period.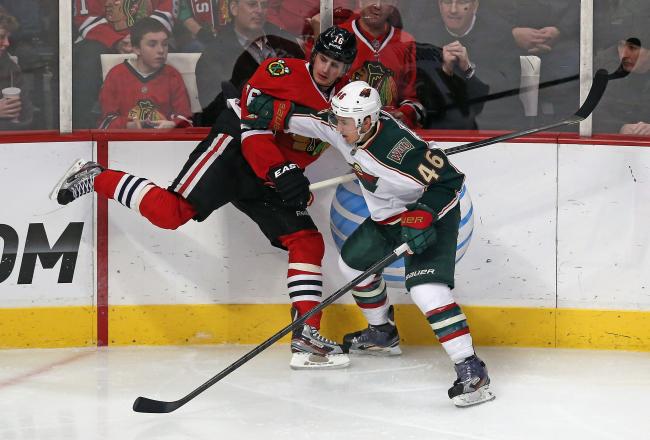 Minnesota kills the penalty and has clearly brought more intensity to the ice than its heavily favored host. The Wild, playing with backup goalie Josh Harding, are aggressive and communicating well.
Harding replaced Niklas Backstrom, who finished tied for the NHL lead in wins, following a pregame injury. He has stopped all five shots the Blackhawks have sent his way so far.
Harding allowed two goals on four shots against Chicago in January before being pulled in the first period. There's no one to replace him on the Minnesota bench right now so it's his show all the way.
6:35 remaining in the first period...
The Blackhawks have an immediate opportunity for a rebound. Chicago goes on the man-advantage as Minnesota's Mikko Koivu picks up a hooking penalty.
Chicago came up empty on its final eight power plays of the regular season.
The Wild didn't waste any time shaking off the Backstrom injury. Minnesota seized an early lead when Cal Clutterbuck cashes in on an excellent feed from teammate Clayton Stoner 4:48 into the game.
The Chicago crowd has quickly fallen quiet. Not an ideal start for the NHL point leader.
Wild 1, Blackhawks 0
Well we have a game-changer before the Blackhawks and Wild square off. With Minnesota goalie Niklas Backstrom out, backup Josh Harding will start against an intimidating Chicago offensive attack.
Harding's last start came on Jan. 30 against the Blackhawks. He surrendered a pair of early goals and was pulled in the first period.
More on potential Backstrom pitfall from Minneapolis Star Tribune reporter Michael Russo, who confirms that Backstrom is out. What a sudden turn of events.
Josh Harding WILL start tonight for #mnwild vs #blackhawks; Backstrom injured warmups reaching for rebound

— Michael Russo (@Russostrib) April 30, 2013
Minnesota goalie Niklas Backstrom has been a consistent force between the pipes this season. It's imperative for the Wild to receive superstar play from the defensive backstop against a high-powered Blackhawks offense.
Could be a big story brewing here. Niklas Backstrom left the ice during warmups #mnwild

— Michael Russo (@Russostrib) April 30, 2013
However, we're getting word that there may be a major late-breaking development taking place on the ice minutes before the series starts...
This article is
What is the duplicate article?
Why is this article offensive?
Where is this article plagiarized from?
Why is this article poorly edited?