Poking Holes in NBA Playoff Cliches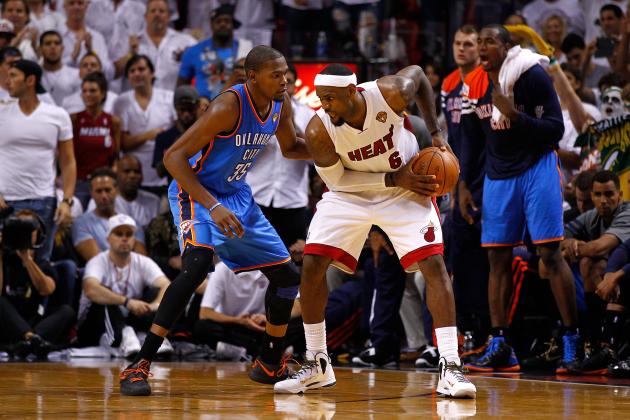 Mike Ehrmann/Getty Images
No cliche does LeBron's 2012 playoff performance justice.
The problem with NBA playoffs cliches is that they are too extreme to actually be applicable.
There's too much nuance in the postseason for those kinds of hyperbolic blanket descriptions. Though the action might be predictable, some so-called truisms have too many outliers to actually be accurate, while others are just downright false.
Chalk that up to how the game is covered. Fans naturally look for patterns, trying to link what they're seeing or about to see to something they've seen before. That said, cliches can be too general or too reductive for the moment in question; they fail to do these high-pressure games justice.
As the playoffs progress, you're liable to encounter most, if not all of these terms. When you do, remember to take it with a grain of salt and keep context in mind.
Begin Slideshow

»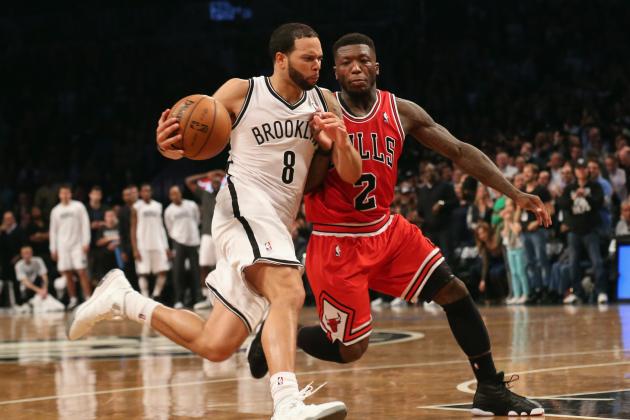 Bruce Bennett/Getty Images
If Brooklyn and Chicago play a Game 7, the Nets will have a distinct advantage.
There's a logical reason behind this cliche: Compared to a full seven-game series, a winner-takes-all Game 7 is subject to more randomness due to the smaller sample size.
It makes sense in theory—that's just a matter of mathematics—but not in practice. If you look at the facts, you should be able to correctly predict the winner of four out of every five Game 7s.
Per NBA.com, the home team has an 88-22 record in these decisive games, dispatching its visitors by an average of 6.2 points per game. Aside from the fact that it's easier to win in friendlier confines, remember that the better seed always hosts a Game 7, further skewing the odds homeward.
So even if an eighth seed pushes a one to the brink, favor the juggernaut. Ditto for a fourth versus a fifth, though it's certainly less clear-cut. In that case, either team could win, but falling back on the idea that anything can happen disregards the fourth seed's hard-earned advantage.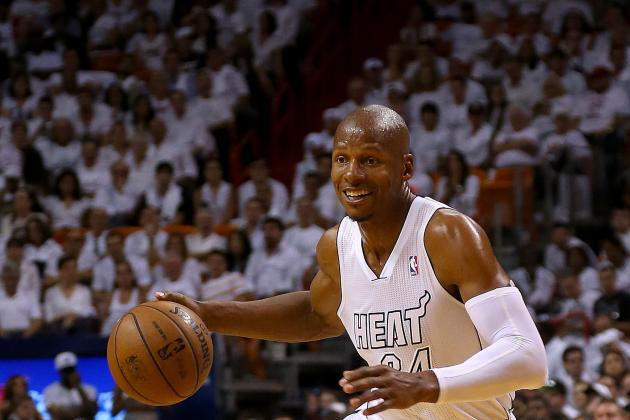 Mike Ehrmann/Getty Images
It's a bad sign when a role player beats you, not a good one.
In those rare games when a Ray Allen or a Mario Chalmers leads the Miami Heat in scoring, there's an instinct to take it as a moral victory. After all, the team limited the Heat stars; now it just needs to keep the role players from overachieving.
There are a couple of fallacies in this thinking.
First off, it implies that the losing team can take star players out of the game whenever it wants. That's just not realistic; stars carry the load for playoff teams because they can produce even when their opponent is keying on limiting them.
High-quality teams are also geared for role players to make the most of their ability. With opponents committed to taking out the primary options, the secondary guys have freer rein. It might not be the same role player who comes through, but someone overlooked is bound to step up.
What this idea basically says is that a losing team won't get punked by a merely decent player twice in a row. That comes down to stopping the overload on the star player, meaning the role player scares the team into letting the star beat it again.
For role players, that's a real moral victory.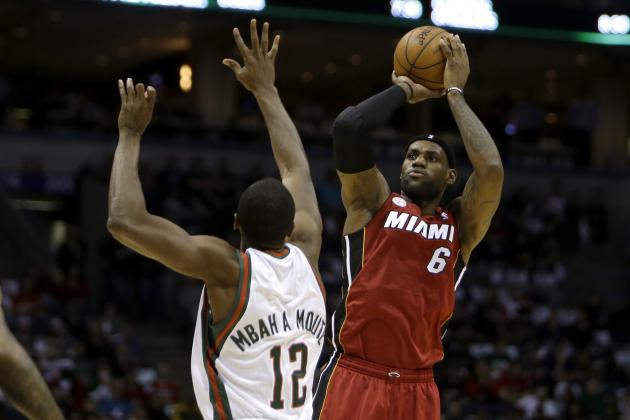 Mike McGinnis/Getty Images
Defense isn't enough on its own in this high-scoring era.
Once upon a time, this adage was true.
Before hero ball was vilified, before all 30 teams started preaching team offense and efficient shot selection, it was possible to win an NBA championship with defense alone.
Just look at the league a decade ago.
When the San Antonio Spurs and New Jersey Nets met in the NBA Finals back in 2002-03, they were the top two teams in terms of defensive efficiency, but they were middling on offense. The victorious Spurs ranked higher with 88.1 points per 100 possessions, which was 11th-best back then but would be a whopping 9.7 points behind the Washington Wizards for last in 2012-13.
The total defensive lockdowns of years past still exist in spurts, but offenses are just too good nowadays to ever be discounted. Stout defense is still necessary, but basketball is an offensive game now.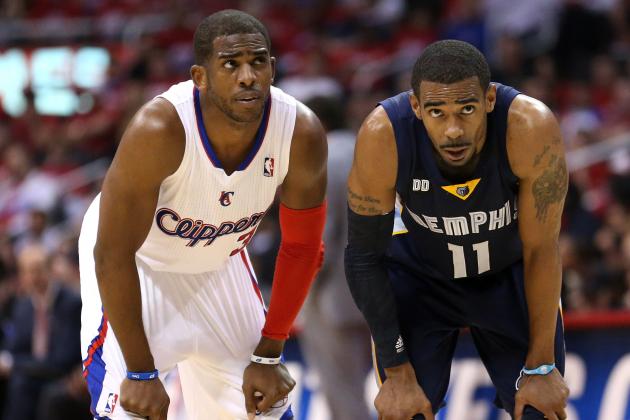 Stephen Dunn/Getty Images
Chris Paul and the Clippers are still alive after losing a must-win game.
This one is a talking point that's just plain wrong.
Chris Paul told Arash Markazi of ESPNLA.com that the Los Angeles Clippers were approaching Game 5 against the Memphis Grizzlies as a must-win matchup.
"I think you understand what you're getting into in the playoffs," Paul said. "Every team is trying to win 16 games in order to win the championship. We hoped to go undefeated through this whole thing but it definitely makes you stronger. ... We got to win this game. It's win or go home."
Sure, it would have been ideal if the Clippers didn't have to go to Memphis for an actual elimination bout in Game 6, but that doesn't really make Game 5 an imperative.
Game 5 wasn't a must-win because L.A. lives to see a Game 6; Paul and company lost and have not yet been sent home. And it's possible to take a game on the road—the Grizz just did so when they won Game 5 by a score of 103-93 at the Staples Center.
Unless you absolutely have to win, it's not a must-win situation. That's just how words work.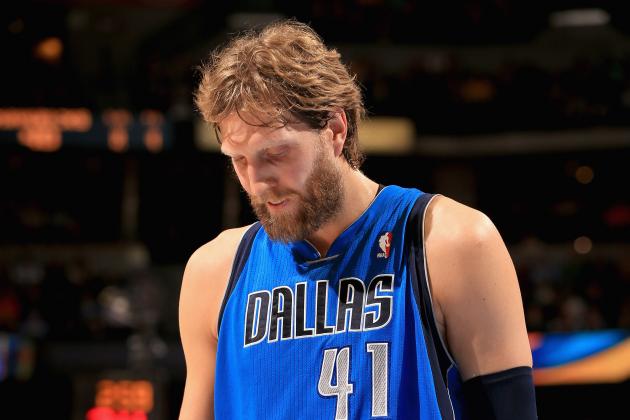 Doug Pensinger/Getty Images
It's never a question of effort for a guy like Dirk Nowitzki.
When you say a player or team "wants it more," it's a testament to their dedication and determination, and yet it means absolutely nothing.
Did Dirk Nowitzki and the Dallas Mavericks beat the Miami Heat in 2011 because they wanted it more?
It fit nicely into the narrative—the veteran, homegrown Nowitzki against the superteam thrown together the summer before. However, it was more a product of consistency and cohesion; Dirk sucked in the defense, Jason Terry was opportunistic from long range and Tyson Chandler spearheaded the D.
But did the Heat let those guys beat them because they weren't interested in winning a championship?
Even with all their talent, the Heat didn't make the NBA Finals as a hobby; it was the final step on their season-long endeavor and the reason LeBron James and Chris Bosh came to Miami to begin with.
In the regular season, it's possible for a degree of emotional investment to swing a game. This is the playoffs, though; the stakes are too high not to want it.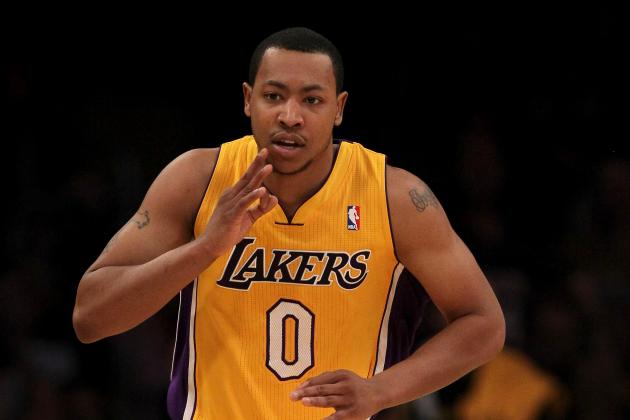 Stephen Dunn/Getty Images
The Lakers weren't going to win on the road leaning on Andrew Goudelock.
Even given the entropy of playoff basketball, some things can be safely assumed.
One of those things is that Andrew Goudelock and Darius Morris had no shot of beating the San Antonio Spurs.
With Kobe Bryant and Steve Nash both sidelined, the Los Angeles Lakers were down to a pair of D-League-caliber guards against the ultra-disciplined Spurs. The pairing of Goudelock and Morris started Games 3 and 4 in L.A., both of which San Antonio won.
So shouldn't that prove that a series doesn't start until the road team wins?
On the contrary, the series was over before these teams even took the floor at the Staples Center. We knew Dwight Howard and Pau Gasol couldn't carry the Lakers against Tim Duncan and company on their own, and we knew that the Lakers didn't have a backcourt capable of supporting their remaining stars.
At that point, it's incredibly disingenuous to say this series only started after the clearly superior Spurs went up 3-0. Let's not insult our own intelligence here.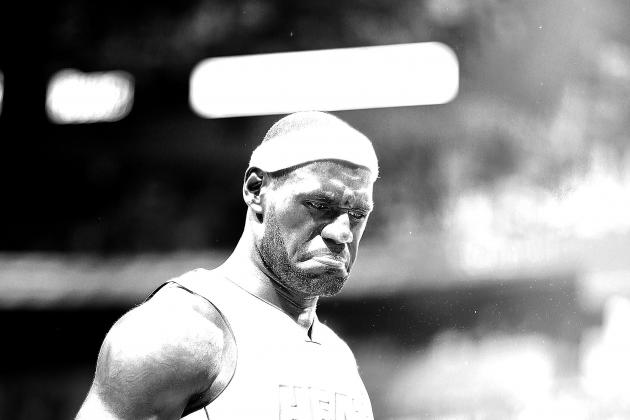 Mike Ehrmann/Getty Images
Only in hindsight can we know when LeBron's dynastic cycle began.
By definition, a dynasty lasts for multiple years. So unless you're clairvoyant, how exactly can you pinpoint the beginning of a dynasty?
It certainly looks like the Miami Heat are in the midst of one now; 27 straight wins as defending champs will do that for a team's image. But when did the golden age truly start for Miami?
The easy answer is Game 5 of the 2012 NBA Finals, when LeBron James triple-doubled to clinch his first ring, but there are others.
If we knew then that Miami would be able to just lean on James, Bosh, Dwyane Wade and a semipermanent corps of vets, shouldn't we predate the dynasty to when the former two stars joined Wade? And if the key was LeBron's breakout, isn't his eruption against the Indiana Pacers in the second round the real beginning?
All those answers are right; that's just how the indefiniteness of myth-making works.
Miami's dynasty (should it come to its expected fruition) began in July 2011, May 2012 and June 2012. The only sure thing is that there's no way to call any present event the certain beginning of a larger narrative.