One win, one loss and one point difference in the score in two games for the Oklahoma City Thunder since Russell Westbrook went down in Game 2 of their series against the Houston Rockets with a torn meniscus. For the most part, it seems like we've got to give Kevin Durant credit for how he's adjusted so far.
The Thunder were able to go into Houston without their point guard, whom they've never played a game without, and put themselves in a position to wrap the series up at home in Game 5.
Durant has averaged just a shade under 40 points in each game, 11 rebounds and five assists, all while shooting 54 percent from the field and 45 percent from the three-point line.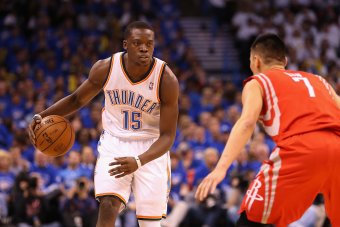 Christian Petersen/Getty Images
In all accounts he's stepped up to fill in the holes that were left when Westbrook went down, without completely stepping all over new starting point guard Reggie Jackson.
It's the same Durant we've known for the past two seasons, but he's become much more assertive and is now doubtless the player who will have control of the ball for the last three or four minutes of the game, and he'll take responsibility for the loss.
As for the rest of his game, there has been no real downturn in efficiency, ability to score, or anything else without Westbrook.
Overall, it's been a pleasant experience for Durant, even if the Thunder didn't finish the sweep on Monday.
Scoring
As we expected, Durant's job as the primary scorer for the Oklahoma City Thunder became more difficult with the Westbrook injury, but he's adjusted amicably.
Durant went from 26.5 points per game in the first two to averaging 39.5 in the next two games. Combine Durant's 13-point improvement, and the eight more points (16 per game overall) that Jackson is averaging since stepping into the starting lineup and they've nearly filled in the missing 24 points per game from Westbrook between the two of them.
What's most impressive about Durant in these past two games is that his scoring efficiency is actually better, even though the entire arena knows that he's going to be the main focus offensively.
In the small sample size of the first two games of the series, Durant was shooting just 42.5 percent from the field and 21 percent from the three-point line. Over the next two games, he bumped that up to 54 percent from the field and 45 percent from downtown.
Of course, it doesn't hurt that he was an astonishing 12-16 in Game 4, despite drawing double-, triple- and quadruple-teams at various points throughout the game.
Grade: A+
Point-Forward Work
A lot of focus has been put on Durant's ability to play the point as a big man, something that he has done here and there throughout the first two games sans-Westbrook.
There's no uptick in assist numbers from the first two games to the next two. He's actually gone from a 6.5 assist average with Westbrook to five assists per game without Westbrook, while he's assisted on 27.8 percent of field goals with Westbrook, compared to 26 percent without him.
While Durant is definitely handling the ball more (he's gone from a 28.4 percent usage rate to 34.7 percent), it's not so much him running the point as it is him initiating the offense, the ball eventually swinging around to the team's traditional point guard.
BS: Barkley is the voice of reason... Kevin Durant is NOT a point forward. They need Jackson to have any chance, need to give him the reps.

—

Grantland

Live (@GrantlandLive) April 30, 2013
Durant has been the true point a bit more, although not as much as we had expected as Jackson and Derek Fisher have done a fine job filling in.
What Durant has done a terrific job doing of is getting in position to grab more rebounds, something Westbrook has always been above-average at as a point guard, and that Jackson and Fisher are limited in.
Durant has gone from five rebounds per game in the first two, up to 11 in the two without Westbrook.
Grade: B
Clutch
Both games without Durant's partner in crime have gone down to the wire, leaving him to do all the team's dirty work and hoping that he can get a bit of help from the rest of the guys on the floor along the way.
Durant has actually shown a huge amount of trust through the first two Westbrookless games, taking just two shots in the final five minutes of Game 3. Durant scored five of the final 13 points for Oklahoma City, while they got four from Serge Ibaka, and two apiece from Fisher and Jackson.
Game 4 was a different monster with the Thunder working from behind in the final five minutes.
Durant dominated the ball much more (five of the final seven points, an assist and two offensive fouls), but he still trusted the rest of his team.
He passed off to Jackson three times in the final five minutes, including the final play when he was trapped along the three-point line and forced to either pass it off or put up a horribly contested shot. Jackson missed the attempt and then Serge Ibaka beefed the put-back attempt, but it was still the right choice by Durant.
As far as this first round series goes, with the outcome mostly on lockdown, it's probably best for Durant to get his teammates more involved in the hopes that they'll get some experience should he need them to bail him out in later rounds.
For the most part, he's made the right decisions, getting to the rim when it's an option and settling for three-pointers (and generally making them) only when forced to.
Grade: A
Overall
So far we've seen Durant pick up the slack in nearly every aspect of his game since Westbrook was ruled out for the rest of the season.
He's become the no-doubt leader of a team that was once ruled over by a two-party system in Westbrook and Durant.
The Oklahoma City offense has gone stagnant a time or two, even looking a bit like LeBron James going into a 24-second isolation with the Cleveland Cavaliers near the end of his time there, but it's worked out so far.
As the team moves forward, there's no reason to think that they can't fully adjust to life without Westbrook, as difficult as it may seem.
Grade: A-