Golden State Warriors vs. Denver Nuggets: Postgame Grades and Analysis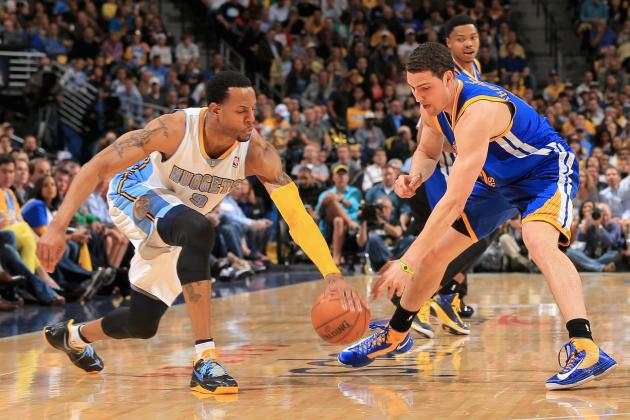 Doug Pensinger/Getty Images

"If we allow them to play their game, they (Denver Nuggets) are better than us."
Mark Jackson spoke that truth to his players right before the third half started, and while it almost motivated them to pull off an impressive comeback, it fell just short.
It's clear that the Warriors let the Nuggets play their game en route to a 107-100 Game 5 loss for Golden State.
Not only did they overpower them throughout the majority of the game on defense, the Nuggets also outscored the Warriors 50-24 in the paint.
The Warriors simply got outplayed, outworked and out-hustled for all 48 minutes in Denver. Not only did the Nuggets destroy the Warriors on the offensive glass with six more offensive rebounds, they also committed less turnovers, with just 12 turnovers as compared to the Warriors' 15.
An 11-0 run by the Warriors made things interesting in the fourth quarter, but the Nuggets responded with two alley-oops to Andre Iguodala and Kenneth Faried that ultimately kept the Warriors at bay.
Kenneth Faried, Ty Lawson and Andre Iguodala all tallied double-doubles and led the way for the Nuggets with 57 combined points, 25 rebounds and 18 assists.
The Warriors and Nuggets are all set for an intense Game 6 on Thursday night in Golden State, set to tip off at 10:30 p.m. ET. You won't want to miss that one, it is bound to be a classic
Begin Slideshow

»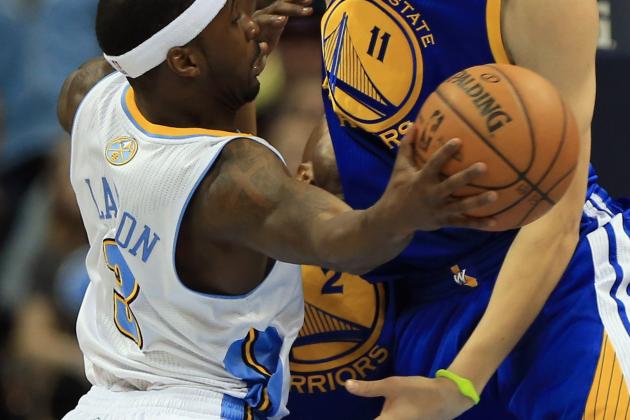 Doug Pensinger/Getty Images

Jarrett Jack, PG Warriors
Aside from Harrison Barnes and his 23 points, Jarrett Jack was the next best performer for the Warriors.
He came alive late in the fourth quarter, which helped the Warriors get within five points with under three minutes left. Unfortunately it was too little too late for Jack and the Warriors.
Jack accounted for 20 points, six rebounds and five assists, but he also committed six turnovers, two of which came with under two minutes in the game on important possessions for the Warriors.
To be fair, Jack did a great job of not giving up and continuing to battle until the game was over. While that's an "A" for effort, his six turnovers will hold his overall grade back a bit.
Overall Grade: B-
Ty Lawson, PG Nuggets
Recording a double-double with 2:30 left in the third quarter, is a clear indicator of the solid overall game he had against the Warriors.
Whether it was his ankle or just fatigue, Stephen Curry simply couldn't keep up with Lawson defensively. And as any intelligent player would do, Lawson took advantage of that.
While Lawson shot just 5-of-14 from the field, Lawson still ended the night with 19 points, shooting 7-of-10 from the charity stripe.
In addition to his double-double of 19 points and 10 assists, the most impressive part of Lawson's game was the single turnover he committed in 39 minutes.
If Lawson can continue to play efficiently on both sides of the ball, the Nuggets have a legitimate shot at knocking off the Warriors in Game 6 on Thursday night.
Overall Grade: B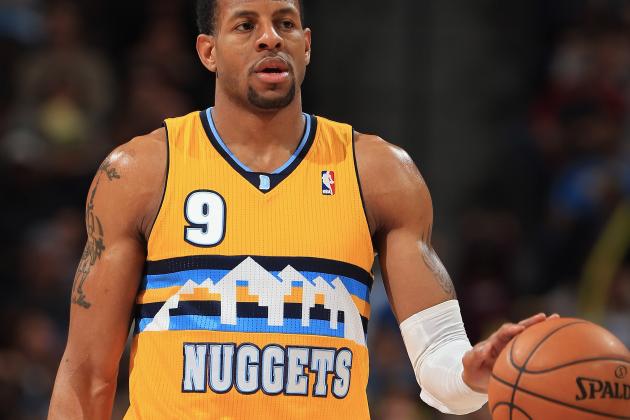 Doug Pensinger/Getty Images

Stephen Curry, SG Warriors
Stephen Curry clearly used all his playoff magic during Game 4 when he dropped over 20 points in the third quarter.
Not only did Curry have a rather pedestrian night, with just 15 points, eight assists and four rebounds, he also had a rough defensive game against Ty Lawson. His defense made Lawson look like he could compete with Usain Bolt in the Olympics.
To be fair, Lawson is one of the fastest players in the league. But Curry simply couldn't stay in front of him, giving up 19 points to Lawson.
Aside from his rough shooting night—7-of-19 from the floor and 1-of-7 seven from beyond the arc—Curry also had a bad defensive game, giving up five personal fouls.
To say that Game 6 in Golden State on Thursday is the biggest game of Curry's career is a massive understatement. If he wants to be a bona fide superstar in the league he can't have a mediocre game like he did on Tuesday night.
Overall Grade: C+
Andre Iguodala, SG Nuggets
Not only did Andre Iguodala have a stellar offensive night with 25 points on 58.8 percent shooting, he also had a great defensive performance against Stephen Curry.
He held Curry to just 15 points on 7-of-19 shooting, and his physical presence throughout the night clearly frustrated the Warriors star guard.
With just a seven-point lead with under a minute left, Iguodala grabbed a massive alley-oop from Ty Lawson to push the Nuggets lead to nine.
Iguodala ended the night with 25 points, 12 rebounds, seven assists, two steals and a a block. Most impressively though, Iguodala had solid shot selection, utilizing his athleticism to get to the rim while shooting 10-of-17 from the field.
When the Nuggets needed someone to step up and keep their playoff hopes alive, Iguodala answered the call and rose to the occasion.
Overall Grade: A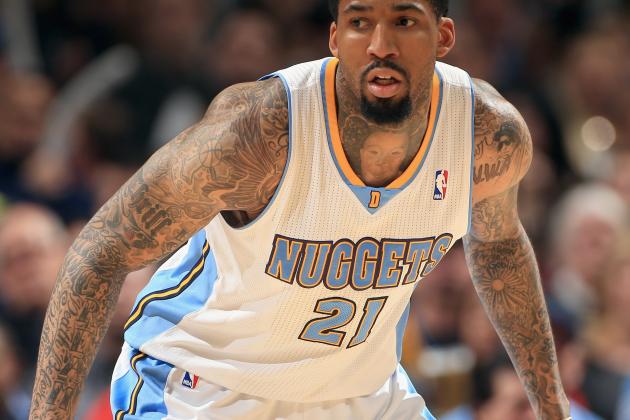 Doug Pensinger/Getty Images

Klay Thompson, SF Warriors
With nine points in the first half on 4-of-8 shooting, Klay Thompson was the most efficient Warrior throughout the first 24 minutes.
Unfortunately he didn't bring much else to the court, especially on the defensive side of the ball.
Thompson only recorded two assists, and he committed just as many turnovers. The Warriors need Thompson to be a more aggressive player in terms of facilitation, not creating his own offense, and he failed to do that in Game 5.
After an efficient first half, Thompson settled for too many long-range jumpers which was a major reason why he shot worse in the second half, going just 8-of-17 from the field.
Overall Grade: B
Wilson Chandler, SF Nuggets
The best word to describe Wilson Chandler's first-half performance is—dominant.
He had 16 points on 5-of-9 shooting from the field and 4-of-8 shooting from beyond the arc. To put that into perspective, the Warriors, as a team, only made five three-pointers in the first half.
With the game within five points late in the fourth quarter, Chandler grabbed the ball in the corner and sank a pivotal three ball that put the Nuggets up by eight points with just 1:25 left in the game.
That bucket was his first and only basket of the second half, but it couldn't have come at a better time.
While you could argue that 11 three-point attempts from beyond the arc for Chandler is too many shots, there's no debating the five three-pointers he hit made a significant difference for the Nuggets.
Aggressive and efficient play from Chandler will be a very important aspect of the Nuggets' approach in Game 6 on Thursday.
Overall Grade: B+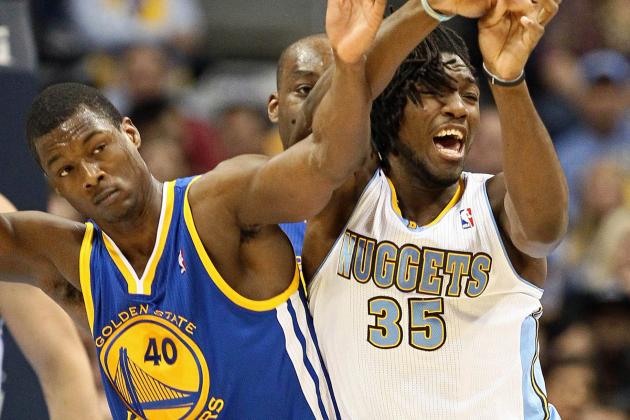 Isaiah J. Downing-USA TODAY Spor

Harrison Barnes, SF Warriors
When you see that Harrison Barnes, with 13 points, two rebounds, two steals and an assist, was the most productive Warrior in the first half, you begin to understand the rough night Golden State had.
Barnes had a much better night than anyone else wearing a Warriors jersey, with 23 points and nine rebounds.
Even more impressive for Barnes, he committed just one turnover all game, which hopefully is a sign of his continued maturation and development.
Unfortunately his efficient first half was overshadowed by a rough second-half shooting performance, which helped him end the game on 7-of-17 shooting from the field.
Barnes settled for a few too many three-pointers late in the game, when he should've been attacking the rim a bit more.
Overall Grade: B
Kenneth Faried, SF/PF Nuggets
You can call Kenneth Faried's first-half foul on Stephen Curry dirty or cheap, but I like to look at it as a declaration of his intense desire to not get eliminated from the playoffs at home.
His will to win also showed up on the stat sheet, with seven points, eight rebounds (two offensive), two steals, one block and one assist in the first half alone.
Faried was also a major factor in Andrew Bogut earning an early trip to the bench with three fouls after 13 minutes of action. There's no doubt that Faried is an intelligent player, and if you ever doubted that, his ability to get under Bogut's skin was a clear indicator of that.
Most impressive though was how he responded to the flagrant one that Draymond Green committed on him, when Green torpedoed himself into Faried. Instead of retaliating, Faried let the refs do their thing and knocked down his free throws.
Faried ended the night with an impressive alley-oop to put the Nuggets up for good, giving him his 13th point as he grabbed a double double with 10 rebounds as well. It's safe to say that the "Manimal" is back.
Overall Grade: B+
Doug Pensinger/Getty Images

Andrew Bogut, C Warriors
Awful, awful and more awful is really the only way to describe Andrew Bogut's Game 5 performance.
Not only did he get outplayed by JaVale McGee, he also let the Nuggets, specifically Kenneth Faried, get under his skin which resulted in a flagrant foul early in the first half.
Zero points, three rebounds, two blocks and three personal fouls certainly isn't the first-half stat line the Warriors needed from him, and he didn't get much better in the second half.
Two points, five rebounds and two blocks in just 18 minutes of action isn't the kind of production the Warriors need from their big man. They certainly won't beat the Nuggets in Game 6 if he continues to play at this poor level.
Overall Grade: F
JaVale McGee, C Nuggets
If you were shocked to see JaVale McGee in the starting lineup don't worry, you certainly weren't alone.
Inserting McGee into the starting lineup for the Nuggets was a great move. In the first half alone he had eight points, seven rebounds (five offensive) and three blocks.
In addition to his impressive statistics, McGee was simply a solid presence in the paint. He controlled the interior throughout the game and made it extremely difficult for guys like Stephen Curry and Jarrett Jack to hit floaters and layups in the interior.
If McGee continues to play at this impressive level—ending the night with 10 points, eight rebounds and three blocks—he'll be in the starting lineup until the Nuggets' playoff run ends.
He does need to cut down on his turnovers, because four turnovers is four too many for the Nuggets' center.
Overall Grade: B+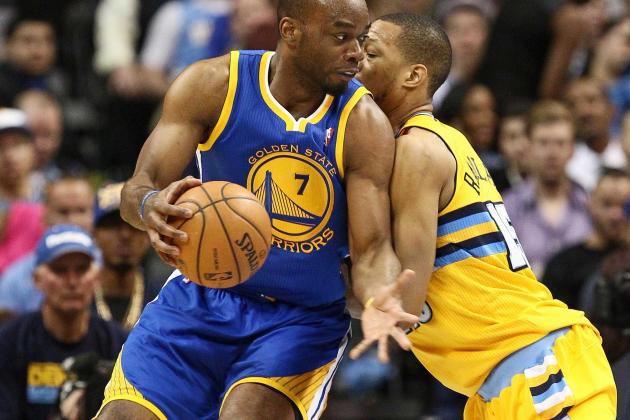 Isaiah J. Downing-USA TODAY Spor

Carl Landry, PF Warriors
After accounting for seven points and four rebounds in the first half, Carl Landry failed to do much more than scoring one basket for the Warriors in the second half.
He ended the night with a very quiet nine points and four rebounds, and he totaled just 21 minutes on the night.
Landry has to be a more aggressive force on the floor for the Warriors, because if he isn't a spark off the bench, the Warriors lose a significant amount of production when their second unit enters the game.
Overall Grade: C
Corey Brewer, SG Nuggets
Something was wrong with Corey Brewer's jumper, and it had nothing to do with the Warriors' defense.
Corey Brewer ended the night with four, which is a far cry from his season average of 12.1 points per game.
Even worse than that, though, was his 1-of-11 shooting. Yep, that equates to a whopping 9.1 percent shooting from the floor. Brewer should've realized after four or five missed shots that he shouldn't have kept shooting at the rate he was.
Luckily he did quite a few other things for the Nuggets, grabbing three rebounds, dishing out two assists and forcing three steals.
Overall Grade: D+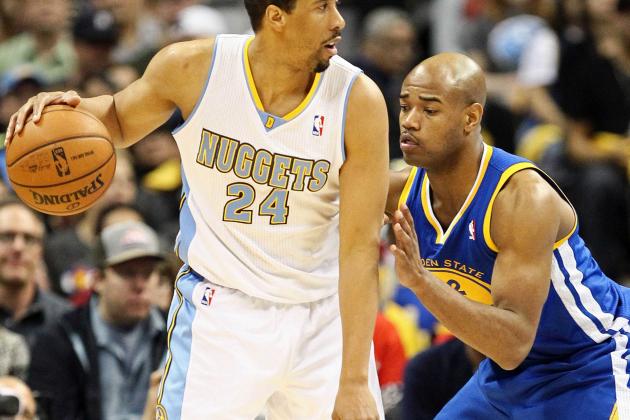 Isaiah J. Downing-USA TODAY Spor

Warriors Bench
While neither team's second units were rather productive or efficient, the Nuggets had a specifically quiet night off the bench.
Festus Ezeli has a shockingly productive night with eight points and five rebounds, with six of those points coming from his nine trips to the charity stripe.
Unfortunately for the Warriors, Ezeli committed four turnovers. Two of those turnovers came late in the game and were called as illegal screens as he was trying to free up Stephen Curry on the perimeter.
Twenty-one points off the bench isn't the production the Warriors need, especially against a rather deep Nuggets team.
Overall Grade: C+
Nuggets Bench
The Nuggets also had 21 points coming off the bench, with 11 of them coming from Andre Miller.
The difference-maker for the Nuggets, though, was Milller's play late in the game. When George Karl put him in alongside Ty Lawson, Miller turned into the late-game facilitator he's always been throughout his career.
Two of his five assists came with under three minutes left in the game on alley-oops to Kenneth Faried and Andre Iguodala. Those assists proved pivotal in maintaining the lead and ultimately extending this playoff series.
Corey Brewer's four point, 1-of-11 shooting performance certainly hurts the Nuggets' bench, and if they want to compete in Golden State on Thursday night, Brewer can't put up that awful production again.
Overall Grade: C+