Miami Football: Projecting the Canes' Top 2014 NFL Draft Prospects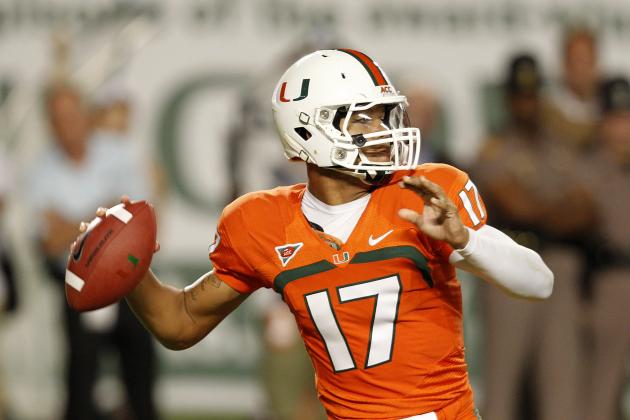 Joel Auerbach/Getty Images

The Miami Hurricanes produced two NFL draft picks this year (Brandon McGee and Mike James) adding to their impressive 37 straight years in which a Cane was drafted.
McGee was drafted in the fifth round by the St. Louis Rams while James went in the sixth to the Tampa Bay Bucs.
Next year there are no doubts in my mind that the streak with continue with a possibility of even having a first rounder for the first time since 2008.
Here are my projections on what Canes' will have their name called next year.
*Note: There may be underclassmen that will enter the draft, but I did not include them on my list.
Begin Slideshow

»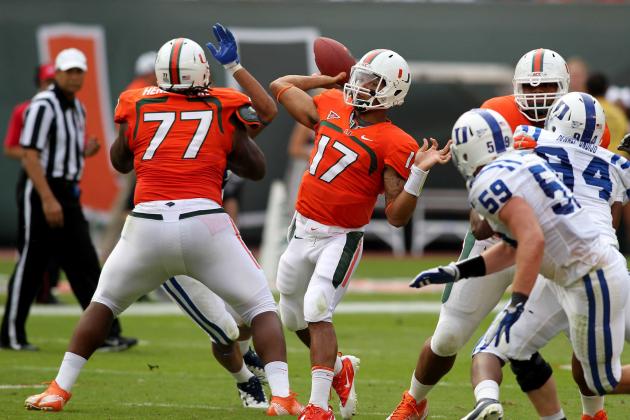 Robert Mayer-USA TODAY Sports

Year: Sr
Height: 6'8"
Weight: 345 pounds
Round: 2
Note: Although Seantrel Henderson has had a less-than-stellar first three years at Miami, he has the potential to be a monster in the NFL. He has amazing footwork for a guy his size.
The only thing holding Henderson back are off-the-field issues. Besides the car accident he was involved in 2012, Henderson has been suspended by Al Golden multiple times for violating team rules.
If Henderson has as good as a season as I believe he will have, there is no doubt an NFL team will snag him in at least the second round. He has the physical ability to be a first-round draft pick.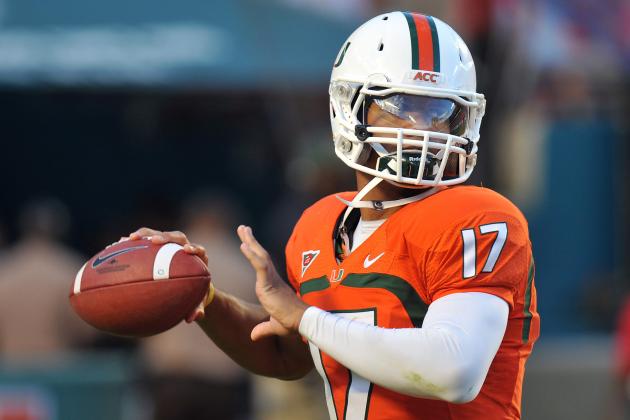 Steve Mitchell-USA TODAY Sports

Year: Sr
Height: 6'2"
Weight: 214 pounds
Round: 1
Note: Call me crazy all you want, but after seeing EJ Manuel go in the first round this year, Stephen Morris may have his named called next year in the first as well.
Morris showed what he can do with the ball as a junior last year throwing for 3,345 yards, 21 touchdowns and just seven interceptions. He has arguably the strongest arm in all of college football and has improved in his decision-making throughout last season.
With the amount of talent he will be surrounded by this season, Morris could easily eclipse 30 touchdowns and 3,750 yards making him one of the best quarterbacks in next year's draft.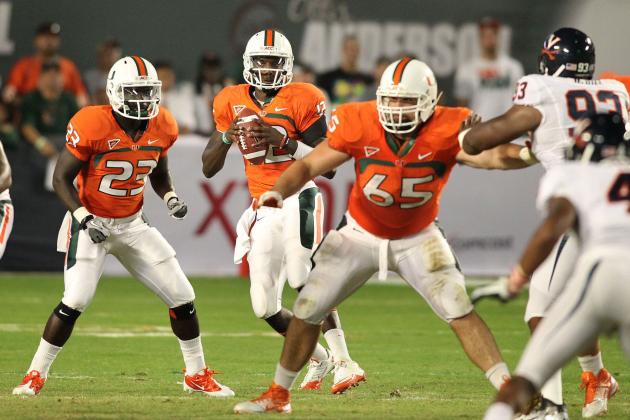 Robert Mayer-USA TODAY Sports

Year: Sr
Height: 6'6"
Weight: 317 pounds
Round: 4
Note: If there is one position that an NFL team is always interested in, it's the offensive guard spot and Brandon Linder is one of the best ones in the ACC.
Last season as a junior, Linder earned a spot on the All-ACC third team. Coming back for his senior season should earn him even more recognition and a probable spot on the first team.
Linder has great footwork and should have no problems being drafted in the middle round.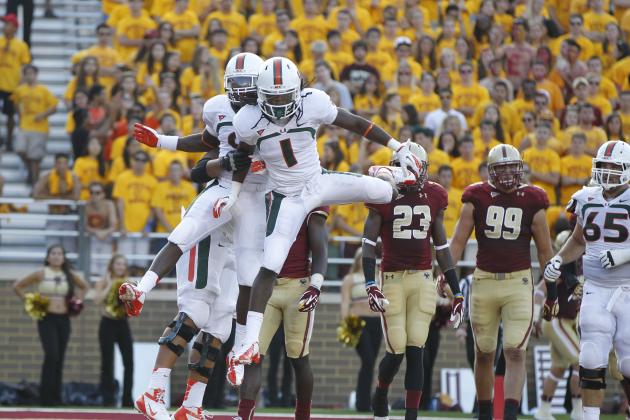 Greg M. Cooper-USA TODAY Sports

Year: Sr
Height: 6'3"
Weight: 195 pounds
Round: 6
Note: Allen Hurns won't necessarily impress NFL scouts with his numbers through three seasons at Miami (59 receptions for 729 yards and four touchdowns), but his size (6'3") and hands should get him drafted.
I believe Hurns will have a good season this year and should hear his name called toward the end of the draft. If Hurns actually has an 1,000-yard season, which he is very capable of having, expect his name to be called on the second day of the draft.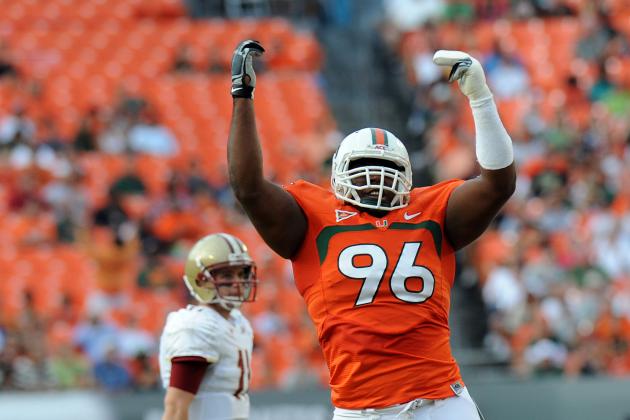 Steve Mitchell-USA TODAY Sports

Year: Sr
Height: 6'1"
Weight: 312 pounds
Round: 4
Note: If there is one player on this year's Hurricanes roster that will benefit more than anyone else, it's defensive tackle Curtis Porter. Porter's health is the biggest concern, but if he can actually play in at least 11 games this year and produce the way I think he can, he should get snagged in the middle rounds.
Porter is a tremendously gifted lineman with all the skills to be a very good tackle in the NFL—as long as he can stay healthy.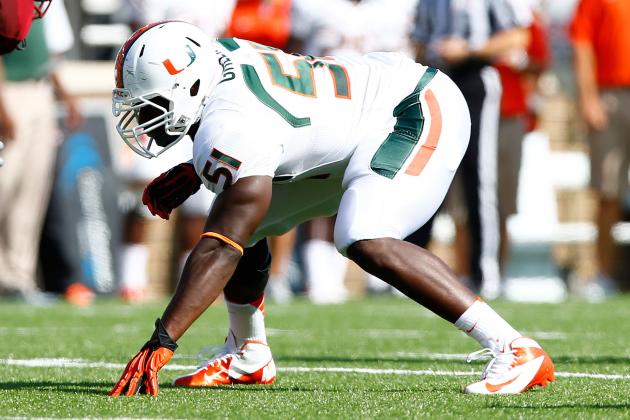 Jared Wickerham/Getty Images

Year: Sr
Height: 6'3"
Weight: 262 pounds
Round: 7
Note: Although the Hurricanes defensive line struggled, Shayon Green posted pretty solid numbers. In Green's first season as a starter, he made 68 stops including two for a loss.
Green still needs to work on getting to the quarterback more as he still has yet to post a sack in his college career.
I honestly believe that will change this season, and with a year under his belt, he could possibly have a break-out season and get drafted on the last day.