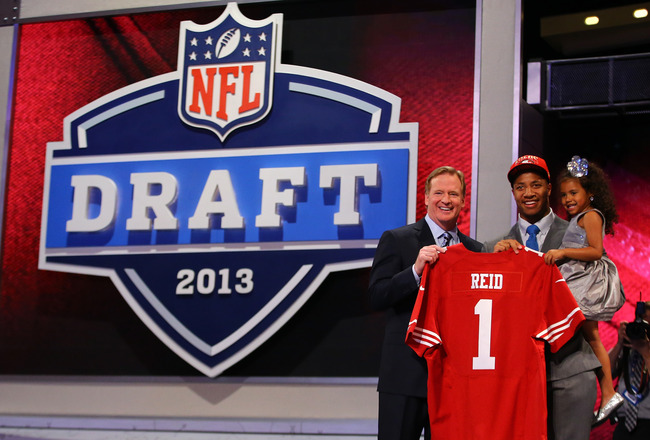 First-round pick Eric Reid beams as the 49ers new free safety.
Al Bello/Getty Images
Let's keep things in the proper perspective: the San Francisco 49ers—and the NFC West in general for that matter— enjoyed the best draft overall as a division.
From top to bottom, the 49ers, Seattle Seahawks, St. Louis Rams and Arizona Cardinals all produced solid prospect classes. Each team deserved high praise for addressing one or more categories of need, value and overall talent.
Yet, some did better than others, with San Francisco ultimately drafting in a superior fashion than its rival counterparts. St. Louis came in a very close second while Arizona and Seattle earned third and fourth, respectively.
Here's why the Red and Gold received the highest marks.
Note: After a two-month concussion-induced hiatus, it's good to be writing for Bleacher Report once again. Hope you enjoy—don't hold back on the comments, thoughts and critiques.
Team Needs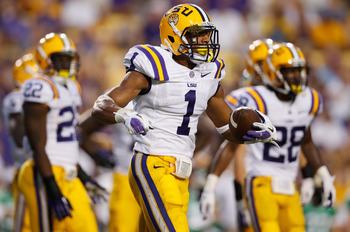 Reid (No. 1) easily fills the 49ers' greatest need.
Chris Graythen/Getty Images
Free safety was the only starting position in need of being filled on the 49ers' roster after Pro Bowler Dashon Goldson signed a lucrative free-agent deal with the Tampa Bay Buccaneers over the offseason.
No matter. Enter Eric Reid, 2012 First Team All-SEC defensive back out of LSU.
The hard-hitting former Tiger is proficient both in the box and in coverage downfield. Not only did Trent Baalke address the team's No. 1 need with its first pick, but also acquired one of the top free safeties in the 2013 class.
Baalke and head coach Jim Harbaugh also desired players for backup positions and overall depth.
They drafted dynamic rotational pass-rushers in defensive end Tank Carradine and outside linebacker Corey Lemonier. The multi-talented Vance McDonald replaces Delanie Walker in the 49ers' heavy tight end system.
Prolific wideout Quinton Patton brings serious competition to the receiving corps while Marcus Lattimore will eventually replace Frank Gore as the franchise running back, assuming he fully recovers from his knee injury.
San Francisco currently features a three-headed monster of Gore, Kendall Hunter and LaMichael James behind a dominant offensive line. Lattimore will keep that awesome grouping intact for years to come.
How the Rams, Cardinals and Seahawks Fell Short
The Rams actually nailed this category.
Les Snead selected

big-time weapons for quarterback Sam Bradford in former West Virginia receivers Tavon Austin and Stedman Bailey.

Zac Stacy will carry the load as the new every-down back in place of Steven Jackson.

T.J McDonald will fill the need at either safety position.

Highly decorated Barrett Jones offers depth all across the offensive line.
The Cardinals brought in a host of special players with the likes of guard Jonathan Cooper, cornerback Tyrann Mathieu and the running back duo of Stepfan Taylor and Andre Ellington.
Unfortunately, outside of Cooper, Arizona general manager Steve Keim failed to infuse more talent into one of the worst pass-blocking lines in all of football.
Seattle, for its part, bolstered its defensive line with Jordan Hill and Jesse Williams. However, John Schneider did not target the offensive line and linebacker depth until the seventh round, leaving that positional concern in limbo.
Value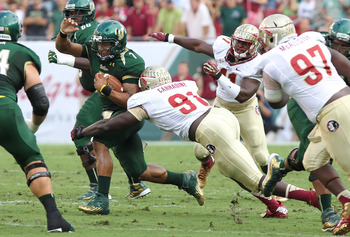 Carradine (No. 91) pursues opposing quarterbacks with a fury.
Kim Klement-USA TODAY Sports
Some would denounce the selection of Eric Reid at No. 18 overall as a reach by the 49ers. Detractors would argue that he, or even a potentially higher-rated Johnathan Cyprien would have been available at No. 31.
That said, Jim Harbaugh had recruited Reid as far back as his high school days—he was Harbaugh's guy. Moving up 13 spots and surrendering a third-round pick to fulfill the team's greatest need with its most coveted prospect was well worth the price.
Moreover, that third-rounder was originally acquired from the Carolina Panthers. The 49ers already had another pick in that round.
Better yet, Trent Baalke received maximum value by moving back eight spots in Round 2 and landing Tank Carradine at No. 40, a premier pass-rusher with first-round skills. He also reeled in an additional pick in Round 3 of the 2014 draft (as well as a seventh-rounder in 2013) by way of this trade with the Tennessee Titans.
The 49ers' GM continually used his trade savvy. He sacrificed a mere sixth-round pick (one of two) to move up for Vance McDonald at No. 55, securing the team's need for an all-important second tight end.
Baalke latched on to yet another targeted prospect via a wise trade in the third with the Green Bay Packers. He picked up the ultra-athletic Corey Lemonier at No. 88 (moved up from No. 93) by only giving up the previously acquired seventh-round pick from Tennessee.
Finally, in Round 4, the 49ers nabbed Quinton Patton and Marcus Lattimore.
The former was one of the most productive NCAA wideouts in 2012 and easily a second-round talent. Lattimore dropped because of a devastating injury, despite being the elite running back of this class when healthy.
Baalke and Co. struck gold for the future by landing one of the best running backs in college football prior to his injury with a measly compensatory selection.
How the Rams, Cardinals and Seahawks Fell Short
St. Louis' front office was nearly perfect yet again.
Tavon Austin is this year's preeminent talent and would have been long gone had Les Snead not traded up to No. 8 overall. Picking up a top-20-worthy Alec Ogletree at No. 30 overall was another fine move. Stedman Bailey (No. 92) and Barrett Jones (No. 113) were solid value picks as well. Taking Zac Stacy as the franchise's No. 1 running back in the fifth round deserved further acclaim.
The one knock against St. Louis, though, was a major reach for USC's T.J. McDonald at No. 71 in the third. Syracuse's Shamarko Thomas and Phillip Thomas of Fresno State are both superior at the safety position and were available.
Arizona capitalized in the value sector this time around. From Jonathan Cooper at No. 7 overall, to Alex Okafor in the fourth, to stealing Andre Ellington in the sixth, GM Steve Keim received appropriate value for nearly all the Cardinals' picks.
The Seahawks reached throughout most of the draft. Michael, Jordan Hill and Chris Harper were all taken too high while running back Spencer Ware (No. 194 overall) would likely have reached free agency.
To their credit, Percy Harvin is a proven commodity and was worth a first-round price. Linebacker Ty Powell (No. 231) may also prove a steal some time down the road.
Overall Talent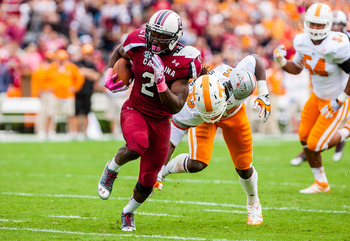 Lattimore will be bringing this otherworldly talent to the gridiron in due time.
Jeff Blake-USA TODAY Sports
St. Louis undoubtedly locked up the best player in the draft with Tavon Austin, Arizona selected the foremost interior lineman in Jonathan Cooper and Seattle will surely introduce some unforeseen talent come the start of the regular season.
By and large, however, the 49ers ruled the day from the first to the seventh round.
They matched the Rams with two first-round talents (Reid/Carradine vs. Austin/Ogletree) and outnumbered St. Louis in second-round skill-sets (Patton/Lemonier/McDonald vs. Bailey/Stacy).
Best of all, Lattimore is the most talented running back of the entire draft and won't need to be unleashed until next year.
Who knows, 49ers coach Jim Harbaugh just may develop seventh-round pickup B.J. Daniels into the next quarterback/running back/wide receiver/returner extraordinaire.
Well, maybe not. Let's just wait until September to start hashing things out.
Follow me on Twitter @jlevitt16
Keep Reading

San Francisco 49ers: Like this team?
Load More Stories