Tennessee Titans 2013 Draft: Aggregating Grades from Around the Web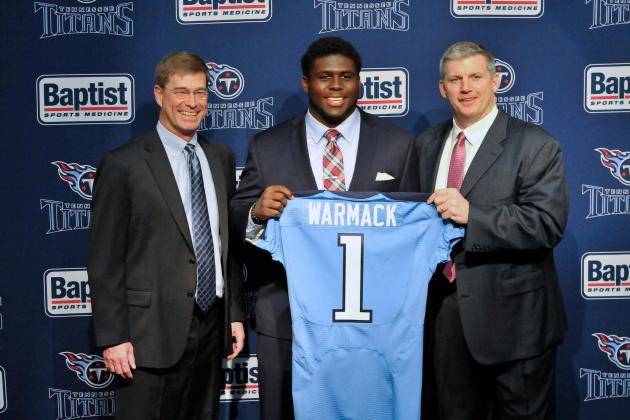 Jim Brown-USA TODAY Sports

The 2013 NFL Draft came and went, and the Titans continued to add talent to a roster riddled with holes. Many have questioned why drafting defensive talent earlier wasn't a priority.
Most reviews of the team's draft have been positive, but there are a few dissenting opinions of the selections made over the weekend.
From all across the World Wide Web, let's delve into the overall opinion of Tennessee's 2013 draft.
Begin Slideshow

»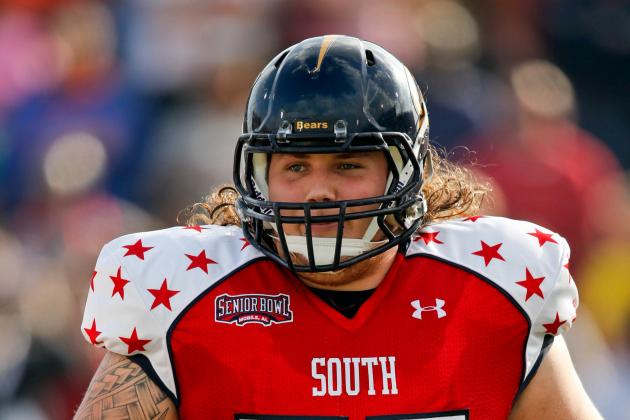 Derick E. Hingle-USA TODAY Sports

If the Mike Munchak era is to extend beyond this season, it's time to win now. No better way to do that than by importing quality rookies, four seemingly capable of making their marks instantly. G Chance Warmack (No. 10) and C Brian Schwenke (Round 4) complete an offensive line makeover that should benefit QB Jake Locker and RB Chris Johnson. WR Justin Hunter (Round 2) is a deep threat who might supplant Nate Washington, while CB Blidi Wreh-Wilson (Round 3) is a big corner who could take the nickel role and allow Alterraun Verner to shift into the slot. GRADE: A
The likelihood of the Titans truly finding four immediate starters from this draft is pretty thin; however, the fact that general manager Ruston Webster was able to correctly navigate the draft to find players capable of contributing early is a boon for the upcoming season.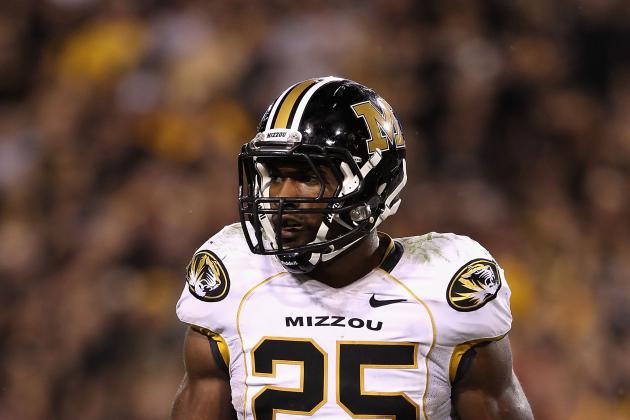 Christian Petersen/Getty Images

Let's start with the good. The Titans kept up their interior offensive line upgrade theme, adding Alabama guard Chance Warmack and California center Brian Schwenke to join free-agent addition Andy Levitre. But getting wide receiver Justin Hunter from Tennessee is a boom-bust proposition, and both Connecticut cornerback Blidi Wreh-Wilson and Missouri linebacker Zaviar Gooden need more polish to be impact players. Grade: C-minus
Iyer downgrades Tennessee's draft far too much for players he deems in need of "more polish." Justin Hunter played the 2012 season after recovering from a torn ACL the previous season, but he still managed to post a 73-catch, 1,083-yard and nine-touchdown season.
The fact that Zaviar Gooden needs more polish shouldn't be of any concern, since he was clearly drafted to improve the team's depth at outside linebacker.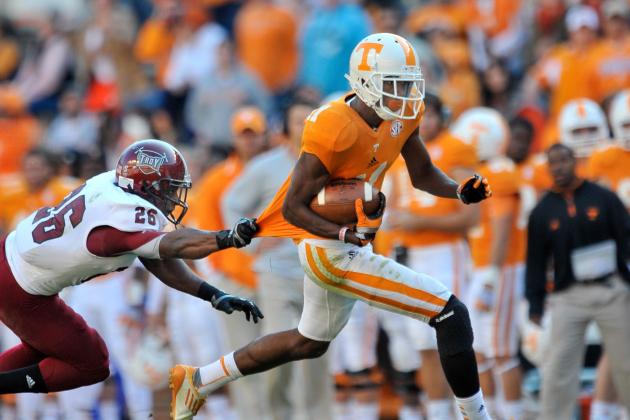 Jim Brown-USA TODAY Sports

There are more than a few people who believe that Warmack is better than Jonathan Cooper, another guard who went four picks higher. Maybe, but the point is that both of them are great, which is why they were the rare combo of guards to go top 10 in the draft. Alongside Schwenke and free-agent acquisition Andy Levitre, the Titans may have built the kind of offensive line that will allow RB Chris Johnson to return to form and give QB Jake Locker time. Hunter is another nice piece who should provide insurance in case Kenny Britt doesn't return to health right away. Many scouts considered Hunter better than former college teammate Cordarrelle Patterson, who went in the first round. Grade: B
Count me among the group who felt Cooper would have fit the Titans' zone-blocking scheme better than Chance Warmack, but when stuck picking between great and greater, it's tough to lose.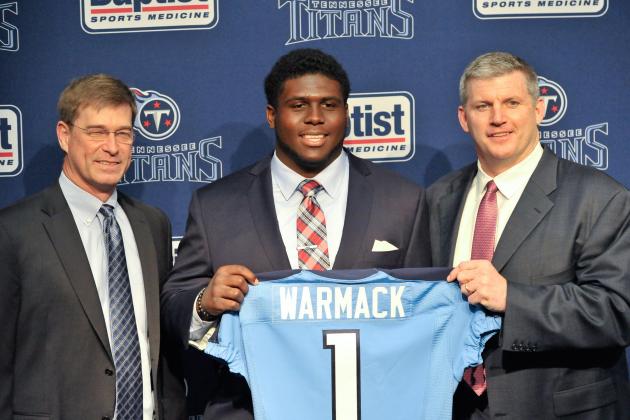 Jim Brown-USA TODAY Sports

You know what? I loved this draft. G Chance Warmack might be the best player in the whole class, and Tennessee scored him at 10. The Titans kept right on rolling after that, with five more gems — WR Justin Hunter, CB Blidi Wreh-Wilson, OLB Zaviar Gooden (one of my favorite under-the-radar guys this year), C Brian Schwenke and DE Lavar Edwards. An interior defensive lineman would have been nice, but the Titans improved a bunch regardless. Grade: A-minus
The sentiment of Warmack being perhaps the best prospect in the 2013 draft was a common one leading up to the draft, but even the Titans had him ranked No. 2 on their draft board, according to ESPN's Paul Kuharsky.
I agree the Titans needed to improve the talent at defensive tackle but only if they could get a game-changer. They had the opportunity to draft both Star Lotulelei and Shariff Floyd but passed for a better talent.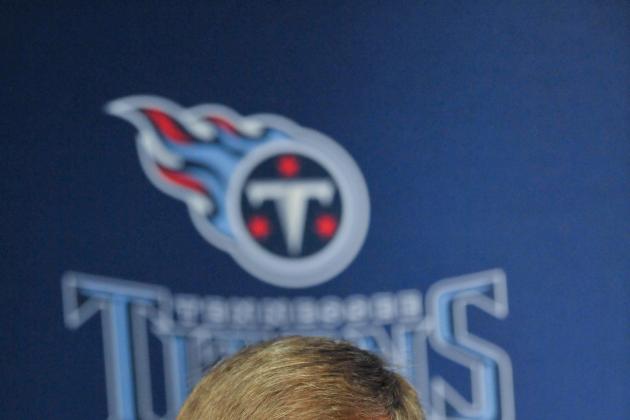 Jim Brown-USA TODAY Sports

The players acquired look impressive at first glance, but dig deeper and there are concerns about the class as a whole and the costs to put it together. In the trade up for Hunter, Tennessee surrendered pick Nos. 40 (Tank Carradine) and 216 (Charles Johnson), on top of a 2014 third-round pick. All that for a six-spot jump in round two, which netted a receiver with great physical gifts but suspect hands. It was a steep price. Warmack adds needed power to the Titans' line, but was a largely ineffective second-level blocker at Alabama due to limited movement skills. He's a phone-booth player entering a zone scheme. Schwenke and Gooden stand out as value picks, but Tennessee did little to upgrade its porous pass defense and still needs to get more physical on Jerry Gray's side of the ball. Regardless of draft results, Jake Locker's third-year progress -- or lack thereof -- will determine whether or not the Titans field a competitive 2013 football team. And it'll probably determine Gray, GM Ruston Webster, and coach Mike Munchak's future in Nashville. Grade: C-minus
While the price tag to trade up for Justin Hunter was a bit steep, many scouts had him rated as a first-round talent. He brings an elite set of size and athleticism at 6'4", 202 pounds while still running a 4.44 40-yard dash.
The Titans don't know what they have in Kenny Britt entering the final year of his contract, Kendall Wright is talented but not a No. 1, and Nate Washington appears to be on the outs. Something needed to be done to bolster the talent at receiver before it was too late.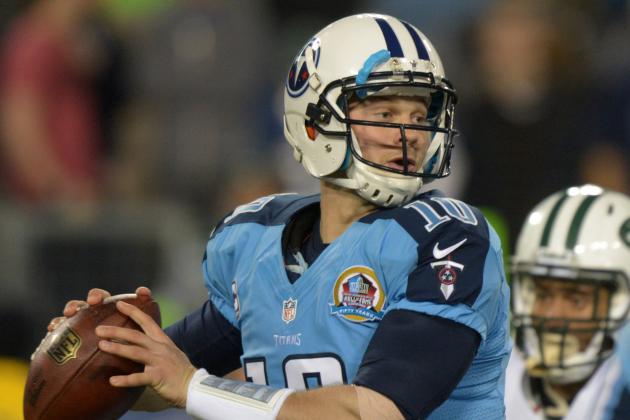 USA TODAY Sports

The Titans may not have any idea what will become of Jake Locker. I don't know either. But they sure as heck should be better running the ball in 2013 behind the line they're building, and between whatever pressure that takes off Locker and the addition of yet another receiver, they can say they gave him a chance.Chance Warmack is one of the more dominating run-blockers to enter the league in years. Between him and Andy Levitre, the Titans are really good at guard. Tennessee also added a nasty center in Brian Schwenke in Round 4. Justin Hunter gives them another deep threat, so they now have Kenny Britt, Hunter, Kendall Wright, Nate Washington and Delanie Walker, as well as Chris Johnson and Shonn Greene. If Locker struggles early, maybe it's Ryan Fitzpatrick's team, because somebody can work with this offensive talent. Blidi Wreh-Wilson gives them the corner they needed. I had defensive end as a big need and Lavar Edwards was a steal in the fifth. I thought they did pretty well overall. Grade: B-plus
I don't think any other draft analysis has been more succinct and accurate than Kiper's. It pretty much encapsulates my opinion of the Titans draft. They don't fully trust Locker; therefore, Ryan Fitzpatrick is brought in instead of the aged Matt Hasselbeck, and a clear decision to become more run-oriented is made.
When a coach is on the hot seat, he cannot afford to have his fate tied solely to a mystery at quarterback.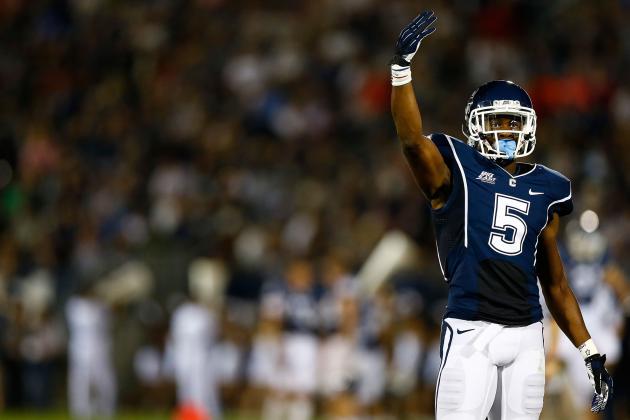 Jared Wickerham/Getty Images

Best pick: Second-round pick Justin Hunter could easily have been a first-round pick with his talent. He will help the passing game in a big way.

Questionable move: With so many other needs, and already having paid Andy Levitre, why draft a guard in the top 10, which is what they did with Chance Warmack?

Third-day gem: Fourth-round center Brian Schwenke could step in and be a starter soon. He is an athletic center who can move.

Analysis: They landed a sure starter in Warmack, and addressed needs with Hunter and third-round corner Blidi Wreh-Wilson.
Prisco appears to drop his grade for selecting arguably the best prospect in the draft because of how much the team invested in the position through free agency.
I was of the same opinion leading up to the draft, in that the Titans have more than a quarter of the team's salary cap invested in their offensive line.
Drafting Warmack signals a clear change in offensive philosophy. Dowell Loggains plans to bring back the clock-eating style of offense Titans fans are used to.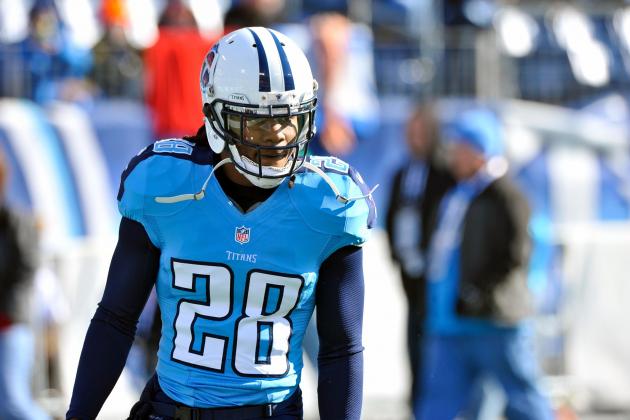 USA TODAY Sports

Floyd Engel: (C) I like wide receiver Justin Hunter in the second. The rest is blah, blah, blah.

Marvez: (B) No team has made as large an investment at guard this offseason, with Tennessee taking Alabama's Chance Warmack at No. 10 to pair with free-agent signing Andy Levitre (Buffalo). University of Tennessee wide receiver Hunter (second round) adds more offensive punch and shows the Titans are losing patience with Kenny Britt after ongoing off-field problems.

Schrager: (A) Jake Locker has no more excuses. It's time. The Titans built the offense up even more this Warmack at guard, exciting wide receiver Hunter, and Brian Schwenke out of Cal at center. Great additions. I like where Tennessee is headed.
Schrager's opinion is the one I found myself making the most after the first- and fourth-round selections of the Titans. Just change the name from Locker to Chris Johnson. CJ is a great talent, but he's not much of a team guy and hasn't shown a lot of the 2k he's been living off of since 2009.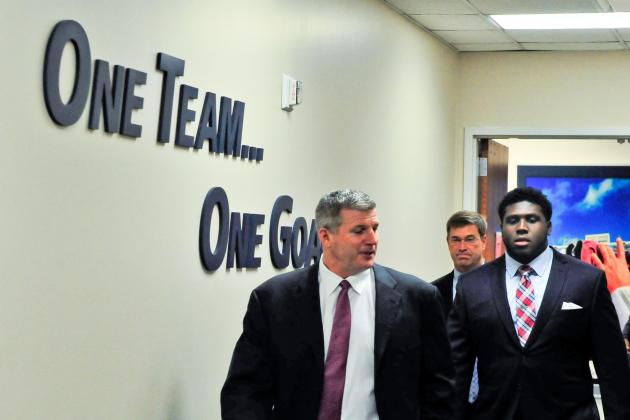 Jim Brown-USA TODAY Sports

After flipping through the draft grades of some of the NFL's top analysts, it's clear the Titans had a pretty solid draft. The only negative marks appear to be for not adding to the team's pass rush, selecting Chance Warmack (for various reasons) and the trade for Justin Hunter.
Obviously we won't know for sure how well the team drafted until we see it in action on Sundays...and Thursdays and Mondays. The major influx of talent can only improve on a miserable 2012 season.