What the Experts Are Saying About the San Francisco 49ers' 2013 Draft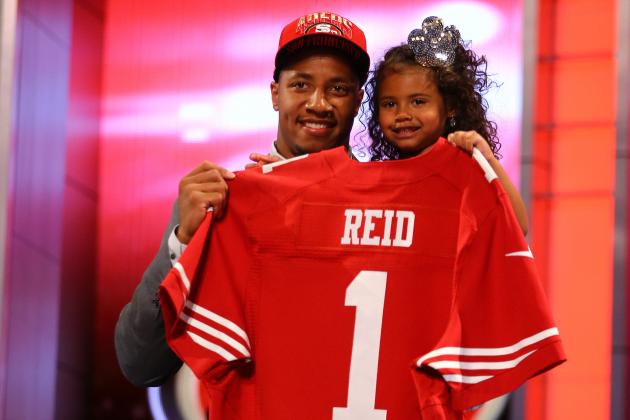 Al Bello/Getty Images
Eric Reid and his daughter proudly display the jersey signifying his selection by the 49ers.
The San Francisco 49ers' draft was exciting and very productive. It all began with the 49ers trading up 13 spots to snag safety Eric Reid with their first-round selection. Let's take a closer look at some of the NFL analysts' views of the 49ers' draft.
First, here's my take on how the 49ers and GM Trent Baalke did with this year's selections.
Reid is expected to fill the void created by the departure of Dashon Goldson, via free agency. Reid was generally recognized around the same level with fellow safeties Matt Elam and Jonathan Cyprien. The 49ers made the move up to lock in Reid, so he obviously was the safety they coveted.
In the second round, the 49ers snagged defensive end Tank Carradine and tight end Vance McDonald. Carradine is coming off an ACL injury, but it appears likely he will be able to compete for a rotational job on the defensive line. He could be the heir apparent to Justin Smith, who is in the final year of his contract.
McDonald has good pass-catching skills and has worked in the slot, as well as on the line. This mirrors the role that Delanie Walker had for the 49ers, prior to his departure in the free-agent market.
Interestingly, Gavin Escobar, another highly rated tight end was selected by Dallas with the No. 47 overall pick, eight spots ahead of McDonald. Many rated Escobar as a third-round pick and McDonald behind him.
Dallas' high selection of Escobar could have surprised Baalke, who was then compelled to take McDonald earlier than expected.
Corey Lemonier, a defensive end from Auburn, will play as an outside pass-rushing linebacker and provide relief for Aldon Smith and Ahmad Brooks.
It is in the fourth round where the 49ers really did a tremendous job adding two stellar players. Wide receiver Quinton Patton could step into the third receiver role, especially if Kyle Williams continues his history of injuries.
Patton caught 104 passes for 1,394 yards and 13 touchdowns. In his two seasons at Louisiana Tech, Patton had nearly 2,600 yards, to go along with 24 touchdowns. He could be a steal on Day 3.
The 49ers also selected South Carolina RB Marcus Lattimore with their late fourth-round pick. Lattimore is a first-round talent who fell because of a devastating knee injury sustained in the ninth game of last season.
Prior to Lattimore's injury he had 143 carries for 662 yards and 11 touchdowns. He has 2,677 yards in 555 carries and a Gamecock record of 38 touchdowns in his three-year career at South Carolina.
In the fifth round, the 49ers added depth to the defensive line with Quinton Dial, a defensive end from Alabama.
Nick Moody, the 49ers' sixth-rounder is an inside linebacker who can provide depth behind All-Pro's Patrick Willis and NaVorro Bowman. Moody should also contribute on special teams.
In the seventh round, Baalke selected quarterback B.J. Daniels, whose best shot at making the roster could be as a punt return man and special teams player.
It would be a surprise if offensive tackle Carter Bykowski and defensive back Marcus Cooper, both seventh-round selections, made the team.
All things considered, it was a very good draft for Baalke and the 49ers. It was a bit of a surprise that Baalke did not make even more deals. The 49ers ended up taking 11 players, some of whom will undoubtedly not make the team. Eight or nine picks would have been a better number.
By trading down from No. 34 to 40, Baalke acquired the Tennessee Titans' third pick in 2014, which is a great move.
The real question is could Baalke have bundled some of those later picks to move up in 2013, or for additional 2014 assets. If so, he should have done it. There's no way 11 new draftees make the roster this upcoming season.
Overall Grade = A-
Begin Slideshow

»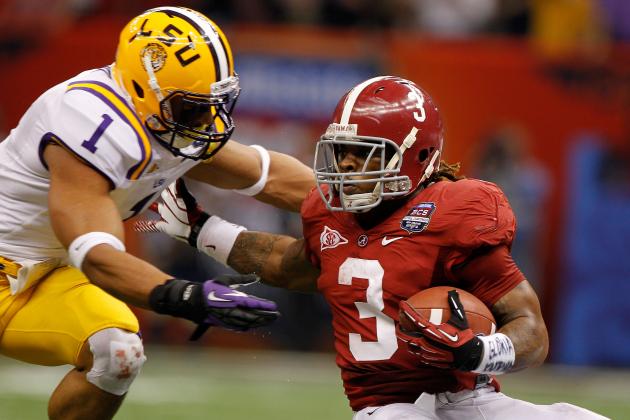 Chris Graythen/Getty Images
LSU safety Eric Reid closes in on a tackle against Alabama.
ESPN draft analyst Mel Kiper Jr. had one of the lowest ratings I have seen for the 49ers' 2013 draft. He gave them a "B+ for addressing needs, B for the value they got, and a B overall."
The main reason for Kiper's good, although not excellent rating was that he was not as high on safety Eric Reid.
Kiper stated, "there were as many as five safeties who were better value."
The 49ers obviously disagreed, as they even traded up from No. 31 to Np. 18 to grab Reid.
As far as the rest of the draft, Kiper was more complimentary.
Vance McDonald gives them needed depth at tight end with Delanie Walker gone, and Tank Carradine and Corey Lemonier were both good values. Quinton Patton has a chance to stick because he's a smart route-runner and finds ways to create separation. The 49ers also dealt to add picks into next year. I'd like this draft a little more if they got a safety I had rated higher, but they did well, just as you figured they would.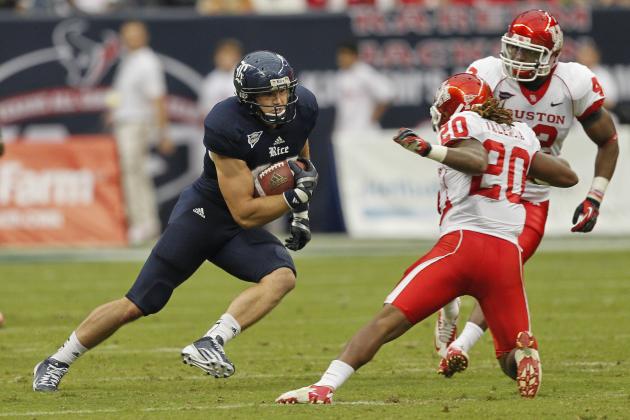 Bob Levey/Getty Images
Vance McDonald is expected to take over as the 49ers' second tight end for the departed Delanie Walker.
Although he did not provide a specific grade, USA Today Sports analyst Jarrett Bell was very high on the 49ers' draft.
Bell had several complimentary things to say about the 49ers' draft haul:
Landing Reid fills a void created by All-Pro safety Dashon Goldson's free agent departure.

Second-rounder Vance McDonald from Rice can step into the No. 2 tight end role that Delanie Walker played before he signed with the Tennessee Titans.
The 49ers selected two players coming off knee injuries. Second-round pick Tank Carradine had a torn ACL and is recovering nicely. He should be ready at the start of training camp.
Running back Marcus Lattimore's knee injury was much worse. He suffered a dislocation and three torn ligaments, including his ACL. Expect him to sit out the season and do more rehab on his knee.
As Bell pointed out, "the 49ers have the luxury of waiting on Carradine and Lattimore to heal."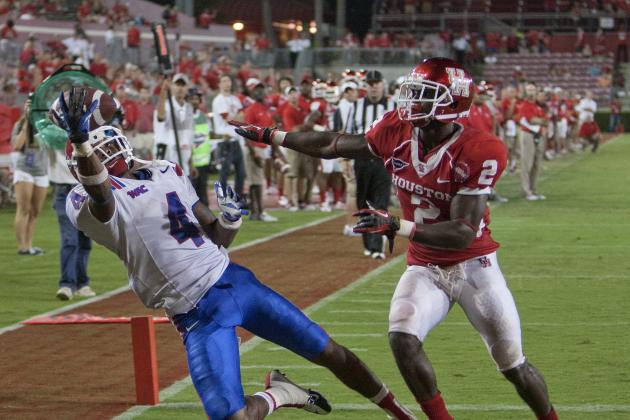 Bob Levey/Getty Images
Quinton Patton caught 104 passes last season.
Nate Davis of USA Today Sports gives the 49ers' draft a B+. Davis is especially high on the potential of Tank Carradine and Marcus Lattimore.
Kudos for getting first-round talents in RB Marcus Lattimore (Round 4) and DE Tank Carradine (Round 2), who can essentially redshirt in 2013 without counting against the Niners' already stacked 53-man roster.
Davis brings up another good point about the depth and strength of the 49ers' roster, stating he "would've liked to see them convert more of their picks into future selections rather than pick 11 players this year."
Davis likes the potential star power of several of the 49ers' picks.
Like Lattimore, pass-rusher Corey Lemonier (Round 3) and WR Quinton Patton (Round 4) could be impact players down the road.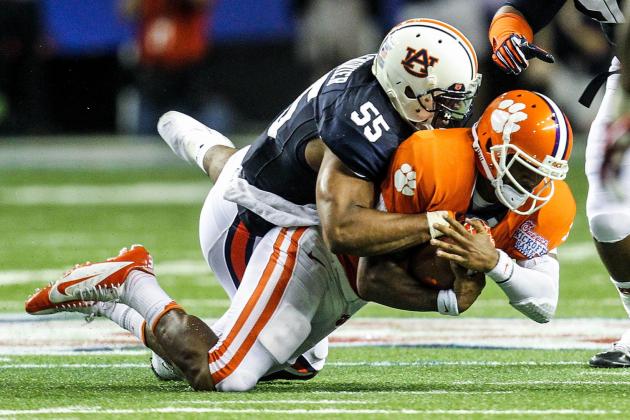 Daniel Shirey-USA TODAY Sports
Corey Lemonier gets a sack against Clemson.
Evan Silva of Rotoworld was very complimentary of the job Trent Baalke did in this year's draft.
The rich got richer. The 49ers entered Thursday with an NFL-most 13 picks. GM Trent Baalke turned them into very arguably the most impressive haul in the league, along the way picking up a 2014 third-rounder in Friday's trade with the Titans.
There are questions about the immediate contributions of this draft class, as the 49ers picked two players, Tank Carradine and Marcus Lattimore, who are coming off major knee injuries.
Only Reid and McDonald may be definite first-year contributors, but that's far more a testament to Baalke's roster building than his individual selections. Carradine is a to-the-whistle edge rusher who along with Lattimore could be "redshirted" as a rookie due to knee woes, before emerging as plus 2014 starters.
Silva is a big booster of Quinton Patton and Corey Lemonier.
Patton is a silky smooth route runner with ball skills and insurance on contract-year No. 1 wideout Michael Crabtree.
Lemonier might have been a first-rounder had he not played on such a bad Auburn team. San Francisco is filthy rich with pass rush. Baalke is constructing a dynasty.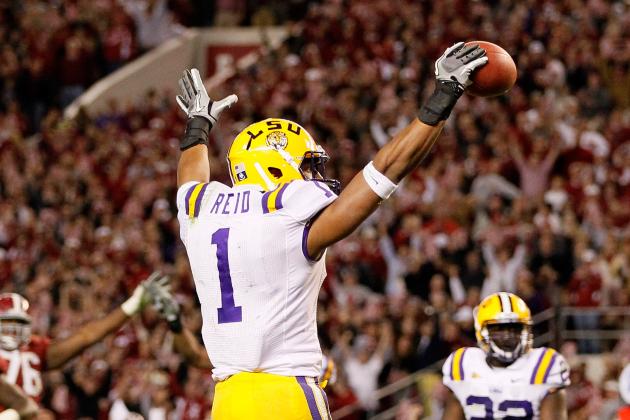 Kevin C. Cox/Getty Images
The 49ers moved up 13 spots to draft Eric Reid at No. 18.
Bill Polian is a former GM and executive for the Carolina Panthers, Buffalo Bills and Indianapolis Colts. He is now a leading NFL analyst for ESPN.
According to Polian, "when you can fill five needs in your first five picks in the draft, you've almost assured yourself of the playoffs again."
Polian provides a very positive analysis of the 49ers' draft.
Eric Reid, safety, will step right in and play.
Polian also mentions the potential of Tank Carradine as an outside rusher and stressed the improvement in the pass rush, through this draft.
Corey Lemonier, is perhaps the least heralded, but most explosive rusher in the draft.
Polian also liked what the 49ers did on the offensive side of the football.
Vance McDonald, is a tight end who'll replace the departed free agent, (Delanie Walker).
Polian reports that Quinton Patton is a very good receiver. Perhaps the greatest praise came when discussing RB Marcus Lattimore, when he said, "The story of the draft, he'll red shirt for the year and I think, become a very good player.".