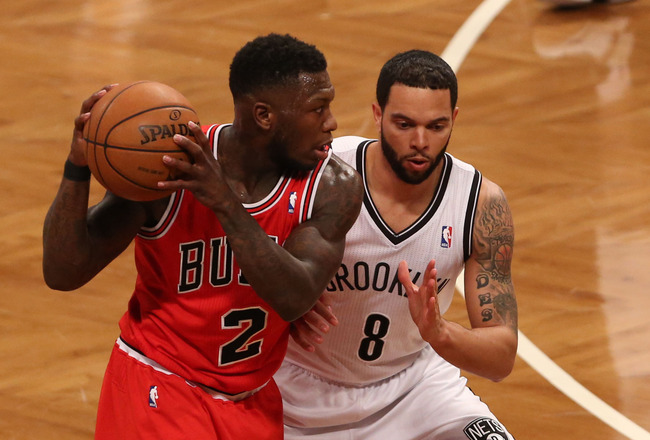 Anthony Gruppuso-USA TODAY Sport
The Brooklyn Nets will play on.
Facing elimination after dropping three straight to the Chicago Bulls, the Nets took Game 5, 110-91, at the Barclays Center.
Brooklyn took an eight-point lead into halftime, but had trouble containing Chicago on the offensive end in the third quarter. The Bulls cut the lead to four leading into fourth, but the Nets responded by outscoring them by 15 (33-18).
Led by Deron Williams, Brook Lopez and a number of their reserves, the Nets have now forced a Game 6 to played in Chicago. After an offensive outburst like this Brooklyn has to like its chances of forcing a decisive Game 7.
And if Joakim Noah, Kirk Hinrich and the Bulls remain as banged up as they are, the Nets have to like those chances even more.
Point Guards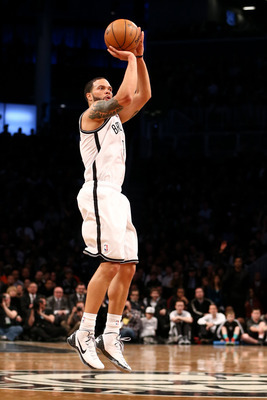 USA TODAY Sports
Nate Robinson, CHI: B+
With Kirk Hinrich nursing a sore calf, Nate Robinson got the starting nod, and he played extremely well.
Robinson finished with 20 points and eight assists on 9-of-19 shooting, and while he clearly wasn't the floor general Hinrich is, he got to the rim with greater ease and was robbed of a few assists after his teammates missed some shots.
Where Robinson really hurt the Bulls was on defense. The effort was there, but the execution was not. He couldn't cut off Deron Williams' dribble penetration and his lack of size left him bouncing off screens.
Still, his hustle on offense and attempt to make the most as the primary ball-handler was admirable.
Deron Williams, BKN: A-
Good things happened when Williams got to the rim.
He finished with 23 points and 10 assists on 6-of-14 shooting and exploited the mismatch Robinson presented at point guard on almost every possession. His drive-and-kicks were a thing of beauty as well.
Williams didn't play the best of defensive games, though. Robinson was able to get by him almost as often as he was Robinson (a slight exaggeration), and there was much to be desired from the help he provided in the post.
What you had to appreciate, however, was Williams' floor management. His offensive savvy—not just in terms of scoring, but spacing, entry passes, etc.—trounced everything he didn't do on the defensive end.
Shooting Guards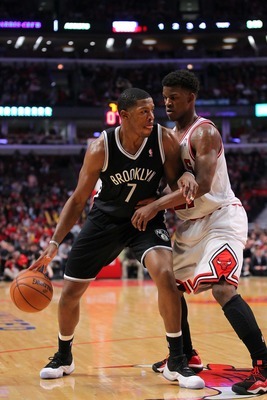 Dennis Wierzbicki-USA TODAY Spor
Jimmy Butler, CHI: A
Jimmy Butler scares me on defense. His feet and hands are just so quick, and he really knows how to create turnovers both on and off the ball (four steals).
Sometimes I do think Butler forgets how athletic he is. He doesn't utilize his dribble enough on offense nor does he hit the rim as strong as he should when he does.
Butler finished with 18 points on 5-of-9 shooting, though, and his jump shot looked pretty good (3-of-4 from deep).
The Bulls may have lost, but let's just go ahead and conclude that the more games Butler has like this, the better.
Joe Johnson, BKN: C
It's clear that Joe Johnson still isn't himself.
Though the shooting guard is no stranger to three-pointers, he was settling in this one. He was 1-of-5 from deep (5-of-11 for 11 points overall) and wasn't able to operate off the dribble as much as he normally does. He was actually relying on Deron Williams to create open shots for him.
Getting back on defense was also an issue (although it normally is). Johnson doesn't seem to have the necessary quickness to navigate the floor effectively.
If the Nets continue to win, hopefully Johnson's foot will begin to heal a bit more. God only knows how much they need him when the game is on the line.
Small Forwards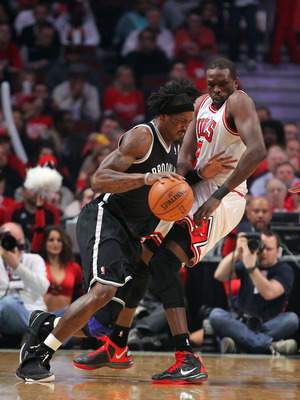 Dennis Wierzbicki-USA TODAY Spor
Luol Deng, CHI: B-
Luol Deng was quiet in this one.
To be fair, he could have dropped 30 points and it still would have been a quiet performance. He flies under the radar like that.
Deng finished with just 12 points on 6-of-14 shooting from the floor and pitched in eight rebounds as well. He wasn't involved on offense as much as he should have been, partly because Gerald Wallace contained him off the dribble, but also because he appeared to be just a blip on his teammates' radar for most of the game.
As per usual, Deng was strong defensively. He limited Brooklyn's wings' ability to move off the ball and was aggressive when boxing out. Just ask Kris Humphries.
Gerald Wallace, BKN: B+
So, Gerald Wallace can still be a dangerous three-point shooter.
He continued his struggles on the offensive end for most of the game, but caught fire late, knocking down 5-of-8 from the field overall and finishing with 12 points. His stat line reads like a guy that did a bit of everything (one rebound, three assists, two seals and two blocks), because he did.
Wallace was an integral part of limiting Deng offensively. He read Deng's first steps like an open book and helped implement a number of traps that took the ball out of his hands. I also dare you to criticize his ability to play the passing lanes. I know you won't. Because you can't.
Now, if only he could bury those wide-open threes like he did here every game...
Power Forwards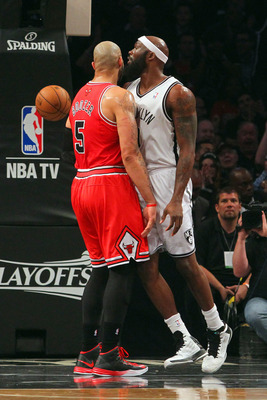 Brad Penner-USA TODAY Sports
Carlos Boozer, CHI: B
Normally, I find myself writing about how poorly or how amazing Carlos Boozer played. There really hasn't been an in between. In Game 5, there was.
Boozer hit on 4-of-8 shots from the floor and finished with 10 points. He brought down 10 rebounds as well.
On offense, I thought he did a nice job rolling off the pick-and-roll with Nate Robinson. And while I'm busy being pensive, I also thought the Bulls should have milked that more.
The real story? Boozer didn't kill Chicago on defense (save for rotations).
Then again, he spent much of his time defending Reggie Evans and Kris Humphries. Just in case you're new to the NBA circle, that's not saying much.
Reggie Evans, BKN: B-
The next timeI see Evans take a jump shot when the Nets aren't leading by at least 25 points, I'm going to walk around wearing socks that don't match.
OK, I take that back. I'm not an animal.
Jokes aside, Evans dominated the glass once again, bringing down 12 rebounds. He also helped force two steals on the defensive end and provided some well-timed help defense on Joakim Noah for Brook Lopez.
I still can't stand how useless he is on the offensive end, though. He can get offensive rebounds, but he's one of few who need to kick it out immediately instead of going back up. His touch around the rim is regrettable, and he's that bad a free-throw shooter.
At least he hustled. On a half-court oriented Nets team that at times appears allergic to running, his energy alone was huge.
Centers
Anthony Gruppuso-USA TODAY Sport
Joakim Noah, CHI: B-
Playing 39 minutes in that triple-overtime thriller didn't do Joakim Noah's foot any good. I gave him a "B-" instead of a "C+" rather reluctantly.
Chicago's big man still wasn't able to make those long strides when running the court that help make him so effective, and he was goaded into an offensive foul midway through the fourth because his footwork just wasn't there.
Noah played 28 minutes and his impact was limited. He finished with 11 points, four rebounds, one assist and two blocks. Not a bad line for the amount of time he spent on the floor, but the Nets were able to get to the rim when he was on the floor. That's not supposed to happen.
With Game 6 two days away, Noah will get some much-needed rest. And hopefully, that will result in the Bulls getting a stronger dose of the Noah they need.
Brook Lopez, BKN: A
Brook Lopez was to the Nets in Game 5 against the Bulls what Dwight Howard was supposed to be to the Los Angeles Lakers in Game 4 against the San Antonio Spurs.
Brolo finished with 28 points (17 of which came in the first half) and 10 rebounds (six offensive???) on 11-of-20 shooting. He was forcing the action early in the second half, but he eventually embraced being used as a decoy, drawing doubles that helped spur Deron Williams' monster third quarter.
And those foot issues Lopez battled all of last season and for a small portion of this one? Yeah, those are history. He slashed through the paint like Luol Deng should have and Noah wishes he could have.
There was room for improvement when Lopez attempted (or rather didn't) protect the rim, though. His timing when he left his feet was inconsistent.
But that's neither here nor there. He dominated where Brooklyn needed him most—on offense.
Sixth Men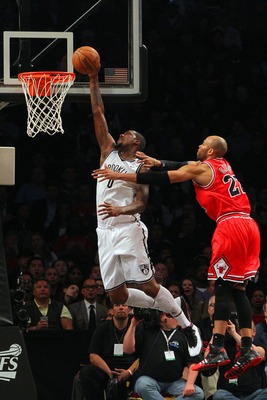 Brad Penner-USA TODAY Sports
Taj Gibson, CHI: C
Much like his buddy Joakim Noah, Taj Gibson just isn't right.
There is no explosion from the forward when going up for rebounds (one) and his left knee seems to be prohibiting him from making necessary lateral movements on the defensive end.
Gibson managed to knock down 2-of-3 from the field, though, en route to tallying four points.
Even after the loss, the Bulls still have the 3-2 advantage, but I'm not sure how much longer they can hold their own with Gibson and Noah (and Kirk Hinrich) as banged up as they are.
Andray Blatche, BKN: A-
Just when you think Andray Blatche is about to revert back to his old ways, he has a game like this.
Brooklyn's crafty big finished with 13 points and five rebounds on 5-of-8 shooting from the field. He tended to get a little exuberant with his dribble, but hey, everyone's entitled to a heat check at some point, right?
Blatche wasn't exceptional on the defensive end (when is he ever?), but he didn't blow his rotations and the Nets weren't burned in the paint with him on the floor.
His fourth quarter performance is what really sold me, though. He hit some big buckets and rendered the Bulls nearly incapable of doubling Deron Williams.
You may now resume your newfangled appreciation for the turbulent Andray.
Benches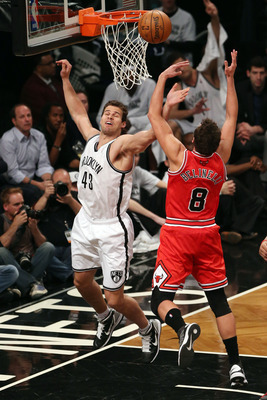 Anthony Gruppuso-USA TODAY Sport
Chicago Bulls: B
You can't blame the not-so-deep Bench Mob for Chicago's loss here.
Nazr Mohammed is clearly still feasting on his Wheaties every morning. He finished with four points, four rebounds and two blocks in just 13 minutes.
Marco Belinelli shot well from the field (4-of-5) and posted eight points. He hurt the Bulls defensively when defending the three and his lack of quickness really hurt him when guarding on the ball.
We had Daequan Cook and Marquis Teague sightings as well (we should have seen more of Teague). The latter hit his only shot while the former saw less than a minute of action.
Not one of the Bulls' reserves played much, but they managed to make the most of their minutes. Which is more than the starters can say.
Brooklyn Nets: A-
Kris Humphries unchained. Seriously, I kid you not.
Humphries logged 16 minutes and had eight points (4-of-8 shooting), six rebounds and a steal. It was refreshing to see him play like he was supposed to.
C.J. Watson redeemed that missed dunk of his as well. He scored 11 points and grabbed four rebounds in 23 minutes. He didn't seem keen on attacking the rim at all (the yips?), but managed to make an offensive impact anyway.
We saw five whole minutes of Marshon Brooks as well. I was so excited. And then I watched as he committed two fouls and was held shot-less, and thus, scoreless in those five minutes. I was immediately less excited.
Nevertheless, Brooklyn's bench got it done in this one. How often do we get to say that?
Keep Reading

Chicago Bulls: Like this team?
Load More Stories