Pittsburgh Steelers' Biggest Needs Left Unfilled After 2013 NFL Draft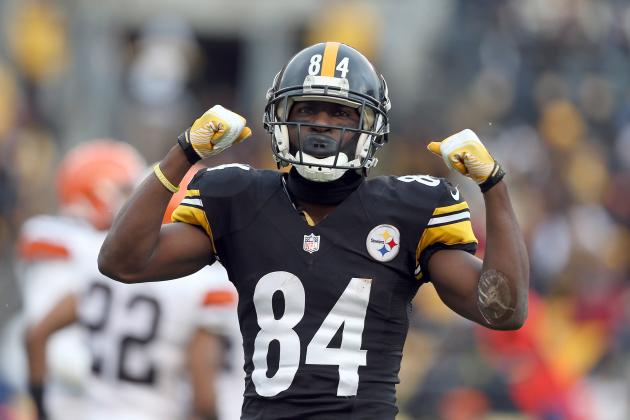 Karl Walter/Getty Images
Antonio Brown is solid, but the Steelers still need help at wide receiver.
The 2013 NFL draft was mostly kind to the Pittsburgh Steelers, but they did not fill all the holes on their roster.
For the first time in a while, the Steelers need to drastically improve on both sides of the ball. The offense in 2012 was anemic, and the defense looked noticeably older and slower.
To be fair, the Steelers tried to correct some of these issues in the draft. They snatched up a quality linebacker in Georgia's Jarvis Jones, who has the potential to replace James Harrison. And Michigan State running back Le'Veon Bell may be just what the doctor ordered to add some power and versatility to a weak Pittsburgh backfield.
They even managed to meet needs that were not entirely obvious, like drafting Oklahoma quarterback Landry Jones in the fourth round, presumably to groom him to be Ben Roethlisberger's trusty backup and eventual successor.
There is only so much a team can do through the draft, though. The Steelers addressed a lot of concerns, but could still use help in a lot of areas.
These are not needs that Pittsburgh can fill right away, mostly because the free-agency pool is dwindling, and, even if it were not, the team is handicapped by the salary cap. But the organization needs to be aware of the weaknesses in their depth chart if they want to get back to playing Pittsburgh Steelers football.
Begin Slideshow

»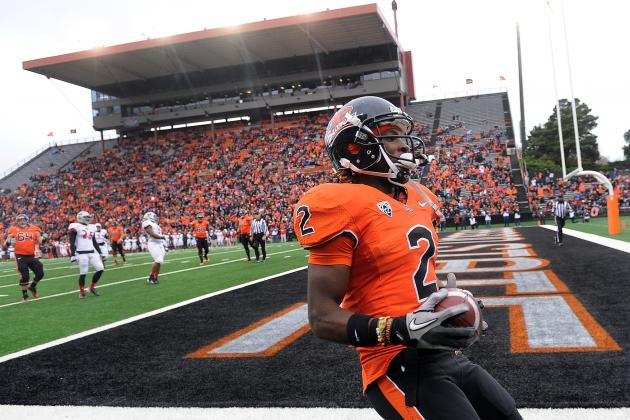 Steve Dykes/Getty Images
Markus Wheaton may or may not be the answer at receiver for the Steelers.
This was one of the Steelers' biggest needs entering the draft. Mike Wallace's expected departure left Pittsburgh with a serviceable but not spectacular receiving corps.
Antonio Brown and Emmanuel Sanders are both young and dynamic, but they are both under six feet tall and have yet to show they can be true leaders on offense. Wily veterans Jerricho Cotchery and Plaxico Burress can provide some support, but only in a limited capacity.
Basically, this unit is not going to strike fear into the hearts of many NFL teams.
The Steelers made an effort to add some talent to this crop of receivers by drafting Oregon State's Markus Wheaton and Oklahoma's Justin Brown. Both draft picks have the potential to be legitimate receiving threats, but they might not be immediate impact players.
Unless the Steelers want to try to sign Josh Cribbs with the money they do not have, there is not much they can to add to this group of receivers at this point. They still need a Wallace-esque big-play threat to open up their offense and make Roethlisberger's life a lot easier.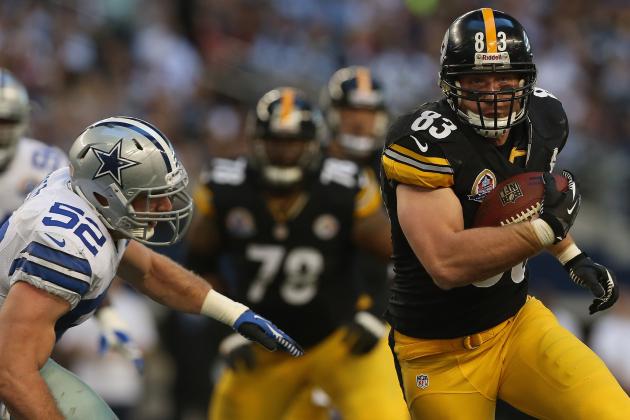 Ronald Martinez/Getty Images
It is time for the Steelers to start planning for life without Heath Miller.
Heath Miller is and will be the starter in Pittsburgh until proven otherwise. But right now his age and health are holding him back.
Steelers general manager Kevin Colbert announced in February that Pittsburgh would be starting the 2013 season without Miller, who tore ligaments in his knee on Dec. 23. They are hopeful that he will return midseason, but no one knows when exactly that will be yet.
Even if he was completely healthy, Miller is 30. If the Steelers drafted Jones to possibly take over for the 31-year-old Roethlisberger, it is surprising they did not at least think about drafting some young blood that Miller could mentor.
Since the Steelers did not draft any tight ends, they will be utilizing backups David Paulson and Matt Spaeth until Miller is ready to go again. Neither player brings the same receiving and blocking talent that Miller has displayed during his time in Pittsburgh.
Whether Miller comes back strong or not, Pittsburgh should consider taking a tight end in the 2014 draft.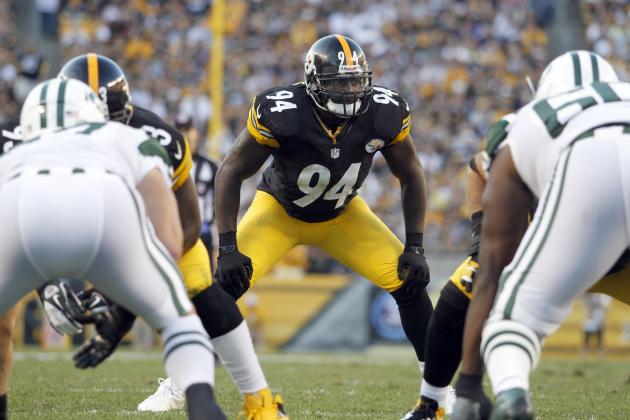 Justin K. Aller/Getty Images
Lawrence Timmons could use some help at inside linebacker.
The Steelers helped themselves out at outside linebacker by drafting Jones, who has the strength and tackling prowess to step in right away. The inside linebacker situation is another story.
Lawrence Timmons is a beast in the middle, but he does not have much help. Larry Foote is 32 and will not be able to play every down.
Pittsburgh made an attempt to remedy this issue by drafting Florida State inside linebacker Vince Williams in the sixth round. He impressed at the Senior Bowl, but has nagging injury concerns.
This is a position that might see a noticeable decline in 2013. Unless Foote finds a fountain of youth or one of his backups surpasses expectations, the inside linebacker situation in Pittsburgh does not look particularly promising.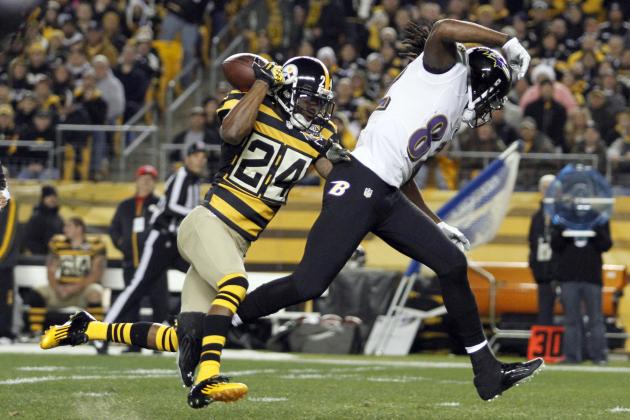 Justin K. Aller/Getty Images
Ike Taylor needs a complementary player at cornerback.
Ike Taylor is a certified shutdown cornerback, but he is 32 and can only cover one side of the field. The Steelers need someone to play opposite him now that last year's starter Keenan Lewis is with the New Orleans Saints.
Bringing William Gay back to Pittsburgh was clearly not the long-term answer. Gay was practically run out of town the first time for constantly getting beaten.
The only thing the Steelers did to bolster their cornerback corps was draft Illinois's Terry Hawthorne in the fifth round. That could work out down the line, but probably not next season.
Taylor has the ability to shut down most of the league's top receivers, but the Steelers currently have no one to handle each team's second receiving threat. That is a serious problem that Pittsburgh needs to deal with as soon as possible.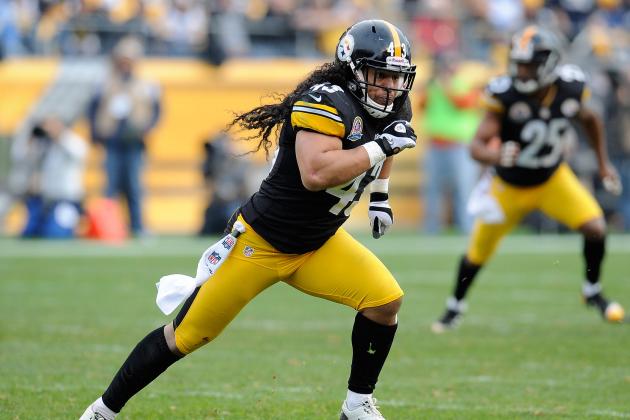 Joe Sargent/Getty Images
Troy Polamalu is getting old and could use some a young, talented backup.
Troy Polamalu and Ryan Clark are solid starters, but they are 32 and 33 respectively. The Steelers currently have very little depth at safety after losing Will Allen and Ryan Mundy in free agency.
Pittsburgh at least appeared to recognize this by drafting Syracuse safety Shamarko Thomas in the fifth round. He might have to see playing time right away considering how often Polamalu gets injured these days.
Thomas is big, but not tall. A 5'9" safety will have trouble if he has to fight for a ball with some of the league's taller receivers. Clark and Polamalu are not exactly giants, but they are proven commodities at this point. Who knows if Thomas will be effective or not against NFL receivers yet?
Luckily for the Steelers, they do not have to play in Denver during the regular season. That means Clark has the potential to play all 16 games for once. If he or Polamalu cannot go for any reason, the Steelers might be in trouble at the safety position.