Top Bromances in NBA Playoff History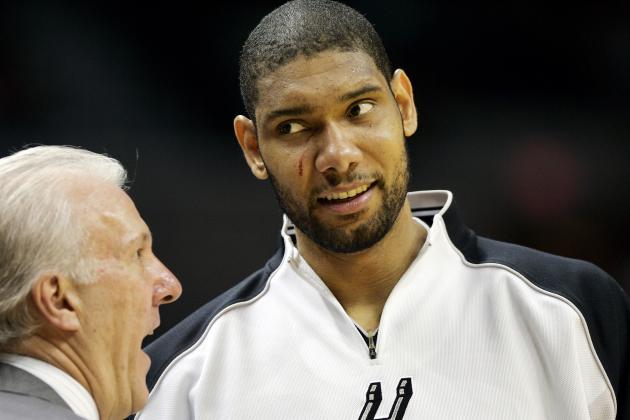 Brian Bahr/Getty Images

The history of the NBA playoffs is littered with famous duos. Some succeeded in spite of not getting along, but there have been others.
Some of these partnerships become symbiotic in nature, with each individual improving with the efforts of the other. These relationships are not always player-player, as some are coach-player and more fatherly in nature.
The bromances here are represented by two individuals who have repeatedly been through the same battles, side by side, and have grown together as a result.
They may span varying generations of the NBA landscape, but time doesn't change what two people working towards a common goal can accomplish.
Begin Slideshow

»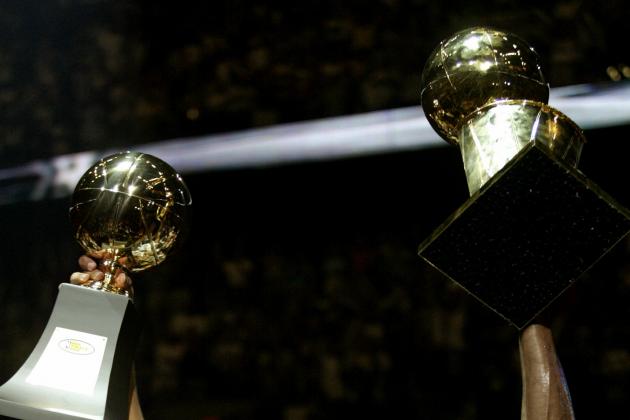 Jed Jacobsohn/Getty Images

David Robinson and Tim Duncan: Though they only played six seasons together, the duo of Tim Duncan and David Robinson appeared in 70 postseason games from 1998-2003.
Those trips to the playoffs included two NBA championships and countless memories for Spurs fans. Duncan, who won finals MVP both times, came along at just the right time. Robinson gracefully faded into being a role player, allowing Duncan to take the spotlight. Because there was no ill-feelings, the transition went smoothly. Thanks to this bromance, the Spurs set a precedent for lengthy success.
Michael Jordan and Phil Jackson: Before he got buddy-buddy with Kobe Bryant and Derek Fisher, Phil Jackson had already racked up six NBA titles with Michael Jordan and the Chicago Bulls.
Jackson came on for Jordan's sixth year in the league, and immediately helped the Bulls get over the hump. Title No. 1 came in Jackson's second year in Chicago. They then won two more in a row before Jordan's baseball hiatus. When Jordan returned, Jackson was still there to win three more championships.
The two butted heads occasionally, so it wasn't until late in their careers and into retirement that we were able to truly appreciate the bromance they had.
Steve Nash and Dirk Nowitzki: Though their partnership was brief and amounted to little immediate success, the bromance between Steve Nash and Dirk Nowitzki was important to the careers of two of the most important players of the generation.
Nash and Nowitzki were different, from eachother and the rest of the league. They bonded over than and went to 43 playoff games over four postseasons together. They lost in the conference finals in 2003, and that was the farthest they ever got together. Once they separated, the bond remained tight and what they learned allowed them to go on to multiple successes individually.
Brian Bahr/Getty Images

Perhaps the best current bromance in the NBA is the coach-player relationship between Gregg Popovich and Tim Duncan of the San Antonio Spurs.
This duo has played/coached in 194 playoff games together and will be adding at least four more to that by the end of this season. Those games have spanned 16 seasons with the Spurs, starting with Duncan's rookie year in 1997.
Popovich's tenure with San Antonio began the year before Duncan arrived. That 1996-97 season was the last time the Spurs missed the postseason. Four NBA championships followed Duncan's arrival, helping Popovich become the longest current-tenured NBA head coach.
Most impressively, the two are still at it to this day. After making quick work of the Los Angeles Lakers, with a first-round sweep, the Spurs await their second-round opponent. Popovich has built the perfect team around Duncan, all while being able to manage his in-season minutes to allow for more incredible playoff performances.
Popovich has also made it clear that when Duncan goes, he goes. They will most likely be retiring together sometime soon.
This bromance may be the quietest of the lot, but you'd be hard-pressed to find a more successful duo.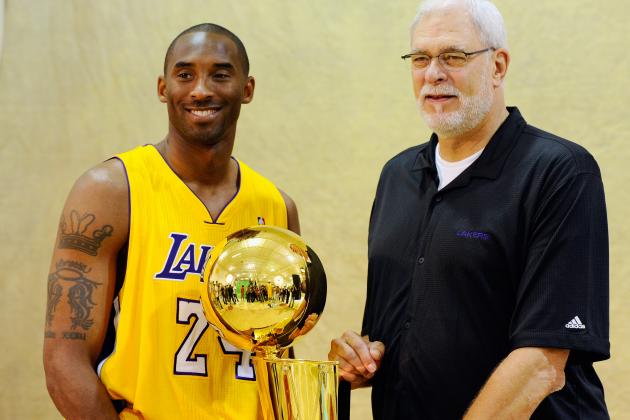 Kevork Djansezian/Getty Images

Kobe Bryant's 220 career playoff games are the second most among active players. Phil Jackson was a part of 180 of those.
Nearly 82 percent of the playoff games Bryant has played in his illustrious career have come as a part of the Jackson-Bryant pairing. A pairing that has won five NBA titles and been to two additional finals.
The relationship between the two wasn't as smooth as Tim Duncan and Gregg Popovich's, but it was every bit as successful. They had some rocky moments, with a young, headstrong Bryant mis-managing his priorities, but that only helped them grow closer together.
As one, they took the Los Angeles Lakers franchise to another level. The Lakers were always storied, but the run of Bryant and Jackson pushed them to within one championship of the league-leading Boston Celtics.
Figuring out how to make a partnership like this work long-term cannot be easy. Adding in their geographical location and the market that comes with Los Angeles sports, it is miraculous that they held on for 11 years.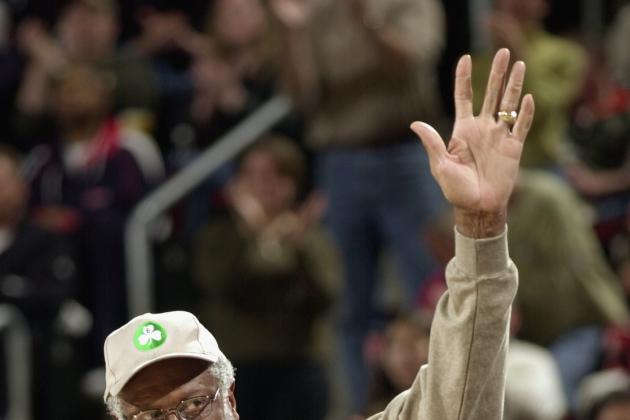 Otto Greule Jr/Getty Images

As head coach and star player, Red Auerbach and Bill Russell won an unprecedented nine NBA titles in 10 years.
The Boston Celtics won their first NBA championship in 1957 during Russell's rookie season. They lost in the finals the following year before running off eight straight titles.
Following title No. 9 in 1966, Auerbach stepped down as head coach. He moved to the role of general manager, installing Russell as player-coach. After a year off, the team won two more championships.
Russell wound up with 11 titles, while Auerbach ran up 16 as both a coach and front office member. Those nine are the ones that matter, though. The singular partnership that shaped the winningest franchise in NBA history was quite a fascinating pairing.
That they continually turned to one another for advice, and that Auerbach looked to Russell to replace him as coach, speaks to the quality of the relationship. Though Auerbach passed away in 2006, Russell lives on in memory of one of the greatest bromances we'll ever see.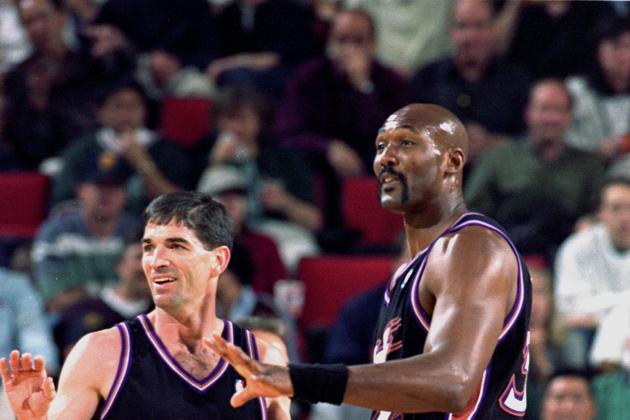 Otto Greule Jr/Getty Images

John Stockton got to the Utah Jazz one year before Karl Malone, in 1984-85. Malone played that one extra year with the Los Angeles Lakers in 2003-04.
However, none of that mattered for this bromance. What mattered was the 18 straight seasons they spent together, making the playoffs every year. That model of consistency registered 172 postseason games played, every one of them with the two side-by-side.
One could easily say it was luck that the Jazz struck gold in back-to-back NBA drafts. Especially since they were picking in the middle of the first round both times. It always seemed like destiny or fate, though. Stockton (pick No. 16) and Malone (pick No. 13) were meant to play together.
Opposites do attract, and for two decades the Jazz were led by a guy from Washington and a guy from Louisiana. Though they never won that elusive NBA title together, fans were treated to watching this bromance blossom every year in the postseason.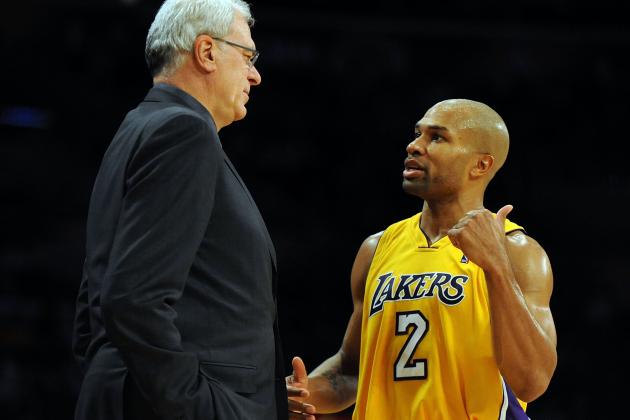 Harry How/Getty Images

Derek Fisher and Phil Jackson have paired for the third most postseason games in history, at 166.
While that only seems like a fraction of Fisher's 233-and-counting, the most among active players, the 166 were his most meaningful.
That those 166 came over the course of just nine postseason appearances together is perhaps the most impressive thing of all. That means the duo averaged 18.4 games per postseason when they were together. Pretty much if Jackson was on the sidelines and Fisher was running the point, your team was going to at least the conference finals.
Indeed, that is exactly where they went, and further. Fisher and Jackson won five NBA titles together. After winning his first three with the Lakers, Fisher tested the waters elsewhere. Three years later, he scurried back to Jackson in Los Angeles and won two more titles.
This is a bromance that just wouldn't quit. So if Jackson returns to the NBA somewhere, don't be surprised to see Fisher on the bench next to him.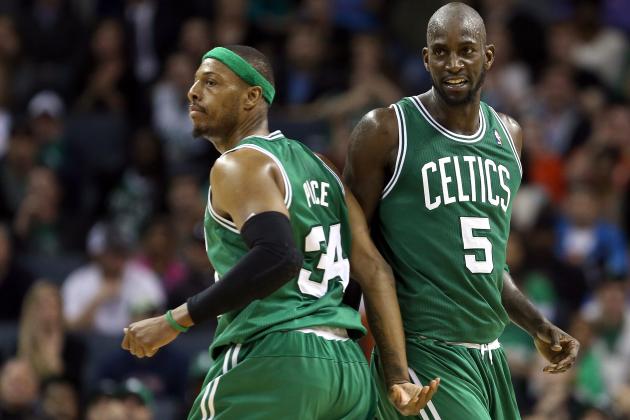 Streeter Lecka/Getty Images

What Kevin Garnett and Paul Pierce lack in longevity, they make up for in sap.
This relationship is like a Hollywood romantic comedy. Right now, the two are in the phase of having a "you hang up, no you hang up" back and forth. Neither one wants to make the big decision about moving on, so they have attached themselves to one another in solidarity.
If Pierce leaves, so does Garnett. The bromance has become a package deal for the Boston Celtics, but it is one that has brought them great postseason success. Since coming together in 2007-08, the Celtics have not been eliminated in the opening round of the playoffs. Though that is on the verge of breaking in 2013, it is impressive nonetheless.
The second part of the Hollywood relationship is that these two were very good friends in childhood. During their AAU days as teenagers, Garnett would occasionally live with the Pierce family. This bromance has been growing since those days.
Heading into this postseason, the duo had played in four playoffs together (Garnett missed 2009). Over the course of those four years, the Celtics averaged 19.5 playoff games per postseason. They broke 20 games three times and went to two NBA finals, winning one.
While their NBA bromance has been short-lived, this relationship has been a long time coming.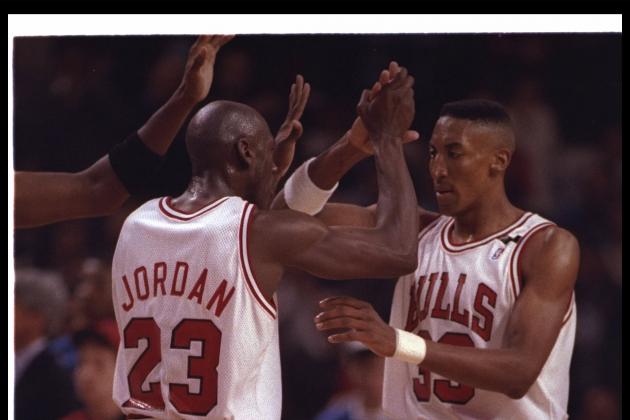 Jonathan Daniel/Getty Images

The greatest 1-2 punch in NBA history is also one of its most fascinating bromances.
Michael Jordan (179) and Scottie Pippen (208) are both in the top 16 for career postseason games played, and it could have been much more.
It is a little-known fact that Jordan was quickly dispatched from three consecutive playoff series before Pippen arrived in Chicago for the 1987-88 season. As soon as Pippen secured the starting small forward spot, the duo reeled off six straight postseason runs of 10 games or longer. That included three NBA championships.
During Jordan's absence in 1993-94, Pippen wasn't able to get the Bulls out of the second round. Two years later, Jordan was back completely, allowing him and Pippen to continue their dominance of the league. They won three more titles before exploring other interests after 1998.
Pippen went to the Houston Rockets, then Portland Trail Blazers. Jordan retired once again before joining the Washington Wizards in 2001. Unfortunately, the magic of the bromance was gone, and neither could amass similar success individually.
The two remain close, and Pippen was recently a guest at Jordan's wedding.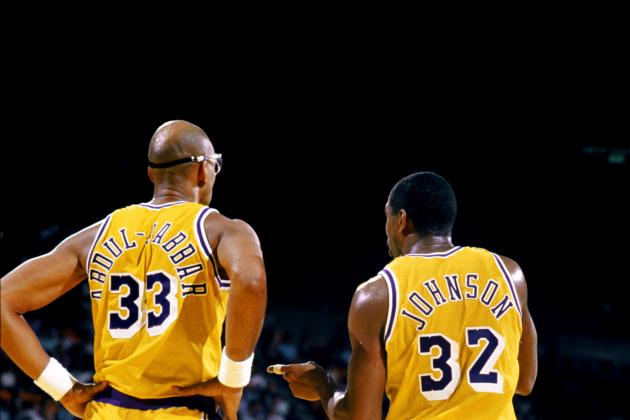 Mike Powell/Getty Images

During their playing days, this didn't totally seem like a bromance, as there were reported tiffs all over the place.
However, in a 2006 interview with the Los Angeles Times, Kareem Adbul-Jabbar put those rumors to rest, and said that he and Magic Johnson were good friends despite the generational gap.
Well, first of all, we never had any personal animosity. Magic's family more or less kind of adopted me. Magic's mother is a Seventh-Day Adventist and they're kind of a lot like Muslims in that they don't eat pork and stuff.
Whatever gap there was certainly didn't manifest itself on the court, as this bromance is one of the most talented in history. Abdul-Jabbar played in 237 playoff games, second most in history, and during 158 of them, he had Johnson getting him the ball.
In 158 of Johnson's 190 postseason appearances, he had Abdul-Jabbar there to take the offensive load. The two won five NBA championships together in 10 years, a remarkable number.
They still appear to be on good terms, appearing in fantastic commercials with one another, as well as a couple of their biggest rivals.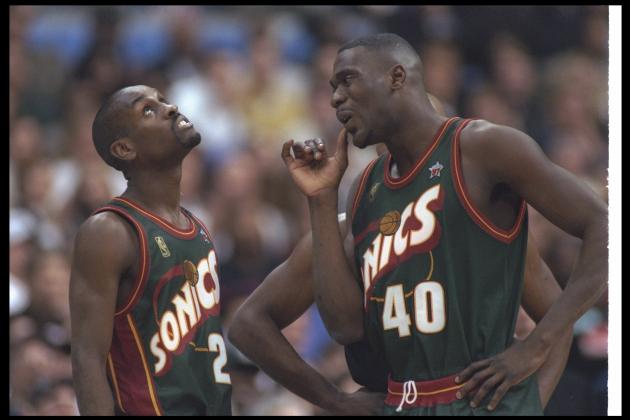 Brian Bahr/Getty Images

The dynamic bromance of Gary Payton and Shawn Kemp may be best known for their outstanding abilities in video-game form, but they were quite the duo on the real floor as well.
The two took the Seattle SuperSonics to seven straight postseasons from 1991-97. Though neither will find themselves on any total playoff game lists, these two were one of the most exciting things to watch in the history of the league.
In 1996, they battled and lost to Michael Jordan and Scottie Pippen's Chicago Bulls in six games in the NBA finals. When Kemp moved on to the Cleveland Cavaliers in 1998, the duo called "Sonic Boom" had played in 74 playoff games together.
They were responsible for countless highlights and completely illustrated the changes the NBA went through in the 1990s. The athletes got bigger and faster, allowing for more highlights like the ones provided by Payton and Kemp.
"Sonic Boom" isn't the most decorated of bromances, but it was possibly the most exciting.