Chicago Bulls vs. Brooklyn Nets: Game 5 Score, Highlights and Analysis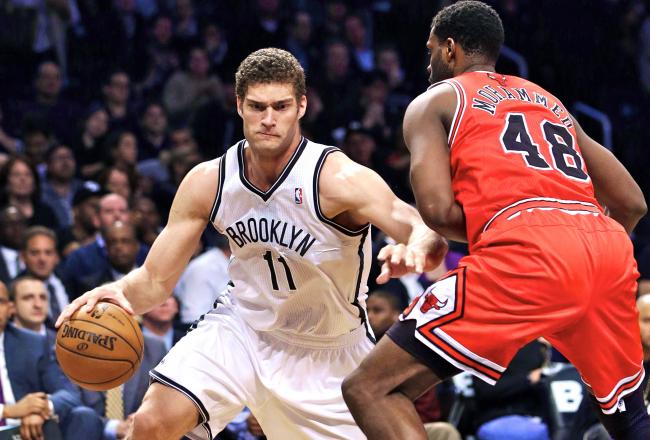 The playoffs' most exciting first-round series will live on to see another day.
After Nate Robinson led an improbable comeback in the Chicago Bulls' triple-overtime Game 4 victory, the Brooklyn Nets entered Monday night's contest at risk of elimination.
On the shoulders of Brook Lopez's 28 points and 10 rebounds, the Nets defeated the Bulls, 110-91, narrowing the series gap to 3-2.
The Nets were rolling early at the Barclays Center, as Brook Lopez dominated on all cylinders, while Kris Humphries and Reggie Evans' combined 18 rebounds allowed Brooklyn to gain the advantage on the rebounding end.
Deron Williams took advantage of Bulls guard Kirk Hinrich's injury, contributing 23 points and 10 assists in the team's win.
The victory wasn't a four-quarter blowout, however, and Nate Robinson, fresh off a 34-point performance, helped Chicago remain close all night. He finished with 20 points in his first ever playoff start.
Brooklyn peaked toward the end of the first half, and a hot start to the third quarter allowed Nets fans to breathe a sigh of relief.
However, the Nets' fourth-quarter struggles seemed to continue and Luol Deng brought Chicago within one with eight minutes to go.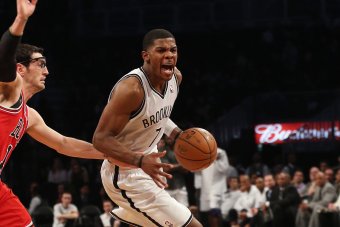 Bruce Bennett/Getty Images
The Nets were able to maintain their lead, though, as a three-pointer followed by a fast-break dunk from Gerald Wallance helped ensure the victory. Brooklyn will need to win Game 6 on the road to extend the season another game.
Twitter Reaction
Things started off slow for the Bulls and well for the Nets.
Midway through the 1st qtr, Bulls trail the Nets 10-6 on 30% FG shooting. Brooklyn shooting 46%. #NETSvBULLS

— Chicago Bulls (@chicagobulls) April 29, 2013
But who could forget how that ended in previous contests?
Something to remember: the pace Saturday favored the Nets from start to finish. Off to a similar one tonight.

— Tim Bontemps (@TimBontemps) April 29, 2013
Strong play from Brook Lopez and Kris Humphries allowed the Nets to maintain a lead.
Good start for the Nets, who lead 26-21 after one. Brook Lopez off to his typical hot start with 11 points and three boards.

— Tim Bontemps (@TimBontemps) April 29, 2013
Kris Humphries with a travel and then a jumpshot. I'm still not sure if I like him. #Nets up 4

— The Brooklyn Game (@TheBKGame) April 29, 2013
I like him. #Nets

— The Brooklyn Game (@TheBKGame) April 29, 2013
But after his incredible Game 4 showing, everyone could expect who would help Chicago fight back.
NATE DOG HAD TO REGULATE. #Bulls within 31-29 and a free throw to come. #Nets

— Mike Mazzeo (@MazzESPN) April 29, 2013
Nate is warming up and #Nets are cold from downtown. They're 0 for 5 so far from the land of three.

— Rod Boone (@rodboone) April 29, 2013
Still, an incredible half on the boards helped Brooklyn build up its lead.
Bulls were 0-7 this season when being outrebounded by 11 or more. They're -10 on the glass at halftime.

— Jeff Mangurten (@JeffGurt) April 30, 2013
Tom Thibodeau is not happy with all of Brooklyn's offensive rebounds. This game is getting chippy. #playoffs

— Stefan Bondy (@NYDNInterNets) April 30, 2013
After the break, the Nets came speeding out of the gate...
After missing 16 straight threes from the 4th quarter of Game 4 to the 2nd quarter tonight, the Nets have made 3 of their last 4 from deep.

— Jeff Mangurten (@JeffGurt) April 30, 2013
But as good as the Nets were, the Bulls seemed to stay close behind.
A couple bad turnovers from the #nets lead to easy baskets on the other end for the #bulls. Can't let the bulls hang around like this

— The Brooklyn Game (@TheBKGame) April 30, 2013
Butler answers Williams' three. Bulls back within seven with 4:25 in the 3rd. Jimmy 14pts in the contest. #NETSvBULLS

— Chicago Bulls (@chicagobulls) April 30, 2013
Though the Nets survived the third without losing their lead.
Thibs is furious with his team's offensive execution. He is literally shaking his arms up and down on the sideline.

— Nick Friedell (@NickFriedell) April 30, 2013
But the Bulls cut the lead down in the opening minutes of the fourth.
And, it's a one-point game.

— Tim Bontemps (@TimBontemps) April 30, 2013
I feel like the Nets are just following a script at this point.

— Aggrey Sam (@CSNBullsInsider) April 30, 2013
Joe Johnson's clutch play allowed Brooklyn to retain its lead.
Quick burst here by #Nets after #Bulls get within one. It's 83-78 after that fast break layup by Dray.

— Rod Boone (@rodboone) April 30, 2013
"Hey Joe, maybe an isolation against Chicago's best perimeter defender isn't such - good shot, Joe."

— devin kharpertian (@uuords) April 30, 2013
Even so, people never doubted the possibility for a comeback...
Nets call timeout with 3:15 left and leading 98-91 with everyone trying to avoid saying we've lost bigger leads than this in less time

— Sam Smith (@SamSmithHoops) April 30, 2013
Until Gerald Wallace came through in the closing minutes.
Huge three-ponter there by Gerald. Then on next possession, he dunks it on a fast break. #Nets are up 1103-91 with 2 minutes left. It's over

— Rod Boone (@rodboone) April 30, 2013
Where have you been Gerald Wallace

— Reed Wallach (@ReedWallach) April 30, 2013
And the Nets marched on to a Game 5 victory.
It's a 10-1 Nets run.Bulls have not made a field goal in over 3 minutes.

— Jeff Mangurten (@JeffGurt) April 30, 2013
Looks like we're headed to Game 6. Way to shut me up, Nets. #Game5

— Brooklyn's Finest (@BKsFinestTHN) April 30, 2013
The series will be extended to Game 6 in Chicago Thursday night. The Bulls will once again eye a series victory, while Brooklyn will look to tie things up and push it back to the Barclays Center for Game 7.
This article is
What is the duplicate article?
Why is this article offensive?
Where is this article plagiarized from?
Why is this article poorly edited?