Predicting Which 2014 QB Recruits Will Make Final Elite 11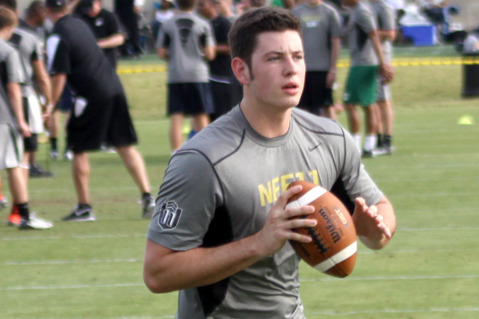 247Sports
The Elite 11 is the most prestigious QB camp for high school signal-callers in the country. It started in the late 1990s as an invitation-only camp for the nation's best 11 senior quarterbacks. Past attendees include Andrew Luck, Matthew Stafford, Mark Sanchez, Tim Tebow, Vince Young, Troy Smith and Matt Leinart, among many other notables.
The format of the camp has changed over the years. Now 25 QB prospects are invited. However, at the end of the camp, the best 11 are ranked and an MVP is named.
Who will be in that select group at the 2013 camp in late June at Nike headquarters? And who will be the MVP? A stellar prospect from Oklahoma figures to be one of them.
Player evaluations are based on review of tape at Scout.com, Rivals, 247Sports and ESPNU.
Begin Slideshow

»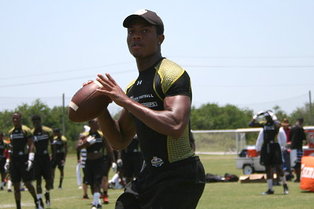 247Sports


Tied for 2nd place:

Max Browne (USC)

MVP:

Asiantii Woulard (South Florida)



Tied for 2nd place:

Christian Hackenberg (Penn State)

4th place:

Zack Greenlee (Fresno State)

5th place:

Luke Del Rio (Alabama)

6th place:

Jared Goff (California)

7th place:

Malik Zaire (Notre Dame)

8th place:

Johnny Stanton (Nebraska)

9th place:

Shane Cockerille (Maryland)

10th place:

Kevin Olsen (Miami)

11th place:

Joshua Dobbs (Tennessee)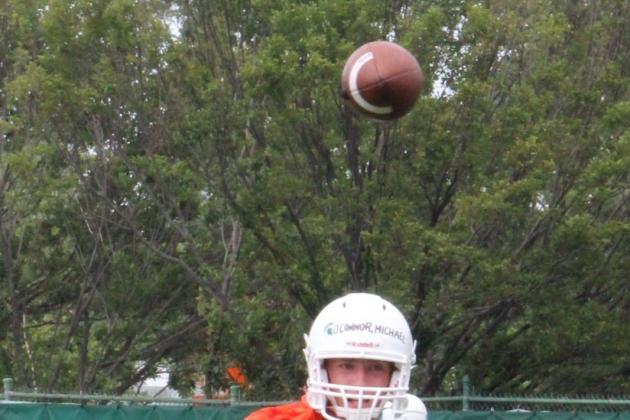 247Sports
O'Connor has fantastic size at 6'5", 223 pounds and great arm strength. He can power the football downfield with good delivery quickness and attacks all three levels of the defense.
Possessing the ability to work from under center and from the shotgun, O'Connor sees the field well and has good ball placement skills. He's decisive in the pocket and flashes mobility as a runner.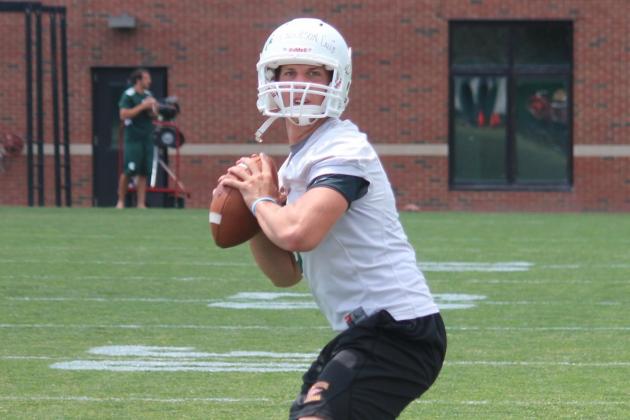 247Sports
Henderson has what it takes to earn an invitation to the Elite 11 Finals. He's a 6'3", 222-pounder from Virginia who has the potential to be a good starter in college.
Henderson's ability to hang tough in the pocket and make strong throws is reminiscent of Tyler Wilson. The North Carolina commit has good arm strength, field vision and is a solid decision-maker.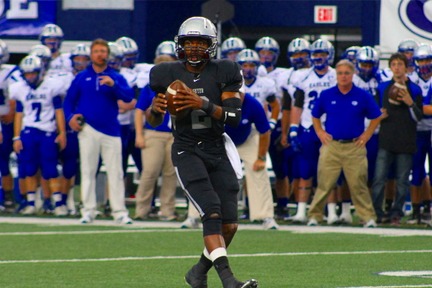 247Sports
Heard's foot quickness and athleticism will impress Elite 11 coaches as they watch him drop back quickly from center. He's a 6'2", 193-pound dual-threat QB from Texas and is committed to the Longhorns.
Heard has the arm strength to consistently put the football in the hands of targets outside the numbers. He's also a quick decision-maker, showing the ability get the football to targets in a flash on underneath routes.
He'll do well at the camp and place high in the final rankings.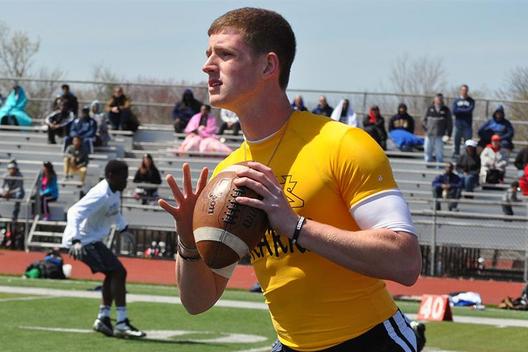 247Sports
Ford went to the D.C. Elite 11 competition earlier this month and beat out Caleb Henderson and Jacob Park for an invitation to the Finals. He was the QB of Adam Breneman's high school team and delivered passes to the Penn State signee in high school.
A 6'2", 187-pound southpaw, Ford has good mechanics and footwork in the pocket. He holds the ball chest high, keeps his eyes downfield and has good intermediate accuracy.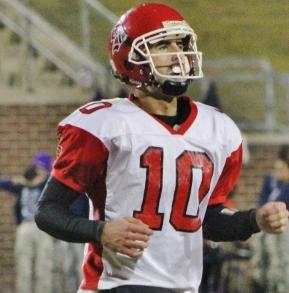 247Sports
The more exposure Park, a 6'3", 200-pound field general from South Carolina, receives, the better talent evaluators like him.
Park's size is impressive, but he also has quick feet, the ability to set up quickly and great arm strength. As a passer, Park also can attack the edges on sprints, rolls and bootlegs while also being a threat as a runner.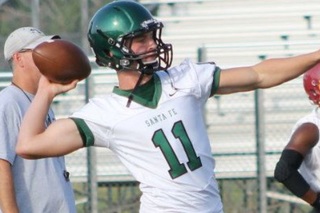 247Sports
Oklahoma scored a major coup when Hansen committed to the Sooners recently. He's from inside the state and stands 6'4", 200 pounds.
Hansen can operate inside the pocket with good poise but also has escapability to get out of the pocket. He has a quick release, throws an accurate ball and can run one-read plays to put a squeeze on the defensive edges.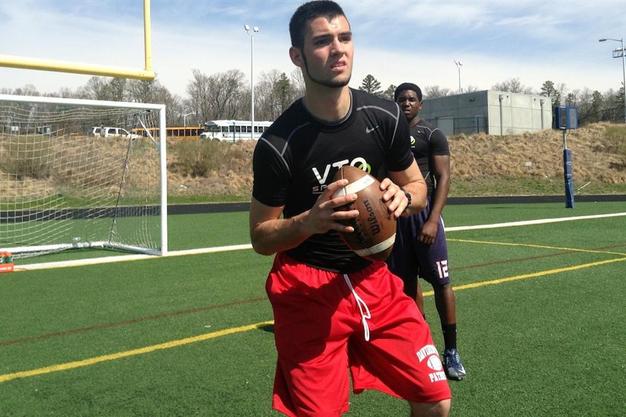 247Sports
Grier's junior season was remarkable. He threw 10 TD passes in a game last year as a QB in North Carolina. But the best is yet to come.
The 6'3" athletic signal-caller only weighs 180 pounds, but he's tough. Grier has solid arm strength but excels more as a smart and timing-based passer. He shows good ball-placement skills and should be one to watch in the accuracy competition.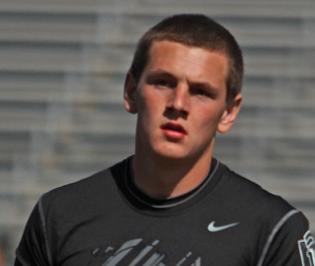 247Sports
The son of Geep Chryst, the 49ers' QB coach, the 6'4'', 225-pound Chryst is a well-schooled QB.
He has an over-the-top delivery and can rifle throws downfield well. He shows good accuracy and a keen sense for reading coverages. It's expected that he will impress the Elite 11 coaches in the chalk talks and classroom sessions.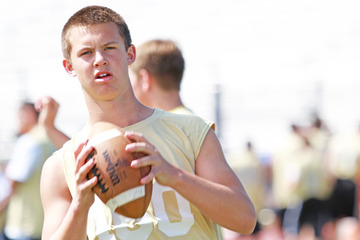 247Sports
He's not going impress observers with his arm strength, but Allen is one of the better decision-makers in the country at the QB position.
The 6'2", 192-pounder from Arizona sees the full field well, doesn't get fooled by tricks on the back end and can run a lot of "check with me" plays at the line of scrimmage. Allen's intelligence and accuracy will win over the Elite 11 coaches.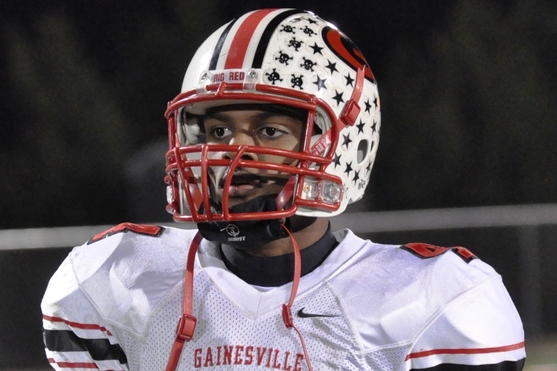 247Sports
Watson is a candidate to win the MVP, and don't be shocked if he does. We're talking about a 6'3" QB with great arm strength, accuracy, field vision and mobility.
The Peach State prospect and Clemson commit will soak up the coaching at the event, and the moment will not be too big for him. He's a better version of Asiantii Woulard, who won the MVP award last year.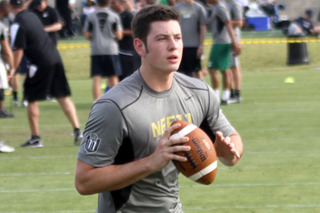 247Sports
Cornwell, the choice for MVP, is a 6'5", 235-pound specimen from Oklahoma with tremendous arm talent.
He can execute all of the throws consistently with great velocity and accuracy. He has great field awareness, moves well for a big QB and could win both the accuracy competition and another featuring arm strength.
He could be the most gifted passer at the event.
Edwin Weathersby is the College Football Recruiting Analyst for Bleacher Report. He has worked in scouting/player personnel departments for three professional football teams, including the New York Giants and Cleveland Browns.