Predictions for L.A. Lakers in 2013-14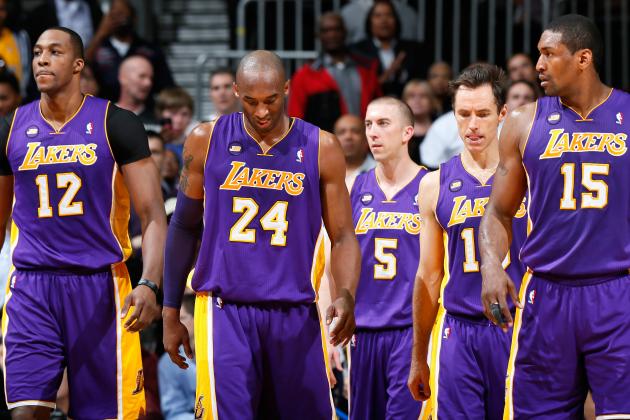 Kevin C. Cox/Getty Images

Sunday's 103-82 loss to the San Antonio Spurs brought an unflattering end to a season of misfortunes for the Los Angeles Lakers.
In and of itself, the four-game sweep officially bedded a year in which expectations and optimism were replaced by devastating injuries and subsequent lackluster performances.
But just how far-reaching will the effects of that 21-point loss be?
Plagued by financial woes perhaps best captured in a potential $80 million-plus tax penalty (via Mike Bresnahan of the Los Angeles Times) the future of the franchise is as murky as those of the most prominent faces.
Dwight Howard's decision in free agency is anything but a foregone conclusion at this point (via Marc J. Spears of Yahoo Sports). The 34-year-old Kobe Bryant faces a long road to recovery from a torn Achilles. Pau Gasol has spent the better part of the past two seasons floating in and out of the trade market.
Sans crystal ball, there is no telling exactly what the 2013-14 Lakers team will look, or perform, like.
But there are at least some early indications as to what will take place in La La Land over the coming months.
Begin Slideshow

»
Christian Petersen/Getty Images

The Lakers brain trust banked the team's success on Steve Nash and Mike D'Antoni's ability to recapture their past success.
The fact that the pair shared just 48 regular-season games could have been at least partly responsible for the team's dramatic demise.
But just how much of that lost time can be attributed to bad luck, and what portion should have been foreseen?
Nash's injury history appears to suggest he was about as likely for missed time as Oklahoma City Thunder (former) iron man, Russell Westbrook. Nash had missed fewer than 10 games in each of the past 11 seasons.
At 39 years old, though, perhaps he was navigating a fine line.
When he suffered a small fracture in his left leg during the second game of the season on Oct. 31, he was expected to miss only a week or two. He did not return to action until Dec. 22.
Missing anticipated return dates became a theme for Nash's injury-riddled debut campaign with the Lakers.
The grip of Father Time won't lessen over the final two years of his current contract, making him a question mark at best for the team's immediate future.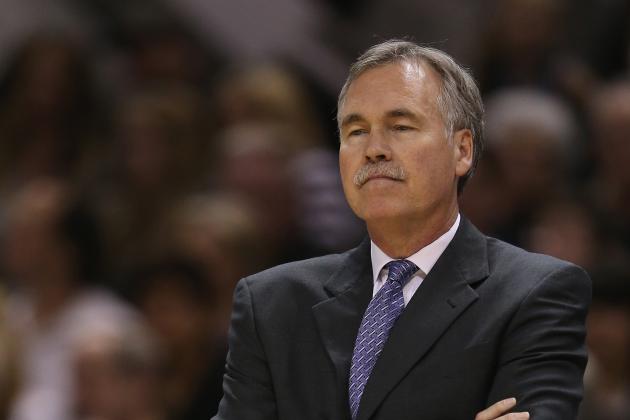 Ronald Martinez/Getty Images

If D'Antoni were the only coaching decision gone wrong for this Lakers regime, he may well have already been handed his walking papers.
But considering this franchise still owes newly named Cleveland Cavaliers coach Mike Brown seven figures (via Eric Pincus of the Los Angeles Times) the prospect of adding another former coach to the payroll will be too daunting of a financial commitment.
D'Antoni received a disproportionate amount of the blame for the Lakers' struggles. Certainly some of the criticism was well warranted. His hesitance to keep the team in an inside-out offensive system stripped the franchise of its identity when Bryant went down.
But not all of his decisions were disastrous.
Putting Nash off the ball and leaving Bryant as the distributor breathed new life into the play of both of the aging stars. The offense-first attack delayed the inevitable demise as much as possible of this largely defenseless roster.
Still, the decision to retain D'Antoni, one that general manager Mitch Kupchak has reportedly already made (via Mike Bresnahan of the Los Angeles Times), remains a financial move.
Perhaps the opportunity to have a full offseason and training camp with this roster will make it a wise basketball one as well.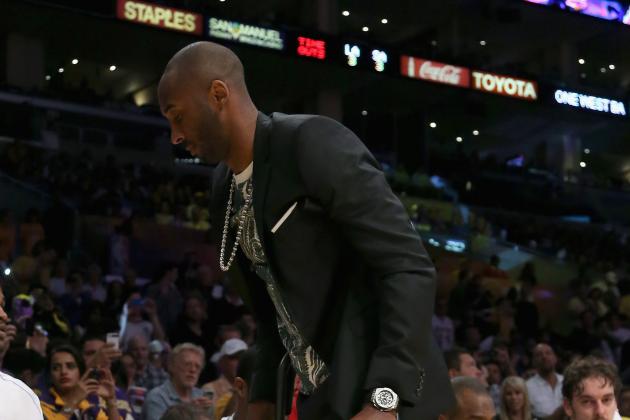 Jeff Gross/Getty Images

The thought process is an easy one to follow.
With Bryant, a 17-year veteran, facing a six-to-nine-month recovery from his torn Achilles, there have been rumblings about a possible amnesty in his future.
He's owed over $30 million for next season (via HoopsHype.com), and that figure could grow astronomically with tax penalties. There's no guarantee that he'll ever be the same dynamic player again, and he has openly admitted that he's thinking about retiring when his contract expires after next season.
But the potential pitfalls from such a decision far outweigh any economic gains.
He's brought this franchise five NBA championships and single-handedly willed this club into the playoffs. Given his competitive nature, it's certainly not out of the question for him to return to action far earlier than even optimistic time frames suggest.
Beyond that, though, there are serious risks involved with clearing his contract from the books.
Exercising the amnesty clause would prevent L.A. from re-signing its fallen star until after next season. The Lakers would also lose their "Bird rights" in the process, leaving Bryant with no financial reasons to return to the only NBA franchise he's ever known.
Throw in the public relations nightmare that such a move would clearly ignite, and it's next to impossible to envision this ever taking place.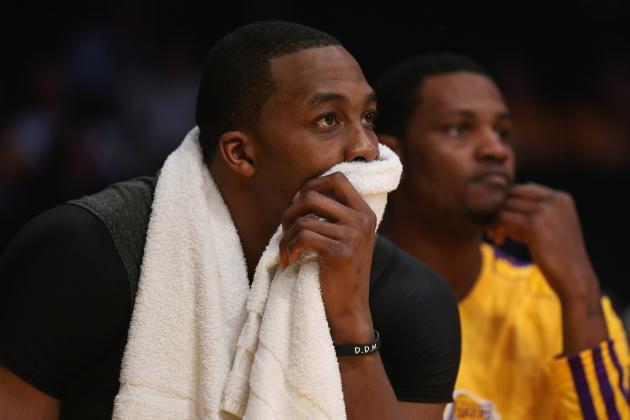 Jeff Gross/Getty Images

Speaking of public relations nightmares, is there any better way to describe the unsightly conclusion to Howard's first season in L.A.?
A pair of technical fouls left Howard's final stat line of the season at just eight boards, seven points, five turnovers and six missed free throws in 20 minutes during the Lakers' Game 4 loss to the Spurs.
After the game, Howard described his debut season with the Lakers as "a nightmare, a bad dream," (via David Leon Moore of USA Today). "It seemed like nothing could go right from the start," he added.
The question weighing heavily on the minds of Lakers nation, though, was whether or not that would be their final glimpse of a purple-and-gold-clad Superman.
Howard won't be short of pursuers over the summer. Regardless of the less-than-flattering media attention he received, he put together another strong statistical season: 17.1 points, 12.4 rebounds and 2.4 blocks per game.
The Houston Rockets, Dallas Mavericks and Atlanta Hawks all present intriguing possibilities for the big man, perhaps even more appealing than spending more time in D'Antoni's perimeter-oriented system under the unrelenting eye of the L.A. media.
But no team can offer as many years (five) or as much money ($118 million) as the Lakers. L.A. staked the future of the franchise on Howard's broad shoulders and can ill afford to back off of that gamble at this point. Not to mention the appeal for Howard given the rich history of the franchise, or the celebrity culture that L.A. provides.
Whether or not that's good news for the Lakers remains to be seen.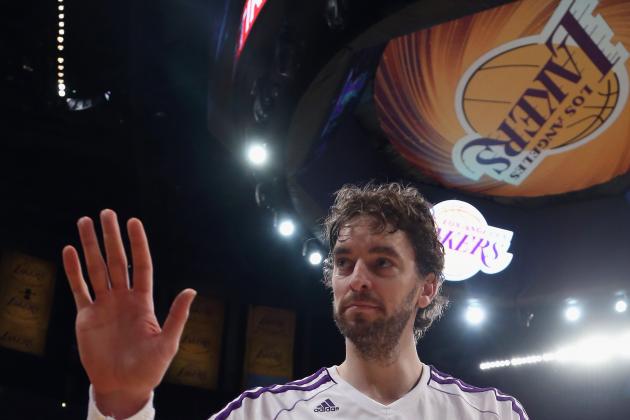 Jeff Gross/Getty Images

Howard's counterpart, Pau Gasol, won't quite be as fortunate. Or, perhaps, will be more lucky.
Gasol's long been the scapegoat of any L.A. struggles while rarely being granted the appropriate credit for the successes that he's helped bring the organization.
The 2012-13 season was simply a microcosm of his tumultuous tenure.
Despite a rash of injuries, being relegated to a stretch-forward role that he's never displayed the ability to fill and later as a backup center, critics still railed the Spaniard's declining production (13.7 points per game, 46.6 field-goal percentage—both career lows for the 12-year vet).
His impressive end to the season, three triple-doubles in his final seven games, was lost amid the disappointing finish.
By way of amnesty or trade, Gasol will jettisoned in a hollow attempt to release this franchise from the clinching grasp of mediocrity.
With Bryant and Howard potentially chewing up $50 million-plus in combined salary for next season, Gasol's $19 million salary and poor fit in D'Antoni's system will ultimately spell his departure.
Even some last-minute appeals from Bryant wouldn't save Gasol. Not if the organization has already identified Howard as its future face of the franchise.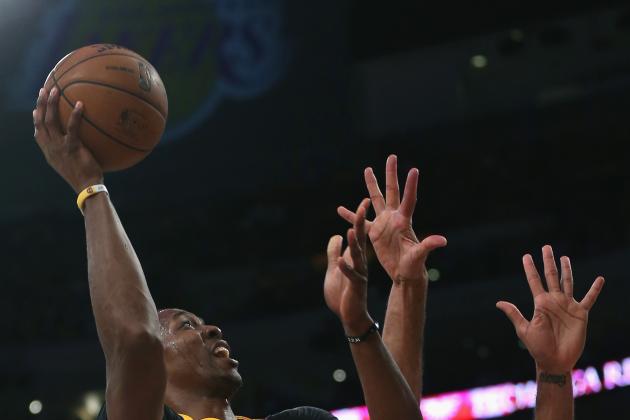 Jeff Gross/Getty Images

Certainly more bitter than sweet, the Lakers season still displayed how hard it is to bet against this franchise.
A midseason coaching change, a laundry list of injuries and media-driven tiffs couldn't keep this franchise from salvaging a top-seven finish in a loaded Western Conference.
While no one would call what we just witnessed a success, the enduring strength shown says a lot about this franchise and these players.
L.A.'s Fantastic Four may be reduced to a dynamic duo at the beginning of next season, save for a miraculous healing period for Bryant, but some tinkering with the roster and a better implementation of D'Antoni's schemes should leave this club in the heart of the 2014 postseason race.
Bryant's absence will hurt, but Howard has an impressive resume as the leading man. If the Lakers can find enough perimeter threats to stretch the defense, he can fully reclaim his spot as the unquestioned best center in the business.
As long as this team can tread water in Mamba's absence, it'll be the force next season that we all anticipated seeing this year.