Re-Grading the 2010 NFL Draft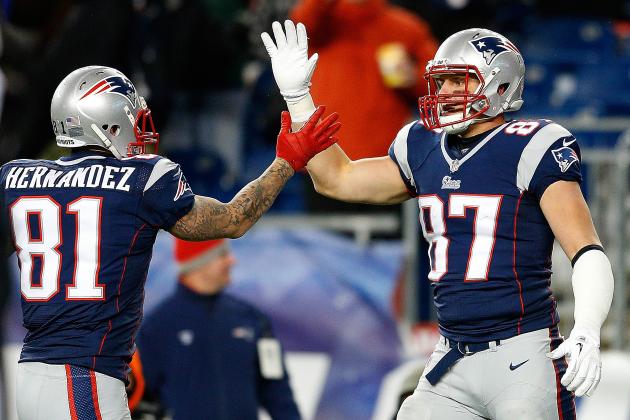 Jim Rogash/Getty Images

With the 2013 NFL draft officially over, many articles are popping up grading the selections the teams made on draft day. There are two schools of thought on this, with the first being the proponents who are intent on figuring out the winners and losers immediately.
On the other side, you have those that say drafts cannot be graded if the players have not played yet. How do we know if Eric Fisher or Justice Cunningham will be successful in the NFL?
It is true that the fate of the 254 drafted players is unknown, and it takes three years to truly evaluate a draft class. Due to this, it is time to take a look at the 2010 NFL draft class.
Which teams found a goldmine of talent, and which completely flopped?
Begin Slideshow

»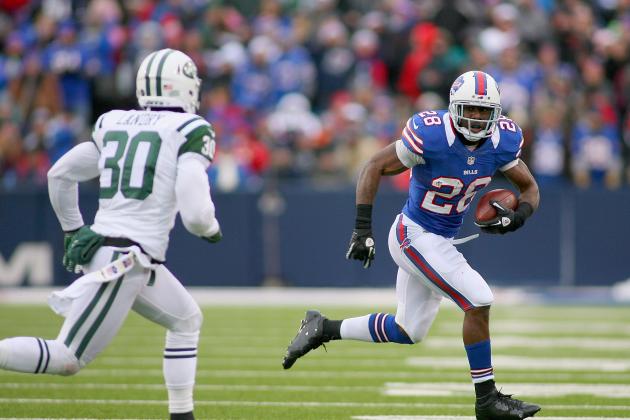 Rick Stewart/Getty Images

Picks: C.J. Spiller (9), Torell Troup (41), Alex Carrington (72), Marcus Easley (107), Ed Wang (140), Arthur Moats (178), Danny Batten (192), Levi Brown (209), Kyle Calloway (216)
The Bills have five of nine players still on the team, but when it comes to contributions, only one player sticks out, and it's the one that is supposed to. C.J. Spiller has shown flashes of greatness, and this season finally looked like the running back the Bills drafted ninth overall.
While Spiller has checked out as a good pick, most of the other picks are only barely on the team. Easley has been mired on the practice squad and IR, while Troup could very well be a camp cut this year, having disappeared on the field since 2010.
Arthur Moats and Alex Carrington have provided solid depth on on the defensive front seven, but one starter and two backups can hardly be considered a good draft. If Spiller continues to improve, perhaps the draft will look better in the future.
Grade: C-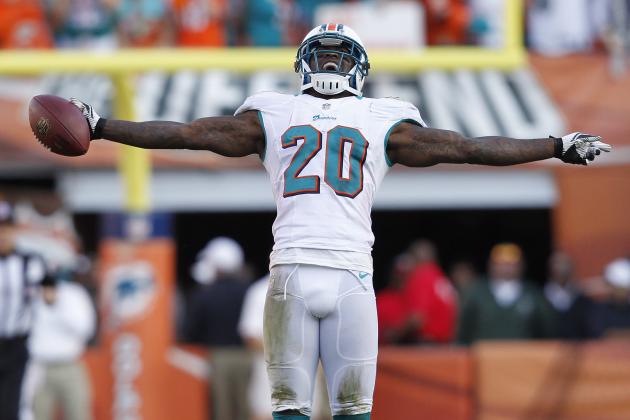 Joel Auerbach/Getty Images

Picks: Jared Odrick (28), Koa Misi (40), John Jerry (73), A.J. Edds (119), Nolan Carroll (145), Reshad Jones (163), Chris McCoy (212), Austin Spitler (252)
The Dolphins, with eight selections, have six of them on the team, which makes their draft look great on paper. That being said, are those six actually contributors, or are they just depth?
Jerry, the lone offensive player remaining, has become the starter at right guard. Jones has become a steal at 165 and is a good safety, while Carroll has looked solid in the secondary at times as well.
Spitler is mired on special teams but remains part of the team, which is all you can ask from an end of the draft player. As for the top two picks, Odrick and Misi have been nice players on the front lines, but if they want to be more than that, they'll have to prove it this year.
Still, I'll take four solid starters over one very good one for a draft any day. If Odrick or Misi finally shows up and makes a Pro Bowl or two, then this could be an A draft.
Grade: B+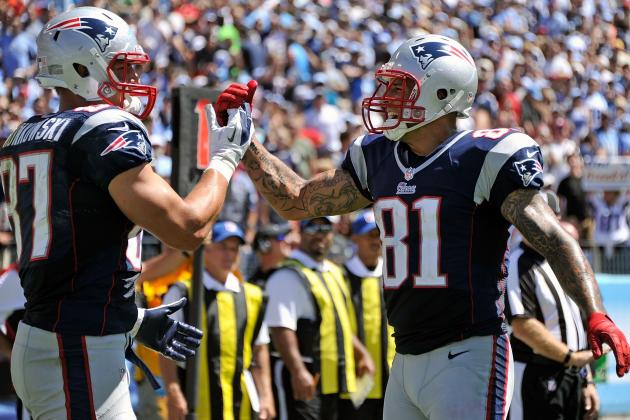 Frederick Breedon/Getty Images

Picks: Devin McCourty (27), Rob Gronkowski (42), Jermaine Cunningham (53), Brandon Spikes (62), Taylor Price (90), Aaron Hernandez (113), Zoltan Mesko (150), Ted Larsen (205), Thomas Welch (208), Brandon Deaderick (247), Kade Weston (248), Zac Robinson (250)
It's expected that a team with 12 draft picks will do well, especially if that team was the Patriots. Even for them, however, this was a top-notch draft, and seven of the 12 players remain with the Patriots.
Gonkowski and Hernandez are the cornerstones of the offense, and McCourty has been the leader of the secondary, while Spikes has become a tackling force.
Of the other three with the team, Mesko is a great punter, while spot starter Deaderick has been a steal late in the seventh round. Jermaine Cunningham is the only question mark in the first two rounds, but he still has a chance to contribute yet.
Even those that didn't make the team, such as Ted Larsen, were picked up by other teams and remain in the league. In short, this type of draft is why the Patriots are in the playoffs and a Super Bowl threat year after year.
Grade: A+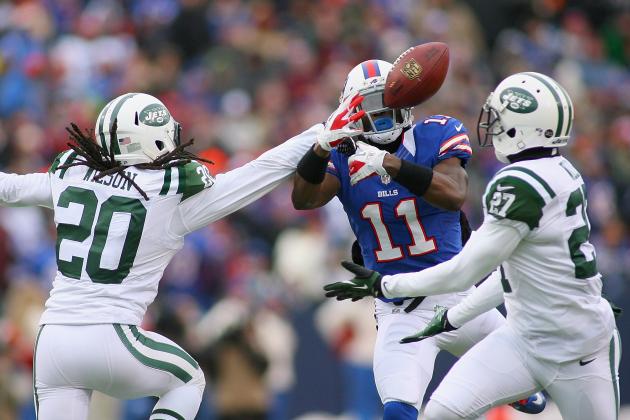 Rick Stewart/Getty Images

Picks: Kyle Wilson (29), Vladimir Ducasse (61), Joe McKnight (112), John Conner (139)

The Jets only had four picks in this draft, so they had to fight an uphill battle and make sure at least three of the picks landed for the draft to be good. Conner was cast aside, so that leaves three on the roster just to begin with.
I have hope for Joe McKnight yet, but he can't seem to beat out Bilal Powell, let alone the departed Shonn Greene. Ducasse is mired deep on the depth chart as well. That leaves Kyle Wilson to make an impact.
How is the only starter from the draft class? Well, there's a reason they drafted Dee Milliner, and it was not just due to the departure of Darrelle Revis. Wilson could be okay in the nickel corner role, but that's not what you want from a first-rounder.
Even if you count McKnight as a solid value pick in the fourth round, which is a slight stretch, this was an utter failure of a draft, with perhaps the exception of the draft picks traded to acquire Braylon Edwards; the fact that that may have been the best move says it all.
Grade: F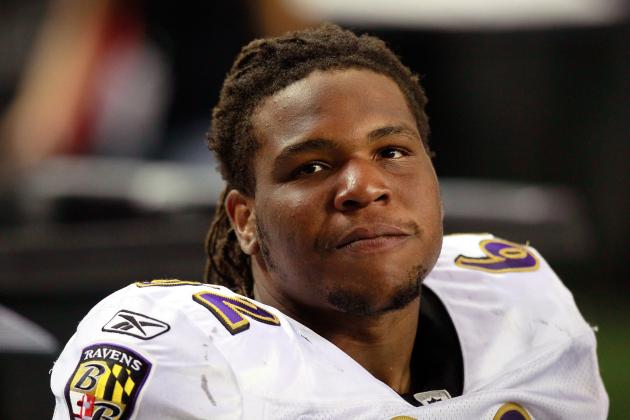 Kevin C. Cox/Getty Images

Picks: Sergio Kindle (43), Terrence Cody (57), Ed Dickson (70), Dennis Pitta (114), David Reed (156), Arthur Jones (157), Remon Harewood (194)

It seems that 2010 was Baltimore's worst draft year, or close to it. On the surface that sounds surprising, since of seven players picked, six are still on the roster. The problem is the one that isn't was the first pick, Sergio Kindle, who was a complete and utter bust.
Cody is not an every-down player and is stuck behind Haloti Ngata, but Dickson and Pitta have become a nice tight end combo. Jones has also finally started to show up in 2012, and has actually looked better than Cody.
Reed was a decent kick returner, but may now be a roster cut. Harewood finally played a few games this year, and it remains to be seen if he continues to get playing time.
The Ravens whiffed on the first couple picks, which hurts their grade big time. However, their later picks are solid enough contributors that this wasn't a total bust.
Also, the Ravens traded their first-round pick for three later selections (one being their best pick in Pitta), and the Broncos used that for Tim Tebow, so the draft could have been even worse.
Grade: C-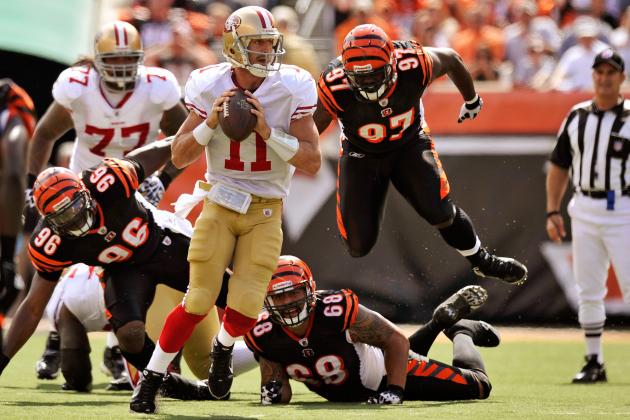 Jamie Sabau/Getty Images

Picks: Jermaine Gresham (21), Carlos Dunlap (54), Jordan Shipley (84), Brandon Ghee (96), Geno Atkins (120), Roddrick Muckelroy (131), Otis Hudson (152), Dezmon Briscoe (191), Reggie Stephens (228)
Why have the Bengals emerged as a legitimately good football team after years of misery? This draft is as good a place to start as any, as five of the nine picks are still on the roster.
Gresham's future is a big question mark now that Tyler Eifert is in the mix, but he was a two-time Pro Bowler, which is what you want from a first-round pick. Shipley was good as a receiver too, even though it was only for one year.
Hudson and Ghee are likely roster cuts in camp this year, which leaves three players counting Gresham. Good thing the other two are great. Dunlap has been a force, and Atkins in particular is now one of the biggest steals of the draft after 12.5 sacks last year and two Pro Bowls
The draft was hit and miss for the Bengals, but the hits were big. Even if Gresham fades, Atkins and Dunlap give them a great front, and this and the 2011 draft is what gave them the core talent to turn into a playoff team.
Grade: A-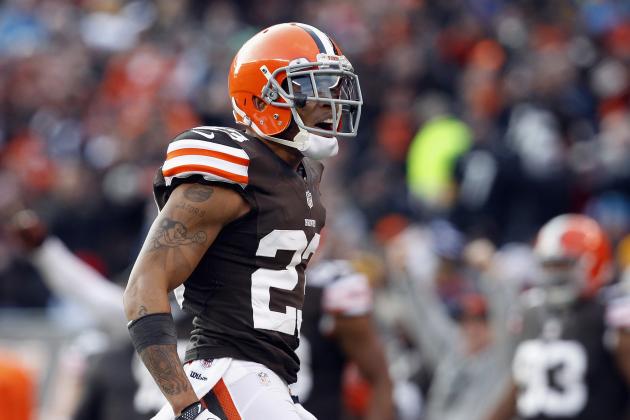 Matt Sullivan/Getty Images

Picks: Joe Haden (7), T.J. Ward (38), Montario Hardesty (59), Colt McCoy (85), Shawn Lauvao (92), Larry Asante (160), Carlton Mitchell (177), Clifton Geathers (186)

The Browns are usually an easy target to bash their drafts, but they actually did quite well in 2010. Of the eight draft picks, four remain on the squad.
Lauvao has been a solid starter at guard, and despite injuries, Hardesty has shown flashes of being a capable backup running back, though he's far from the feature back they were hoping for. McCoy was decent at quarterback as well, and for a third-rounder did alright.
The Browns' best picks came with the first two selections. Ward has shown flashes of being a great safety, and Haden is the best young cornerback out there. If the two actually had help in the secondary their stats would follow their ability.
Perhaps ironically, the Browns had precisely the type of draft experts expect teams to have; great players early, decent ones near the middle, and ones that get cut late.
Grade: B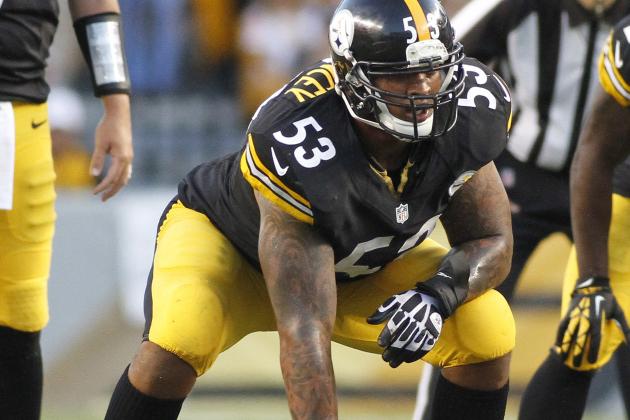 Justin K. Aller/Getty Images

Picks: Maurkice Pouncey (18), Jason Worilds (52), Emmanuel Sanders (82), Thaddeus Gibson (116), Chris Scott (151), Crezdon Butler (164), Stevenson Sylvester (166), Jonathan Dwyer (188), Antonio Brown (195), Doug Worthington (242)

The Steelers always seem to find a gem late in the draft, and 2010 was no exception. Antonio Brown was a sixth-round selection and became a Pro Bowl receiver. Two Pro Bowlers in 10 draft picks is great, with Pouncey becoming one of the best centers in the game.
Six of the 10 are still active with the team. Dwyer has been a great pickup for a sixth-rounder; 600 yards from that round in a year is a steal. Sanders has also contributed well, though he's not quite at Brown's level.
As for the two defensive players, Sylvester has not done much, and while Worilds has been solid, he hasn't made the impact one is used to seeing from a Steelers defender.
Despite the defense being the weaker part of the draft, the Steelers proved in 2010 why they're consistently contenders.
Grade: A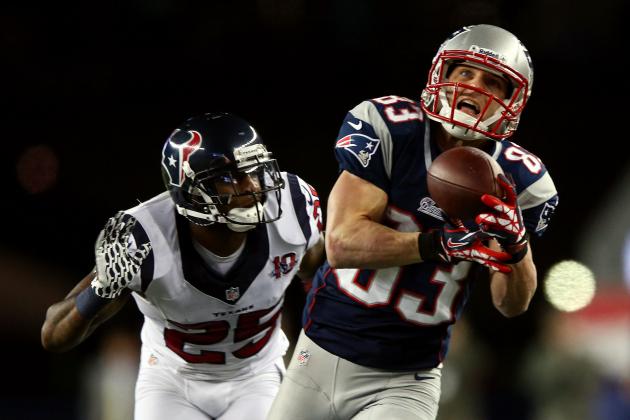 Elsa/Getty Images

Picks: Kareem Jackson (20), Ben Tate (58), Earl Mitchell (81), Darryl Sharpton (102), Garrett Graham (118), Sherrick McManis (144), Shelley Smith (187), Trindon Holliday (197), Dorin Dickerson (227)

The Houston Texans are in a strange spot with the 2010 draft, as this is the year that will show whether the pickups were truly good. The first five picks remain on the team, while the latter four are gone.
Jackson has blossomed of late in his starting cornerback role, and Tate has played well at times, even if he is now stuck behind Arian Foster. Mitchell should be the starting nose tackle this year, but it remains to be seen if he can pull the role off.
As for Sharpton and Graham, they are solid backups who may have to start at times. If Sharpton does start this season and looks good, then this draft will look much better. Even if both stay as backups, for fourth-round picks that is to be expected.
In short, this was a nice draft that doesn't wow anyone, but is certainly not bad. Had Tate not become replaceable almost immediately this may have ended up a better class, but I think they'll take the All-Pro Foster over a slightly higher grade.
Grade: B-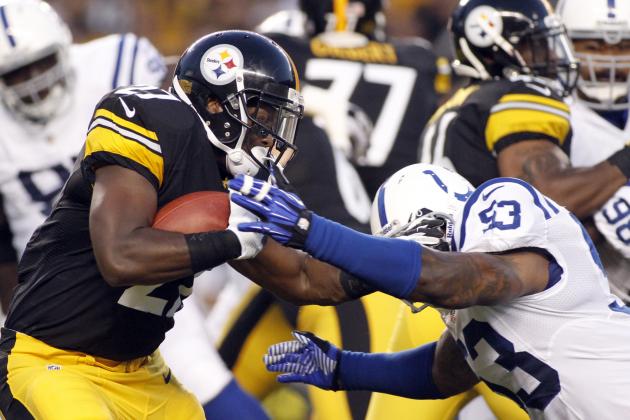 Justin K. Aller/Getty Images

Picks: Jerry Hughes (31), Pat Angerer (63), Kevin Thomas (94), Jacques McClendon (129), Brody Eldridge (162), Ricardo Mathews (238), Kavell Conner (240), Ray Fisher (246)

The Colts had eight picks in 2010, most of them late, so it was going to be a bit harder to find talent. Still, only three remain on the roster now after Hughes was shipped to Buffalo; his production was far from first-round caliber anyway.
Mathews has surfaced at times, but what makes this draft passable are the final two players. Kavell Conner has turned into a decent starting linebacker despite being a seventh-round pick, and Pat Angerer has shown some great flashes as well while leading that linebacker group, or at least he did in 2011.
Two decent linebackers for a class of nine? Maybe Peyton Manning did carry the team at times after all if draft picks couldn't stick. This came very close to a failing grade, but factoring in the Conner steal and the late draft selections it just barely passes.
Grade: D
Frederick Breedon/Getty Images

Picks: Tyson Alualu (10), D'Anthony Smith (74), Larry Hart (143), Austen Lane (153), Deji Karim (180), Scotty McGee (203)

Like the Jets, the Jaguars only had a few picks to work with, six in all. However, you still have to hit on them, especially if it's that few. Unfortunately, they didn't come close.
Three remain on the team. Alualu was a reach at 10, and while he's a three-year starter, he's hardly top 10 pick material. Smith has done little for the defensive line as well.
Austen Lane, the fifth-round pick, has started a few games and helped the defensive line. In total, that's three defensive linemen, with Alualu being the only one pulling anything off on the line.
The Jaguars still have nothing inside, so Alualu will start a fourth year. I can't give an F as long as a team has a consistent starter, but the Jaguars come about as close as any team with a first-round starter can.
Suffice to say, drafts like these are precisely why the Jaguars can't gain ground.
Grade: D-

Scott Cunningham/Getty Images

Picks: Derrick Morgan (16), Damian Williams (77), Rennie Curran (97), Alterraun Verner (104), Robert Johnson (148), Rusty Smith (176), Myron Rolle (207), Marc Mariani (222), David Howard (241)

The Titans have been middling the past few seasons, and did so in the draft. It may sound bad, but that makes their draft class the best in the AFC South. Of nine players drafted, five remain with the team.
Johnson and Smith contributed sparsely, but both were late picks. Williams has been a decent receiver, and Morgan is finally starting to show why he deserved a first-round selection.
Meanwhile, Verner has looked very good as a starter, and Mariani made a Pro Bowl as a return man. All in all, it was a very solid draft, especially when you factor in the lack of a second-round selection. If Morgan turns into a great defensive end and Mariani returns to 2010 form, the draft will look even better.
Grade: B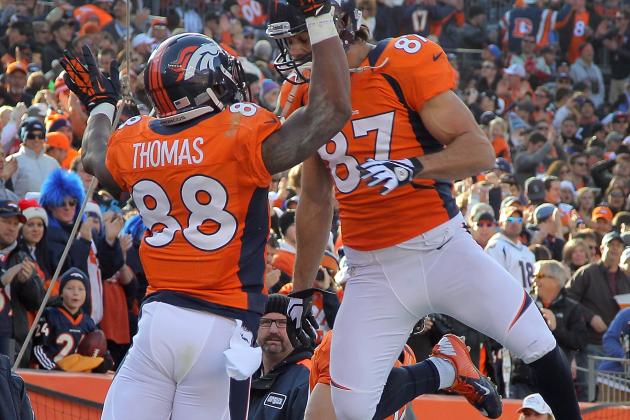 Doug Pensinger/Getty Images

Picks: DeMaryius Thomas (22), Tim Tebow (25), Zane Beadles (45), J.D. Walton (80), Eric Decker (87), Perrish Cox (137), Eric Olsen (183), Syd'Quan Thompson (235), Jammie Kirlew (242)

The Denver Broncos may be the toughest team to grade on this list for one obvious reason. As for their picks, four of nine remain on the team.
The only one of the five departed players to make an impact was Tim Tebow. Say what you want about his throwing ability (which is horrendous), but he did guide the Broncos to the playoffs in 2011, something the other top quarterbacks in the class cannot say.
As for the four who stayed with the team, it makes up an offensive juggernaut. Thomas is a Pro Bowl receiver, and Decker has been great right alongside him. Beadles and Walton have been good starters on the offensive line, with Beadles making a Pro Bowl as well.
It's easy to rip on trading up for Tebow, but Baltimore used that selection on Sergio Kindle, who did nothing. Besides, it could have been worse. They could have drafted Jimmy Clausen there instead.
Grade: A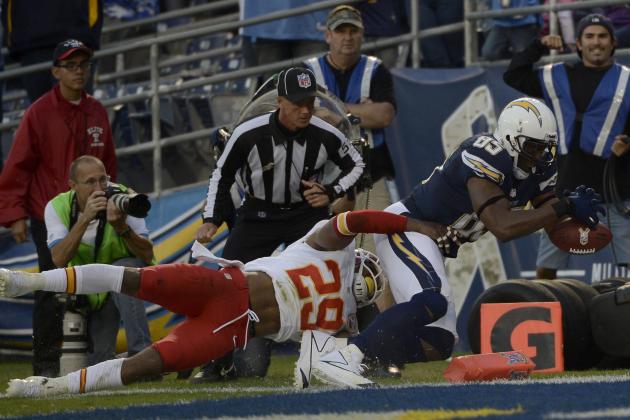 Donald Miralle/Getty Images

Picks: Eric Berry (5), Dexter McCluster (36), Javier Arenas (50), Jon Asamoah (68), Tony Moeaki (93), Kendrick Lewis (136), Cameron Sheffield (142)

The Kansas City Chiefs only had seven picks, but with all of them in the fifth round or earlier and five in the first three rounds, expectations were high for this draft class.
Shieffield is the only one no longer on the team. Berry has become a two-time Pro Bowler, and Lewis and Arenas have been nice in the secondary. Lewis in particular was a steal in the fifth round.
On the offensive end, Asamoah is a starting guard, and Moeaki has been good when healthy. McCluster is still hit and miss, and I'm not sure what to make of him. He's a nice hybrid backup behind Jamaal Charles, but not quite worth a second-round pick.
It wasn't the fault of this draft class that the Chiefs had the No. 1 pick, but it was only a nice draft class in the secondary; Berry and company can't be everywhere.
Grade: A-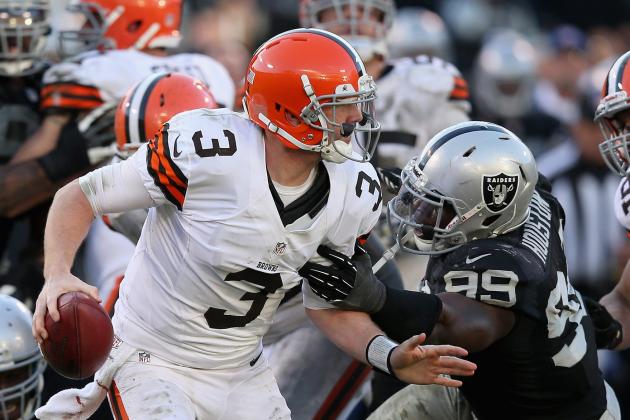 Ezra Shaw/Getty Images

Picks: Rolando McClain (8), Lamarr Houston (44), Jared Veldheer (69), Bruce Campbell (106), Jacoby Ford (108), Walter McFadden (138), Travis Goethel (190), Jeremy Ware (215), Stevie Brown (251)

I remember watching this draft and everyone lauding how amazing the Raiders did that weekend. Perhaps it was because it was a draft unlike what the Raiders usually do, but it really was not that good.
Of nine players, four remain. Two departed players stand out. First, they seemed to give up too quickly on Stevie Brown, who was great with the Giants in 2012. Rolando McClain was a lauded pick at the time, but it ended up being a bust.
Houston has actually been a good defensive lineman, perhaps the best front seven player, and Veldheer has been good on the offensive side. Even Jacoby Ford was good before missing all of 2012. Goethel is only barely on the roster and has struggled with injuries.
Turns out, the 2010 Raiders draft actually was okay. No Pro Bowlers to be had, but gaining two of the best trench players on the team is a lot better than they usually do. If McClain had panned out, this could have been a much better draft.
Grade: C+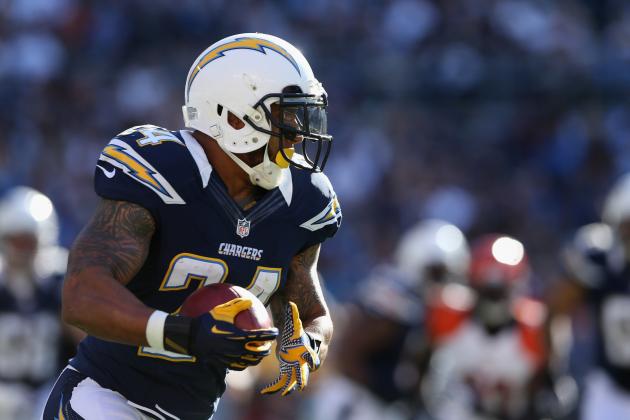 Jeff Gross/Getty Images

Picks: Ryan Mathews (12), Donald Butler (79), Darrell Stuckey (110), Cam Thomas (146), Jonathan Crompton (168), Dedrick Epps (235)

The Chargers only had six picks to work with and, like the Jets and Jaguars, they needed to make them count. The good news for them is that four picks remain on the squad, with Crompton and Epps being the odd men out.
Chargers fans are hard on Ryan Mathews, but he did hit 1,000 yards in 2011 and can be good at times, so I'm not going to dismiss him just yet. Butler has also shown flashes of being very good at linebacker.
As for Stuckey and Thomas, they haven't done too much, but Thomas has a good number of sacks and could build on that.
The draft doesn't wow me, but it's far from bad. Butler and Thomas are solid players even if you dismiss Mathews, and four of six still on the roster is good no matter how you slice it.
Grade: B-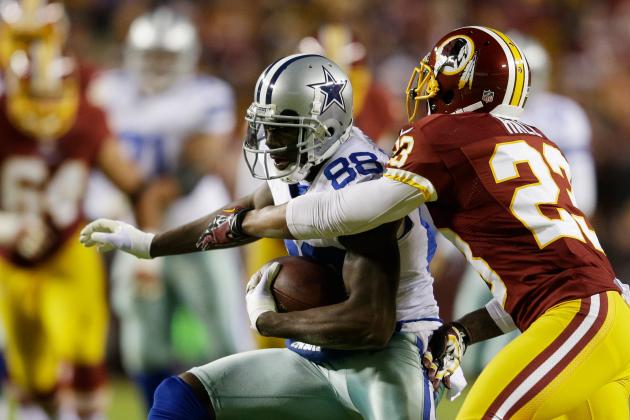 Rob Carr/Getty Images

Picks: Dez Bryant (24), Sean Lee (55), Akwasi Owusu-Ansah (126), Sam Young (179), Jamar Wall (196), Sean Lissemore (234)

The Dallas Cowboys had two picks in the top 100, and needed to hit on both to have a nice draft. Three of the six picks remain, with both early picks still on the roster.
Dez Bryant has been a pain at times, but last year he finally showed up and looked like the No. 1 receiver of the future for Dallas. Sean Lee, meanwhile, has evolved into a good coverage linebacker and a tackling machine.
Lissemore, an end of the draft pick, has become a pleasant surprise as a backup defensive tackle who can start if needed. For a seventh-rounder, that's great value.
If Lee and Bryant continue to look great, then this will have been a solid draft. Even if they don't, it's far from the worst draft out there, especially considering their low pick total.
Grade: B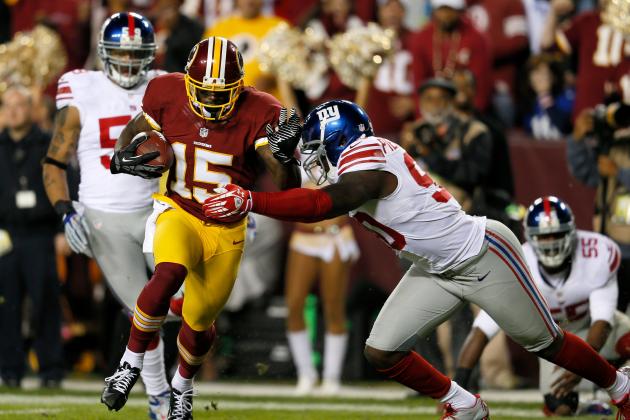 Rob Carr/Getty Images

Picks: Jason Pierre-Paul (15), Linval Joseph (46), Chad Jones (76), Phillip Dillard (115), Mitch Petrus (147), Adrian Tracy (184), Matt Dodge (221)

The Giants took a big risk in this draft, one that could have made this a terrible class had it failed. Jason Pierre-Paul turned into a great pick as he's evolved into a premier defensive lineman.
It's a good thing it panned out because some of the draft ended up bad. Three of the seven players remain on the roster, but of the four that are not, three are out of the league, including a punter, a position you generally do not draft.
Besides Pierre-Paul, Linval Joseph has been a solid starter at defensive tackle, and Tracy has been decent even if he's far down in the depth chart. The fact that many of the others are out of the league entirely rather than depth on other teams raises questions about this draft.
The Giants wouldn't trade Pierre-Paul for anything, and at least he and Joseph panned out. Besides, Jones is out of the league due to a car accident shortly after being drafted and being unable to bounce back from it, so you can't blame the Giants for that one.
Grade: B-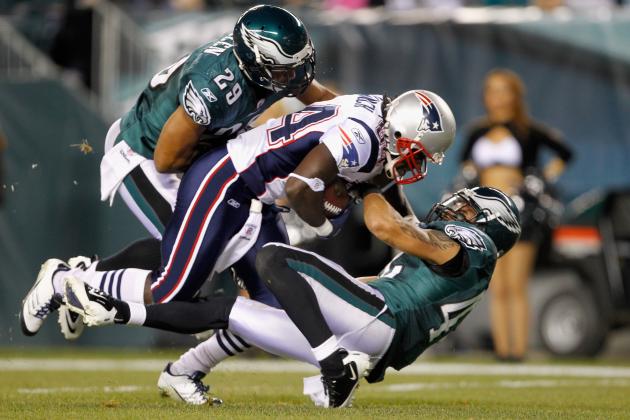 Rich Schultz/Getty Images

Picks: Brandon Graham (13), Nate Allen (37), Daniel Te'o-Nesheim (86), Trevard Lindley (105), Keenan Clayton (121), Mike Kafka (122), Clay Habor (125), Ricky Sapp (134), Riley Cooper (159), Charles Scott (200), Jamar Chaney (220), Jeff Owens (243), Kurt Coleman (244)

The Eagles made this a make-or-break draft by having 13 picks, more than any other team. Did they use all those picks to their advantage and get solid players, even if no one in that batch is elite?
Of the 13 picks, seven remain with the team. Lindley has been a non-factor, and will likely be a camp casualty this year. The other five, however, are all solid contributors. Graham has shown promise if he can stay healthy, though he hasn't been first-round caliber so far.
Allen has been a decent safety, and Harbor and Cooper have become nice depth in the offensive game. Their two seventh-round picks were where the Eagles made their mark, however.
Jamar Chaney has been a good linebacker, and Kurt Coleman has become one of the draft's biggest steals at safety with seven interceptions in his career and the ability to get a lot more.
This is tough to grade, because the Eagles missed in the middle big time, were just okay in the beginning, but nailed the end of the draft. Like the Dolphins, they got a lot of nice depth pieces, but it's hardly an A draft as it's missing a great talent, which they should have gotten with all the picks they had.
Grade: B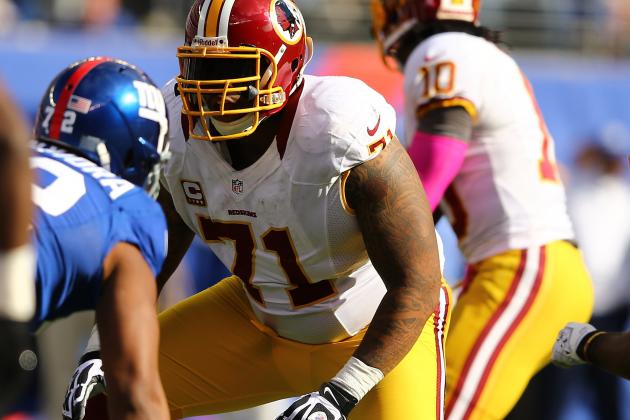 Al Bello/Getty Images

Picks: Trent Williams (4), Jeremy Jarmon (3rd round supplemental in 2009), Perry Riley (103), Dennis Morris (174), Terrence Austin (219), Erik Cook (229), Selvish Capers (231)

The Redskins' draft is also hard to grade, but for an entirely different reason. They had six picks in 2010, seven if you count Jeremy Jarmon, a supplemental pick who completely blew up in their faces.
Trent Williams was the only pick in the first three rounds otherwise and has flourished with Robert Griffin III at quarterback, making a Pro Bowl. Riley has also finally shown up this past year and has looked nice at linebacker.
Of the six picks though, only two remain on the team. While Williams was a nice pickup, they traded two picks to get Donovan McNabb, who didn't click either. Jarmon's lack of development in particular hurts their grade, since the Redskins have way less to show for this draft than they could have.
It's a good thing that Williams ended up panning out with that fourth overall pick, else this would have at least been close to a complete failure of a draft.
Grade: C+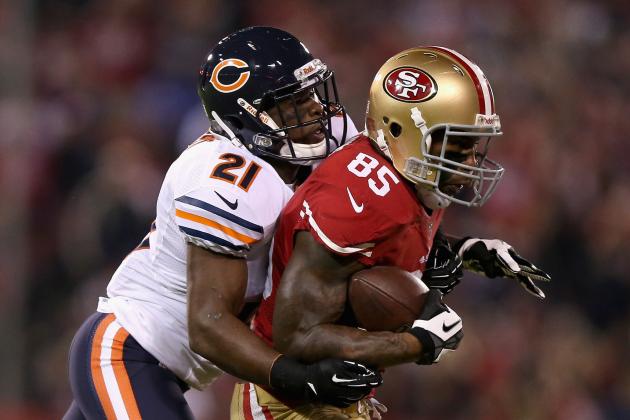 Ezra Shaw/Getty Images

Picks: Major Wright (75), Corey Wootton (109), Joshua Moore (141), Dan LeFevour (181), J'Marcus Webb (218)

The Bears had a quiet draft thanks to no picks in the first two rounds and five picks in total. Still, the draft could have been great if the picks they did have landed; did they?
Of the five, three remain on the roster, and the other two are out of the NFL, meaning they had to nail the ones they had. They did with Major Wright, who has evolved into a very good safety, and Wootton is starting to come into his own as a nice defensive end.
As for Webb, he has been a starter on the offensive line for three seasons, particularly at left tackle. Bears fans will tell you all about the offensive line woes, but from a draft perspective, the guy was a seventh-rounder who has been a full-time starter. That's great value no matter how you look at it.
Why did I seem particularly harsh on the Jets and other teams with few draft picks? That's because you can find talent with few picks, you just have to actually find it like the Bears did.
Grade: B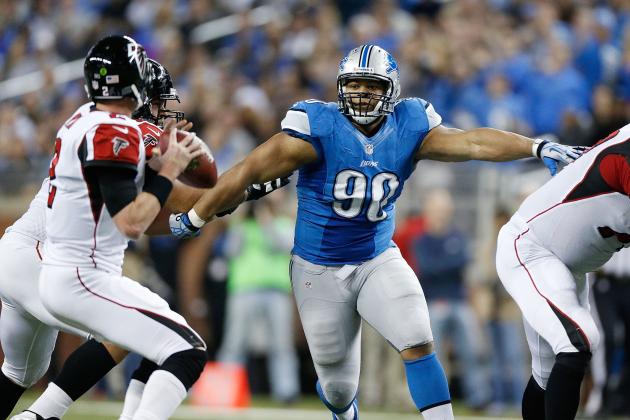 Gregory Shamus/Getty Images

Picks: Ndamukong Suh (2), Jahvid Best (30), Amari Spievey (66), Jason Fox (128), Wilie Young (213), Tim Toone (255)

While the Lions had relatively few picks in 2010, they had two first-round selections, so expectations were high for this to be a nice class.
Only Mr. Irrelevant, Tim Toone, is no longer on the team. Fox and Young have played occasionally. Jahvid Best showed some promise, but his post-concussion symptoms as something he will fully bounce back from, so the pick ended up not working out.
Spievey has had a lot of issues in his career so far, but when he's healthy and on the field he's good. Suh, meanwhile, has become the leader of the defense that the Lions intended for him to be with the second overall pick.
Outside of Suh, the Lions have a lot of question marks. Can Best and Spievey return? Will Young show the flashes of good play he did in 2011? It's the team I would pick over any to give a TBD grade to, but for what we have now, it's a similar situation to the Bills; one great player, but issues everywhere else.
Grade: C+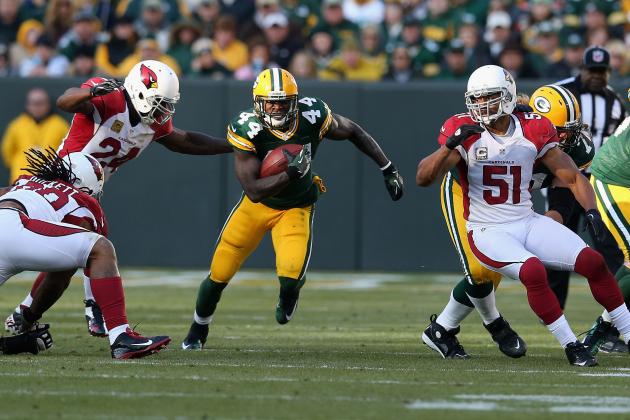 Jonathan Daniel/Getty Images

Picks: Bryan Bulaga (23), Mike Neal (56), Morgan Burnett (71), Andrew Quarless (154), Marshall Newhouse (169), James Starks (193), C.J. Wilson (230)

The Packers had nowhere to go but down in grades after selecting B.J. Raji and Clay Matthews in 2009. While they didn't hit a Matthews-type home run, they do have the honor of having every single draft pick still on their roster.
Bulaga has been very good when healthy, while Neal is gradually getting better each year he plays. Burnett has been a force in the secondary, and Quarless was decent when healthy, but it remains to be seen if he can come back after missing all of 2012.
Packers fans know Starks best for thriving after being thrust into the playoff picture, and Newhouse has become a steal at tackle. Even Wilson has been a great value as an occasional starter.
Because of the lack of stars I can't give an A grade, but for a perennial playoff team, adding this kind of depth is huge.
Grade: B+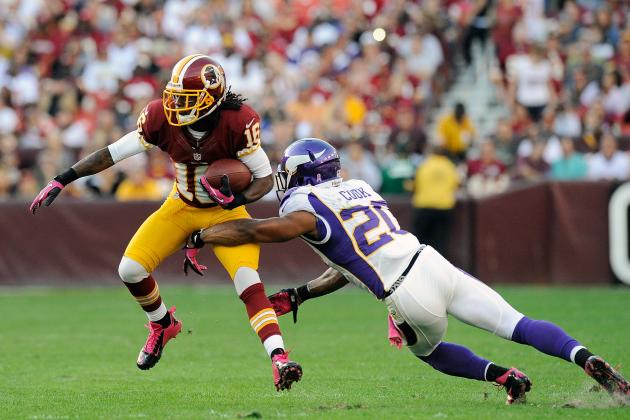 Patrick McDermott/Getty Images

Picks: Chris Cook (34), Toby Gerhart (51), Everson Griffen (100), Chris DeGeare (161), Nate Triplett (167), Joe Webb (199), Mickey Shuler, Jr. (214), Ryan D'Imperio (237)

The Vikings used their second pick on Toby Gerhart when they had Adrian Peterson already. The draft didn't get any better for the Vikings, as it was looked down upon both at the time and in hindsight.
Even when healthy, Cook really hasn't been that good. He remains a starter at cornerback, but you would think a top pick would have at least one interception in three years. Perhaps Vikings fans are higher on him than I am, but I don't consider him a viable starter despite the stats.
Gerhart has been a decent at times backup running back, and Griffen has been a solid value at defensive end, even if he is stuck behind Jared Allen. Beyond those three, only Webb remains on the team as a backup quarterback, and not a bad one considering where they got him.
One "starter" and three backups isn't that good, especially since the Vikings went into 2010 trying to win now while they still had Brett Favre. It's not the worst draft of the year, especially since they didn't have a first-round pick, but they could have gotten one everyday starter at least.
Grade: D+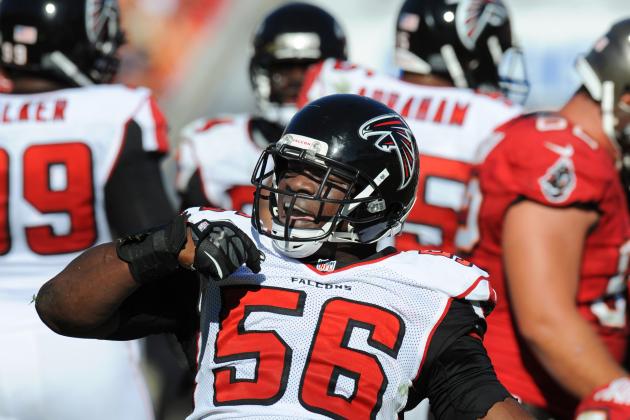 Al Messerschmidt/Getty Images

Picks: Sean Weatherspoon (19), Corey Peters (83), Mike Johnson (98), Joe Hawley (117), Dominique Franks (135), Kerry Meier (165), Shann Schillinger (171)

The Falcons came into 2010 without all that many needs, but they did have a good draft, joining the Packers as the only teams to have all their selections still on the roster up until just before the 2013 draft, when Meier was cut.
Meier and Schillinger sparsely contributed, and Johnson, Hawley and Franks have all been depth pieces. Peters has been decent as a starter in the trenches, but the impact from this draft was going to have to come from Sean Weatherspoon.
Weatherspoon is a tackling force who has played better than the stats would indicate. He's been a reliable player, but isn't a star. Their best move was giving up the second-round pick for Tony Gonzalez, though I can't count that in the grading.
If Weatherspoon and Peters continue to improve, this draft will look much better, but for now it's a slew of depth pieces. That's not bad, but for all the players that stuck around you would think one would be great.
Grade: B-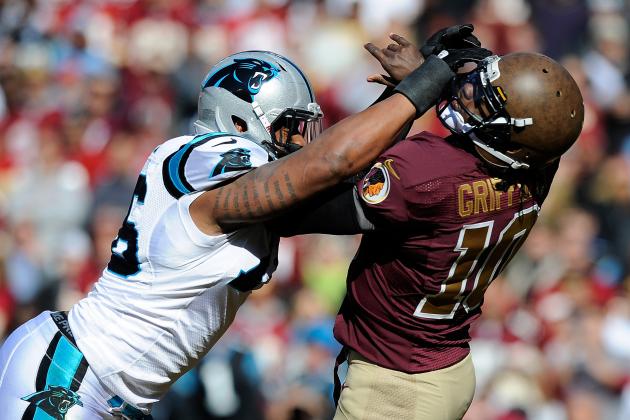 Patrick McDermott/Getty Images

Picks: Jimmy Clausen (48), Brandon LaFell (78), Armanti Edwards (89), Eric Norwood (124), Greg Hardy (175), David Gettis (198), Jordan Push (202), Tony Pike (204), R.J. Stanford (223), Robert McClain (249)

Jimmy Clausen: need I say more? Actually, yes. The Panthers did have 10 picks, so it would be unfair to harp solely on that selection, especially since they were trying to fill a need.
Five of the 10 picks remain on the team, and while Clausen and Gettis contributed in 2010, they've disappeared since. Gettis has talent but has been hurt the past two seasons, and Armanti Edwards hasn't been much of a factor, whether as a quarterback, wide receiver, or return man.
The remaining two players have been good value selections. Brandon LaFell has been a quality second option, and Greg Hardy was a steal in the sixth-round, as evident by his double-digit sack total this past season.
Two starters out of 10 is not all that good, and the other three are non-factors, unless you count Edwards as part of the punt returns by committee. If it wasn't for Hardy's sudden surge this would have been a bad draft.
Grade: C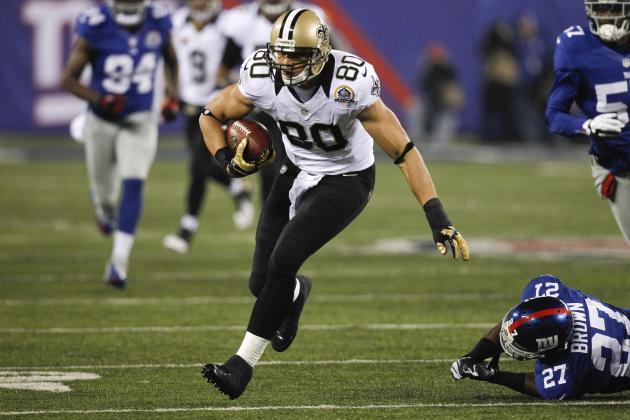 Jeff Zelevansky/Getty Images

Picks: Patrick Robinson (32), Charles Brown (64), Jimmy Graham (95), Al Woods (123), Matt Tennant (158), Sean Canfield (239)

The Saints had the last selections in the first two rounds of the draft, so expectations were not as high as they were for other teams. Did the three players remaining on the roster of six pan out?
Brown has not done much as offensive line depth, but the other two have been good. Patrick Robinson has finally started to showcase what he can do as a starter at cornerback.
Jimmy Graham was a favorite target of Drew Brees, and had been putting up huge numbers, earning a Pro Bowl invitation. If Robinson continues to pan out then this draft should be okay, but even if it's only Graham, at least he's a force at tight end.
Since they picked last, I'm a bit nicer with the grade, since you can't expect them to have as good a haul as the top teams should have.
Grade: B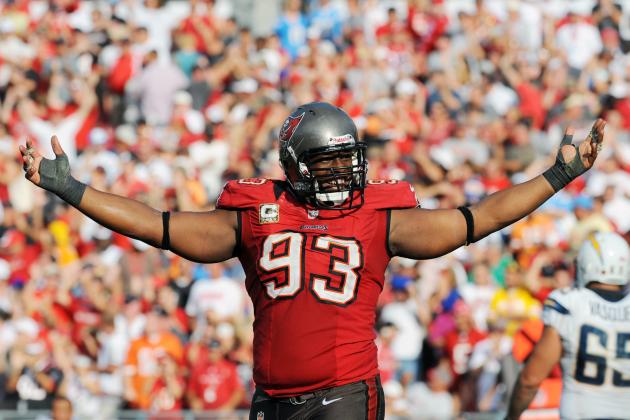 Al Messerschmidt/Getty Images

Picks: Gerald McCoy (3), Brian Price (35), Arrelious Benn (39), Myron Lewis (67), Mike Williams (101), Brent Bowden (172), Cody Grimm (210), Dekoda Watson (217), Erik Lorig (253)

The Buccaneers, in hindsight, had a very hit-and-miss draft, as well as a strange one. The picks that have remained have been a great value.
Of nine picks, six remain. One, Arrelious Benn, showed promise to start before being traded, and another, Brent Bowden, was a punter. Drafting a punter who never makes the team is just stupid, even though the Buccaneers had trouble with holding on to punters at that time.
As for the remaining players, Grimm, Watson, and Lorig all provide excellent seventh-round depth, even if they didn't play much in 2012. Lewis has not done much, but McCoy and Williams have become the gems of the class.
Williams has turned into a great receiver and a steal in the fourth round, and McCoy has become disruptive enough in the middle to earn a Pro Bowl invite.
Two key starters and a slew of round seven depth is quite good, though Price and Benn failing to work out does hurt them. That makes it hard to grade, because they missed big on some but hit big on others with little in-between.
Grade: B+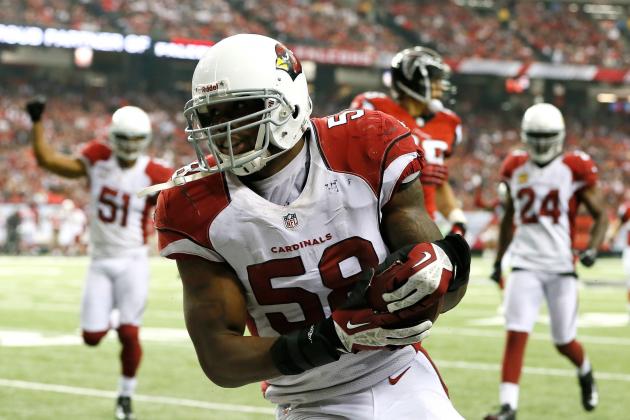 Kevin C. Cox/Getty Images

Picks: Dan Williams (26), Daryl Washington (47), Andre Roberts (88), O'Brien Schofield (130), John Skelton (155), Jorrick Calvin (201), Jim Dray (233)

The Arizona Cardinals actually having a good draft? Their 2010 selections were actually highly regarded at the time, the question is just whether or not it holds up.
Of the seven picks, five are still with the team. One notable one now gone is John Skelton. He went 5-2 as a starter in 2011, but made Tim Tebow look like an All-Pro with how he threw the ball. 25 INTs in 20 games later, he's gone.
Dray is a marginal producer and Williams has been disappointing as a first-rounder thus far, though the jury is still out on him. The rest of the picks look quite good, as Schofield and Roberts have been nice value selections.
Daryl Washington, meanwhile, has been lights out at linebacker and earned an All-Pro selection this last season. He's the best pick the Cardinals have made in a long time, and it makes this draft actually good. Yes, the Cardinals continue to struggle, but it's not because of these guys.
Grade: B+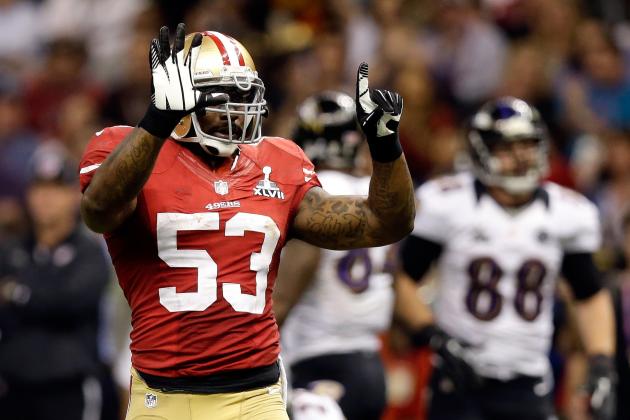 Ezra Shaw/Getty Images

Picks: Anthony Davis (11), Mike Iupati (17), Taylor Mays (49), NaVorro Bowman (91), Anthony Dixon (173), Nate Byham (182), Kyle Williams (206), Phillip Adams (224)

The 49ers have turned into a force again the past few seasons, and drafts like the one they had in 2010 are one of the reasons why, with five of the eight picks still on the team.
Dixon and Williams have shown nice depth, while Davis has been consistently good as an everyday starter. Iupati has turned into an elite guard, but Bowman became the gem of the draft.
Bowman seems to be everywhere on the field making tackles, and has been named an All-Pro twice. Had Taylor Mays been able to silence the critics and make the transition to the NFL more easily, this could have been a special draft rather than a merely great one.
Grade: A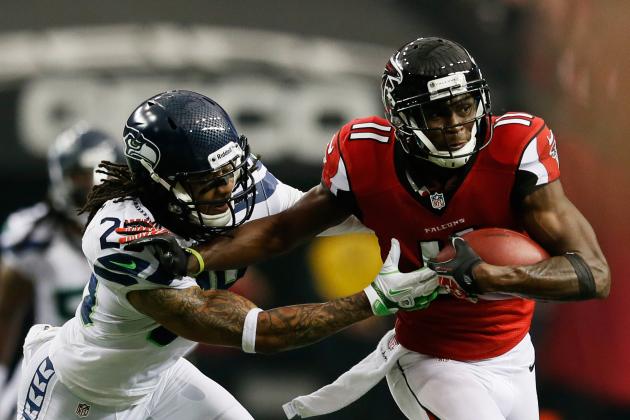 Kevin C. Cox/Getty Images

Picks: Russell Okung (6), Earl Thomas (14), Golden Tate (60), Walter Thurmond (111), E.J. Wilson (127), Kam Chancellor (133), Anthony McCoy (185), Dexter Davis (236), Jameson Konz (245)

I used to be one of the many guys that bashed the selections the Seahawks made, since they often came out of nowhere and made little sense to pundits. In recent times, I've learned better. When the Seahawks make a strange pick, I presume they know something I don't.
The 2010 NFL draft is exhibit A, though everyone loved this draft at the time anyway. Six of the nine players remain on the Seahawks, with Thurmond and McCoy providing depth on both sides of the ball. Tate has been a solid wide receiver with Russell Wilson at quarterback.
Okung and Thomas, both first-round selections, were spot on. Okung has finally reached his potential this season, and Thomas has been an All-Pro seemingly from the moment he stepped on the field. If he's not the best safety in the league, he's up there.
Kam Chancellor, meanwhile, was a great steal in round five at the other safety position. It's no wonder that the Seahawks have gotten so good, especially at the secondary position. This is the only other draft class that can match up with the Patriots and their tight end combo.
Grade: A+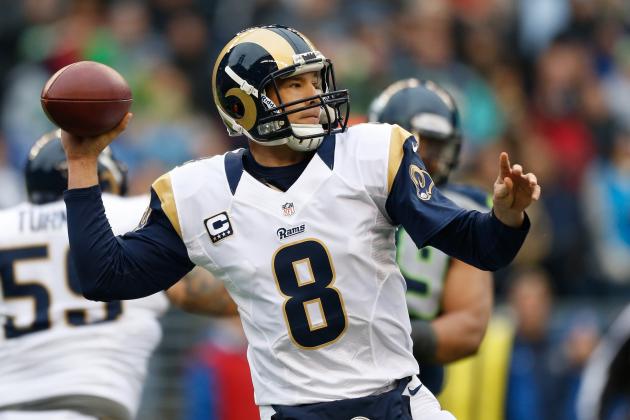 Otto Greule Jr/Getty Images

Picks: Sam Bradford (1), Rodger Saffold (33), Jerome Murphy (65), Mardy Gilyard (99), Michael Hoomanawanui (132), Hall Davis (149), Fendi Onobun (170), Eugene Sims (189), Marquis Johnson (211), George Selvie (226), Josh Hull (254)

The NFC West was quite a story in the 2010 draft. The 49ers and Seahawks has two of the best drafts, and even the Cardinals were good. The Rams, who held the first overall pick? Not so much.
The Rams had 11 picks, but only four remain on the team. Hull has done little, while Sims has performed well for a sixth-rounder. All the mid-round picks are long gone though.
As for the first two selections, Saffold has performed well when healthy, and Sam Bradford has been solid. He's far from elite, but with the lack of weaponry around him he's done as well as anyone could at quarterback. With two wideouts in the 2013 draft coming in, this will be his year to shine.
Still, 11 picks including the first one, and all the Rams found were two starters and a bit of depth. If Bradford can break out with his new talent and show off his arm, this draft will look better. Until then, you have to do far better than only a moderately good quarterback with those kinds of picks.
Grade: D