Grading Every Chicago Bulls Players' 1st-Round Performance So Far
Jonathan Daniel/Getty Images
The frontcourt duo of Joakim Noah and Carlos Boozer have played well for the Chicago Bulls.
The Chicago Bulls have put together an impressive postseason, holding a 3-2 lead in their first-round series with the Brooklyn Nets. Now it's time to evaluate every player who has touched the floor, thus far.
Playing without the injured Derrick Rose—just like they did for the entire regular season—the Bulls are just one win away from a second-round playoff date with LeBron James and the Miami Heat.
It's obvious that Chicago doesn't need the services of D-Rose to get past Brooklyn. The likes of Carlos Boozer, Nate Robinson, Luol Deng and Joakim Noah are getting the job done. And don't forget about key role players such as Kirk Hinrich, Jimmy Butler and Taj Gibson.
Here are postseason grades for the Bulls—even those guys who've only received a miniscule amount of playing time.
Begin Slideshow

»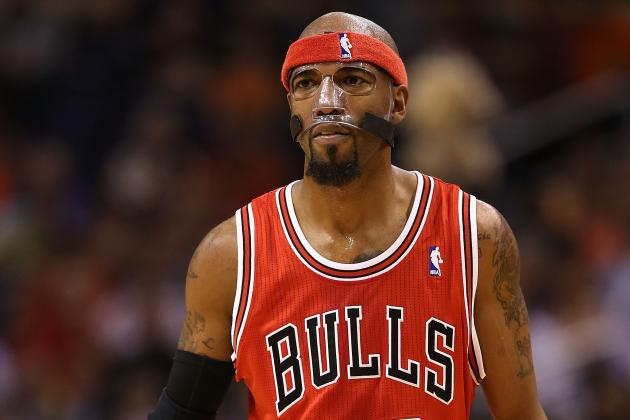 Christian Petersen/Getty Images
Richard Hamilton
Daequan Cook
Little-used guard Daequan Cook has appeared in two playoff games, logging a measly 0.5 minutes per contest. While 0.5 minutes isn't a lot, it's better than nothing right?
Grade: Incomplete
Malcolm Thomas
Malcolm Thomas didn't play much during the regular season, and he hasn't played much in the playoffs, so far, either.
He has played just one postseason game, picking up one minute of action. An incomplete grade only makes sense.
Grade: Incomplete
Marquis Teague
Marquis Teague is a rookie, and you know what that means—he doesn't play much. Chicago Bulls coach Tom Thibodeau doesn't play first-year guys major minutes. That's just how it is.
Teague has appeared in two contests, putting up one point per game in 1.5 minutes.
Grade: Incomplete
Richard Hamilton
This has been a miserable year for Richard Hamilton.
During the regular season, he missed over 30 games due to injury and eventually lost his starting shooting guard spot.
Sadly, Hamilton has fallen out of Thibideau's rotation. The three-time All-Star has appeared in just one contest this postseason (Game 1), going scoreless in seven minutes of action.
Grade: Incomplete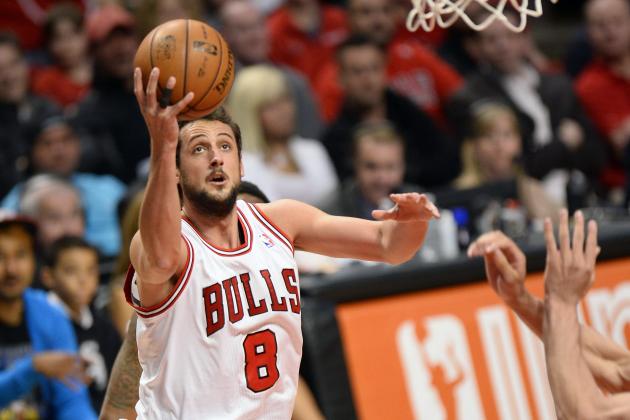 Mike DiNovo-USA TODAY Sports

Starting 27 games for the Chicago Bulls during the regular season, Marco Belinelli is now coming off the bench, providing the club with a little bit of scoring punch.
The 6'5" shooting guard has done a decent job in the Brooklyn series, the second postseason appearance of his six-year career.
Belinelli is currently averaging 7.2 points per game and shooting 84.6 percent from the foul line (second-best on the team).
His best performance of the series came in Game 1, as he contributed 13 points, three rebounds and a couple of assists.
Grade: C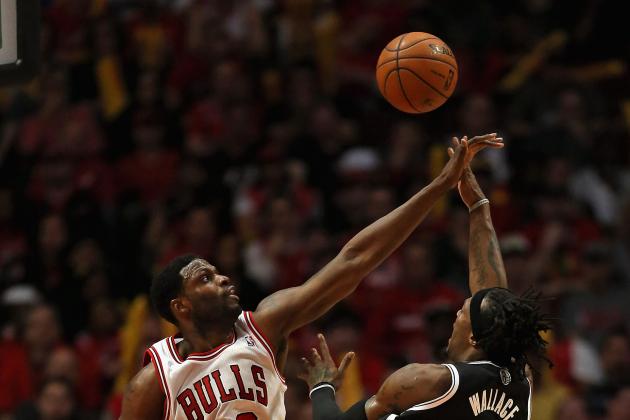 Jonathan Daniel/Getty Images

Nazr Mohammed has emerged as a quality backup center.
Playing behind starter Joakim Noah, Mohammed is producing 5.6 points, four rebounds and one block per game. He's shooting an impressive 54.5 percent from the field as well.
In addition, he's putting up All-Star-type numbers per 36 minutes—14.2 points, 10.1 rebounds and 2.5 blocks per game.
Mohammed's best performance came in Game 4, as he scored nine points, grabbed six boards and hit four of his seven field-goal attempts.
The Chicago native's rebounding and defense off the bench has helped the Bulls out immensely.
Grade: B-
Taj Gibson missed 17 games during the regular season due to injury.
Fortunately for the Chicago Bulls, he hasn't missed any time yet during the playoffs.
Gibson is leading the club in both field-goal percentage (59.1 percent) and free-throw percentage (87.5).
Logging 15.4 minutes per contest, the 6'9" power forward is averaging 6.6 points and two rebounds off the bench for Chicago.
Gibson simply embarrassed the Brooklyn Nets' Kris Humphries in Game 3 with a thunderous slam over the former "Mr. Kardashian."
Check out the video above.
Grade: C-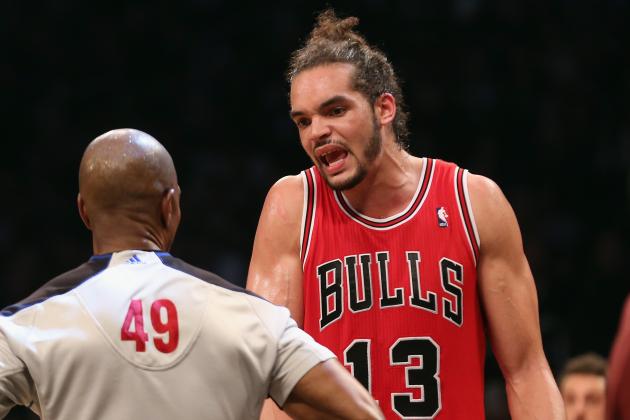 Bruce Bennett/Getty Images

Joakim Noah's playoff numbers aren't as remarkable as his regular-season numbers. But there's a good reason for that—plantar fasciitis.
The painful foot condition has bothered Noah for a while now. He described just how painful it is (via the K.C. Johnson of the Chicago Tribune).
Plantar fasciitis sucks. It feels like you have needles underneath your foot while you're playing. That's what it feels like, so you can imagine. You need to jump, you need to run, you need to do a lot of things while you're playing basketball, so you don't want needles underneath your foot, right?
Yeah, that sounds pretty painful.
Despite the condition, Noah is averaging roughly eight points, eight rebounds and two blocks per game.
He was huge in the Game 4 win with 15 points, 13 boards and four blocks.
Grade: B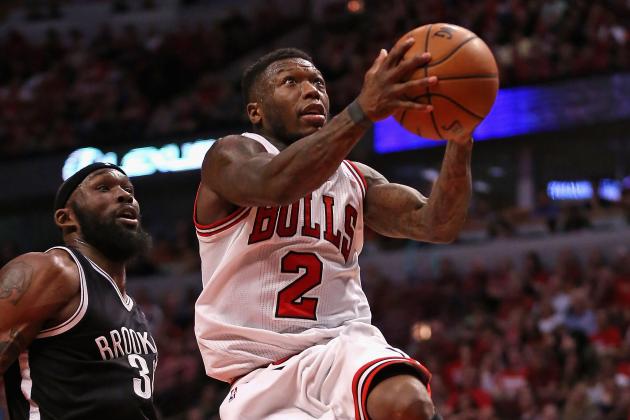 Jonathan Daniel/Getty Images

Where would the Chicago Bulls be without Nate Robinson? Well, they wouldn't have won Game 4, that's for sure.
Robinson was absolutely brilliant in that game, scoring 34 points and leading the team to a crazy triple-overtime victory.
He came up with 23 fourth-quarter points, one shy of Michael Jordan's franchise playoff record for most points in a quarter.
It's nothing but special when your name is used in the same sentence as the greatest basketball player of all time.
Robinson is averaging nearly 18 points per game as well as 23.7 per 36 minutes.
Although his defense couldn't stop Deron Williams, Robinson scored 20 points and dished out eight assists in Game 5 while starting for the injured Kirk Hinrich.
Grade: A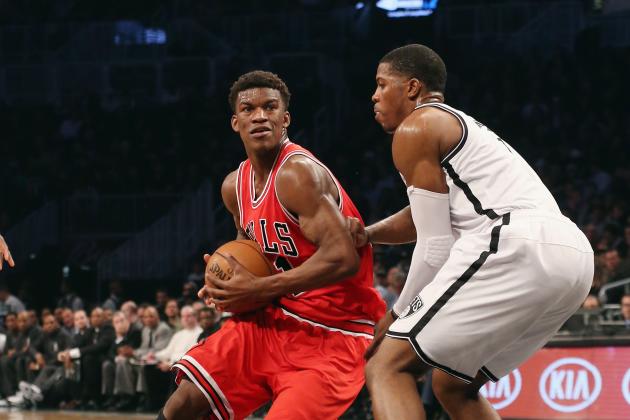 Bruce Bennett/Getty Images

This time last year, you might not have known Jimmy Butler was even on the Chicago Bulls' roster. The rookie forward received just four minutes of action during the 2012 playoffs.
Nowadays, he's the Bulls' starting shooting guard and one of the team's top defenders.
Butler is currently averaging 11.2 points, 3.6 rebounds and 1.2 steals per game. He's also shooting a team-best 45.5 percent from three-point land (5-of-11).
Butler had a great Game 5, recording 18 points, four steals, three assists and sinking three from downtown.
He's a major reason for Chicago being a lockdown defensive squad.
Grade: B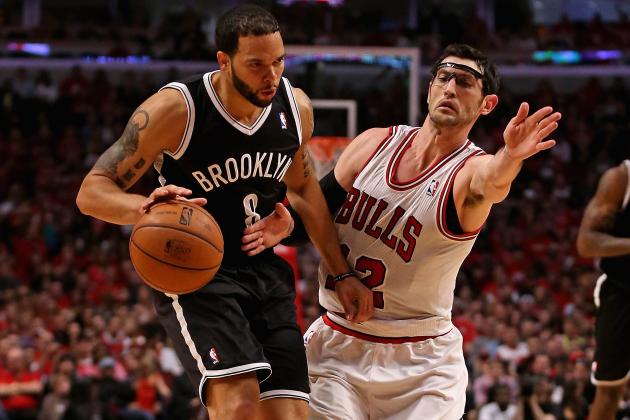 Jonathan Daniel/Getty Images

If the Chicago Bulls wind up losing the Brooklyn series, the absence of Kirk Hinrich could be one of the main reasons.
Hinrich missed Game 5 due to a calf injury, and it's possible he could be sidelined longer.
Hopefully, Captain Kirk returns to the lineup soon. The Bulls' starting point guard is having a stellar series, averaging 11.3 points, 5.8 assists and two steals per contest.
Hinrich's defense has been phenomenal to say the least. He helped shut down the Nets' Deron Williams in Game 2, as the star guard scored just eight points on 1-of-9 shooting.
Hinrich hasn't been too shabby on the offensive end of the floor either. In Game 4, he scored 18 points, handed out 14 assists and drilled a pair of three-pointers.
Grade: A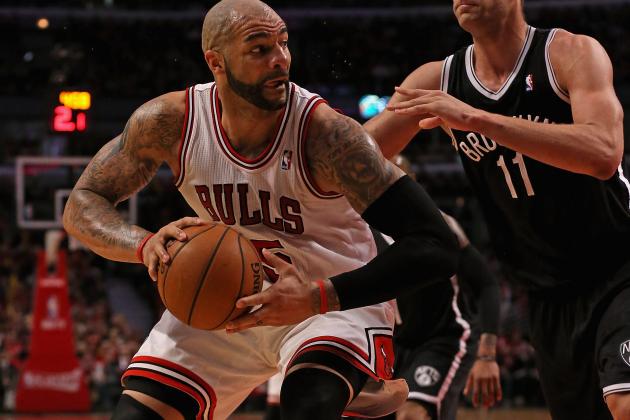 Jonathan Daniel/Getty Images

Carlos Boozer is finally proving to Chicago Bulls fans that he can be an impact player in the postseason.
He didn't look too hot during his first two playoff runs with the team, averaging only 13 points per game and shooting roughly 43 percent from the field.
So far versus the Nets, Boozer is producing an outstanding 18.2 points and 10.8 rebounds (both team highs) while shooting a red-hot 58 percent from the field.
Boozer was one of the Bulls' few bright spots in their blowout Game 1 loss. The former Duke standout recorded 25 points, eight rebounds and even dished out four assists. He also came up big in Game 3 with 22 points and 16 boards.
Although he was left off this year's Eastern Conference All-Star squad, Boozer has played like an All-Star during the playoffs.
Grade: A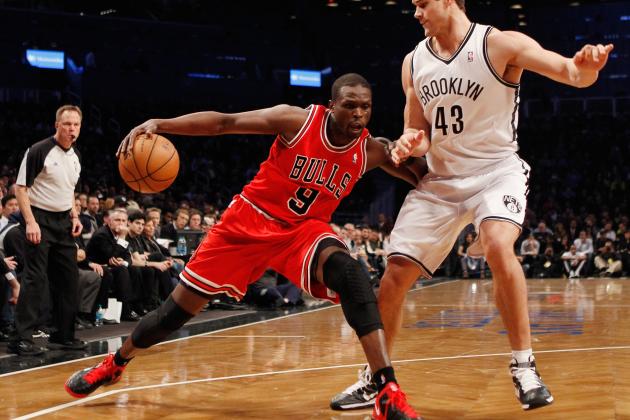 Bruce Bennett/Getty Images

Luol Deng had a forgettable Game 1, scoring only six points and shooting 3-of-11 from the field.
He was truly outplayed by fellow small forward Gerald Wallace, who scored 14 and hit five of his seven field-goal attempts.
Luckily, Deng has bounced back. He helped shut down Wallace in the following contest and put together a strong Game 3 performance with 21 points and 10 boards.
The Chicago Bulls' leading scorer during the regular season (16.5 points per game), Deng has taken the backseat in the playoffs, averaging 13.8 points. He's also producing 7.6 rebounds and 3.8 assists per contest.
Grade: C