5 Ways WWE Can Repair Its Roster Depth Issues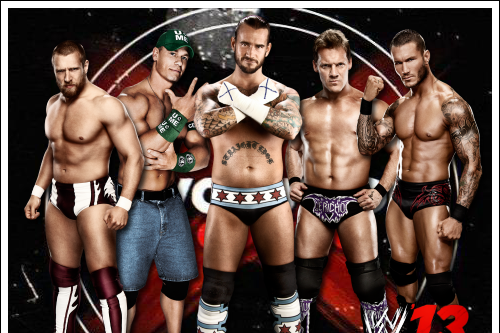 Two of these Superstars are injured, while one is a part-time wrestler. (photo credit: www.onlineworldofwrestling.com)
With CM Punk resting and John Cena hurting, WWE's roster depth has more issues arguably than ever before.
WWE fans tune into Raw and SmackDown and some of the same matches happen every single episode. We have seen Team Hell No against Prime Time Players plenty of times with the same outcome. Although Daniel Bryan and Dolph Ziggler provide some very entertaining matches, we don't need to see them square off every week.
How can WWE repair these roster depth issues?
Perhaps there are places to find more wrestlers or better utilize the characters we see on WWE TV. Then again, perhaps making changes to how the matches and shows are delivered will help.
Here are five ways WWE can improve its lack of available Superstars.
Begin Slideshow

»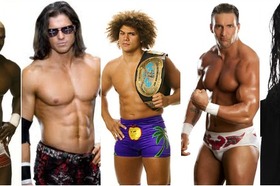 Could we see any of these Superstars back in WWE? (photo credit: wrestlingdelorean.blogspot.com)
WWE has been bringing back former top stars the last few years with mixed results. Superstars such as The Rock and Brock Lesnar may have helped WWE's pay-per-view buyrates, but their part-time status has been a problem for the hard-core fans.
With WWE's roster depth issues, the company may want to look at bringing back former midcard wrestlers.
Former Superstars such as Carlito, John Morrison and Shelton Benjamin have thrived on the independent scene. While not one of these three former midcard champions ever claimed a World Title, perhaps they just needed more seasoning.
Former stars at any level would help WWE's roster depth issues, but it is the former midcard stars that would receive less criticism.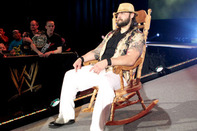 Bray Wyatt should be promoted to the main roster (photo credit: wwe.com)
Seth Rollins, Roman Reigns, Dean Ambrose, Big E Langston and Brad Maddox are all former NXT Superstars who were promoted to the main roster. The Shield is still an unstoppable team, Big E Langston is working alongside a World Champion and Maddox is being groomed to be the next general manager of Raw.
If WWE needs more Superstars on the main roster, there are plenty waiting to be called up from their developmental territory in Florida.
There were reports not long ago suggesting that two Superstars from NXT would be called up following WrestleMania 29.
We are three weeks removed from WrestleMania 29 and there hasn't been any call-ups yet. Superstars such as Bray Wyatt and Kassius Ohno seem ready to debut. Wyatt has a new, intriguing character since his Husky Harris stint, while Ring of Honor fans would love to see Ohno reunite with Antonio Cesaro.
It seems as though WWE's roster depth issues could be a great thing for NXT Superstars waiting to be called up to the main roster.
Let's see longer and fewer matches so this match never happens again. (photo credit: wwe.com)
If WWE were to provide longer, but fewer, matches, their roster depth issues wouldn't be as evident. With Raw expanding to three hours, WWE could have done this, but instead fans see a number of filler matches.
While I hope we don't continue to see the same matches on every episode of Raw and SmackDown, WWE could give quality matches more time. Instead of having Team Hell No against Prime Time Players every Monday for less than five minutes, WWE should look to create new tag teams and schedule matches for 10 or 15 minutes.
By having longer matches, WWE wouldn't have to schedule as many.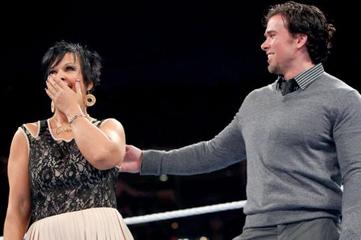 Who wants to see more Team Brickie? (photo credit: http://wrestlingwithexcellence.wordpress.com)
In order to repair its roster depth issues, WWE can take advantage of the non-wrestling characters on television. Vickie Guerrero and Brad Maddox can be utilized more.
While Guerrero can be very annoying, she receives a ton of heat every time she is on WWE TV. In order for Maddox to improve in his current role, he needs time to practice on the mic.
While non-wrestling characters should have a place in the storylines, they should not take over. Unfortunately, WWE pushed Michael Cole as one of the top heels from 2010 until Jerry Lawler's heart attack last year.
The turn to commentators staying on the sidelines was a good one, but there was a benefit.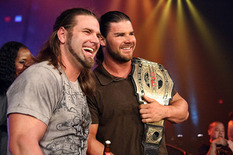 Could these TNA Superstars leave and sign with WWE? (photo credit: wrestling-match.com)
In addition to promoting NXT Superstars to the main roster, WWE could easily sign stars from the independent circuit and TNA.
Approximately two months ago, there were reports that WWE had tryouts for certain independent stars. Indy stars such as Adam Cole, Mike Bennett, Luke Hawx were invited for a chance at a WWE contract.
WWE could also take a page out of the Monday Night Wars book and begin stealing stars from TNA Wrestling. While WWE should not look at the older Superstars that were in WWE at one time, there are some younger stars to consider. AJ Styles, Austin Aries, James Storm and Bobby Roode are just some TNA Superstars that WWE should look to sign. They are all young and very talented.
How do you think WWE can repair its roster depth issues? Please share your thoughts and ideas in the comment section below.
Follow me on Twitter (@sethgutt), and check out my site guttwrenchpowerblog.com.
Like GuTTWrenchPowerBlog on Facebook here.