Tim Tebow Released by New York Jets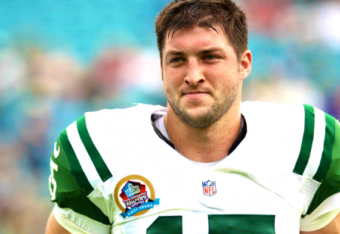 The first domino in the New York Jets quarterback controversy has fallen, and it's a big one: Tim Tebow has been released by the team.
Per Brian Costello of the New York Post:
Source: The jets have released Tim Tebow #NYJ

— Brian Costello (@BrianCoz) April 29, 2013
Tebow met with both Rex Ryan and John Idzik this morning at Jets facility and was informed of his release.

— Brian Costello (@BrianCoz) April 29, 2013
Adam

Schefter

of ESPN confirmed the report:
Jets released QB Tim Tebow, as@briancoz reported.

— Adam Schefter (@AdamSchefter) April 29, 2013
Rex Ryan
had the following comments on the decision to release Tebow, via
Kimberley A. Martin of Newsday
:
Rex statement: "We have a great deal of respect for Tim Tebow. "Unfortunately, things did not work out the way we all had hoped." #nyj (pt1)

— Kimberley A. Martin (@KMart_LI) April 29, 2013
Rex (contd): "Tim is an extremely hard worker, evident by the shape he came back in this offseason. We wish him the best moving fwd." #nyj

— Kimberley A. Martin (@KMart_LI) April 29, 2013
Meanwhile,
Albert

Breer

of NFL.com
looks at the move from a financial perspective and notes that Tebow will hit the waiver wire this afternoon:
Looking at Tebow's contract, there's about $3.14M in prorated $ left to be accounted for on the cap. If Jets kept him, his cap # was $2.59M.

— Albert Breer (@AlbertBreer) April 29, 2013
Tebow will hit the waiver wire at 4 p.m. today. I'm sure if "the waiver wire" were a place, we'd have a reporter, crew and live truck there.

— Albert Breer (@AlbertBreer) April 29, 2013
Tebow arrived in New York with a lot of fanfare after being traded to the team before the 2012 season, but he rarely saw the field. The Jets used him in a limited Wildcat role and even on special teams, but he wasn't given a chance to start as a quarterback under head coach Rex Ryan.
With the team signing David Garrard this offseason and drafting Geno Smith in the second round of the 2013 draft, the former Florida star became expendable.
Tebow may find it very difficult to find a job in the offseason. It's clear at this point that most NFL teams don't view him as a starter—per Schefter, the Jets tried to trade him, to no avail—and he brings a media firestorm with him wherever he goes.
Jets had granted Tim Tebow permission this off-season to seek a trade. More than one team asked if were willing to play TE, but he was not.

— Adam Schefter (@AdamSchefter) April 29, 2013
Since hitting the NFL, Tebow has seen his every move heavily
scrutinized
and highly publicized. One of the most decorated college quarterbacks of all time—he won two national championships and a Heisman Trophy while at the University of Florida—Tebow is also an extremely polarizing figure, as he openly promotes his religious beliefs.
He is polarizing as a quarterback as well, with an unorthodox throwing motion and low completion rate for his career (47.9 percent). However, he is a bruising, physical runner and is the sort of dedicated, hardworking athlete that coaches and fans love.
Did the Jets make a smart decision by cutting Tim Tebow?
The best stretch of his NFL career came in the 2011 season, when he led the
Denver Broncos
into the playoffs and upset the
Pittsburgh Steelers
in the Wild Card Round.
One way to rejuvenate his professional career would be to embrace a switch to a new position. He has the athleticism to play as an H-back and would be a very effective goal-line running back.
There are roles for him to fill in this league. Unfortunately, quarterback doesn't appear to be one of them at this point.
This article is
What is the duplicate article?
Why is this article offensive?
Where is this article plagiarized from?
Why is this article poorly edited?